This Chocolate Bundt Cake Recipe is so moist and delicious. The rich chocolate flavor is multiplied by the amazing chocolate glaze. Coffee in the batter only adds to the deep flavors of this cake.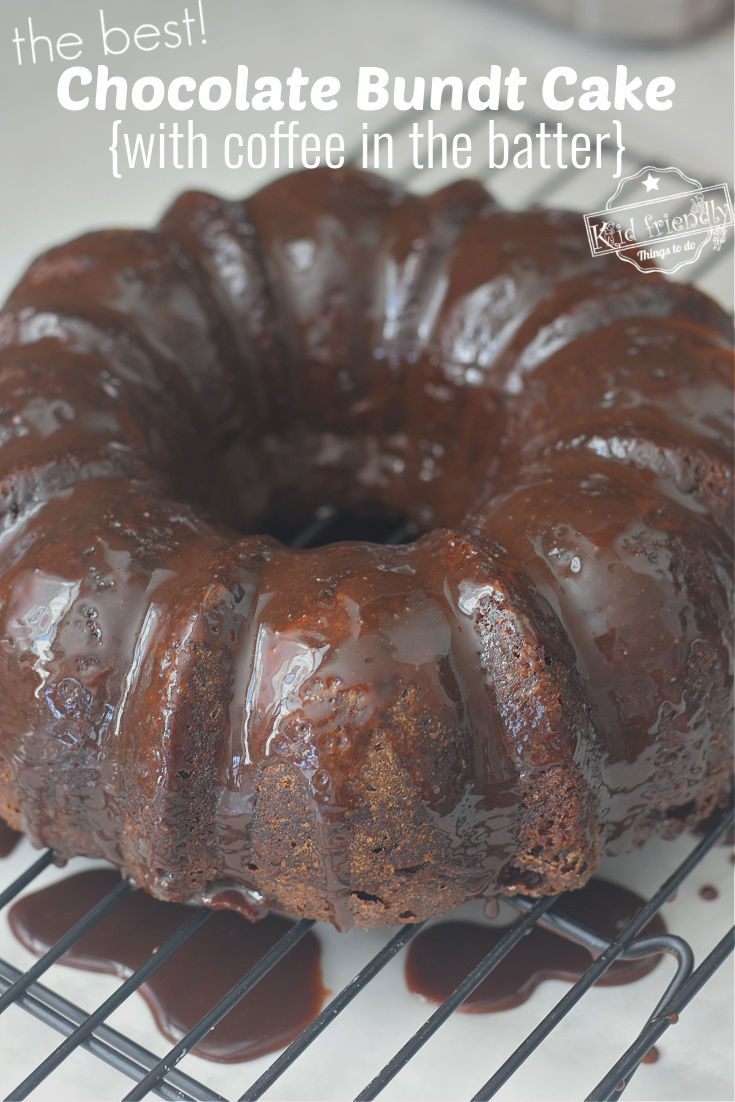 Chocolate Bundt Cake Recipe
Are you looking for chocolate desserts? Try some of my other delicious recipes…
I dare you to NOT lick this batter. And, if you do take a taste, try to stop at one little taste. Then, once this cake has been served, and it's sitting out on the counter…I dare you NOT to grab a fork and start picking away at the chocolate deliciousness. Go ahead, test your willpower.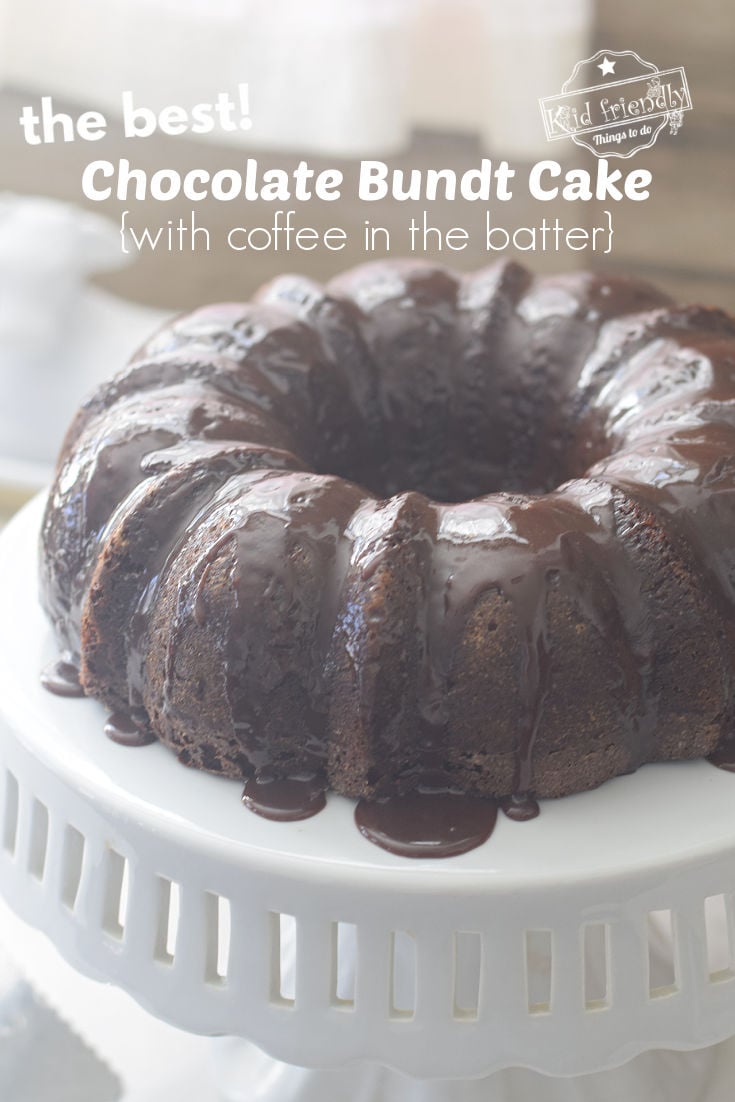 What is the difference between a Bundt Cake and a Regular Cake?
The only difference is that the cake is baked in a Bundt pan which is a circular pan that has a hollow center giving the cake a beautiful round shape with a hollow middle.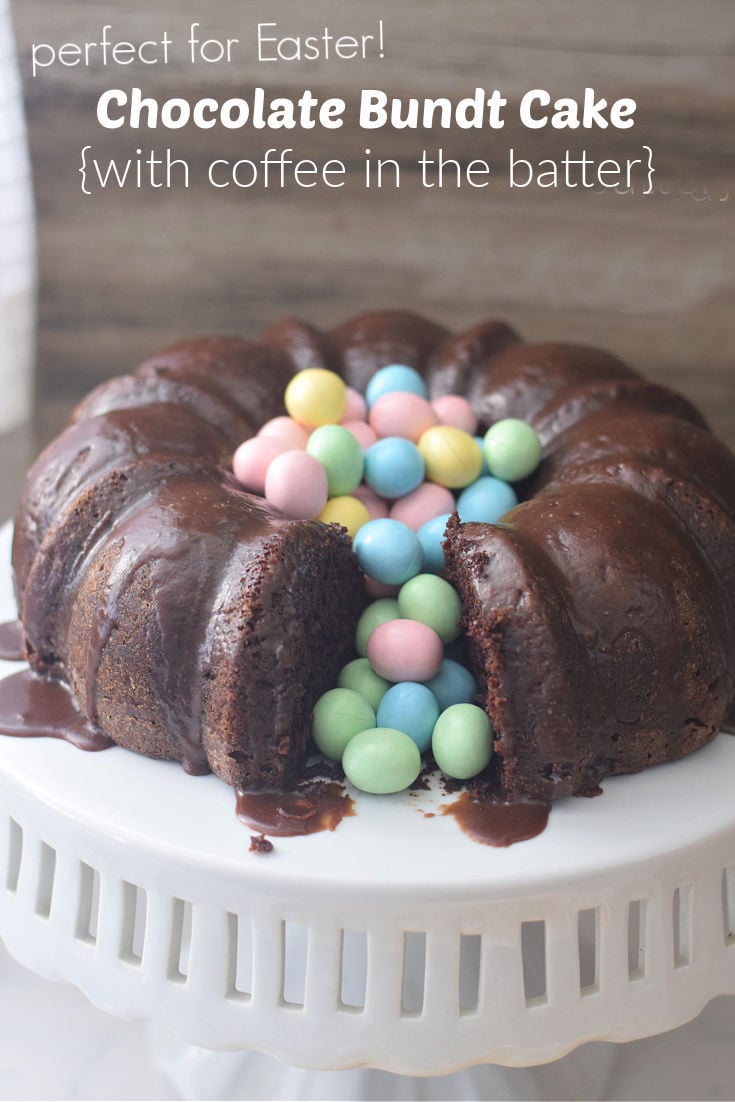 Another great benefit of a Bundt shape is that you can fill the middle with something fun like these Chocolate Easter Eggs. Voila', it's an Easter Cake!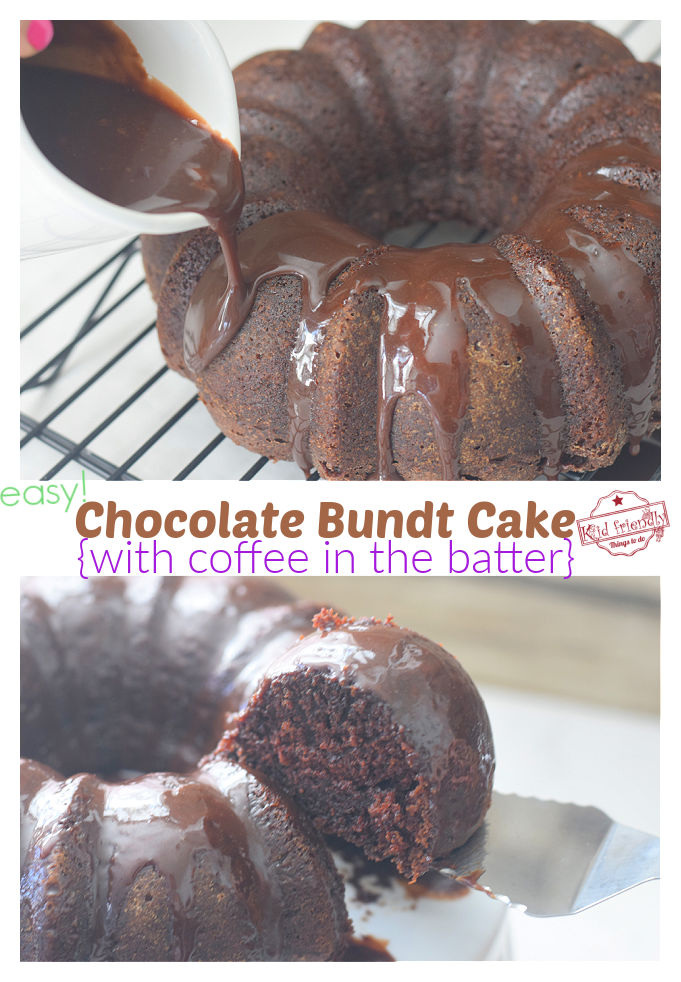 How do you Grease a Bundt Pan?
Take a piece of paper towel and swipe it in the butter so that a tablespoon or so is on the end of the paper towel. Wipe the butter all over the Bundt pan. Next, place a small amount of flour in the Bundt pan and tap the pan – turning it to coat it with a small amount of flour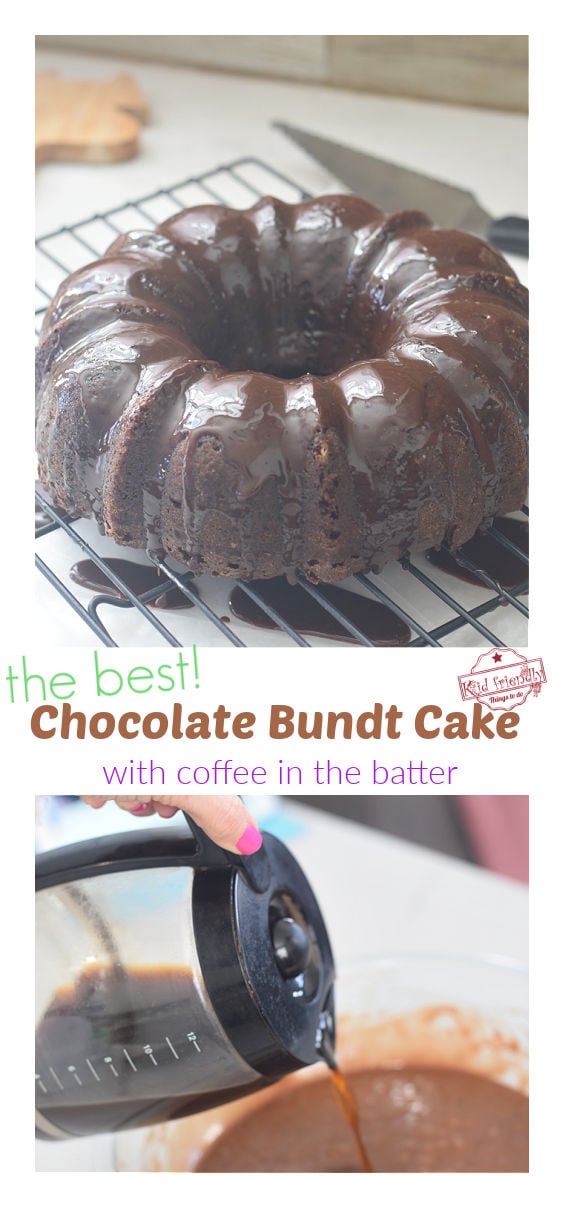 What does coffee do in a cake batter?
Coffee enhances the flavor of chocolate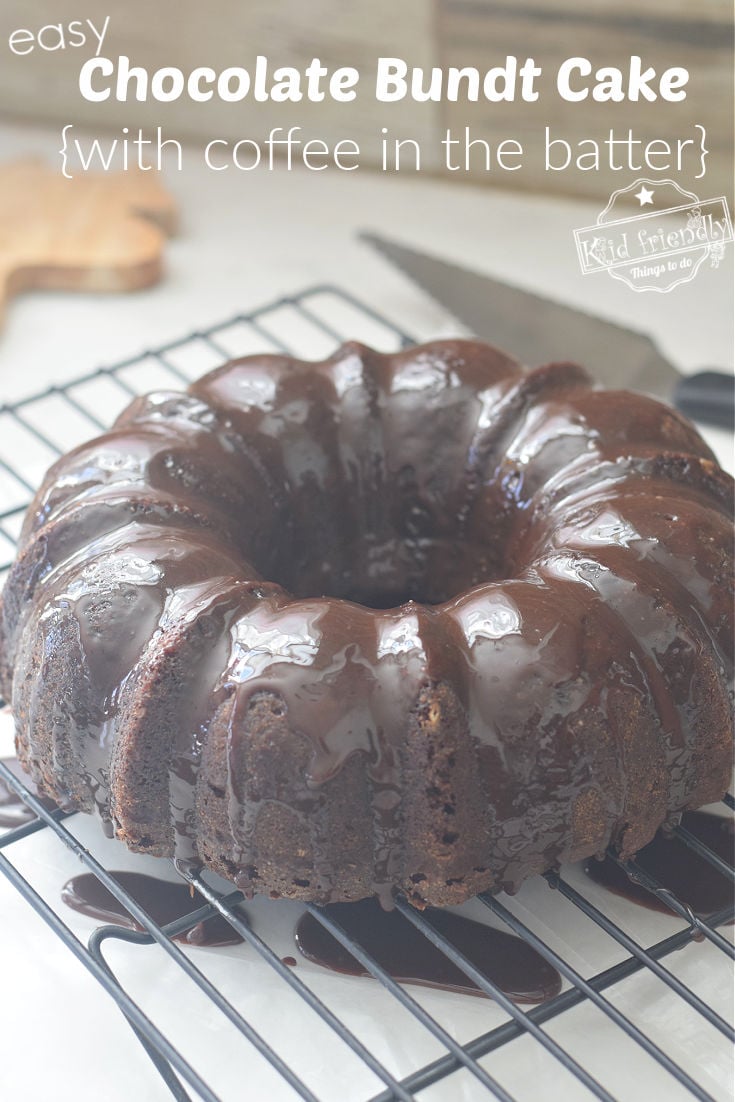 Tips and tricks for making this delicious chocolate Bundt cake:
Butter the pan and then tap flour around each crevice to ensure an easy transfer
Use wax paper or a baking sheet under the cake to catch drippings
Pour extra drippings over the cake by placing another sheet of wax paper under the cake to catch additional drippings and repeat if needed
Let the cake cool for at least 15 minutes before pouring the glaze
Allow glaze to cool for a few minutes or longer until it thickens a little bit – too thin glaze will soak into the cake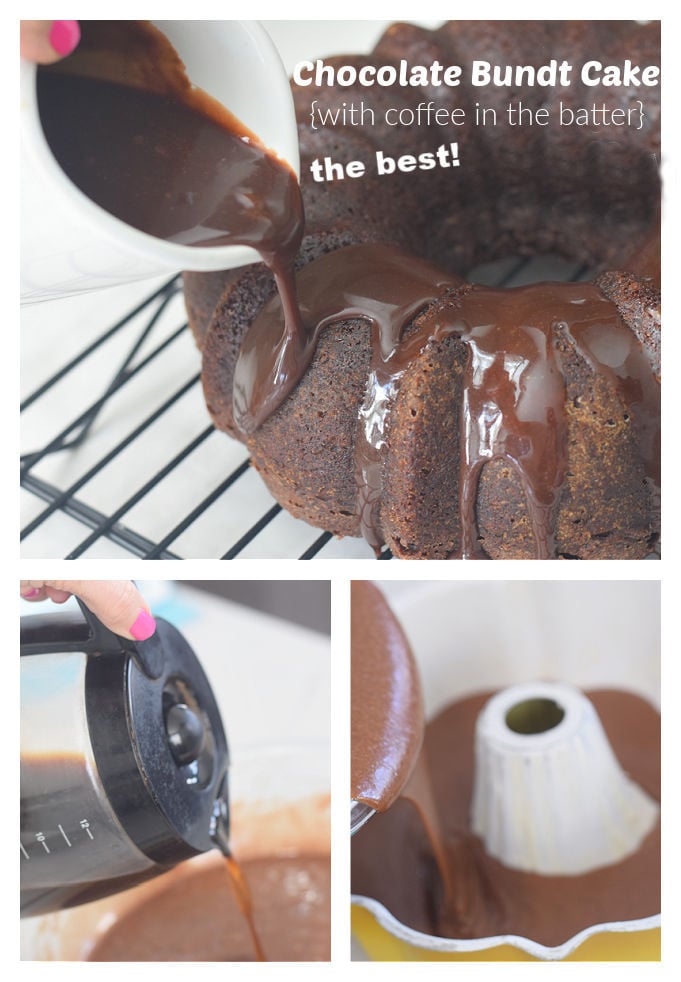 Are you ready to make this delicious fudgy cake? Let's make sure you have the ingredients:
Ingredients you'll need…
all-purpose flour
granulated sugar
cocoa powder
baking soda
cream of tartar
table salt
eggs
bold coffee – brewed
buttermilk
canola oil
vanilla extract
Glaze:
butter
powdered sugar
cocoa powder
vanilla extract
2% milk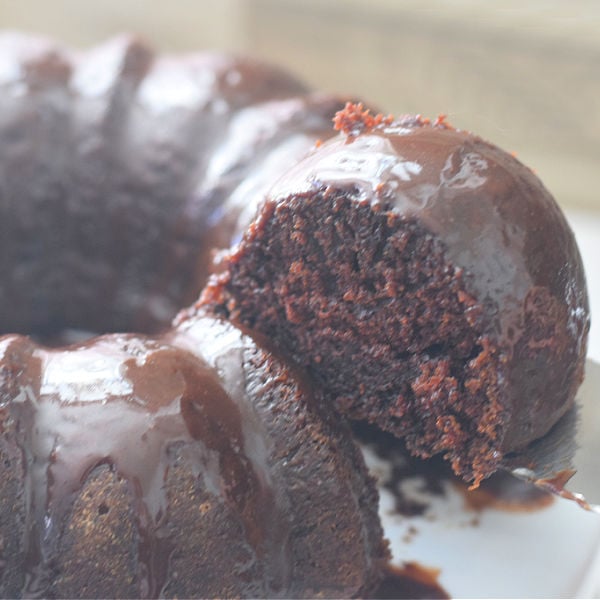 Here's the recipe card
Print
Chocolate Explosion Cake
A delicious chocolate cake with coffee in the batter. So moist and full of rich chocolate flavor.
Prep Time:

20 minutes

Cook Time:

40 minutes

Total Time:

1 hour

Yield:

1

cake

1

x
You'll Need
1

& 3/4 cup of all-purpose flour

2 cups

of sugar

3/4 cup

of cocoa powder

3 tsp

. of baking soda

1 tsp

. of cream of tartar

1 tsp

. of salt

2

eggs

1 cup

of bold coffee – brewed

1 cup

of buttermilk

1/2 cup

of canola oil

1 tsp

. of vanilla extract
Frosting: 

4 Tbsp

. of melted unsalted butter

1 cup

of powdered sugar

1/3 cup

of cocoa powder

2 tsp

. of vanilla

4 Tbsp

. of milk (2%)
Instructions
Mix the dry ingredients together – flour, sugar, cocoa, baking soda, cream of tartar, and salt
Add the wet ingredients – eggs, coffee, milk, oil, and vanilla
Pour into a greased bundt pan or large 9×13 cake pan
Bake at 350 degrees for 40 minutes – or until a toothpick inserted in the middle comes out clean
Flip onto a wire rack which is over wax paper
Chocolate Glaze
In a saucepan over medium heat – melt butter
Add vanilla, powdered sugar, cocoa powder, and milk – stirring constantly
Let cool until thickened a bit
Pour over the cake – some will drip off onto the wax paper
For the glaze that drips off : 
*If the chocolate is still pretty warm, it will be thin and you'll have a lot of run-off onto the wax paper.
Simply slide the wax paper out from under the cake and insert a new sheet of wax paper under the cake.
From the wax paper with chocolate glaze, pour the dripped glaze over the cake.
Repeat until most of the glaze is used up and on the cake.
For an Easter surprise: 
Add Easter Eggs to the middle of the cake
Notes
Storage:
Store uncovered at room temperature for up to 3 days (but I doubt it will last that long)