I'm so excited to have found a Substitute for Tomato Paste. There are times that you'll find yourself without this important ingredient, but I have a solution for you. You can make your own tomato paste.

Substitute for Tomato Paste
I don't know if you'll ever find yourself wondering how to make tomato paste. A few nights ago, I sure needed to find a substitute. I had decided I was finally going to make that homemade pizza I'd been yapping about and needed tomato paste – ASAP. Who wants to stop in the middle of dinner preparation, and run to the grocery store? Nobody! As usual, I turned to my handy dandy laptop to find a solution. I seriously doubted there was one. But, I found it –  A substitute for tomato paste. Holy Cow! It was on About.com – I love that site. Of course, you'll need tomato sauce, which I thankfully had.
Do you love recipe substitutions and tips for the kitchen? Check out my other fun tips…
Here's what you'll need to do…
You'll Need:
1 can of tomato sauce – when made into a paste, the sauce will reduce to basically half the amount you started with. So, if you have a large 15 oz. can, you can expect 7-8 0z. of paste, and so on…
Now,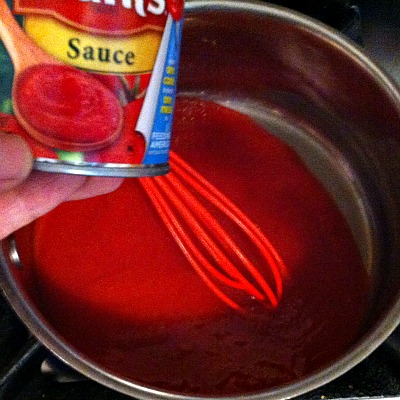 Just throw the sauce into a saucepan. Set the heat on high, until it starts to boil. Then reduce the heat to simmer it for about 5 minutes – stirring constantly!
It will get nice and thick. Take it off the heat when it's reached your desired thickness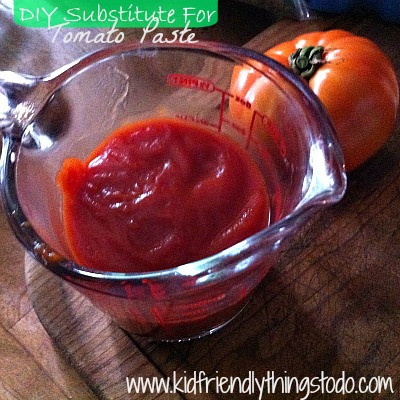 Tomato Paste Substitute – Check!
~Melissa – KidFriendlyThingsToDo.com – fun foods, party ideas, recipes, crafts, and fun ideas for the whole family