This Marinara Sauce is slowly simmered with classic ingredients like garlic, onion, and basil and makes the most delicious sauce for all of your pasta dishes.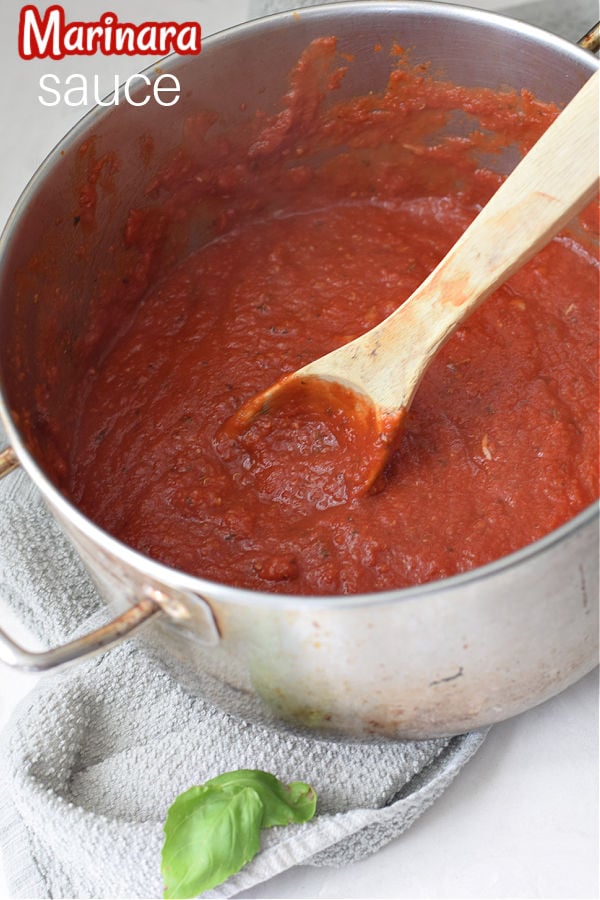 Marinara Sauce
Bookmark this recipe as your go-to recipe for a classic marinara sauce. This Sauce recipe is perfect for busy nights because it requires very little active preparation time. Slow simmered, this sauce takes on flavor as it cooks low and slow.
If you are lucky enough to have leftovers of this classic marinara sauce, then you can easily store this sauce for up to 3 days and use it on your favorite meatball recipe, lasagna, pizza, or pasta recipe.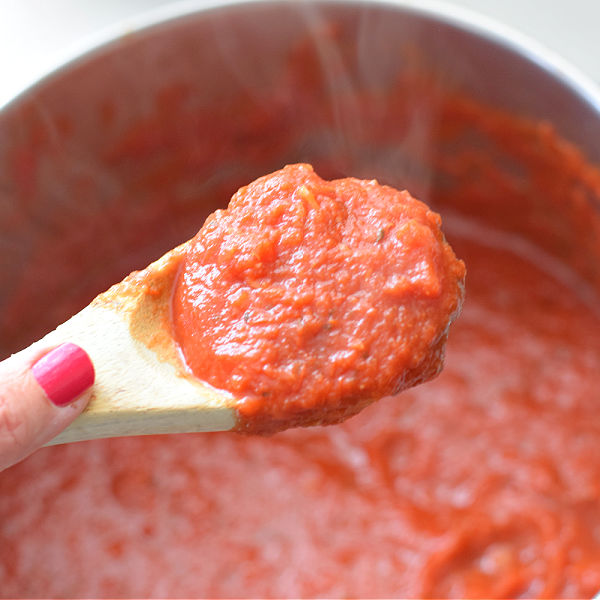 What I love about this recipe:
It's a great marinara sauce for pizza
this recipe requires very little prep time
this sauce can be used on so many different recipes, so you can really make several meals from this one sauce
it can be stored for 3 days and frozen for longer
FAQs
What is the difference between marinara sauce and spaghetti sauce?
They both have similar ingredients and are simmered for a long time, but spaghetti sauce often has other added ingredients like vegetables, meat, or both.
How do you turn the marinara sauce into spaghetti sauce?
You can add other spices, like Italian seasoning, oregano, and a hot spice like red pepper flakes. Another idea is to add cooked Italian sausage, cooked hamburger, or cooked vegetables and simmer on low heat for about 1 hour – stirring occasionally
Make-Ahead and Storage:
store leftover sauce covered and in the refrigerator for up to 3 days
freeze sauce for up to 3 months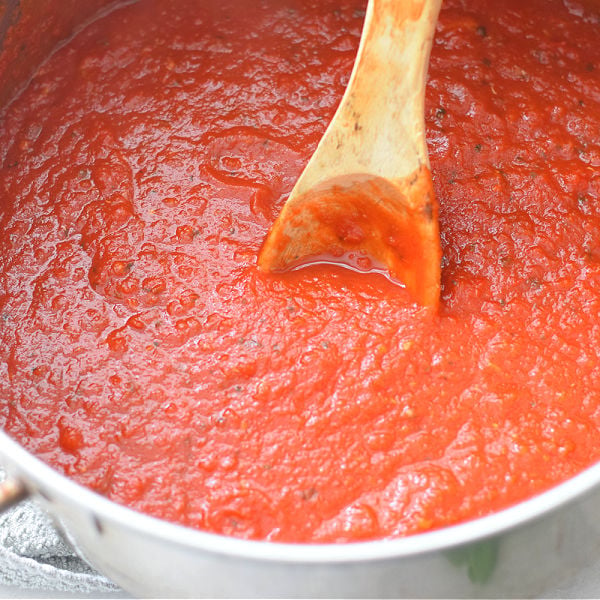 Tips and Tricks
cook this sauce in a large pot over low heat
don't forget to stir this sauce occasionally. I have been known to walk away from my simmering sauce for too long and the bottom ends up burning which in turn, ruins the flavor of the entire batch
you can chop the onion up and add it back into the sauce if you want that extra flavor
to spice up the sauce add red pepper flakes
Variations to Marinara Sauce:
Cheesy Sauce – After the sauce has cooked, sprinkle in some Parmesan cheese and stir in
Creamy Sauce – Add some heavy cream to your cooked sauce and stir in
Spicy Sauce – Add red pepper flakes to your sauce at the beginning of your recipe and let it simmer with other ingredients
Chunky sauce – use cans of diced tomatoes
Smooth Sauce – Blend all of the ingredients after they have cooked and cooled for a bit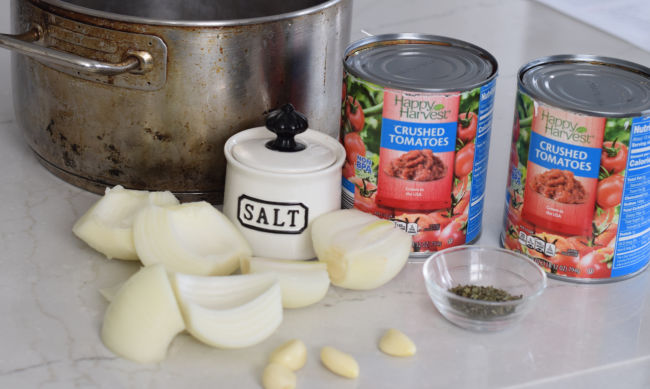 Ingredients You'll Need for Marinara Sauce:
Crushed Tomatoes – I used crushed tomatoes but if you want a chunkier sauce you can use cans of whole peeled tomatoes instead
Sweet Onion – I like to use Vidalia Onions for most of my recipes, but you can substitute a yellow onion
Garlic Cloves – Peel but do not cut the garlic
Olive Oil – you can use classic or extra virgin
Basil – this sauce has a basil flavor, but if you do not like basil or prefer oregano, then you can substitute it
Salt – I feel like salt is necessary for this sauce, but I like salt – a lot. Taste it after it cooks, and decide if you want to add salt. Then, salt to taste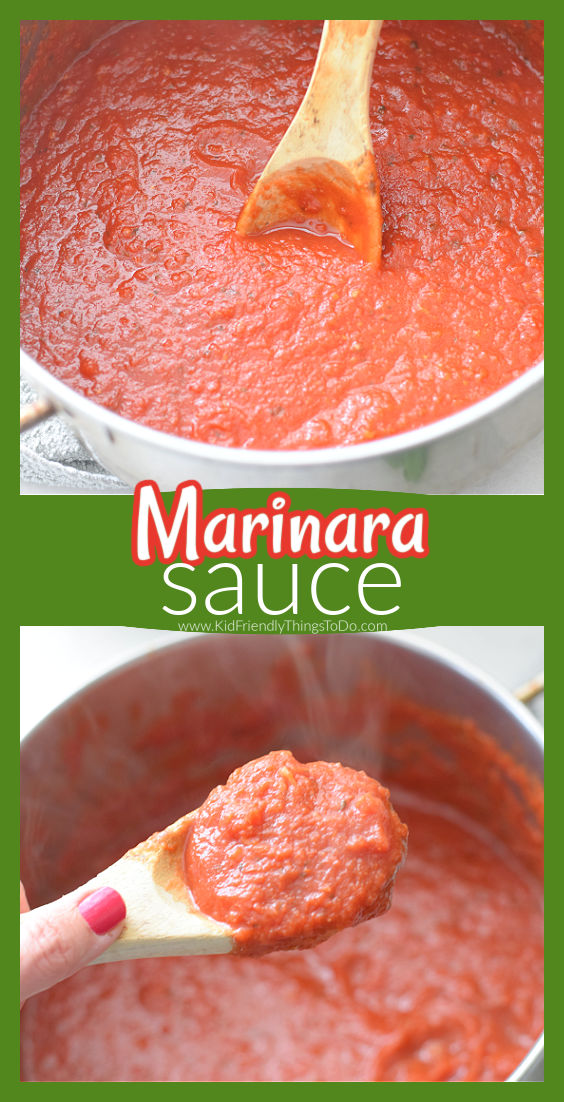 How to Make Marinara Sauce: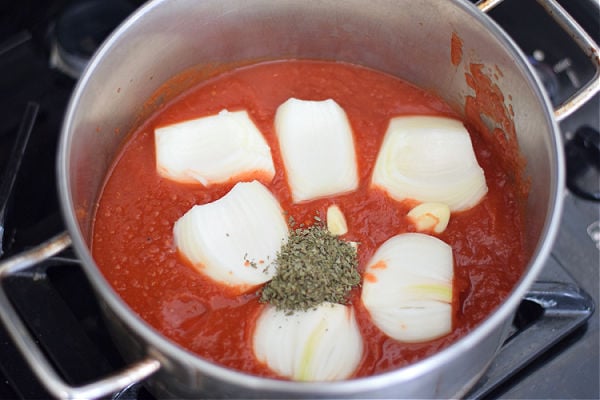 In a large pot, add the cans of tomato
Peel and quarter the onions and add them to the tomatoes
Peel garlic and add that
Pour dried basil into the sauce
Mix everything
Bring to a boil, then lower the heat to a simmer and simmer for about 45 minutes – stirring occasionally
Remove the onions and crush the garlic
Stir again to combine
Taste to see if it needs salt, and then add salt if needed to taste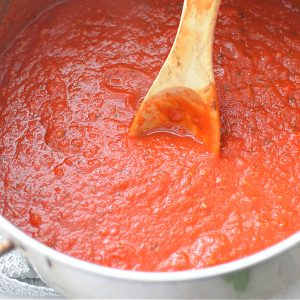 Marinara Sauce
Easy to make classic marinara sauce
Ingredients
2

28 oz.

crushed tomato cans

2

medium

Vidalia onion

2

cloves

garlic

1

tsp.

dried basil

salt

to taste
Instructions
In a large pot, add the cans of tomato

Peel and quarter the onions and add them to the tomatoes

Peel garlic and add to sauce

Bring to a boil, then lower the heat to a simmer and simmer for about 45 minutes – stirring occasionally

Remove the onions and crush the garlic

Taste to see if it needs salt, and then add salt if needed to taste
Notes
Nutrition is only an estimate 
Tips and Tricks 
cook this sauce in a large pot over low heat

don't forget to stir this sauce occasionally. I have been known to walk away from my simmering sauce for too long and the bottom ends up burning which in turn, ruins the flavor of the entire batch

you can chop the onion up and add it back into the sauce if you want that extra flavor

to spice up the sauce add red pepper flakes
Storage
store leftovers covered in the fridge for up to 3 days
Freeze sauce for up to 3 months 
Nutrition
Calories:
23
cal
Carbohydrates:
5
g
Protein:
1
g
Fat:
0.1
g
Saturated Fat:
0.01
g
Polyunsaturated Fat:
0.003
g
Monounsaturated Fat:
0.01
g
Sodium:
6
mg
Potassium:
95
mg
Fiber:
1
g
Sugar:
3
g
Vitamin A:
5
IU
Vitamin C:
3
mg
Calcium:
25
mg
Iron:
1
mg