This Vampire Drink is one of the most fun drinks, ever. It's kid-friendly and perfect for Halloween. Make Vampire Drinks for the kids, teens and the adults in your life this Halloween. Vampire drinks are the perfect drink for your Halloween Party. Come on in and I'll show you how I make these Spooky, Fun Halloween Drinks…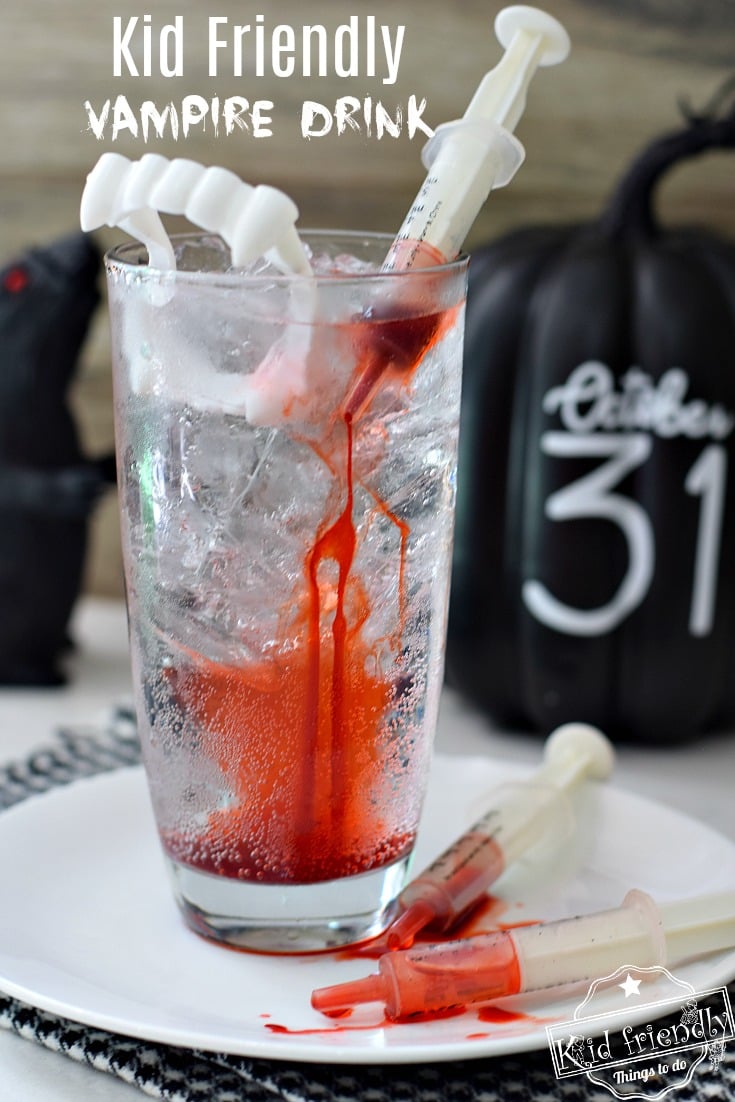 I'm telling you the kids went crazy over this drink. It's not just cool looking, it's really good, too! It might be kid-friendly, but it's delicious enough for the adults to dig in! Just 2 yummy ingredients, spooky looking, and fun, fun, fun!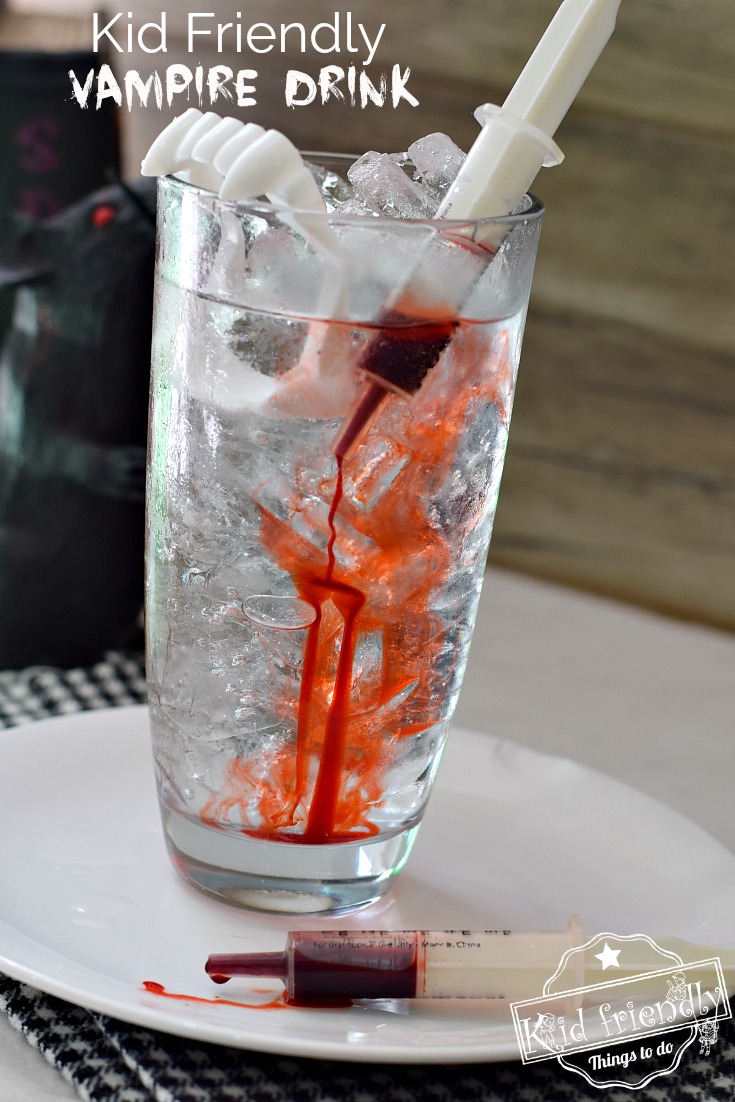 I published the first version of this drink idea a few years ago. My kids helped me realize that I was going down the wrong path with my orange juice idea.  They were in shock that I would consider anything "orange" for a bloody drink. That's when a light bulb went off, and the Vampire drink was created. I'm so glad the kids knocked some sense into me, because this is way cooler than my orange juice idea.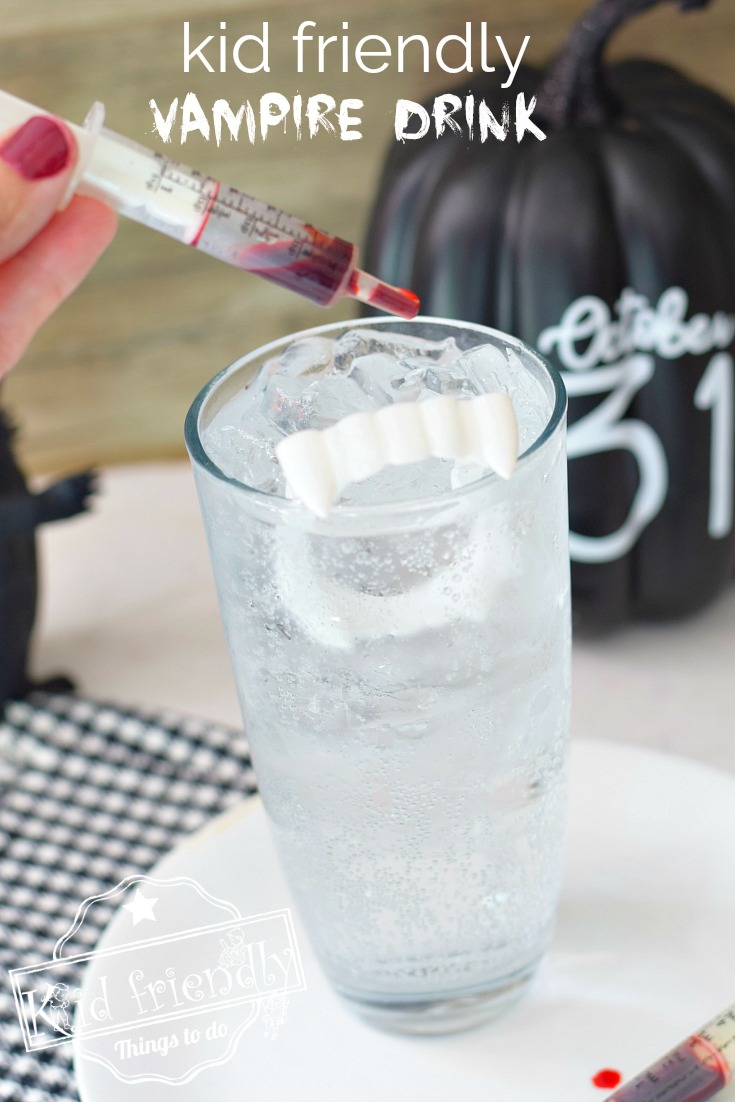 The last couple of Halloween seasons, I've tried to perfect the drink idea.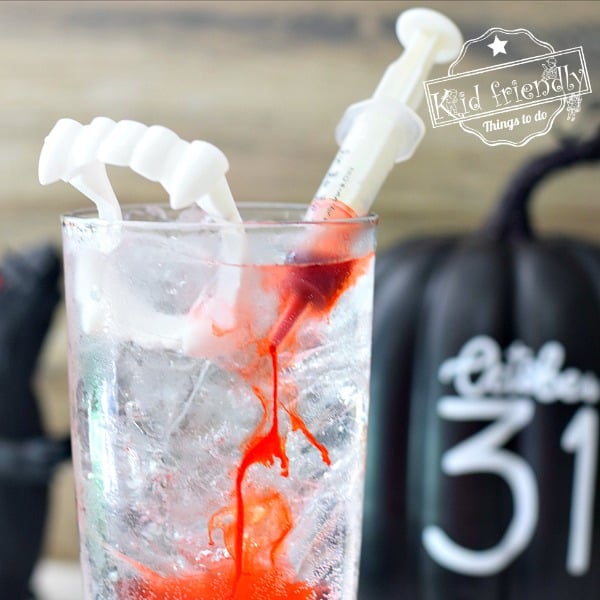 The drink is fun and tastes good, but I struggled with the fact the technique I was using made it difficult to  prepare ahead of time. The drink was easy enough for a fun "at home with the family" drink. If you are going to use this idea at parties, you can't very well go around squirting red Kool-Aid into everyone's drink.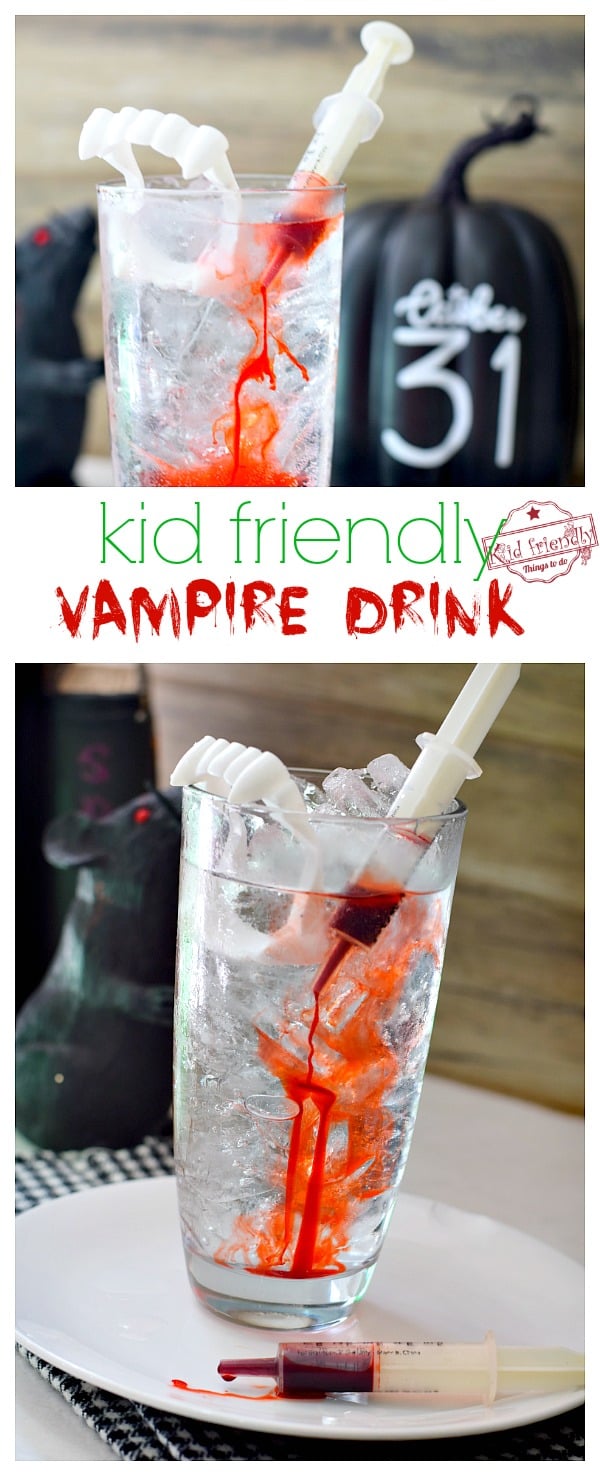 Over the past two years, I've tried freezing the Kool-Aid into little ice cubes and even into vampire's teeth. Both ideas were complete flops. This year, I tried using an idea that I have been thinking of – fill a syringe with the Kool-Aid and it worked like a charm. Trust me when I say, I tested it over 1 dozen times. I even made a video for you, which I will upload ASAP.  Anyway, enjoy the new and improved Vampire Drink for Kids, Teens, and Adults. 
Here are my top Amazon Picks for this Non-Alcoholic Halloween Drink Idea…
(affliate links)
[box] [/box]
Here's a quick video showing how I make these Vampire Drinks – They are so Easy and Fun!
Here's What You'll Need for a Kid-Friendly Vampire Drink Idea.
This makes 1 dozen (16 oz.) drinks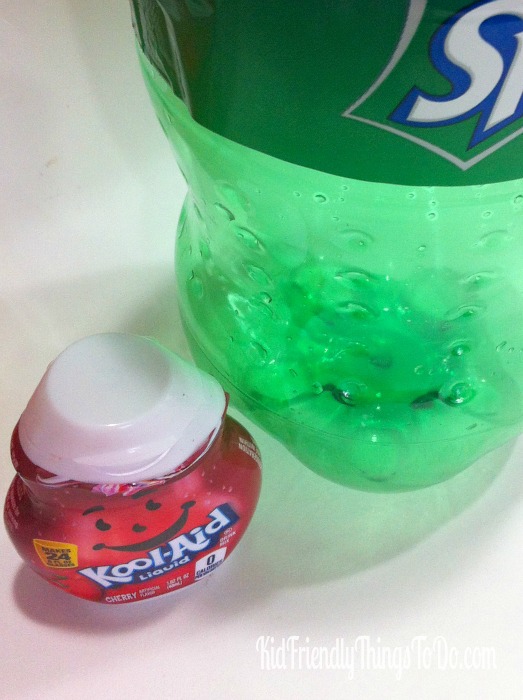 Print
Kid-Friendly Halloween Vampire Drink Recipe | Kid Friendly Things To Do
Author:
Prep Time:

5 min.

Cook Time:

0 min.

Total Time:

5 minutes

Yield:

1

dozen 16 oz. glasses

1

x
2

Liters of Clear Lemon Lime Flavored Soda, such as Sprite
*Sprite is definitely my preferred soda. I've tried it with others, and the taste just wasn't the same
Cherry Kool-Aid liquid (the concentrated stuff) – they sell little squeeze bottles of Kool-Aid
Medicine Syringes – (Viles for blood)
Ice Cubes – lots – enough to pack each glass or cup
cups or glasses that are clear to see the Vampire drinks in their full glory
Instructions
Squeeze some of the concentrated Kool-Aid into a bowl
Fill medicine syringes – each with about 2 ml. of Kool-Aid
Pour soda into individual glasses that are full of ice
Place fangs on top of the ice, or drape them over the side of the cup
Give out syringes of Kool-Aid concentrate – 1 per glass of soda filled with 2 ml. of kool-aid
The kids shouldn't have to squeeze the syringes of Kool-Aid into their drinks. They should just stick the syringe of Kool-Aid into the drink. The Sprite should actually pull the Kool-aid out of the syringe all on its own. They can just sit back and watch as the Kool-Aid makes it's way down through the crevices of the stacked ice giving a very bloody effect
Notes
*Eventually, after seeing your cool drink transform before your eyes, most of the Kool-Aid will spread throughout the soda and the soda will take on a layered look. Amazingly, some of the soda will still stay separated from the Kool-Aid. The top half will probably turn a blush color, then red, then clear. The drink starts to combine as you move it around. If you let the drink sit, it will happen more gradually. I timed my drink that was sitting on the counter, for about 1/2 hour and it was still not mixed entirely. That cool definition was still there. The Kool-Aid and soda mixed together tastes delicious – kind of like a Shirley Temple.
Now: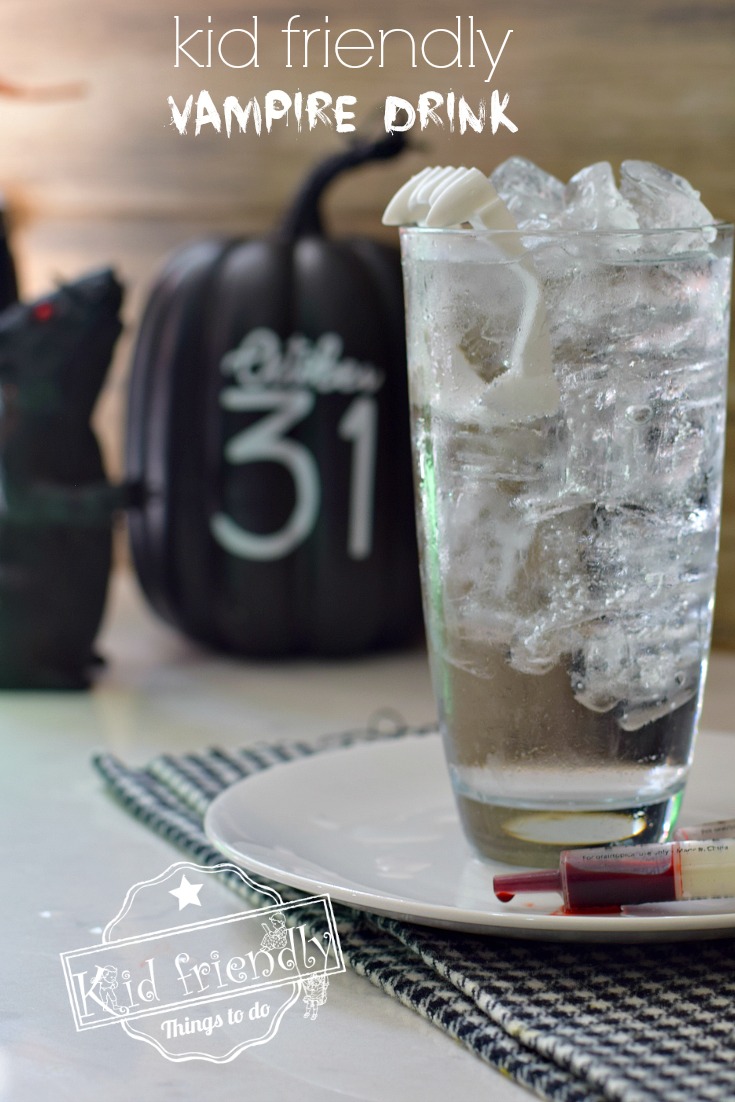 Happy Halloween!
Don't leave without gaining instant access to all of my crazy ideas, plus easy family recipes and more fun stuff! Sign up, below
[box]
~Melissa – KidFriendlyThingsToDo.com