Chocolate Covered Oreo Cookie Baseballs On A Stick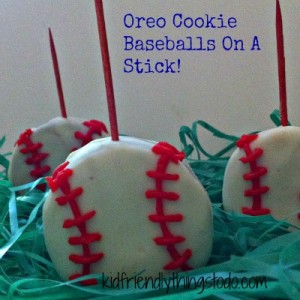 Posted by Melissa in Birthday Dessert Idea, Birthday/Holiday & Celebration Dish, Easy Family Recipes, Father's Day, Fun Food Crafts, Game Ideas, Holiday Fun Foods, Other Fun Foods | 0 comments
These easy and fun Chocolate Covered Oreo Cookie baseballs on a Stick will look great at your summer picnics, baseball outings, Fouth of July, and birthday parties. Surprise dad with a tray of these for Father's Day! Here's the how to:
You'll Need:
Double Stuffed Oreo Cookies
Toothpicks
Wilton White Chocolate Melts – melted according to package directions in a large bowl
Red Icing In A Squeeze Tube
Wax Paper on a tray the will fit nicely into your freezer
Suggested Equipment:
Now, here we go!:
Start off by trimming the bottom of the Oreo Cookies so they have a straight edge to stand on
Make a sawing motion with your knife to do this
One by one, place your cookies into the bowl and pull them out with a fork, tapping any excess chocolate back into the bowl
Transfer the chocolate covered cookies onto your wax paper
Pop these into the freezer
After they have had a few minutes in the freezer, and the chocolate has hardened – Insert toothpicks opposite the straight edge – into the top of the cookie
Stand the cookie up to test it. If any excess chocolate is making it wobbly, now is your chance to trim it with a knife
Decorate with red icing
There you have it – Chocolate Covered Oreo Cookie Baseballs on a Stick! Phew – long title!
Happy Summer!
Don't miss a thing! Follow me for the latest recipes, fun foods, party ideas, and crafts! Can't wait to see you!
~Melissa – KidFriendlyThingsToDo.com