These Easter Bunny Cupcakes with Marshmallow Ears and Feet are so easy to make and cute as can be. Perfect easy treats for spring or your Easter celebration.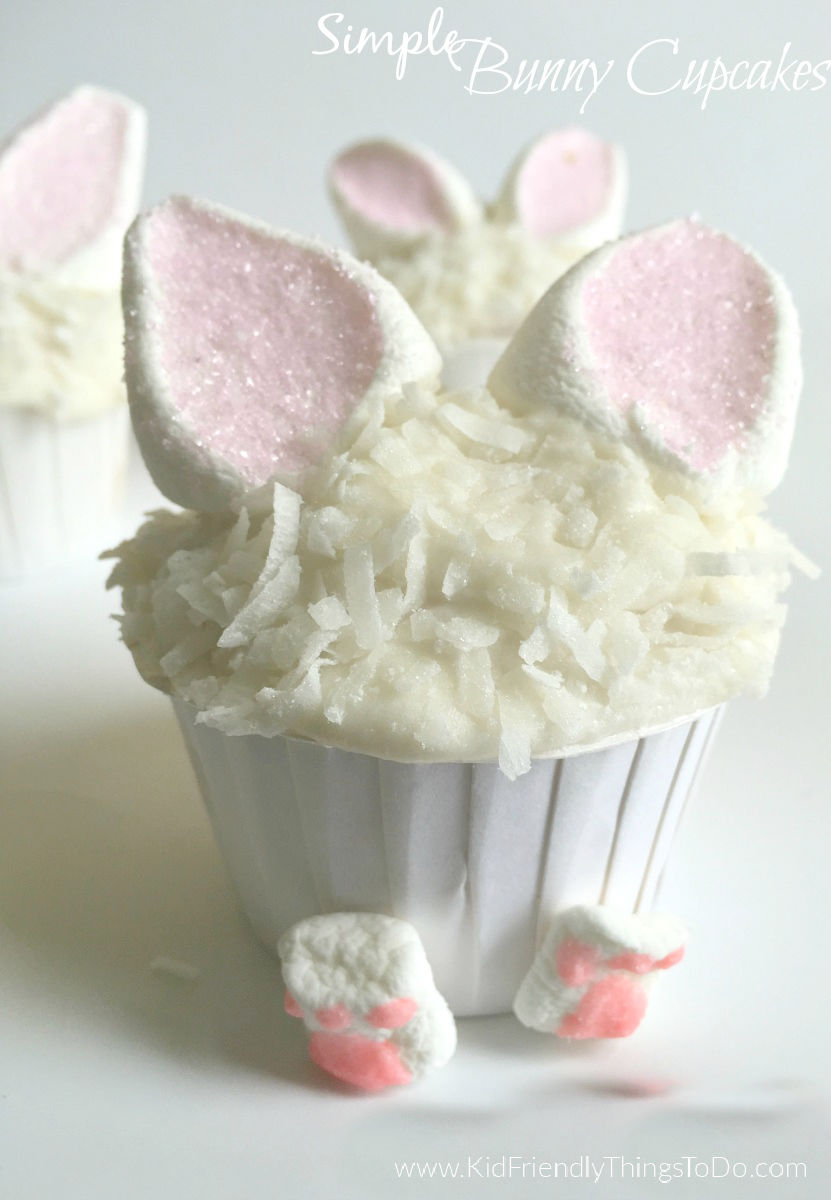 Easy Easter Bunny Cupcakes
Easter is coming so quickly, this year. On one hand, I am excited to see Spring arrive. On the other hand, I am so not prepared! These cute little Easter Bunny Cupcakes, thankfully, are so simple to make that I might just be able to pull a fun Easter off without too much stress.  Last week in Northwest Indiana, we were hit with a pretty nasty blizzard. The result was a pretty nice view to wake up to.
The kids had a day off of school. You would think I would have less time to get things like bunny cupcakes creations, done. Really, without 4 lunches to make, homework to pack up, bus stops to wait at, and the race against the clock to get everything done before they get home…a day with the kids just hanging out is way more productive for me. (Sometimes!)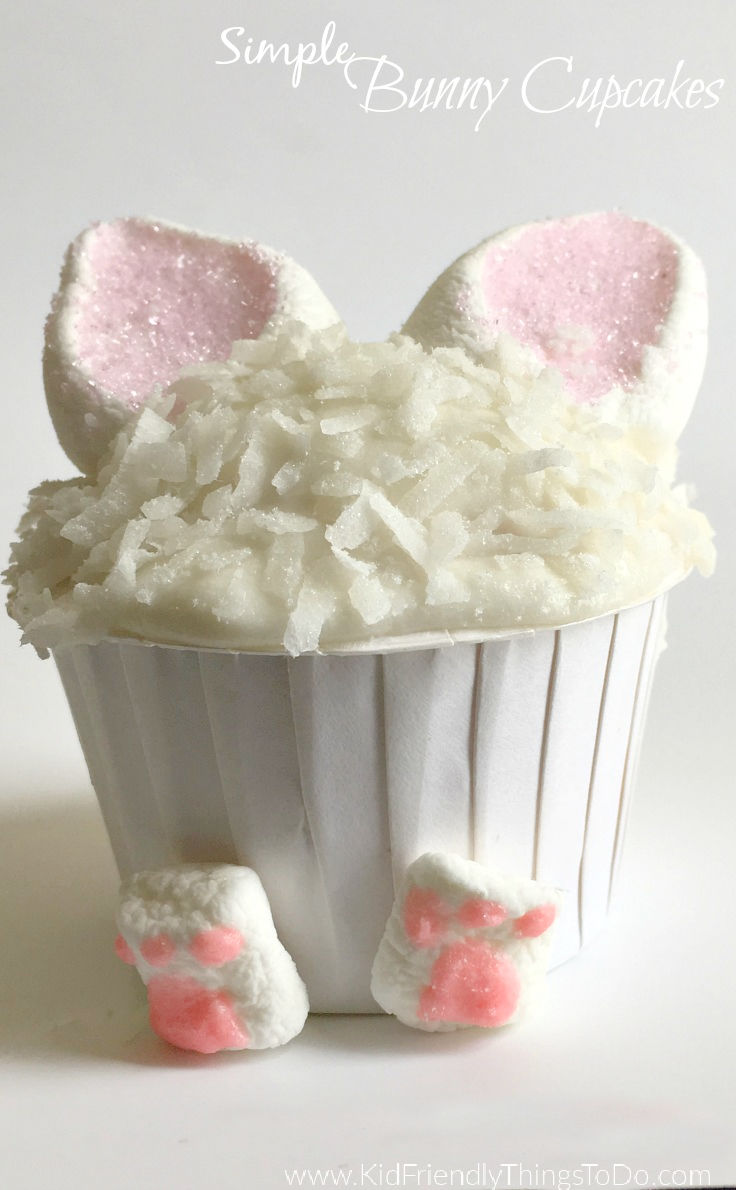 These are so simple to make, and if you are up for help in the kitchen, it's an easy one for the kids to lend a hand with. Here's what you'll need to gather for your Oh So Cute…Bunny Cupcakes! Just look at those feet.
Make-Ahead and Storage:
These cupcakes are best when eaten the day of making them, but can be covered and stored for up to two days
Are you ready to make these cute Easter Cupcakes? Let's make sure you have everything you'll need: 
Ingredients You'll Need…
Cupcakes baked in White Cupcake Wrappers
Vanilla Frosting
Red food coloring
Coconut shavings
A small paintbrush
Mini marshmallows
Regular size marshmallows
Pink sugar sprinkles
Scissors
My top Amazon Picks for this Easter Bunny Cupcake
(affiliate links)
Tips and Tricks for Making these Easter Bunny Cupcakes
no fancy cupcake recipe is required. I just used a boxed cupcake mix
mini marshmallows can be made flat with a rolling pin or just squeezed until flattened out a bit
use a small watercolor paintbrush to color the bunny feet with pink frosting
toothpicks are a great tool for making the toes for the bunny feet
for an added touch, you can add a mini marshmallow that has been cut in half to the back of the cupcake wrapper for the bunny tail
Come Join Me on Social Media
FACEBOOK
Facebook Page: Recipes Passed Down
Facebook Page: Kid Friendly Things To Do
Join my Facebook Groups
Easy Family Recipes – Just Like Mom Used to Make
Kid's Crafts and Activities for the whole family
PINTEREST

How do you make Easter Bunny Cupcakes?
Grab the printable below with full instructions and step-by-step photos…
bake cupcakes in white cupcake wrappers
frost cupcakes with white frosting and sprinkle with coconut flakes
use pink frosting to decorate mini marshmallows into bunny feet
attach those to the front of the cupcake wrapper
cut regular-sized marshmallows at a diagonal and dip the sticky inside part into pink sugar crystals
attach the ears to the top of the cupcake
Print
Easy Easter Bunny Cupcakes
Make an Easy Easter Bunny cupcake with marshmallow ears.
Author:
Prep Time:

10 minutes

Cook Time:

25-30 minutes

Total Time:

44 minute

Yield:

18 cupcakes
Cupcakes baked in White Cupcake Wrappers
Vanilla Frosting
Red food coloring
Sweetened Coconut flakes
A small paintbrush
Mini marshmallows
Regular size marshmallows
Pink sugar sprinkles
Scissors
Instructions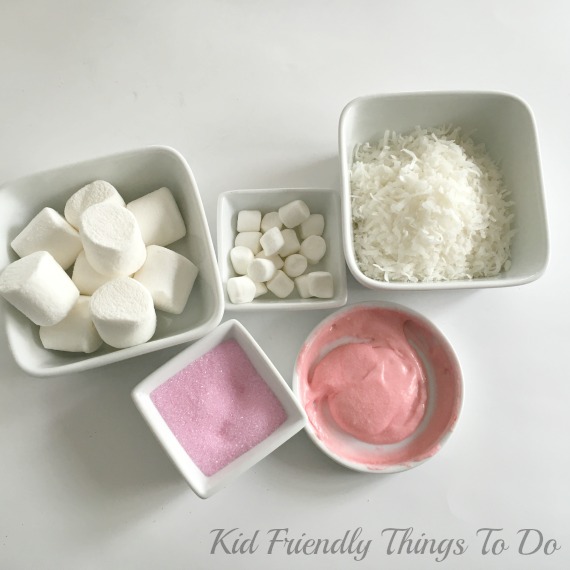 Spread some vanilla frosting onto each cooled cupcake
Sprinkle coconut shavings over the top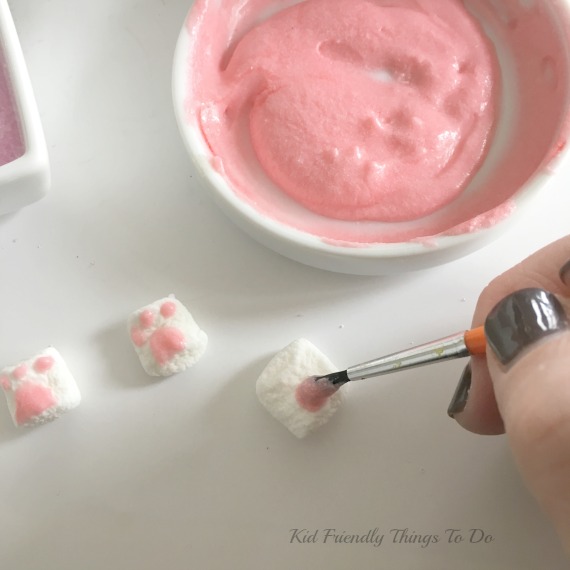 Mix a small portion of the vanilla frosting with the red dye to make a pastel pink color
Place the mini marshmallows out and lay them so they are on their sides
Press or roll the mini marshmallows down so they are pretty flat
Paint little footprints on with the small paintbrush and the pink frosting
Use some vanilla frosting to glue the feet onto the front of the cupcake wrapper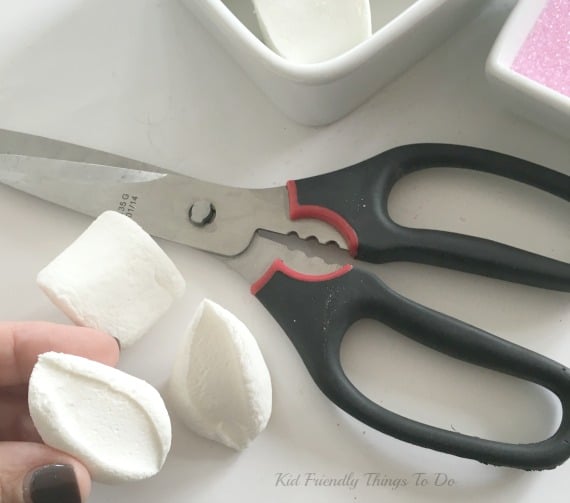 Cut the regular-sized marshmallows in half at a diagonal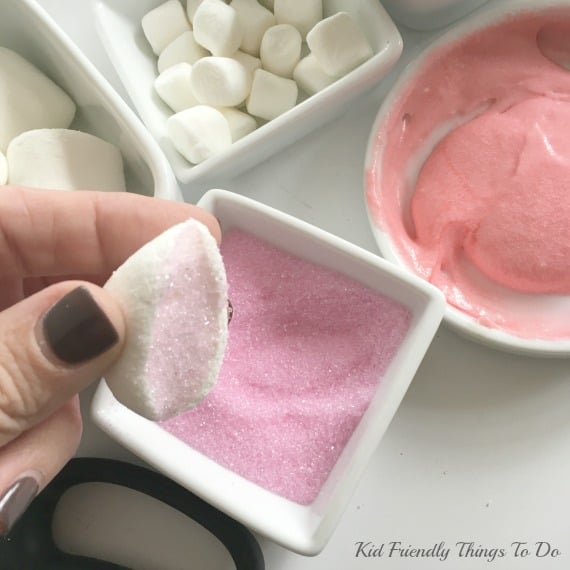 Press the sticky inside part of the marshmallow into the pink sugar to make bunny ears
Put the bunny ears on top of the cupcake – pressing down gently to put them in place
*if they are not staying – add some frosting to the bottom of the bunny ears to help set them in place
Repeat for more.
Notes
*if your cupcake wrappers don't look great after baking in them, you can insert your cupcakes into a stiff paper wrapper. I'll include a link to Amazon of some that I have in mind