Three Ingredient Easy to Make Easter Bunny Turtles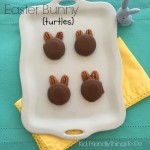 Posted by Melissa in Birthday/Holiday & Celebration Dish, Dessert, Easter, Easter, Easter, Easy Family Recipes, Fun Food Crafts, Game Ideas, Holiday Fun Foods, Recipe | 0 comments
Hey y'all. I'm so excited at how these cute Easter Bunny Turtles turned out. I'm even more excited at how simple they are to make. Only 3 ingredients and done in 10 minutes! Come on in, and I'll show you how you can make these adorable and delicious Easter Bunny Turtles for your Easter or Spring celebration:
Share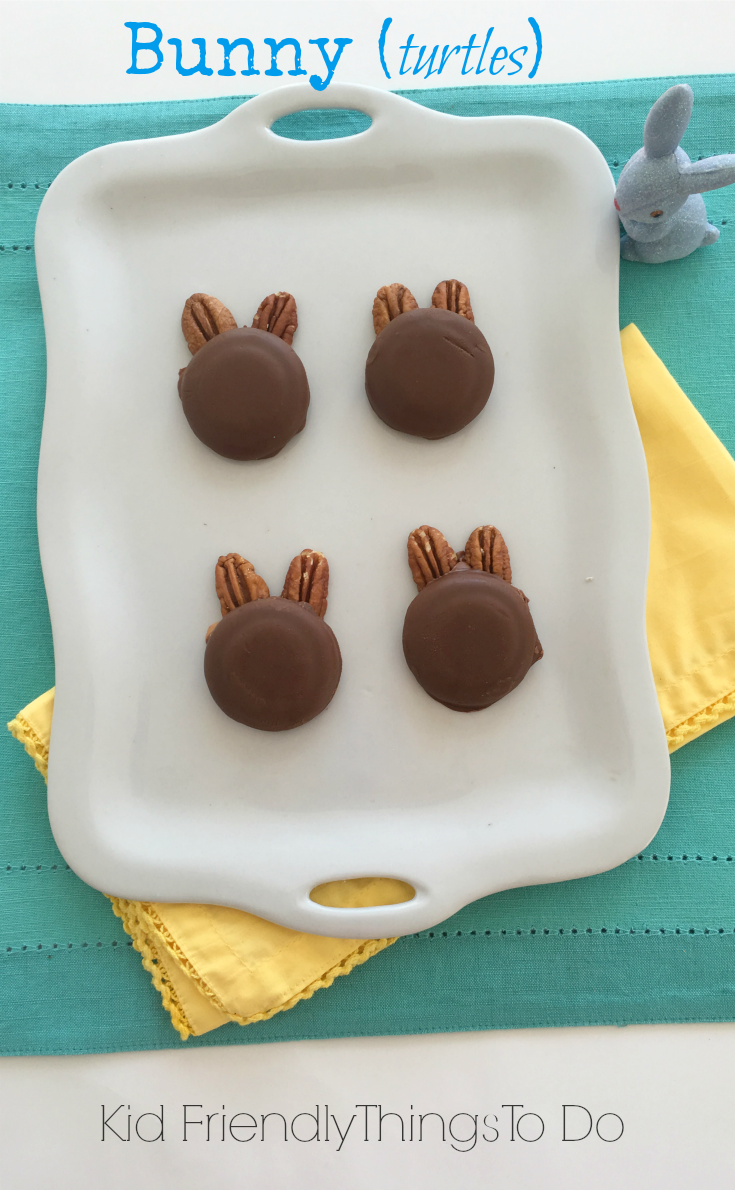 I got this idea from a Taste of Home magazine (love TOH!). A woman had made simple turtles. I looked at them and quickly saw how easy it would be to move the pecans around, ditch a few and transform them into a bunny rabbit! The timing couldn't be better. Just in time for Easter!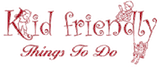 MY LATEST VIDEOS
Let's get to it:
Here's what you'll need for these bunny turtles:
(makes – aprroximately 2 dozen bunny turtles)
2 dozen soft Milk Chocolate Caramels – get your favorite kind in the candy bar aisle
bag of pecan halves
1 package of fudge cookies – there are lots of variations of fudge cookies, some have peanut butter, some mint, some plain
Extra equipment:
A baking sheet lined with parchment paper
Now, onto the yumminess:
Preheat the oven to 250 degrees
Place your caramel candies on the parchment paper lined baking sheet
Pop that in the oven for 3-5 minutes, or until the candies are warmed up enough to start to soften even more and melt the caramel
Take that out of the oven and place 2 pecan halves on each caramel candy – at the top to look like bunny ears
While the candies are still warm, place the cookies on top
And, you are done, my friend! Woo! Hoo! Love the simple things in life!
Here's some stuff you might need or even want for this fun food:
Don't forget to follow me for more fun ideas and delicious family recipes:
~ Melissa – KidFriendlyThingsToDo.com