Brighten the kitchen table with these beautiful and easy-to-make Colorful Chocolate Covered Strawberries. These are dipped in spring colors and decorated with fun spring-colored stripes. They say Hello Spring!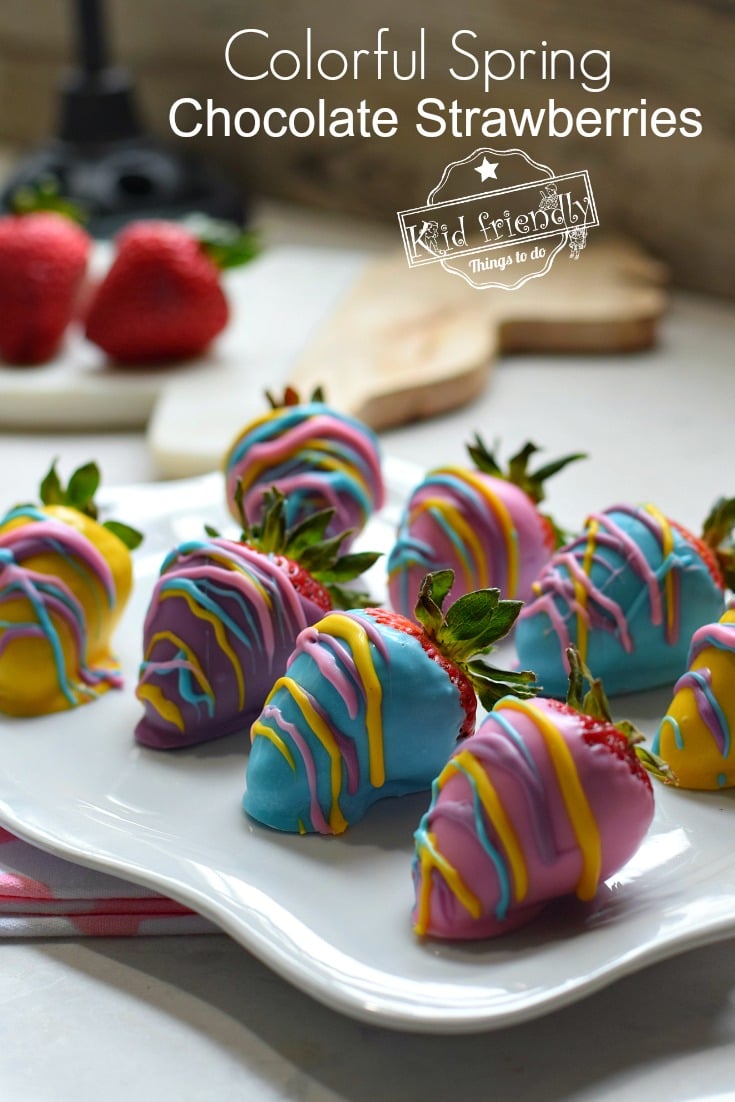 Don't they just make you smile?
They're not too fancy, which I love. I made the stripes a little more whimsical to give them a fun flare.
Make sure you take a look at some of our other chocolate-covered strawberries. I think you'll really love these fancy looking chocolate covered strawberries, or these easy-to-make rainbow chocolate-covered strawberries, rainbow chocolate-covered strawberries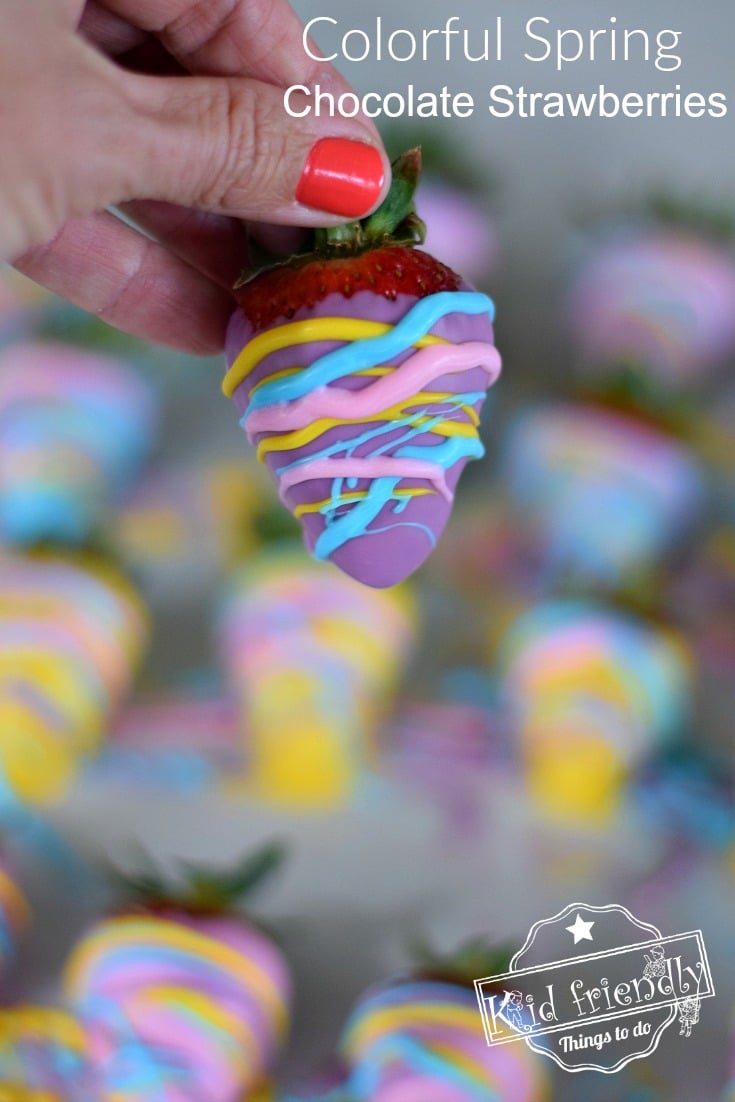 I almost named them Graffiti Chocolate Covered Strawberries. That's what they kind of remind me of.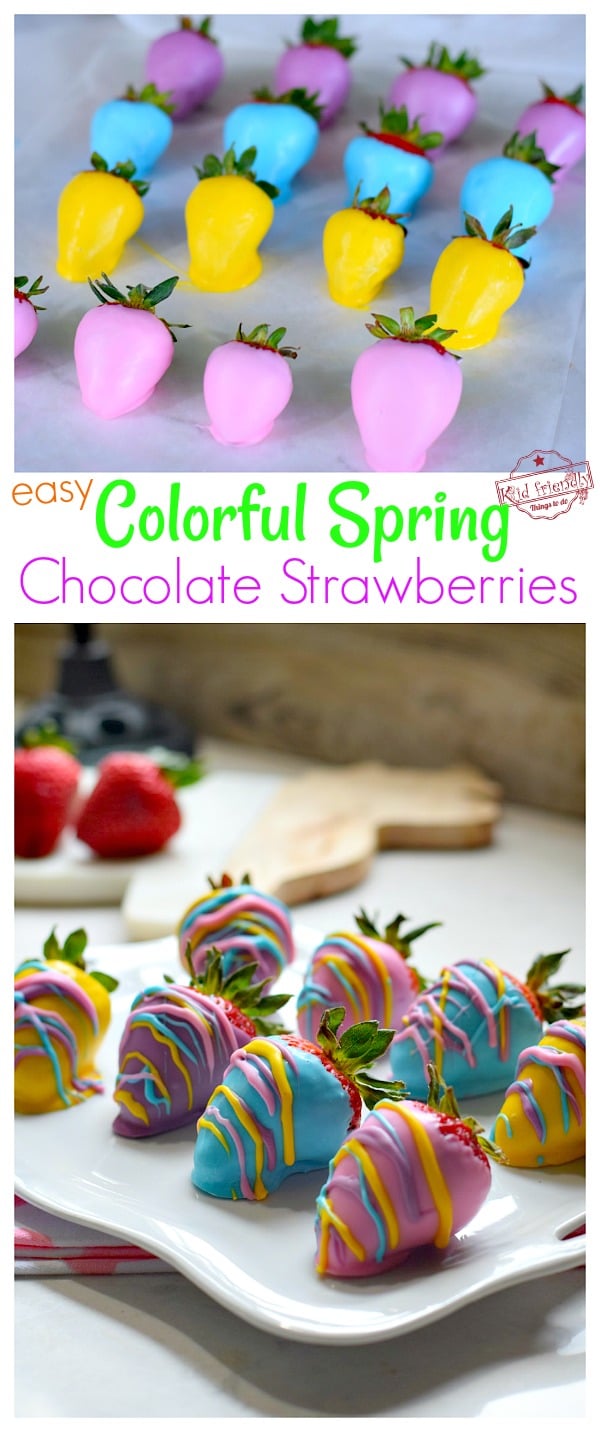 They are so much fun. I love the bright colors. You could almost leave them plain like the photo on top. I like that too.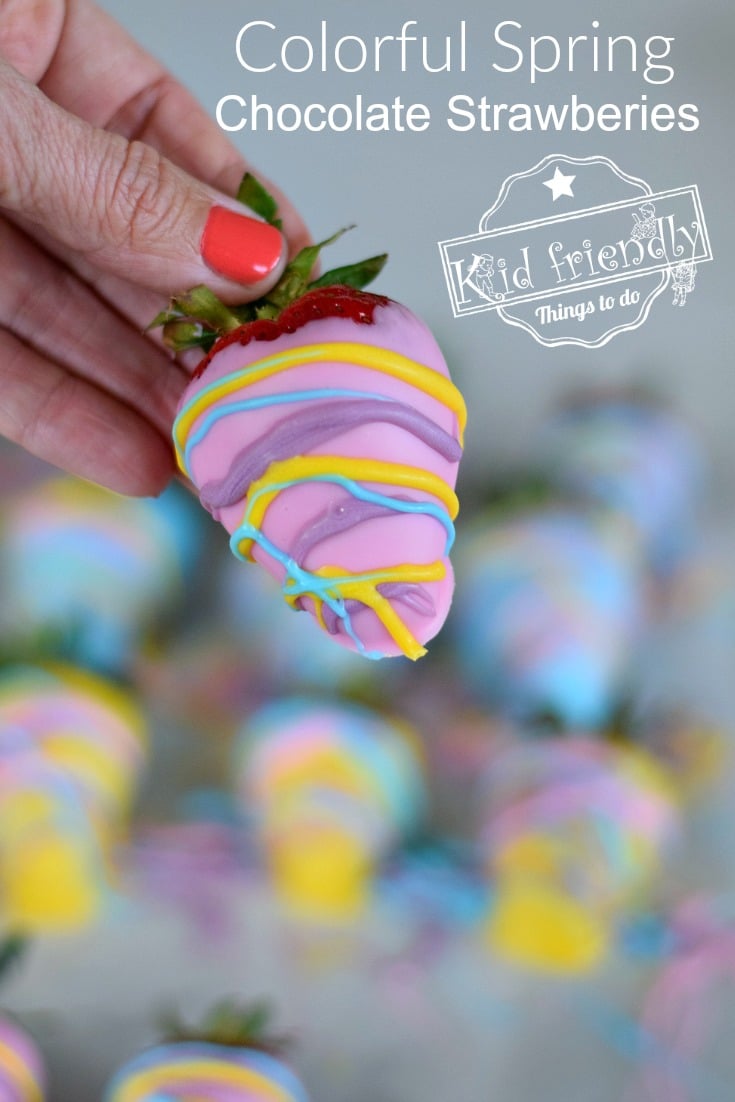 But, the fun stripes give them that added touch of love.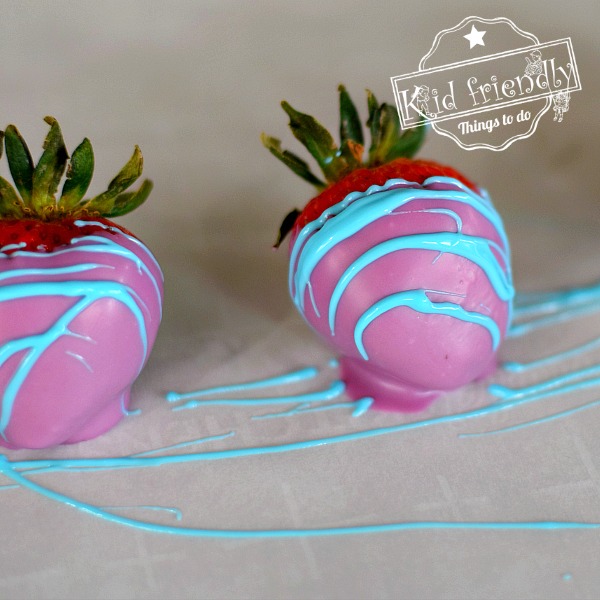 Of course, you could always stick to one contrasting color. I love this look, as well.
Here are my top Amazon Picks for these Chocolate Covered Strawberries…
[box] [/box]
Here's the printable for the Chocolate Covered Strawberry Recipe…
Print
Beautiful and Easy Chocolate Covered Strawberries | Kid Friendly Things To Do
Make these beautiful and easy to make chocolate covered strawberries to welcome spring.
Author:
Prep Time:

5 min.

Cook Time:

20 min.

Total Time:

25 minutes

Yield: about

3

dozen

1

x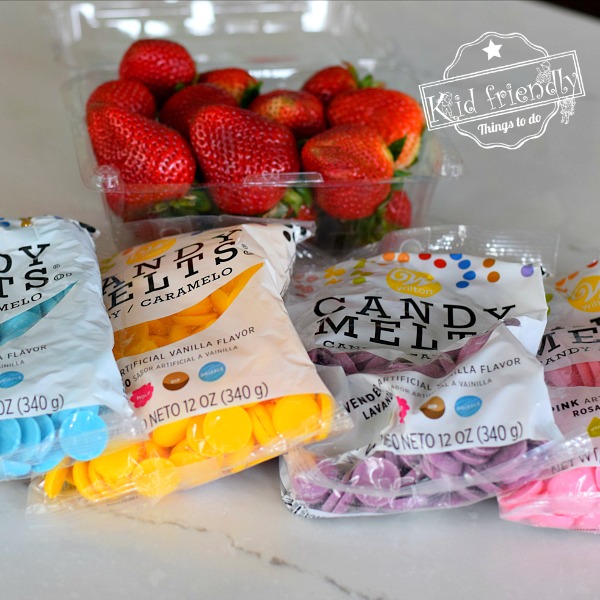 Wilton Chocolate Melts (4 spring colors) – I chose bright blue, yellow, pink and lavender
Fresh strawberries – About 3 cartons

4

glass microwave safe bowls
silicon spatulas
wax paper
forks – 4
Instructions
Pick about 3 dozen of the best strawberries from the cartons
Rinse and dry the strawberries – divide them into 4 groups of 9
Melt your first color of chocolate in one of your microwave safe bowls
*Place the melts in the microwave for 1 minute and stir while it's still warm until smooth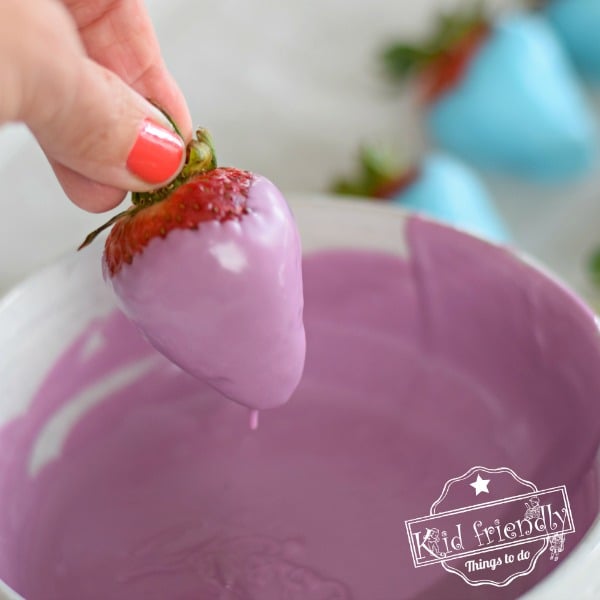 Dip one group of your strawberries into the first color – tilting it all different ways until all of the strawberry surface (except for the very top) is covered in chocolate
Lift up and hang over the bowl allowing excess chocolate to drip
Transfer to a sheet of wax paper to dry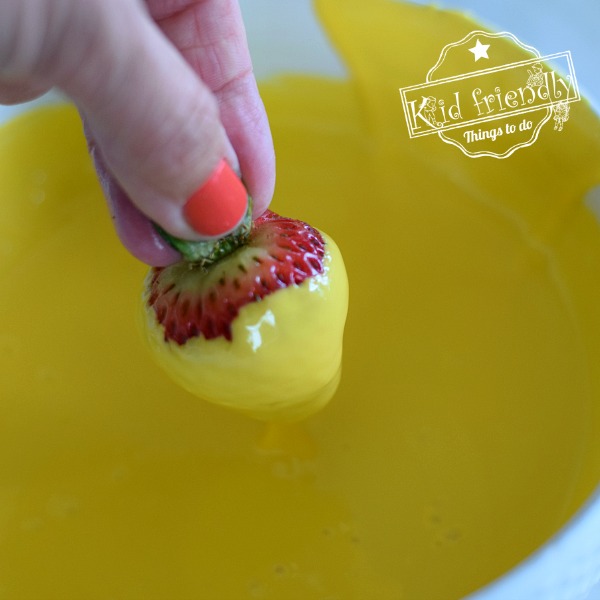 Melt the second color of chocolate and do the same with the next group of strawberries
Continue until all 4 colors are melted and all 4 groups of strawberries are dipped
Decorating…
Now…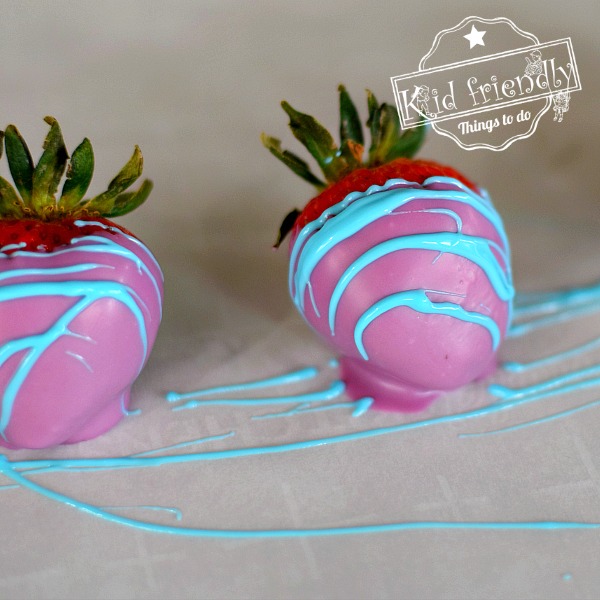 You can start with the last chocolate you used because the chocolate is probably still smooth
*If it's not – just pop the chocolate into the microwave for about 15-30 seconds and stir again until smooth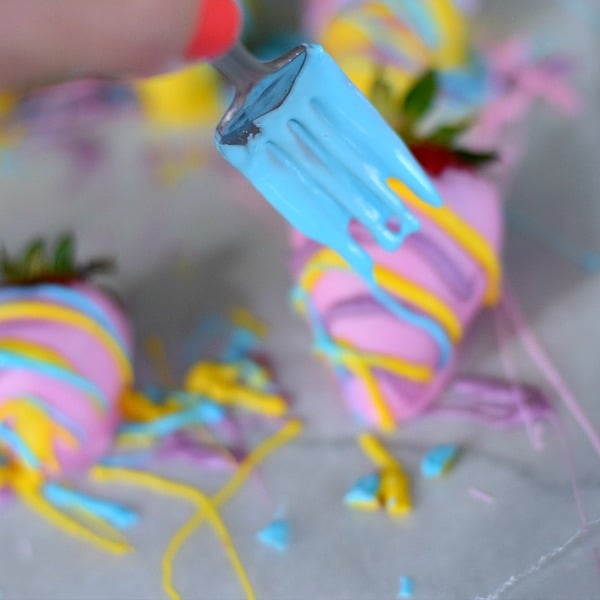 Dip a fork into the melted bowl of chocolate and going in a back and forth motion over the strawberries with a contrasting color – let the chocolate drizzle over the coated strawberries
*Keep dipping into chocolate to get more and swinging the fork back and forth over the strawberries
Continue to reheat the other colors of chocolates and using forks to spread that color over the strawberries
*So –
the purple strawberry should have, yellow, blue and pink stripes
blue will have purple, yellow and pink
pink will have purple, yellow and blue
yellow will have purple, blue and pink
That's it!
Notes
You don't have to make 3 dozen. If you want less, then just pour out less chocolate into your bowls. You can use leftover chocolate for some other project.
Happy Spring and Summer – Finally!