With layers of cream cheese, custard, whipped topping, lemon, and pineapple, this Jello Salad Recipe is absolutely amazing. Its bright sections make it perfect for spring and the upcoming Easter Holiday. You can even make this Easter dish one week in advance, making it an easy side for your special day. Come on in and I'll share this family recipe for Layered Jello Salad…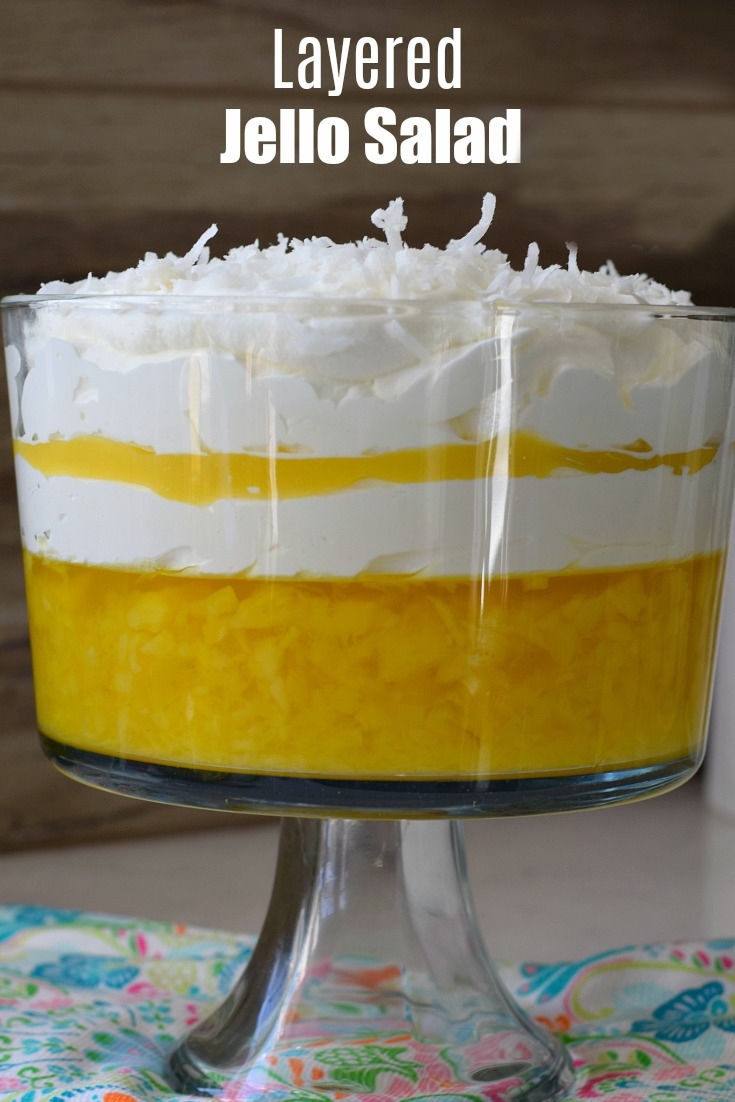 Layered Jello Salad
If you love Dessert Salads, then you might love my recipe for Pistachio Fluff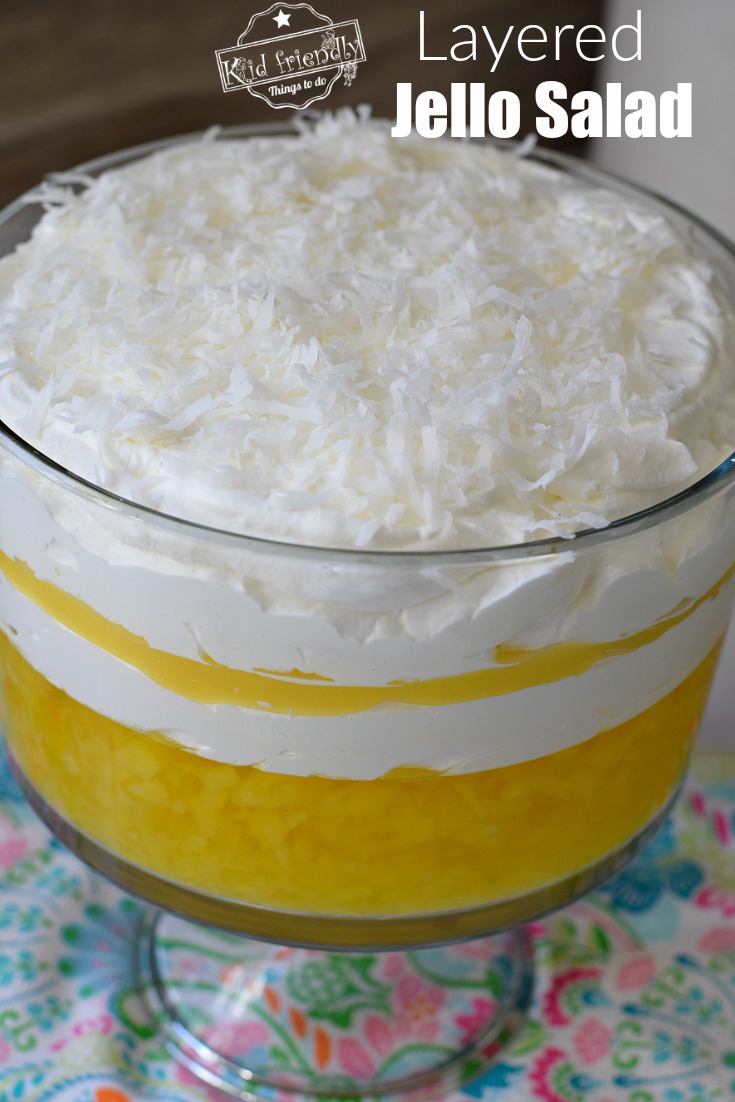 My mom always called this the Four-Layered Jello Salad. The traditional use for this jello dessert was as an Easter Side. The layers were colored and the topping was shredded cheddar cheese. As a kid, that grossed me out. The cheese mixed with sweet flavors just was not appealing. As an adult, I can appreciate the combination. I know that my kids though would have the same reaction as I did. So, that's why I substituted coconut for the topping.
For as long as I can remember, Jell-O Salads were are part of my childhood. I've got a few on the site that I can share with you. Maybe you'll have some nostalgic feelings for this Dreamsicle Jell-O Salad with whipped cream, or this Strawberry Pretzel Salad made with Jell-O.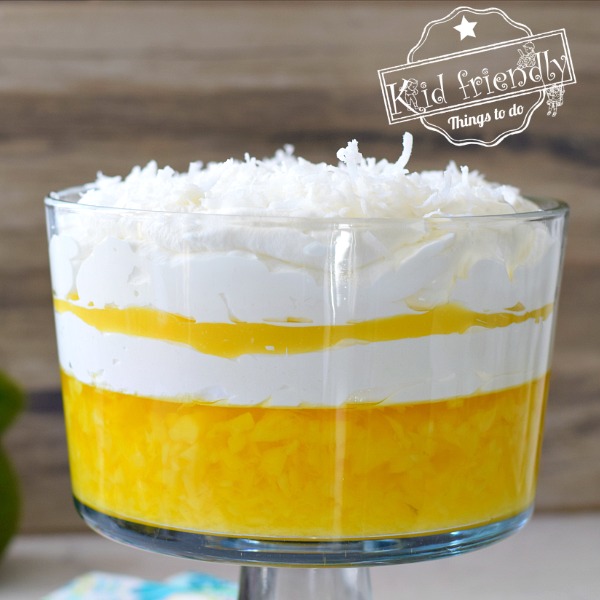 I also left out the food coloring. It's just one more step that isn't really needed. The colors are bright enough on their own. The reasoning behind coloring the layers was to represent an Easter Egg. If you want to add that back in, then I think that'll be a fun treat for your family.
Here are my top Amazon Picks for this Layered Jello Dessert:
[box] [/box]
Here's the printable recipe for you:
Print
Four Layered Jello Dessert
Layered Jell-O Salad with colorful and delicious layers
First Layer
2

small packages of lemon jello

4 cups

of water

1

can of crushed pineapple drained – (Reserve Juice)
Second Layer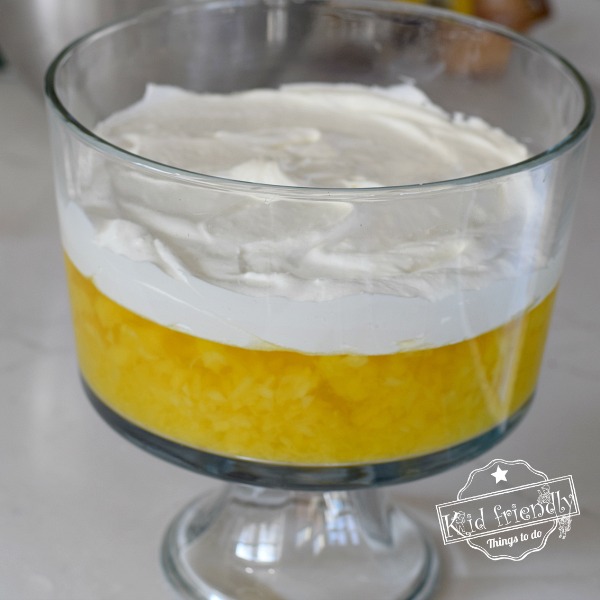 8 oz

. Cool Whip

8 oz

. Cream Cheese
Third Layer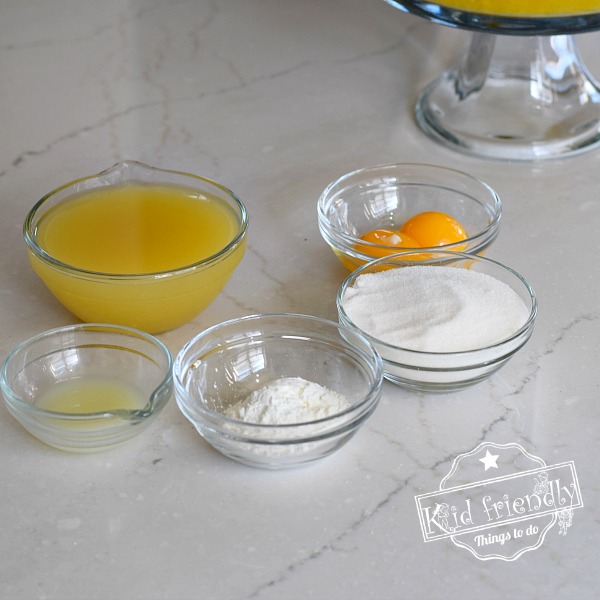 1 tsp

. of Lemon Juice

1 cup

of reserved Pineapple Juice (I've also substituted orange juice)

1/2 cup

of sugar

2 Tbsp

. of cornstarch

2

Egg Yolks
Fourth (Top) Layer
2 Cups

of Heavy Cream (Chilled)

2 Tbsp

. of sugar
About

1 cup

of sweetened coconut shavings
A See Through Bowl or Dish (8×10) – You want to show off the layers 🙂
Instructions
First Layer (Bottom Layer)
Heat water, add Jell-O, and stir for 2 minutes or until dissolved.
Stir in drained pineapple
Pour into your serving dish
Refrigerate for 4 hours, or until firm
Second Layer
Mix the cream cheese & cool whip ( I used a Mixer for this – thank goodness for those!)
Spread this layer onto the first layer
Third Layer
In a saucepan over medium/high heat- heat the pineapple juice, lemon juice, and sugar. Stir so everything is dissolved
Add Cornstarch – continue to stir until very thick (like a paste) Turn the heat up, if it's not thickening.
Temper the eggs – Have the 2 yolks mixed in a bowl, next to you, and take a spoon full of heated mixture.
Whip the heated mixture into the eggs
Add the egg mixture to the saucepan, and continue to whip while the egg is cooking into the mixture. (Only takes a minute)
Remove from heat
Let cool for about 5 minutes
Spread over the second layer (this is a thin layer)- place back in the fridge
Fourth Layer
You'll want to use your mixer for this or a handheld beater
Beat the Heavy Cream until soft peaks form
Add 2 Tbsp. of sugar, and continue to beat until the cream is the consistency of whipped cream
Spread over the third layer
Sprinkle Coconut Shavings on top and Enjoy
Notes
This can be stored in the refrigerator, covered tightly with plastic wrap for up to a week
*The original recipe included shredded cheddar cheese on top and fun colors for the layers. It was supposed to resemble an Easter Egg. I omitted the food coloring because I thought the layers already had a bright spring contrast and the cheese would definitely deter my kids from tasting this dessert.
~Melissa – KidFriendlyThingsToDo.Com