Pumpkin Spice Soft Cookies With Brown Sugar Frosting
Posted by Melissa in Cookies, Easy Family Recipes, Thanksgiving | 0 comments
These pumpkin cookies were a big hit at one of our church functions. By the next morning, I had recipe requests rolling in. That's always a good sign! I made them as one of my recipe reviews, but as usual, I changed a couple of things from the magazine. Come on in, and I'll share my version of this delicious recipe with you.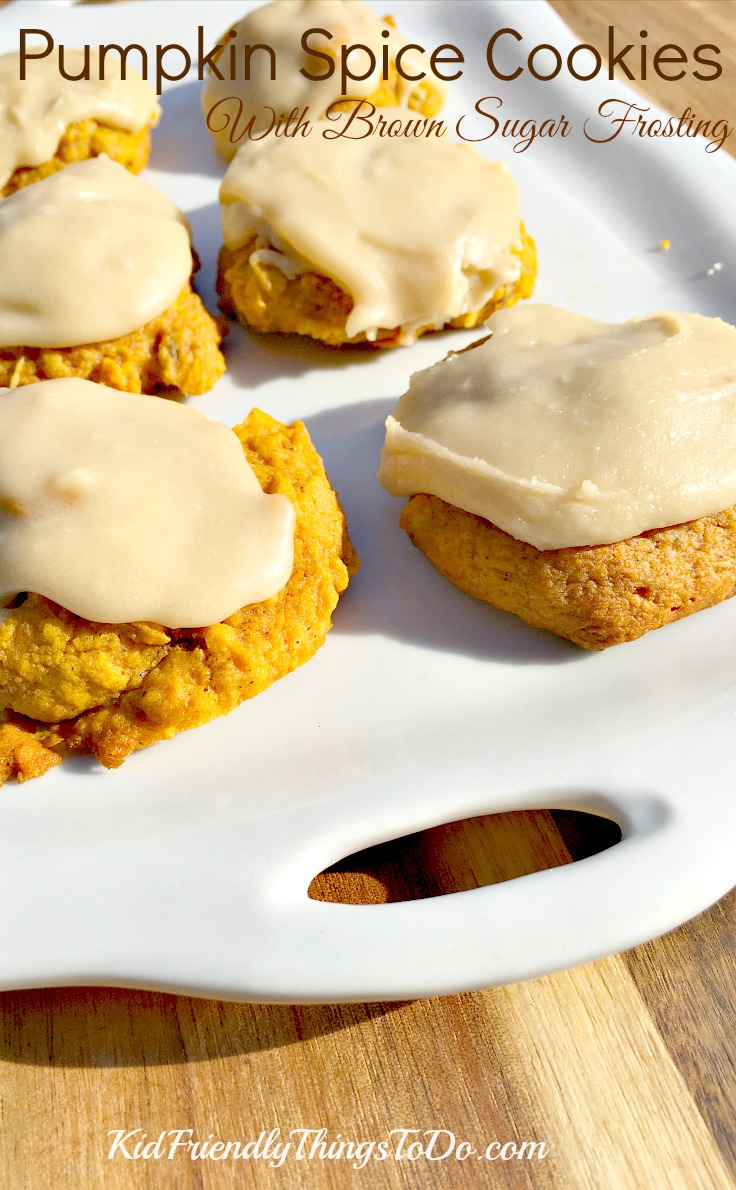 One of my changes was taking out the butter – completely! I know, crazy right?! A cookie recipe without butter? I didn't do it because, I'm just "cooking savvy" that way. Nope! I made a drastic change due to my usual reason. Lack of ingredients. I looked in my fridge, in the middle of making the cookies, on the night I was in charge of snacks, and had NO BUTTER! Ok, I had enought for the frosting, but…Seriously? How does a person that cooks, and bakes quite a bit, and is a Field Editor for a cooking magazine, run out of butter?! I don't know. It's crazy, but I wasn't driving to the store, not with 4 kids home on fall break. I knew that much! I'm a huge fan of substituting ingredients, on the fly, so I grabbed my coconut oil! I cut the amount of butter in half, and used coconut oil in it's place. It really worked. It was a nice fluffy, delicious pumpkin cookie. Phew! They are yummy, and a little bit healthier, now. 🙂
Here's the recipe for ya: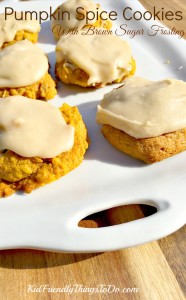 Soft Pumpkin Spice Cookies with Brown Sugar Frosting
2015-11-11 06:56:05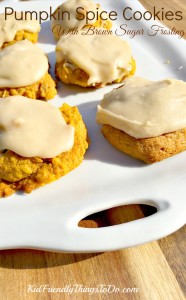 Soft and delicious pumpkin cookies!
Ingredients
1/2 cup of coconut oil
1/2 cup of sugar
1/2 cup of brown sugar
1 large egg
1 cup of canned pumpkin
2 tsp. vanilla extract
2 cups of all-purpose flour
1 tsp. baking powder
1 tsp. baking soda
1 tsp. ground cinnamon
1/2 tsp. allspice
1/2 tsp. ground cloves
1/2 tsp. salt
3/4 cup of chopped pecans
Frosting
1/4 cup of packed brown sugar
3 Tbsp. butter
1/4 cup of 2% milk
2&1/2 to 3 cups of powdered (confectioners') sugar
Instructions
Preheat the oven to 350 degrees
In a large bowl, cream the coconut oil with the sugars
Add the egg, pumpkin and extract stir in
In another bowl, add the flour, powder, soda, spices and salt - mix well
Add the flour mixture to the wet mixture, and mix well
Stir in the pecans
Spoon onto an ungreased baking sheet, about 2 in. apart
Bake for 9-11 minutes or until the edges start to get a little golden
Let cool completely before adding the frosting
Making the frosting
In a saucepan over med/high heat, melt the butter
Add the brown sugar and bring the mixture to a boil
Cook for about a minute - stirring constantly
Remove from heat and let this mixture cool down quite a bit, to a luke-warm temp.
Add the milk and powdered sugar
Stir until it is a nice creamy frosting
Spread over cookies
Kid Friendly Things to Do.com - Family Recipes, Crafts, Fun Food Crafts, and Game Ideas https://kidfriendlythingstodo.com/
Here's some equipment that you might need or
even want
for this recipe:
(contains affiliate links)
Find the original recipe and so much more at TasteofHome.com
Don't forget to follow along with me, so you don't miss any recipes, fun foods, or crafts:
~Melissa – KidFriendlyThingsToDo.com