These Red, White & Blue Blondies are the perfect treat for any Patriotic Party. With colorful patriotic M&M's and a chewy cookie flavor, these patriotic treats will be a big hit at any summer get-together. Come on in and I'll share my recipe for this fun Patriotic Treat.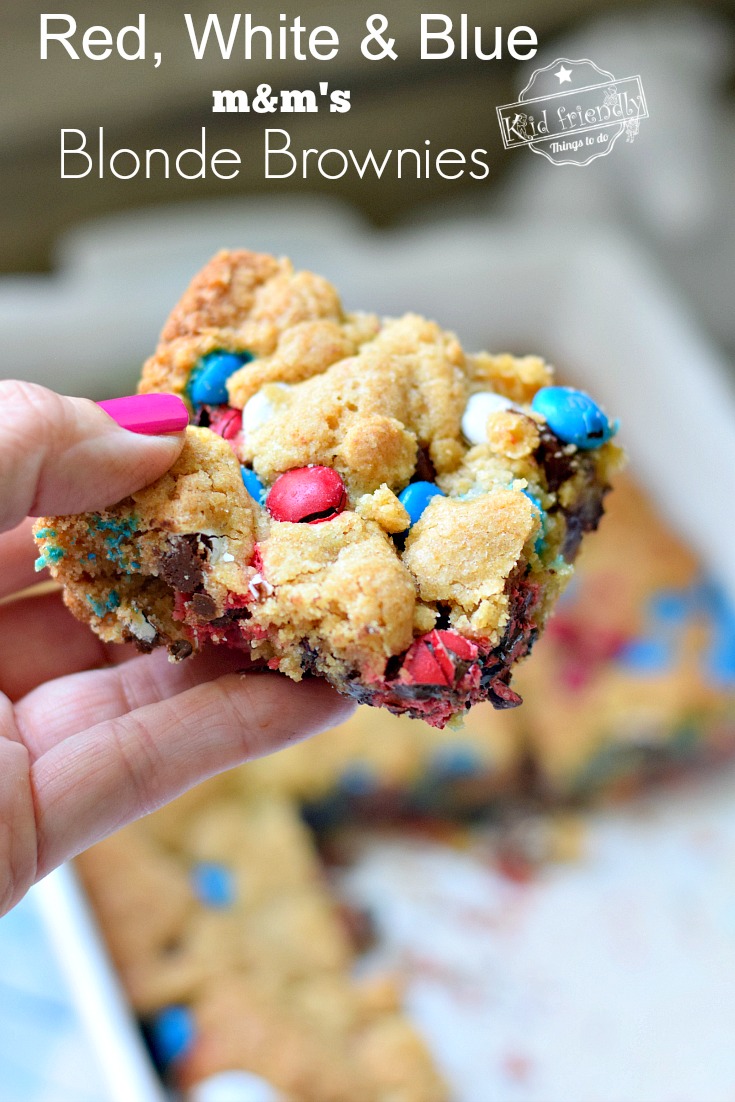 Patriotic Blondies
If you are looking for patriotic treats, then you might like my post on Firecracker Marshmallows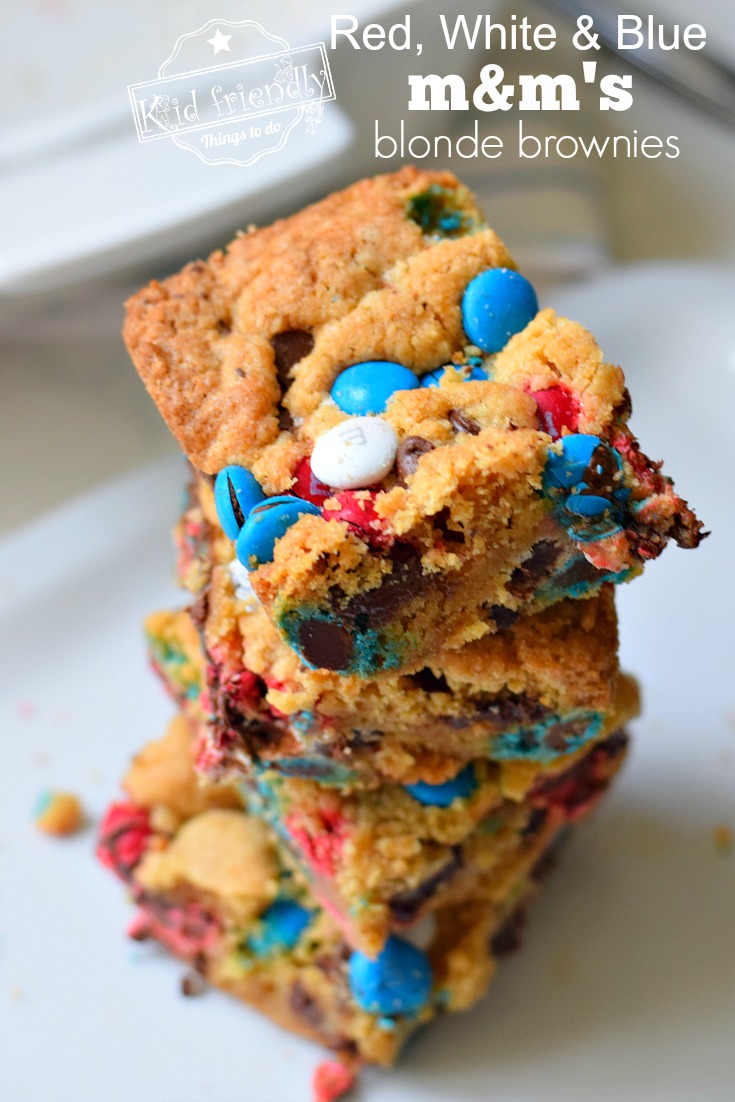 Blonde Brownies are really like a giant soft Chocolate Chip Cookie cut into a handy dandy square.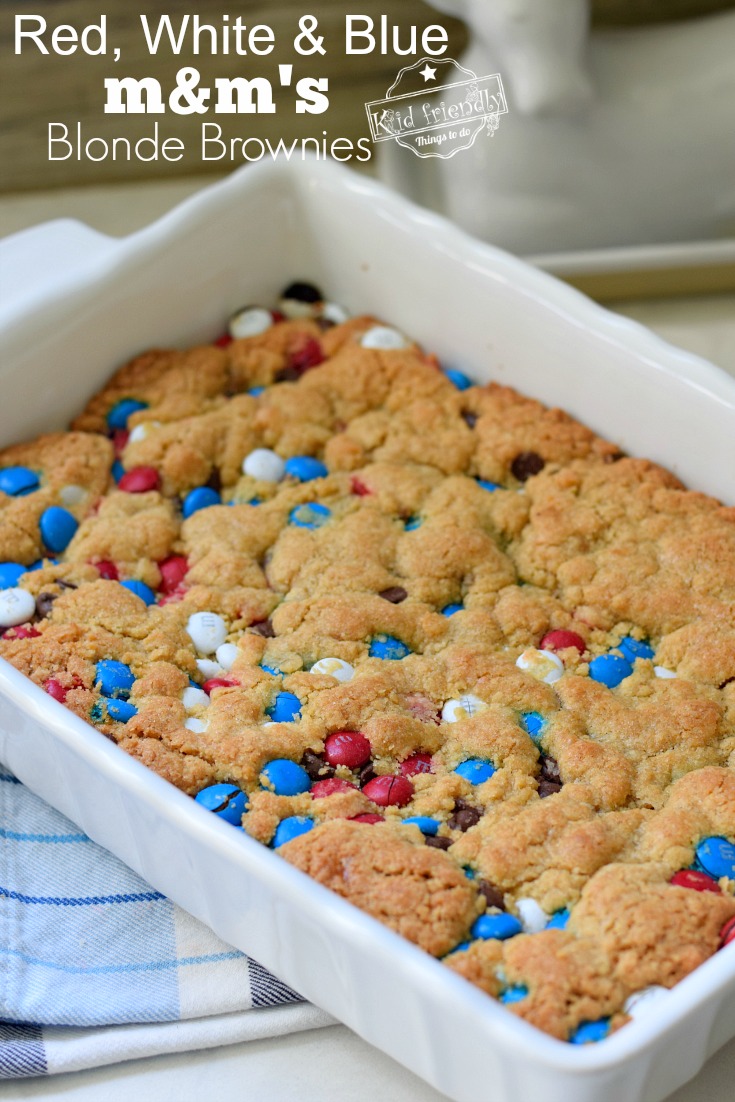 They are the perfect treat to take to a potluck.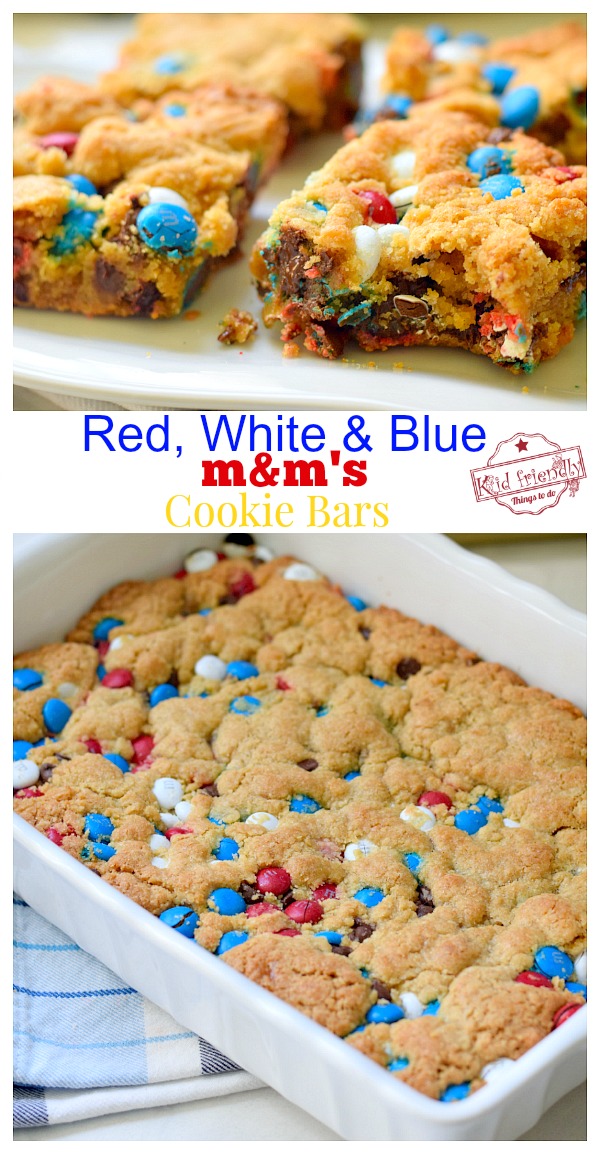 With Red, White & Blue M&M's these cookie bars are perfect for your Fourth of July Picnic.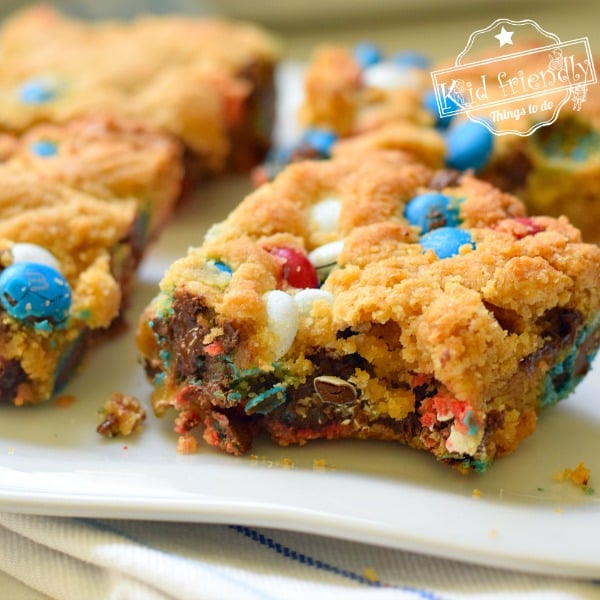 What is the difference between Blondies and Brownies?
Blondies are also called Blonde Brownies, but they really don't taste like a brownie. Blondies have a vanilla, chocolate chip cookie flavor where brownies are chewy like a Blondie but have a chocolate flavor.
Are Blondies supposed to be Gooey?
Blondies may still be gooey in the middle when they are down. As they cool outside of the oven, they will continue to bake. They should be mostly done with a fully done inside on the outer edges of dessert while the innermost part of the brownie might still be gooey.
How long will Brownies Last before they go bad?
Brownies should be covered, but can be left out at room temperature for up to 4 days.
Tips and Tricks for making Blonde Brownies:
Blonde brownies will have a really thick batter that won't spread easily. You'll have to use a flat utensil to really push the batter down and force it to the edges. Your fingers work well for this
Blondies might still be a little gooey in the center and actually be completely done baking. Take them out when the cooking time is done, you smell the aroma and most of the outside of the dessert is done with a little bit of gooey in the center
Blondies can be stored at room temperature for up to 4 days
Blondies should be soft and chewy. They are a dense cookie bar
Do you like Blondies? You might like these recipes…
Here's my recipe for these Red, White, and Blue Blondies…
Print
Red, White & Blue Blondies (with M&M's) | Kid Friendly Things To Do
These Red, White and Blue Blondies are the perfect treat to take to a potluck or enjoy at home with a tall glass of milk.
2 cups

of flour

2 cups

of packed brown sugar

2 tsp

. of baking powder

1/2 cup

of butter melted

2

eggs

1 tsp

. of vanilla

1

bag of Red, White and Blue M&Ms

1 cup

of semi-sweet Chocolate Chips
Instructions
Preheat your oven to 350 degrees
Grease a 9-inch square or 10-inch square
In a large bowl, mix all of the dry stuff – flour, sugar, and baking powder
In a small bowl, mix the wet ingredients – melted butter, eggs, vanilla
Add the wet ingredients to the dry
Mix well
Fold in the M&Ms and chocolate chips
The dough will be thick, kind of like play dough, so it really won't pour out into your pan. It will do more of a plop into your pan. Push the dough out to the edges making sure the depth looks pretty even.
Bake for about 25-30 minutes, or until the top starts turning a little crusty and golden, and a toothpick inserted into the middle comes out clean
Enjoy with a tall glass of milk
Notes
This blonde brownie makes a thick brownie. The center might not seem like it will ever set. It's meant to be moist. Make sure that you let the brownie set and cool completely – like an hour. This will allow any moisture to air out and the brownie will set up even more for you
*It's perfectly fine to eat the brownies before they cool completely, just know that they will be really moist
You can make this recipe in a larger pan to ensure more even doneness. Check on it to be sure that it is not overcooking, as the more spread out the batter is, the quicker it should bake
Storing:
Store in an airtight container or covered with a wrap to keep moist up to 4 days