A delicious Easy and Moist Carrot Cake Recipe made with all the classic flavors with raisins, a hint of cinnamon, and nuts. Made entirely from scratch, this homemade carrot cake is always a hit.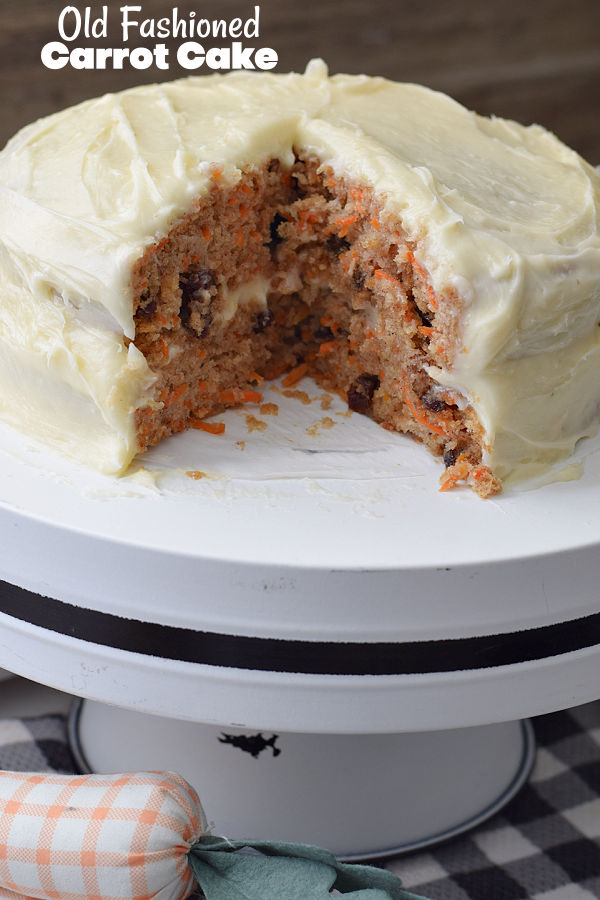 Moist Carrot Cake Recipe
I grew up eating carrot cake in my household. My mom always made a delicious carrot cake with spices and an incredible cream cheese frosting.
For years now, when my birthday comes around, I've asked for carrot cake. My family, bless their hearts, go to the local grocery store and buy a carrot cake for me. I love my family, I do, but let me tell you right now, I've never had a store-bought carrot cake that even comes close to a homemade carrot cake. Actually, I think I've kind of turned into a carrot cake snob. I honestly believe the only carrot cakes worth trying are homemade. Thankfully, this homemade carrot cake is easy to make and definitely brings back that old-fashioned carrot cake feels. I can't wait to share the recipe with you.
Here's What I love about this Carrot Cake Recipe:
it's moist and so full of flavor
using store-bought shredded carrots is a nice shortcut for this homemade carrot cake recipe
I think it'll remind you of the classic carrot cake you grew up with
you can customize the add-ins, adding pecans or walnuts, raisins, or dried cranberries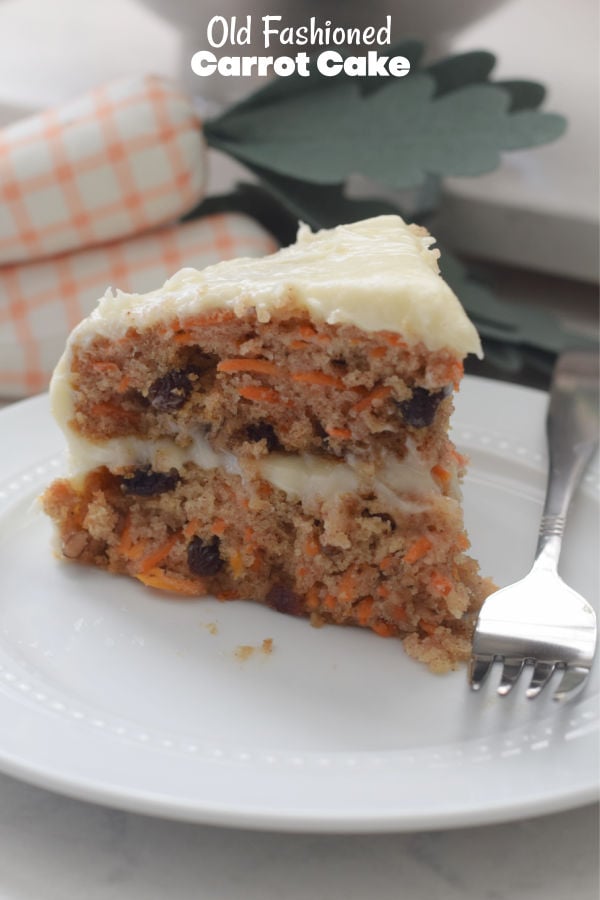 Why is an oil used in carrot cake and not butter?
The oil keeps the cake moist, tender, and fluffy
Why is my Carrot Cake Dry?
There is probably too much flour in the batter. The batter should be thinner than a brownie batter and most cake batters
Can I Shred my Carrots for Carrot Cake in Advance?
Yes! You can shred them up to 3 days in advance or buy pre-shredded carrots
Does Carrot Cake with Cream cheese Frosting need to be refrigerated
Yes and No. Unless you live in an extremely humid climate, you can leave a cake with cream cheese frosting out on your counter for a couple of days. If you plan on keeping your cake around for longer than that, then cover it and store it in the fridge for up to 1 week
Should I peel my carrots before shredding them?
Yes. Peel your carrots to avoid a bitter flavor
What is the best way to shred carrots for cake?
A box cutter or food processor are both great ways to shred carrots. Using a box cutter will produce smaller and moist bits of carrots
What can I cover a baked cake with?
You can purchase a cake cover, or if you need something immediately, insert toothpicks around the cake and cover it with plastic wrap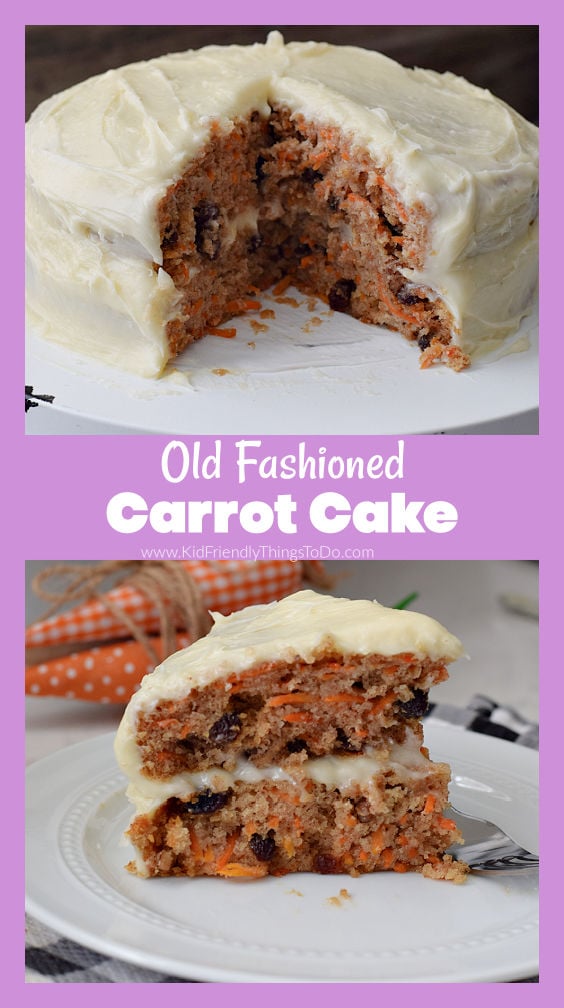 Add-Ins for Carrot Cake
raisins
walnuts
toasted pecans
dried cranberries
pineapple bits
shredded coconut
ground cloves for a deep spice flavor
cinnamon
nutmeg
ginger
allspice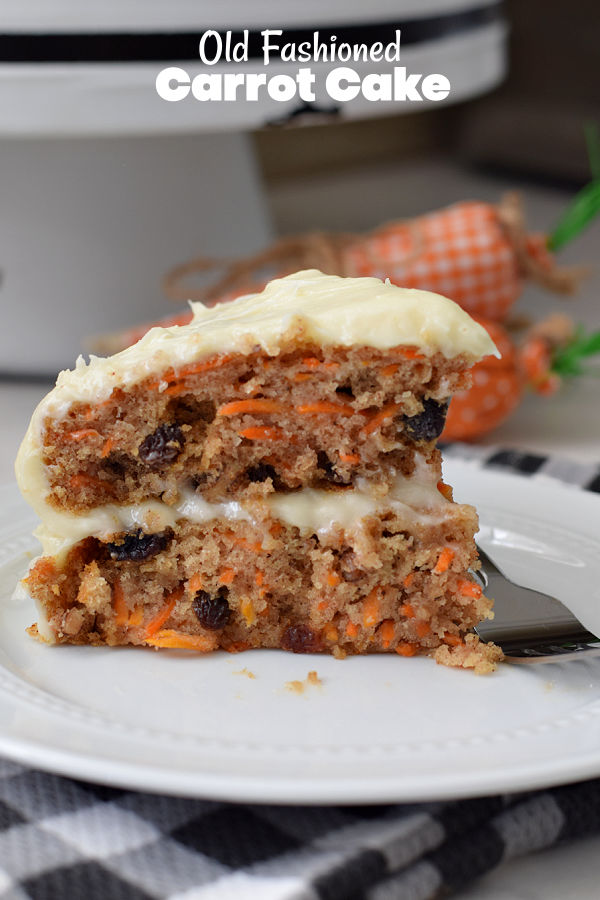 Tips and Tricks for making this Easy Carrot Cake
Even though I skipped a step by using pre-shredded carrots, grating your own always produces the moistest and most tasty carrots
To avoid the cake sticking to the pan, you can pre-line the cake pan with parchment paper – trace the paper around the bottom of your cake pans and cut them out to-size
You can easily make this cake a day in advance. This gives the frosting time to firm up and allows the flavors to meld even more
Even though this is a straightforward classic carrot cake recipe, Don't be afraid to add more spice. I love carrot cake with ground cloves, and nutmeg – yum!
If you are ready to make this cake, let's make sure you have everything you'll need: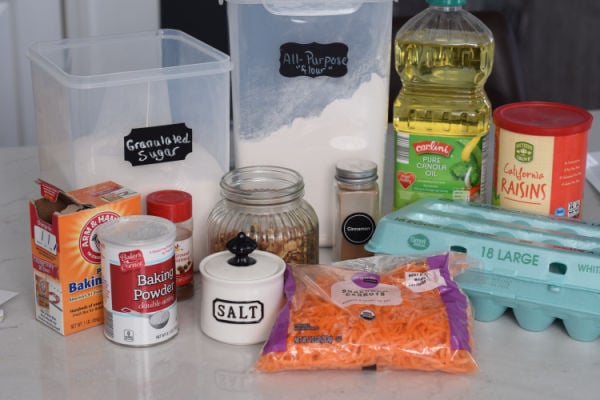 Ingredients
eggs – large eggs at room temperature
sugar – granulated sugar to help sweeten this delicious carrot cake
oil – a vegetable oil like canola. Canola oil has a subtle flavor which is why it is preferred in baking
flour – all-purpose flour is preferred for this cake recipe
ground cinnamon – find this at your local grocery store in the baking aisle
baking soda – helps the cake rise
baking powder – this also helps the cake rise and lightens the texture
salt – just plain old table salt is what you need for this recipe
nutmeg – this is a spice that lends a delicious deep spicy flavor
grated carrots – I used pre-shredded but I do believe that you'll have an even moister cake if you shred the carrots yourself
raisins – a delicious addition to this cake
walnuts – provide a tender yet crunchy texture to the cake
For the Frosting
butter – unsalted butter – softened to make it easier to mix with
cream cheese – softened. You could use either the original cream cheese or 1/3 less fat cream cheese
vanilla extract – is always a great flavor enhancer for cream cheese
confectioner's sugar – this will thicken the frosting
How do you make a Simple Carrot Cake?
Directions:
Preheat the oven to 350 degrees
In a large bowl, mix the eggs, sugar, and oil.
In a separate bowl, mix the flour, cinnamon, baking soda, baking powder, salt, and nutmeg
Add the flour mixture to the egg mixture
Fold in the carrots, raisins, and walnuts
For an extra precaution cut round pieces of parchment paper and place them into the bottom of the cake pans
Grease (2) 9-inch baking pans
Pour the batter evenly into both pans
Place the baking pans on a baking sheet
Bake for 35-40 minutes
A toothpick inserted into the middle should come out clean
Let the cakes cool slightly and then flip them over onto a place to cool – like a wire rack
Place a cold off cake, upside down onto a cake platter
frost the top of the cake
place the other cake upside down on the frosted piece
frost the outside of the stacked cakes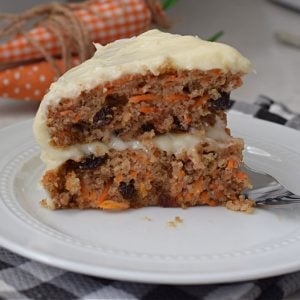 Moist Carrot Cake Recipe
A delicious moist old-fashioned carrot cake
Equipment
2 9-inch round cake pans

1 sheet of parchment paper

1 cake stand

1 dome cake cover
Ingredients
4

large

eggs

2

cups

sugar

granulated

1

cup

canola oil

2

cups

all-purpose flour

2

tsp.

ground cinnamon

¾

tsp.

baking soda

½

tsp.

baking powder

¼

tsp.

salt

½

tsp.

ground nutmeg

2

cups

grated carrots

1

cup

raisins

1

cup

walnut pieces
Frosting
½

cup

butter

unsalted

8

oz.

cream cheese

1

tsp.

vanilla

3

cups

confectioners sugar
Instructions
Preheat the oven to 350 degrees

In a large bowl, mix the eggs, sugar, and oil.

In a separate bowl, mix the flour, cinnamon, baking soda, baking powder, salt, and nutmeg

Add the flour mixture to the egg mixture

Fold in the carrots, raisins, and walnuts

*For an extra precaution, to keep cake from sticking to the bottom, you can cut round pieces of parchment paper and place them into the bottom of the cake pans

Grease (2) 9-inch baking pans

Pour the batter evenly into both pans

Place the baking pans on a baking sheet Bake for 35-40 minutes – A toothpick inserted into the middle should come out clean

Let the cakes cool slightly (about 10 minutes) and then flip them over onto a place to completely cool

Mix the frosting, by mixing butter and cream cheese

Add the vanilla, and mix in

Pour in confectioners' sugar and mix well

Place a cooled off cake round, upside down onto a cake platter

frost the top of the cake

place the other cake upside down on the frosted piece

frost the outside of the stacked cakes
Notes
Easiest Alternative for Preparing:
Instead of using 2 round cake pans, use 1 9×13 inch pan for a quick and "no-fuss" cake 
Tips for Frosting the Cake: 
So the frosting does not melt, make sure your cake halves have completely cooled 
Spread a thick layer of frosting between both slices of cake 
Some people prefer their frosting to have walnut pieces in it. You can fold those in after your frosting has come together 
Tips for Shredded Carrots: 
Store-bought shredded carrots are convenient but not as moist as shredding them yourself
Using a food processor is an easy way to shred carrots
Using a box cutter will get the finest pieces of shredded carrots 
Fun Add-Ins for Carrot Cake: 
raisins

walnuts

toasted pecans

dried cranberries

pineapple bits

shredded coconut

ground cloves for a deep spice flavor

cinnamon

nutmeg

ginger

allspice
Nutrition
Calories:
691
cal
Carbohydrates:
85
g
Protein:
7
g
Fat:
38
g
Saturated Fat:
10
g
Polyunsaturated Fat:
11
g
Monounsaturated Fat:
15
g
Trans Fat:
0.3
g
Cholesterol:
87
mg
Sodium:
267
mg
Potassium:
309
mg
Fiber:
3
g
Sugar:
56
g
Vitamin A:
3557
IU
Vitamin C:
2
mg
Calcium:
69
mg
Iron:
2
mg