Grilled Salmon and Creamy Pasta is a simple and delicious combination. This Creamy Salmon Pasta is filled with the best cream sauce, tomatoes, and healthy grilled salmon. Come on in and I'll share an Easy Creamy Salmon Pasta Recipe that is sure to be a family favorite…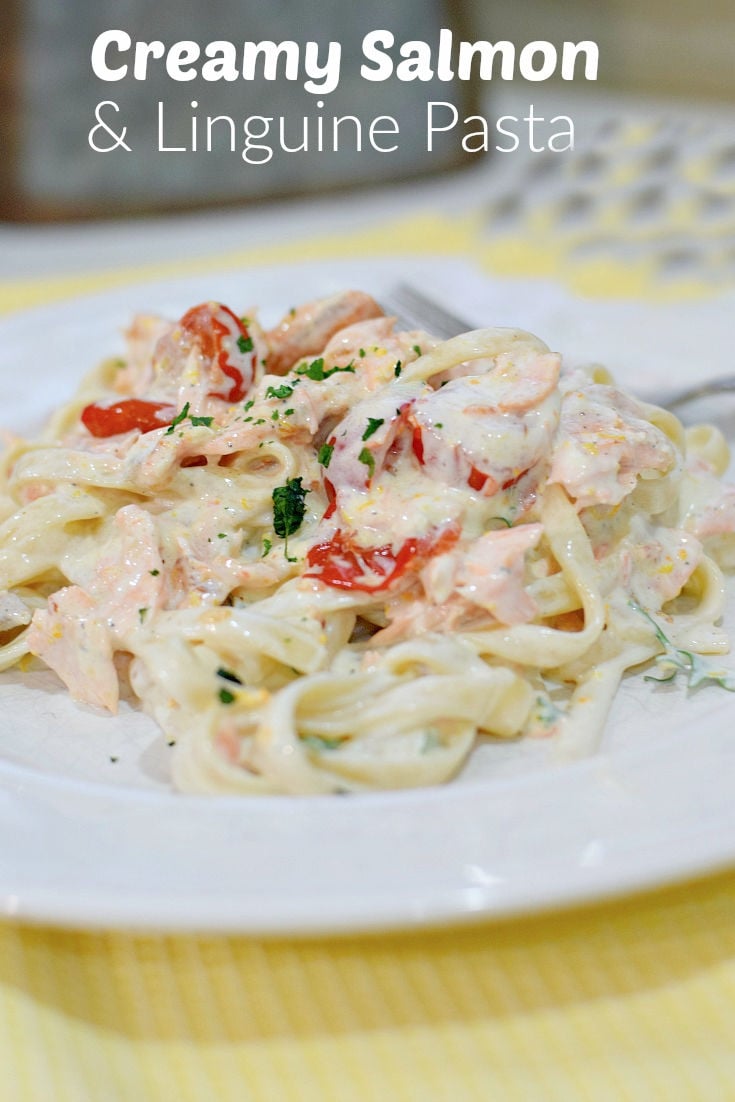 Creamy Salmon Pasta…
Last week, I finally had the perfect night to grill up some salmon. I love, love, love grilled salmon and I absolutely love pasta. When I saw a recipe with the two together, and a cream sauce on top of that…Hellol!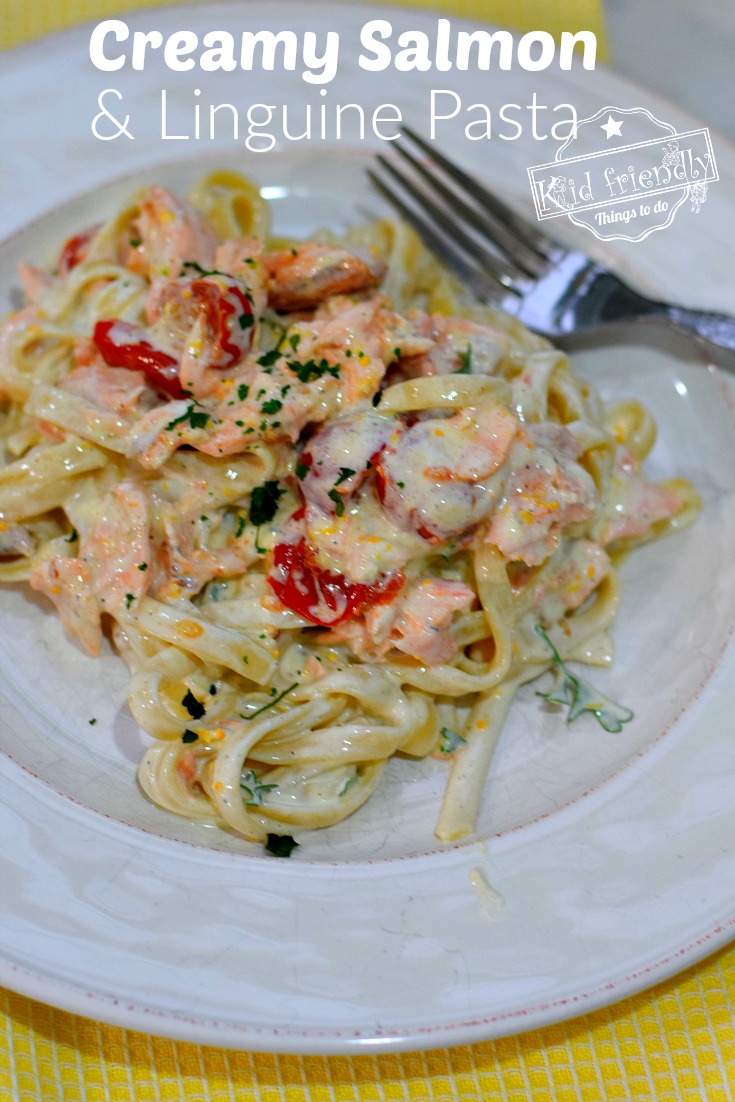 Here's a super simple, and delicious Grilled Salmon and Tomato Pasta you'll just adore, and devour – Not in that particular order.
Here are my Top Amazon Picks for this Recipe for Creamy Salmon Pasta…
(affiliate links)
[box] [/box]
When is grilled salmon done?
Salmon should turn from a bright translucent pink to a creamy opaque pink that flakes. After about 6-8 minutes of grilling, check the thickest part of the fish to see if it has turned pink and flaky, but has a tiny bit of translucent look (not raw) in the middle – remove it from the grill. Let it rest for about five minutes.
Do you cook salmon skin side down or up, first?
Cook it skin side down and allow the skin to crisp up. The bottom half of the salmon will turn opaque and pink. Slide a spatula under the skin and quickly flip the fish over to continue cooking. The cooked skin is safe to eat.
How to Make Creamy Salmon Pasta…
Add olive oil, sea salt, and ground pepper to the salmon filets
Grill the salmon until it's pink and flaky
While the salmon is grilling, boil the linguine pasta until al dente' – drain
In a large bowl, mix sour cream, milk, orange rind, tomatoes and parsley
Add the warm pasta to the cream sauce – toss to coat
When salmon is ready –  chop it into bite-sized pieces and add it to pasta – fold in
Serve warm with more fresh parsley sprinkled on top
Print
Grilled Salmon and Tomato Pasta With Cream Sauce
Author:
Prep Time:

10

Cook Time:

20

Total Time:

30 minutes
1

lb. of Salmon Fillets
Olive Oil
Sea Salt & Pepper

1

lb. of Linguine Pasta, such as Barilla

1 tsp

. Sea Salt

1

container of Grape Tomatoes (about

6 oz

.) – Halved

2/3 cup

of Sour Cream

2

Tbslp. Milk

3

Tblsp. Chopped Fresh Parsley

1

Tblsp. Grated Orange Rind

1/2 tsp

. Sea Salt

1/2 tsp

. Ground Black Pepper
Instructions
Place Salmon Fillets in a container and drizzle olive oil all over them
Sprinkle Sea Salt & Pepper on both sides
Let the Salmon soak in the oil for a few minutes
Get the grill ready by spraying oil, and warming the grill for the Salmon
Cook the Salmon Fillets on the grill, for about 15 minutes., turning about halfway through
While the Salmon in cooking, Boil water for the pasta, add 1 tsp. of salt to the water, add the linguine, and cook until done – Drain
Meanwhile, prepare the sauce by getting out a large bowl, and adding the sour cream, milk, orange rind, tomatoes, and parsley – Mix together
When the Salmon is done, make sure you remove the skin, and chop the Salmon
Add the chopped Salmon, and Pasta to the bowl of cream sauce
Fold everything in and Serve Warm!
Notes
It takes about 8 minutes per inch of Salmon Fillet to cook. Salmon should be pink in color, all the way through