Make Christmas extra special this year with Christmas Tree Shaped Brownies. Easy to make, green, decorated with M&Ms and frosting, these delicious Blonde Brownies are the perfect holiday treat. Come on in and I'll share this easy recipe for My Christmas Brownies…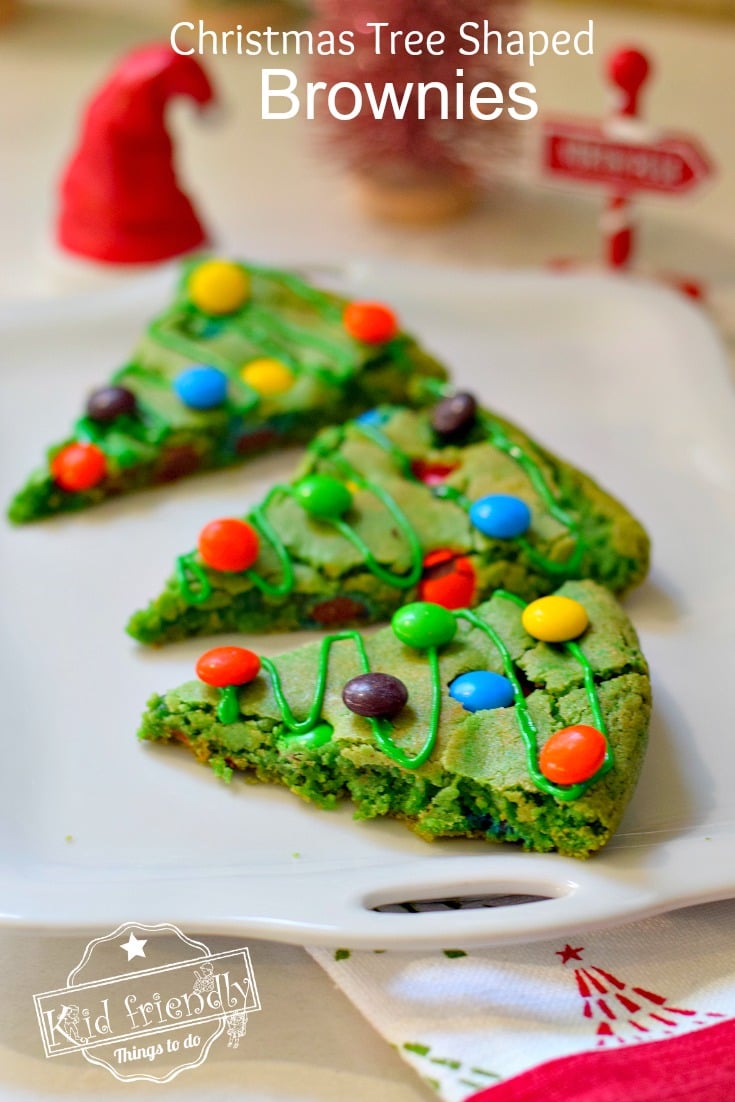 Christmas Tree Shaped Brownies…

Brownies are one of my favorite desserts. They are so hard to resist. These Blonde Brownies are no exception. Between the kids and I, they didn't last two days.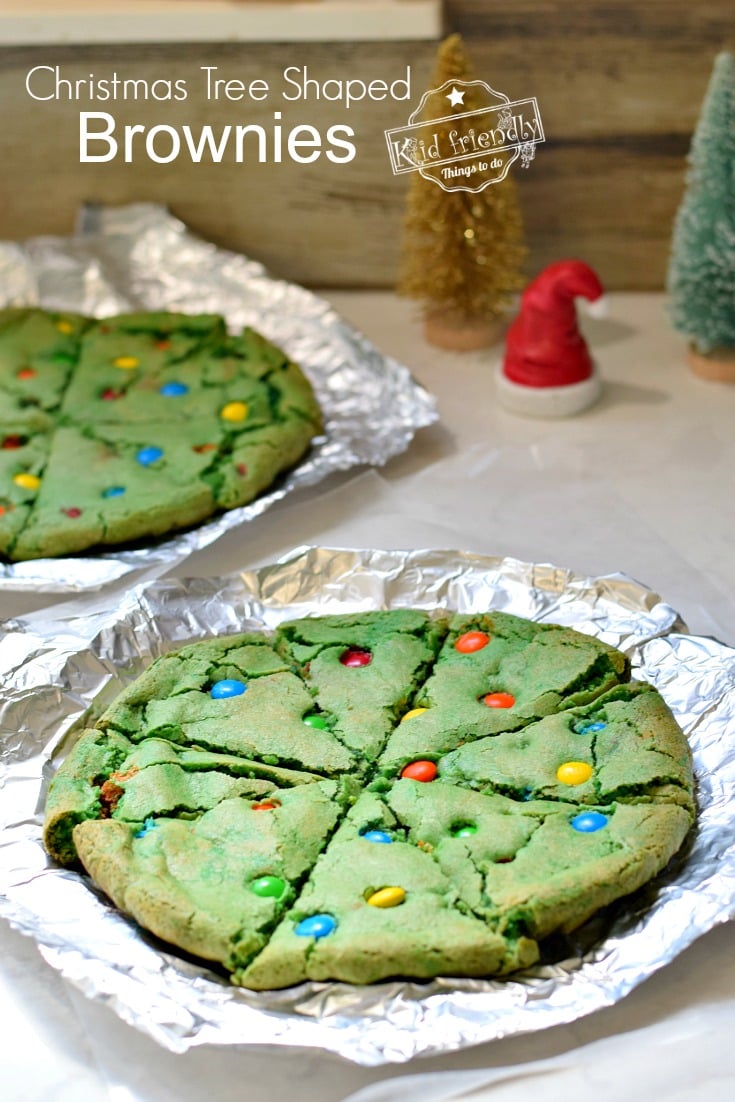 Here are my top Amazon Picks for these Brownies…
Print
Christmas Tree Shaped Brownies | Kid Friendly Things To Do
Christmas Tree Shaped Brownies for a fun holiday treat.
2 cups

of flour

2 cups

of packed light brown sugar

2 tsp

. of baking powder

1/2 cup

of melted unsalted butter – cooled

2

eggs

1 tsp

. vanilla

2

&1/2 – 3 tsp. of liquid green food coloring
Optional Decorations:
green frosting in a squeeze tube – or
use a piping bag with a writing tip attached
Other Equipment Needed
large mixing bowl
non-stick aluminum foil
(2) 9 inch round pie pan
Serrated bread knife
Instructions
Preheat the oven to 350 degrees
In mixing bowl, Mix the flour, sugar and baking powder
Mix the butter, eggs and food coloring
To the center of the dry mixture – Add the melted butter, eggs, and vanilla and green food coloring
Add half of the M&Ms – reserving the rest for decoration
Do not mix until all of the wet are added in
Mix the wet ingredients together, pulling the dry ingredients into the wet after the wet ingredients have had a chance to turn red from the food coloring
The mixture will be like a play dough consistency
Line pie plates with foil – non-stick side facing up
Dividing the mixture between both pie plates…
Pour the mixture into the pie pan and press it out to even it out at the top
Add more M&Ms to the top of the brownie – still reserving some for decoration
Bake for about 25-30 minutes.
When are they done?
These brownies are thick, so they take a bit longer to bake. Once you start to smell the aroma of your brownies, check on them. A toothpick inserted into the middle should come out mostly clean. What I mean by that is; you shouldn't have a wet batter on the toothpick. You will probably find cooked batter will adhere to the toothpick and that's ok
Decorating
Let the brownies cool completely – about 15 minutes
Pull the aluminum foil up and out of the pie pan
Push the aluminum foil down away from the brownies
Slice each brownie into 8-10 slices – like a pizza
Decorating:
Make a zig-zag pattern with the green frosting and add more M&Ms to fill in blank spaces
Cover and store leftover brownies at room temperature up to one week.