You guys, I am so tickled at how these Santa Hat Rice Krispies Treats turned out! I think these are going to be a big hit at your Christmas celebrations, this year! Come on in, and I'll show you how to make these fun and simple treats for the holidays.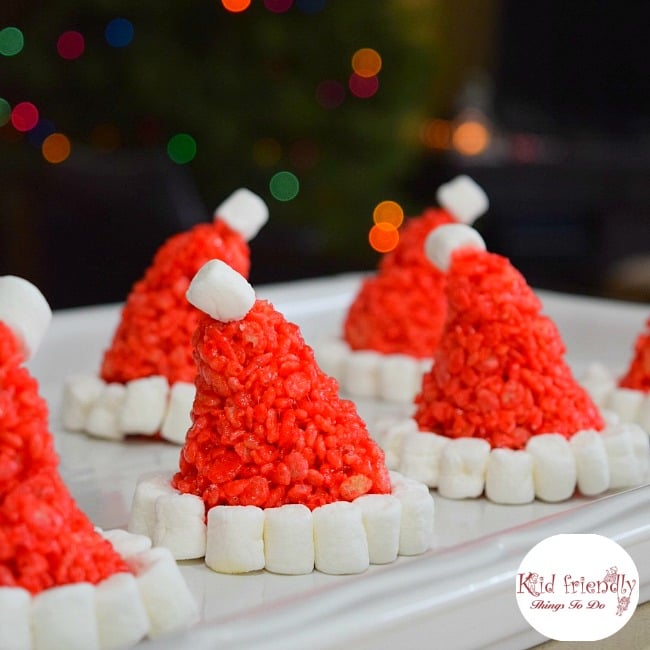 Aren't they fun?!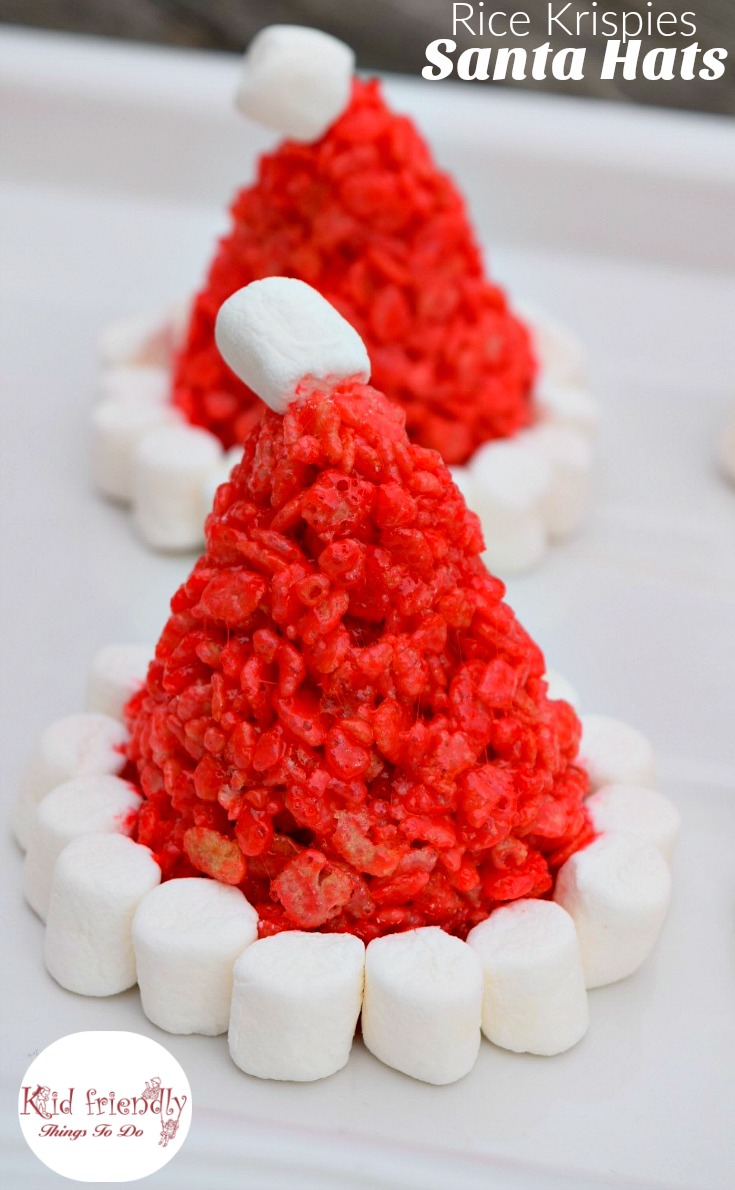 The peppermint mallows give the Rice Krispies Treats a faint peppermint taste. It's definitely not enough to overpower the classic Rice Krispies Treat flavor. My 11 year old, who does not care for mint, tried them and said he didn't even taste the mint flavor. The kids that love mint, tasted and loved the peppermint flavor. It's just a magical flavor that appears or disappears, I guess. It is that time of year. 😉

The kids will absolutely love this fun special treat. They are so simple to make, too. The decorating only involves marshmallow placement. The kids can definitely help you with this one. 🙂 Are you ready to get started?
For these Santa Hat Rice Krispies Treats:
 You'll Need:
(Makes about 17)
3 Tbsp. of unsalted butter
4 cups of fresh mini Kraft Peppermint Mallows – I used these specific mallows, because of the already pink base. It really helps in making a red hat, as opposed to a bright pink one.
6 cups of rice cereal
red food coloring – 1&1/2 tsp. – 2 tsp.
white mini marshmallows
Extra Equipment:
A paper snow cone wrapper – There's a link below to the exact ones that I used for this treat
cooking spray – butter flavor preferred
silicone spoon
wax paper
Sauce pan and large bowl
Instructions:
You'll want to melt your butter in a medium saucepan over medium heat
Add the peppermint mallows and stir while they melt into the butter
Remove from heat
Add 1&1/2 to 2 tsp. of red food coloring and mix in
Grab a large mixing bowl and add the cereal
Pour the red marshmallow mixture over the cereal and mix in until your arm feels like it's gonna fall off, and the cereal is completely coated with the red stuff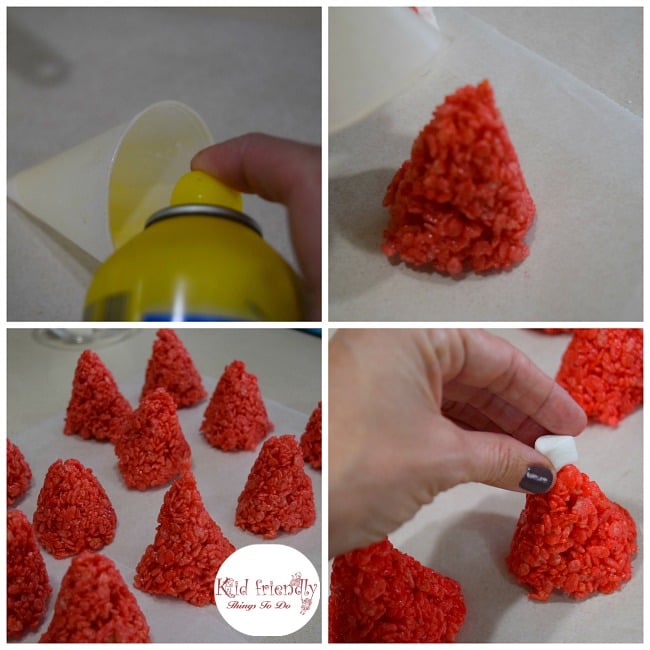 Grab your wax paper and set it out on a work surface
Grab a snow cone mold – you'll only need one, coat the inside with the spray oil (you'll only need to do this once)
Spoon the cereal mixture into the mold and pack it down
Push the molded  cereal out onto the wax paper
Do that with the rest of the cereal – you should end up with about 17 hats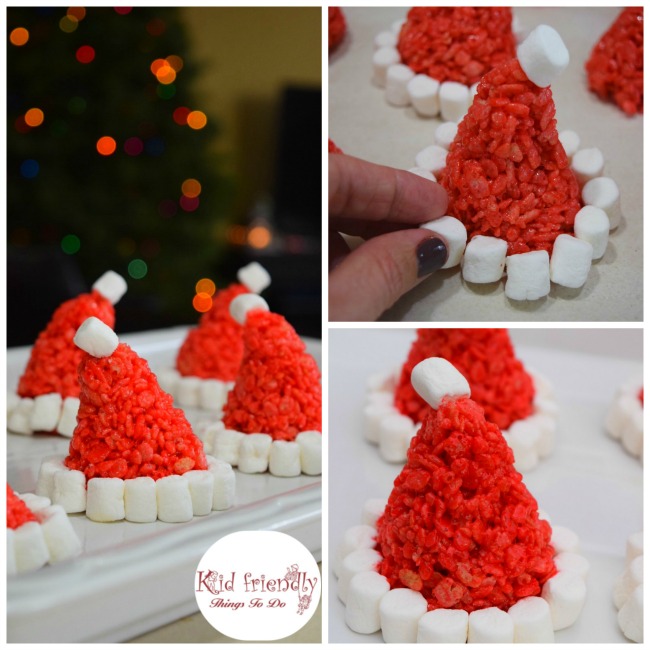 Now, quickly, while the marshmallow is still nice and warm add about 15 mini white marshmallows around the base of the hat – just push them against the hat. The sticky marshmallow will be the glue
Add 1 marshmallow to the top of the hat
That's it! You're done, my friend!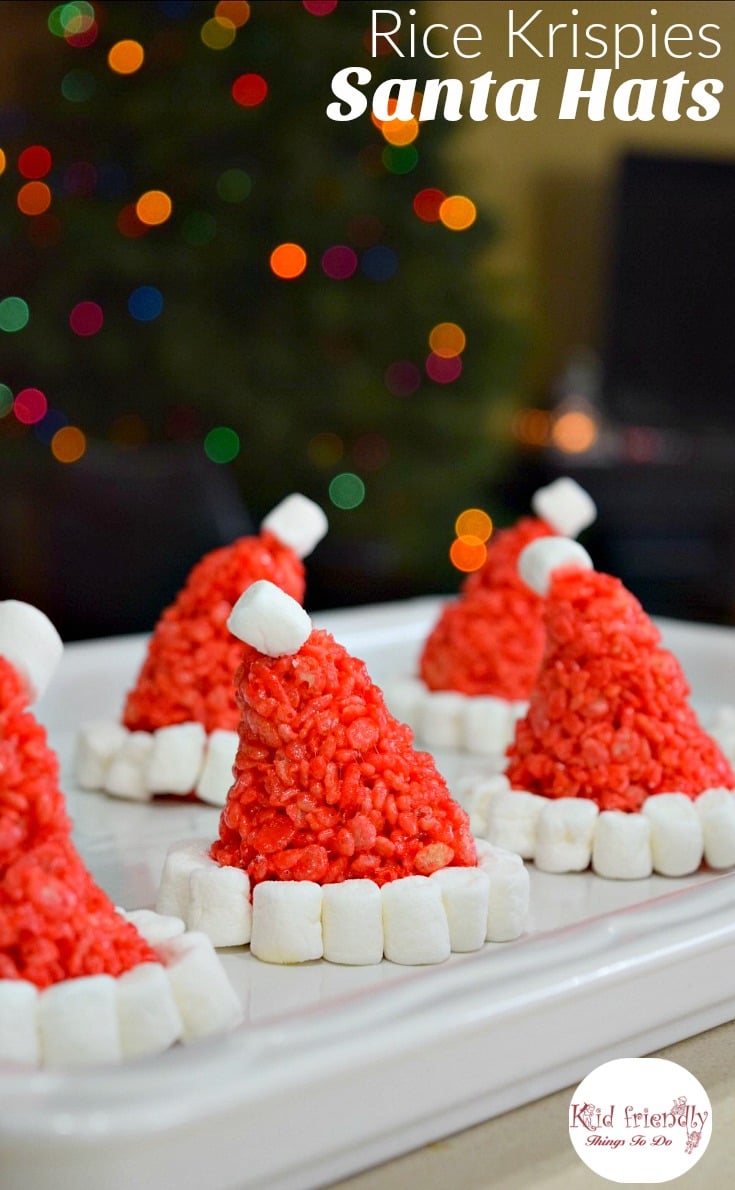 Storing:
The marshmallows will tend to harden if left out in the air. If you don't want to serve these immediately, then you'll want to store them in an airtight container for up to a couple of days.
Merry Christmas!
Here are my top Amazon Picks for this fun Santa Hat Rice Krispies Treat:
(affiliate links)
[box]       [/box]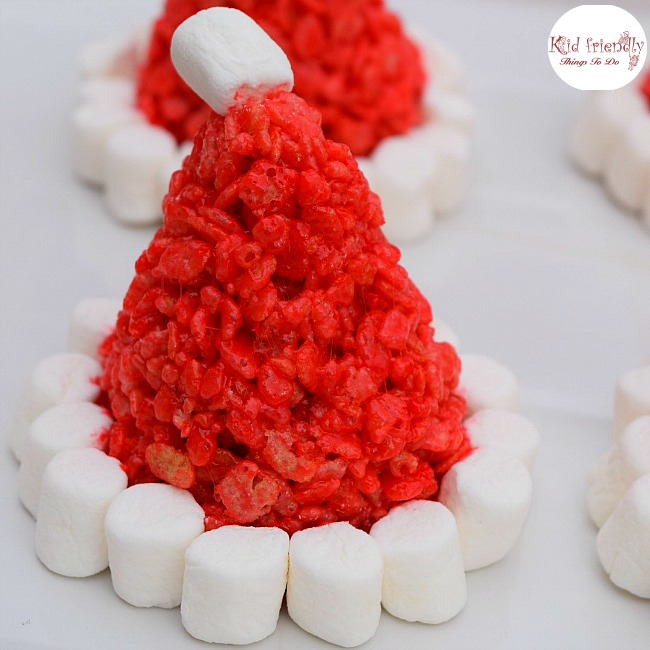 Hey there! You really don't want to leave without signing up for instant access to all things fun and simple! Sign up, below!
[box]