Grandma's Famous Cranberry Salad Recipe

Posted by Melissa in Birthday/Holiday & Celebration Dish, Christmas, Christmas, Easy Family Recipes, Game Ideas, Recipe, Sides, Thanksgiving | 0 comments
I'm bringing this festive recipe out of the archives, and posting it on the front page. This Cranberry Salad Recipe is a sure hit with everyone! It's the perfect side for the holidays.
This is an old fashioned recipe, from my grandmother. Boy, does this take me back to her 1950 style kitchen, and the old hand grinder hanging over the kitchen sink! As a kid, I loved grinding the apples, and other ingredients for this delicious holiday side. Now, even after all of these years, I still don't think any other cranberry salad holds a candle to this delicious flavor! Sometimes the old fashioned recipes are truly the best!
It's not only yummy, it's so festive looking.

I love the bits of orange peel and the chunks of cranberry.
Grandma's Famous Cranberry Salad
2015-11-05 11:06:06
Ingredients
1 12 oz. bag of fresh cranberries
2 Apples, Cored - Get a sweet variety, like Empire, or Gala. Cut them into large chunks, but don't peel.
2 Seedless Oranges - Don't peel these, either.
1 Small bottle of stemless Maraschino Cherries - Drain the juice
1 Large box of Raspberry Jello
2 Cups of Heated Water
2 Cups of Sugar
1 Can of Crushed Pineapple - (about 15 0z.) Drain the juice
Instructions
Using a food processor, grind the cranberries, apples, oranges, and cherries
The mixture should be a little course for texture. Don't grind it too fine
In the meantime, heat the water in a saucepan
Add the jello and sugar to the heated water
In a large bowl, combine the ground mixture, and the liquid
Add the drained crushed pineapple, and stir
Chill in the refrigerator for at least a couple of hours, or even a day in advance
Serve and enjoy!
Notes
The older recipes paid no attention to the amount of calories in recipes. This recipe has 2 whopping cups of sugar! The sweetness is a big hit with my kids, and us. I like the balance of tart and sweet. But, if you would like the tartness of the cranberry to show through a little more, just cut back on the sugar. I'd start with 1 cup and add more if it needs it. If, after tasting it, you think you'd like to add more sugar to the salad, just dissolve more sugar in a small amount of hot water, and fold in before refrigerating. 🙂
Kid Friendly Things to Do.com - Family Recipes, Crafts, Fun Food Crafts, and Game Ideas https://kidfriendlythingstodo.com/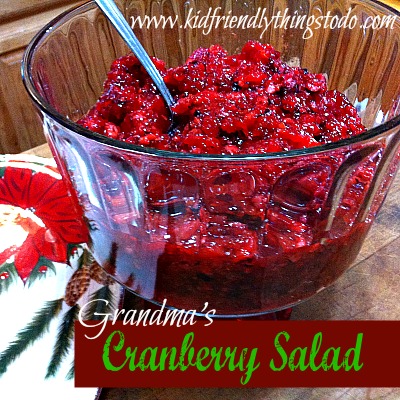 ~Melissa KidFriendlyThingsToDo.Com