Homemade Cornbread Stuffing Recipe with Sweet Potato, Cranberries and Pecans | Kid Friendly Things To Do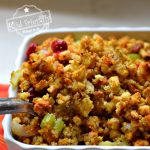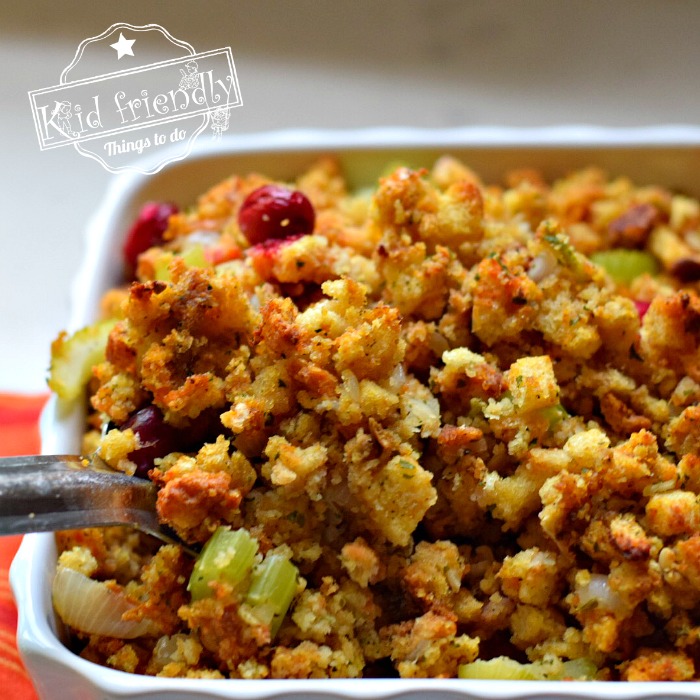 Posted by Melissa in Birthday/Holiday & Celebration Dish, Easy Family Recipes, Game Ideas, Recipe, Thanksgiving, Thanksgiving | 0 comments
This Homemade Cornbread Stuffing Recipe is the perfect stuffing for your holiday meal. It is delicious and looks beautiful on the table. Come on in and I'll share this yummy recipe with you all…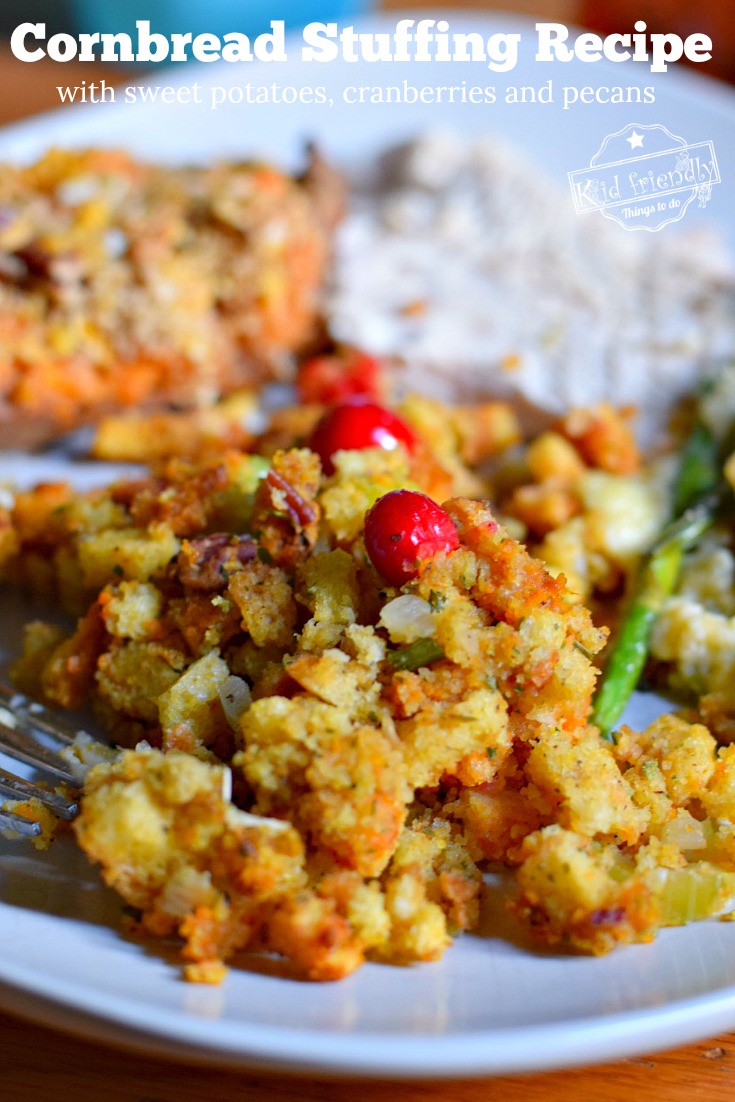 This is such a delicious stuffing. Believe me, after you try this, you'll be looking forward to leftovers before Thanksgiving dinner is even over! So good.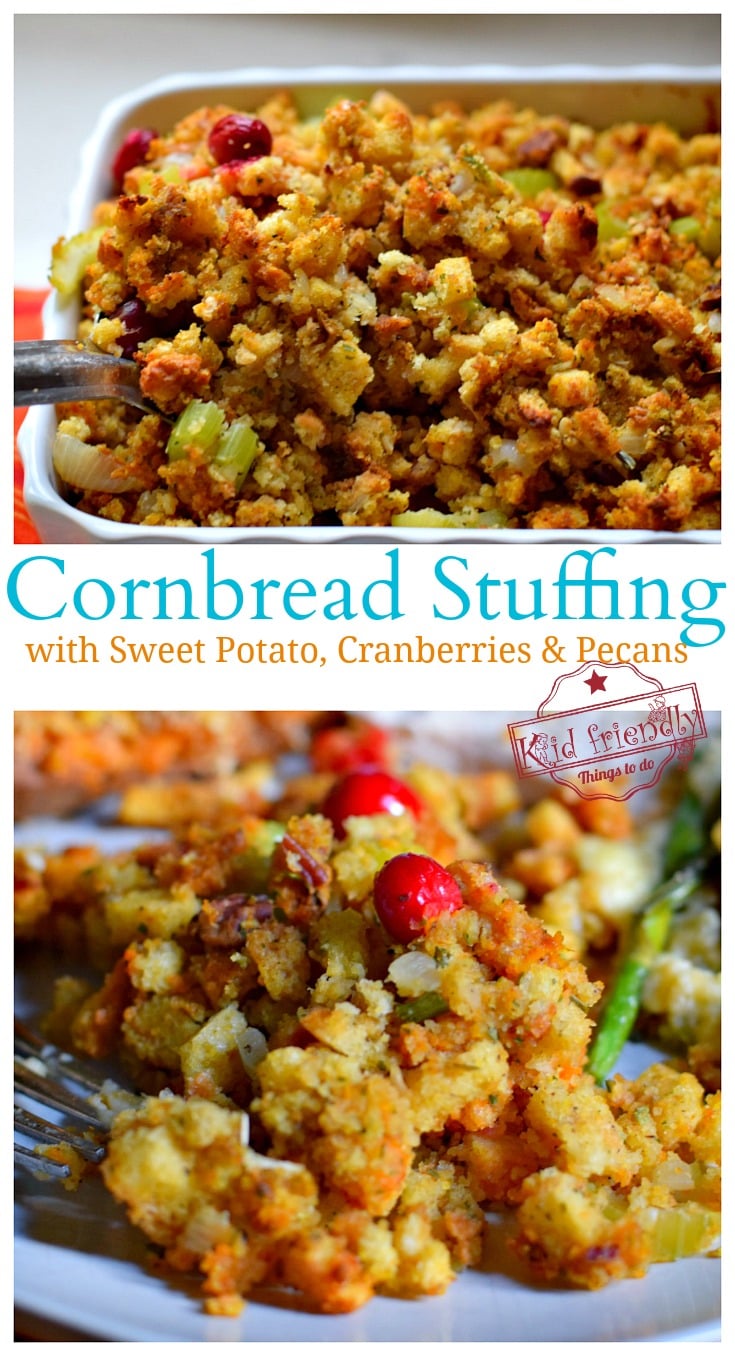 Oh yum! This stuffing is really a perfect pairing with the Thanksgiving turkey, or just a delicious side to any type of poultry dish.
Here are my top Amazon Picks for this Homemade Cornbread Stuffing Recipe…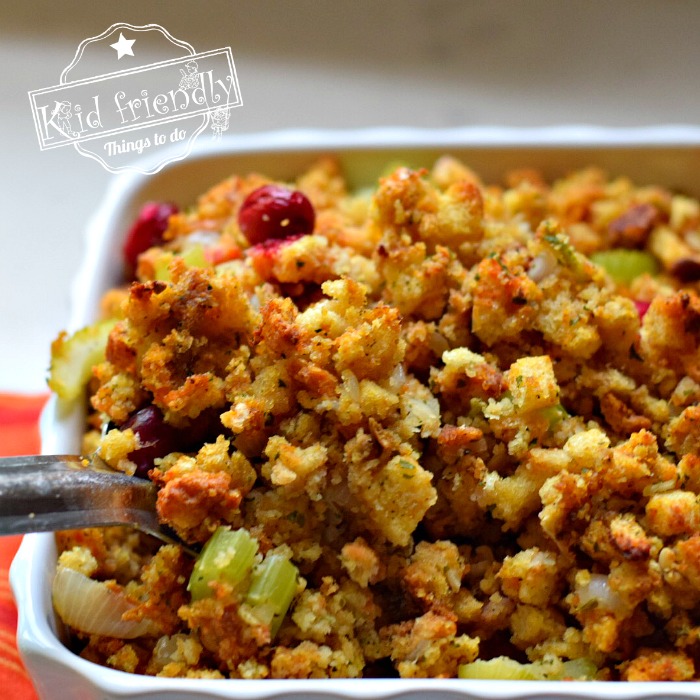 Homemade Cornbread Stuffing Recipe with Sweet Potatoes, Cranberries and Pecans
2018-09-12 15:51:19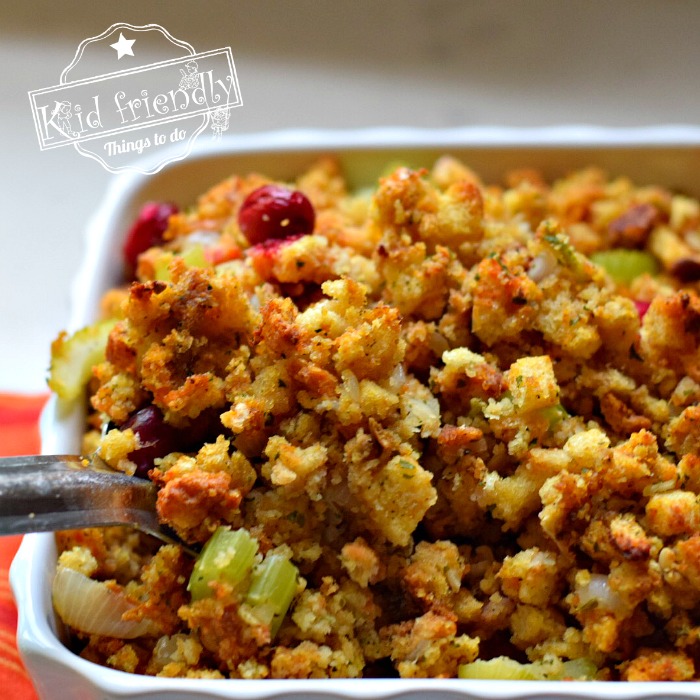 Ingredients
1/4 cup of unsalted butter
1/2 cup of sliced celery
1/2 cup of chopped sweet onion
2 cups of chicken broth
1/2 tsp. of salt
1 tsp. of ground sage
1 tsp. of onion powder
1 Tbsp. of parsley flakes
1 tsp. of thyme
1/2 tsp. of nutmeg
1/2 t of pepper
1 14 oz. bag of dried cornbread cubes - (6 cups of dry cube)
Extras
1 large cooked sweet potatoes - cubed
1/2 cup of fresh cranberries
1/2 cup of chopped pecans
Instructions
Using a large pot, melt the butter over medium-high heat.
Add the celery, and onion. Cook until tender - about 5-7 minutes
Stir in the chicken broth, and seasonings
Add the remaining ingredients, and toss
You can stuff your turkey with some of the stuffing and cook the turkey according to recipe directions with stuffing
Or- Place in a covered baking dish, and bake for the last 30 minutes your bird is cooking at about 325 degrees
Notes
An alternative is to put the stuffing to a slow cooker, and bake on low for 4 hours
Optional - You can add any extra that you see fit - like, mushrooms, nuts, goat cheese, raisins, etc...
Kid Friendly Things to Do.com - Family Recipes, Crafts, Fun Food Crafts, and Game Ideas https://kidfriendlythingstodo.com/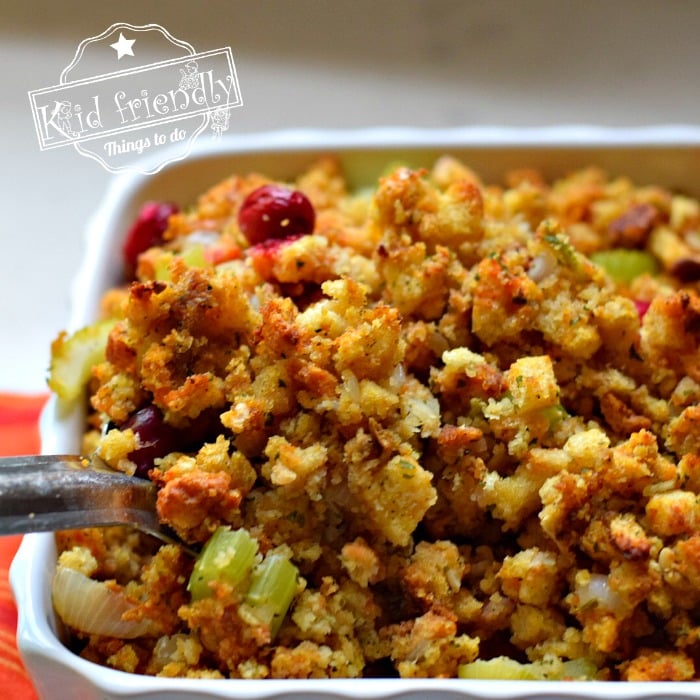 ~Melissa – KidFriendlyThingsToDo.com