This little bunny can't resist diving into the carrot patch. He's burrowing into a dessert that is hard for me to resist…a brownie! Come on in, and I'll show you how I made these Bunny Butt Brownie Cupcakes for a Fun Easter or Spring Treat: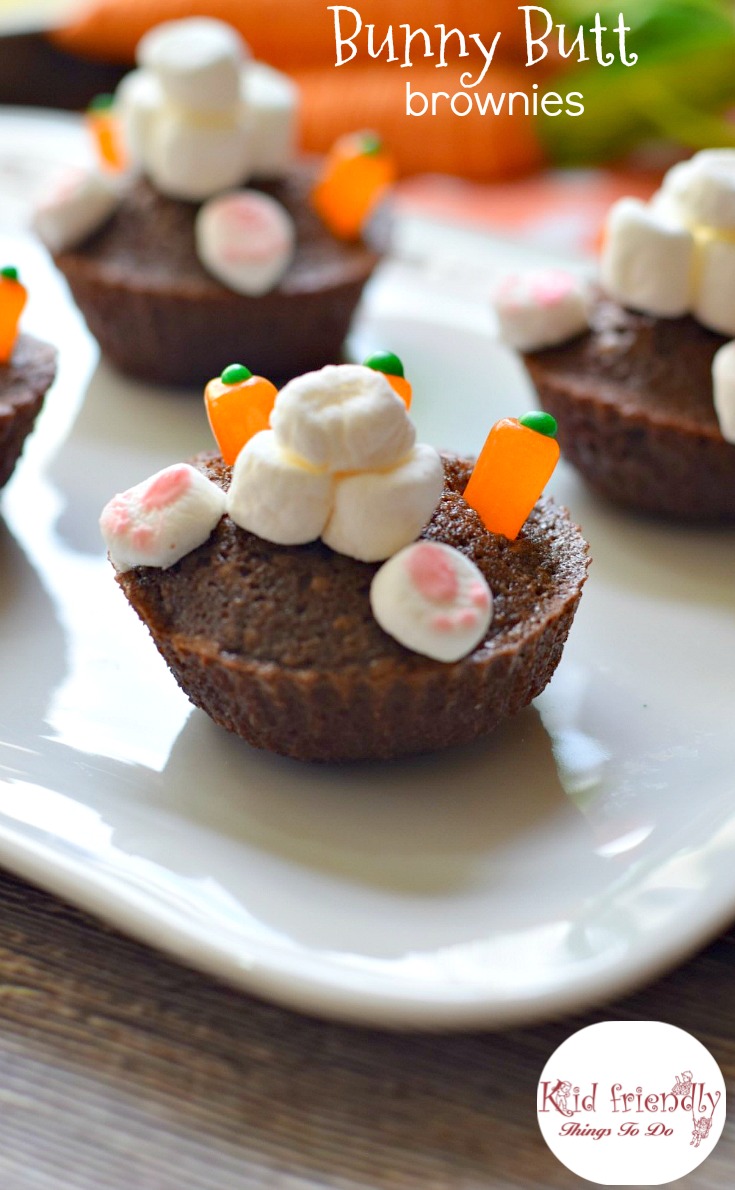 I can't believe the weather that we are having in February!  February in Northwest Indiana is usually filled with snow or gloom and doom. Not this year. We've been outside in t-shirts! It's crazy and wonderful all in one. I can't help, but to think about springtime in the kitchen. These bunny butt brownies are the perfect spring dessert to put a smile on everyone's face. How could you not smile at that cute little bunny diving into the carrot patch?
For This Bunny Butt Brownie Cupcakes for a Fun Easter or Spring Treat You'll Need:
For 1 dozen brownies
brownie mix plus ingredients on the back of the box (usually oil, eggs, and water) – Follow the cake brownie instructions which is usually to Add 1 more egg to make the brownies cake like
Mike & Ike – the orange ones
green Frosting in a pastry bag with a small round tip
mini marshmallows
small paint brush
pink frosting
milk
Extra Equipment Needed:
Muffin tin
silicone muffin liners
spray oil
Instructions:
Brownie Cupcakes:
Mix the brownie mix according to the package instructions, using the cake like brownie method of adding an extra egg
Pour the mixture into greased silicone cupcake liners (2/3 of the way up the liners) and bake for about 20-25 minutes, or until a toothpick inserted into the middle comes out clean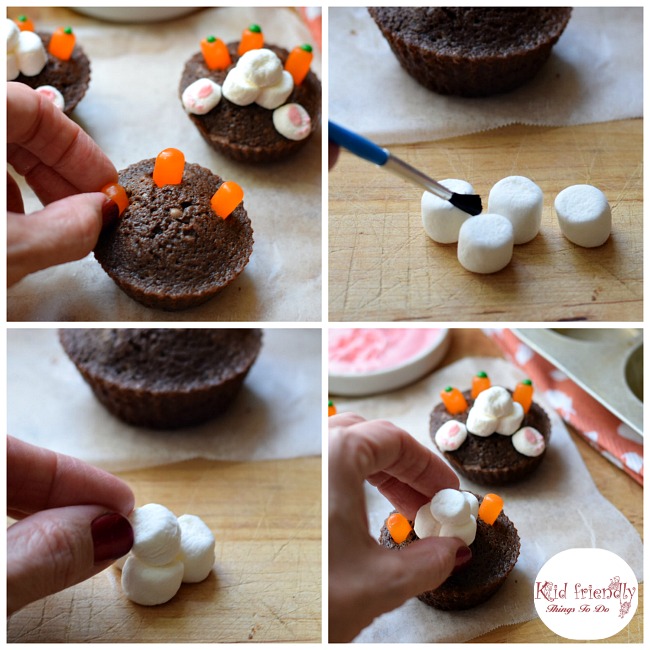 Decorating:
Place the Mike & Ike carrots into one edge of the brownie cupcake – use 2 or 3
Bunny Tail:
Grab 4 mini marshmallows and group 3 together into a circle
Add a dab of water into the center of the marshmallows make the marshmallows stick together
Push them together and place 1 marshmallow on top
Use a dab of frosting to help glue the bunny tail to the middle of the brownie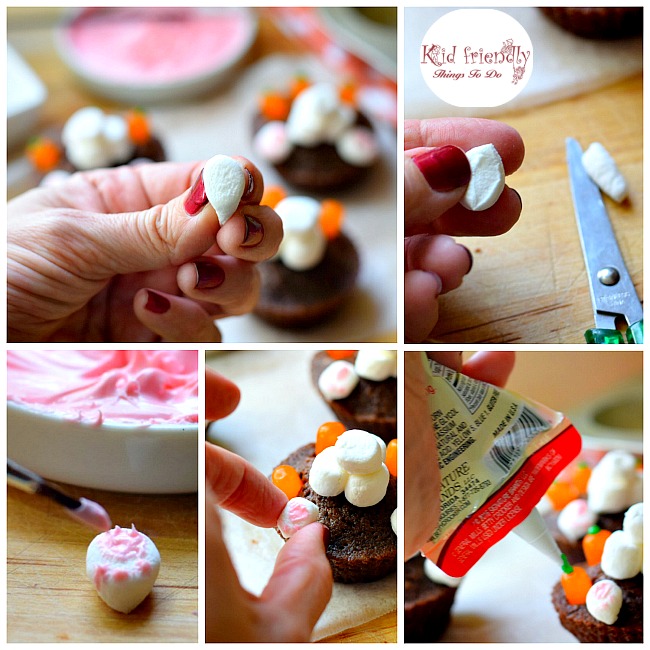 Bunny Feet:
Squeeze a mini marshmallow on the sides to shape it into a foot
Cut the bottom of the marshmallow off
Put a little pink frosting into a bowl, and add a little bit of milk to thin it
I used about 1 tsp. of milk to thin out my frosting (which was about 2 Tbsp. of frosting)
Use the paintbrush to paint the feet – 3 little dots and one big oval
Use some frosting to stick the feet onto the brownie
Finishing the Carrots:
Pipe some green frosting onto the top of the Mike & Ikes for carrots

 Just last night, I was putting my Bunny Butt Brownies on Instagram. I usually have nothing clever to say, but I try anyway. I put something like, "Warning…This year, I'm obsessed with bunny butt ideas". My 12 year old son was looking over my shoulder and he was horrified! He made me edit my caption which is now very plain and to the point. I guess Bunny Butt jokes just aren't my thing.
Also, in other news…does anyone else think the grouping of marshmallows (my attempt at a fluffy tail) resembles a butt with a tail on top? My son and my husband both confirmed that is exactly what they thought it was. Now, that they mentioned it, that's all I see! Why do I even ask them for their input?!
~Melissa – KidFriendlyThingsToDo.Com – fun foods, party ideas, kid friendly crafts, recipes, and fun things to do with the whole family!