Made from scratch and so easy to do, these Easy Buttermilk Biscuits are light, fluffy, airy, and simply delicious. Enjoy them fresh out of the oven with butter or your favorite biscuit topping.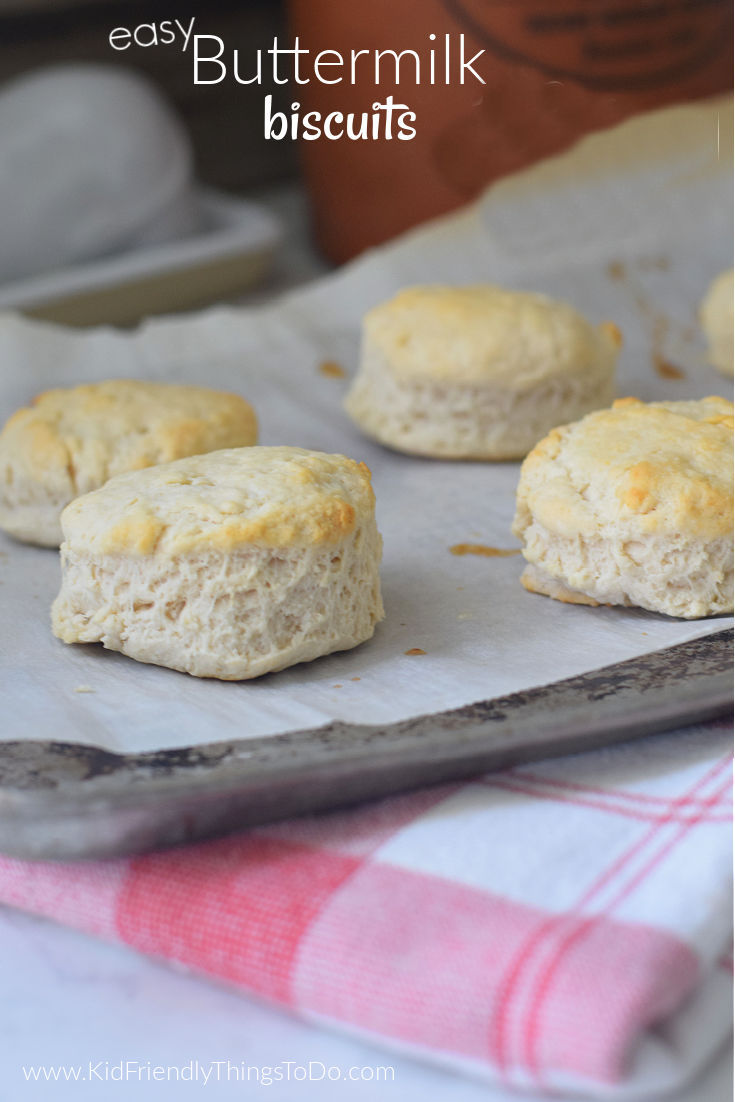 Easy Buttermilk Biscuit
If you are looking for more breakfast bread recipes then you might like my recipe for All time best cinnamon rolls, Cinnamon Rolls made with frozen bread, or Cinnamon Nut Coffee Cake Recipe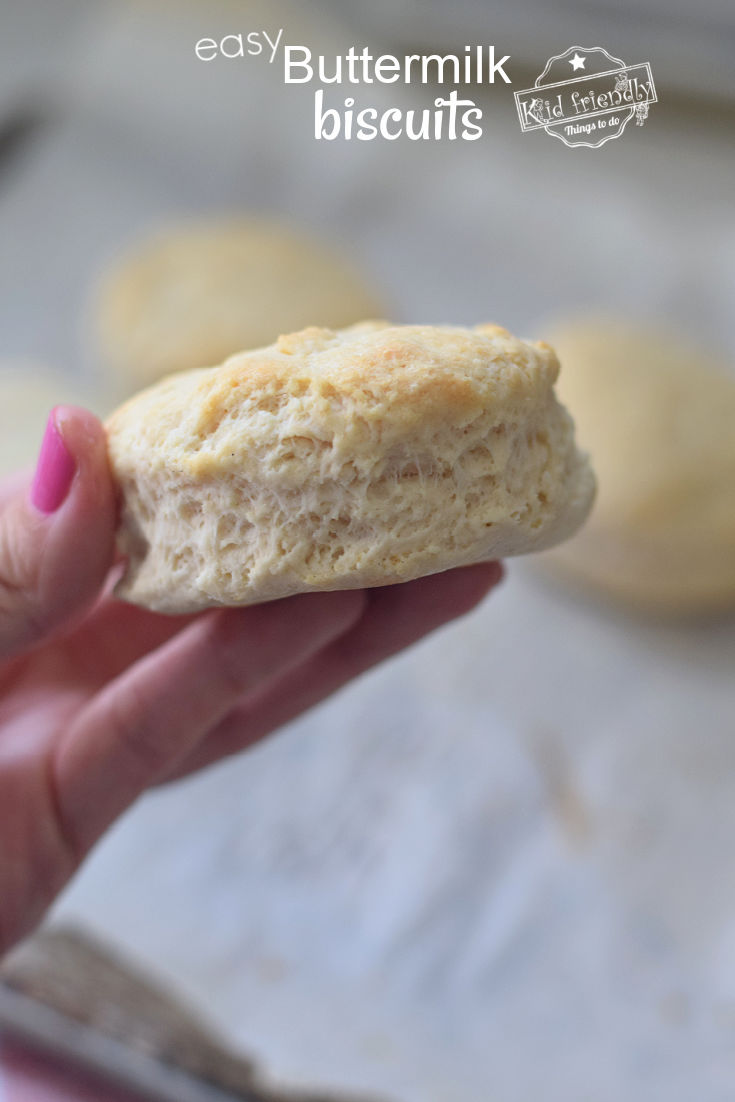 Even though I have southern roots and love everything about buttermilk biscuits…making them has always intimidated me. I've heard time and time again so many people, including my mother, struggle to make homemade biscuits. So, I've put off trying to make my own.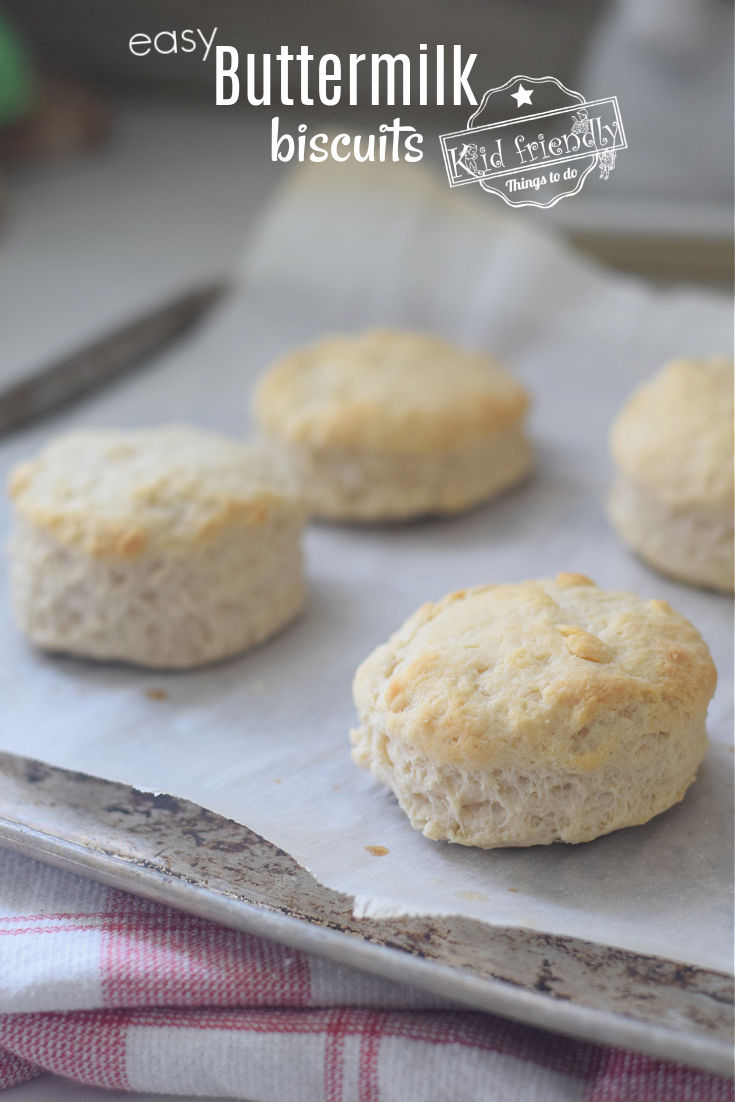 Although I love to cook, I don't own a biscuit cutter or a pastry cutter. Honestly, I didn't have a lot of faith in this simple buttermilk biscuit recipe and my lack of tools. Through the years, I've picked up on tips from other bakers to making the perfect biscuit though and I thought I'd give it a try.
I used a glass for a biscuit cutter and forks as a pastry cutter and forged ahead. The result was 6 beautiful and tasty biscuits. I couldn't believe how easy it was to make these and how ridiculous I've been avoiding the process.
Here are some tips for making Easy Homemade Buttermilk Biscuits
use actual buttermilk – the homemade version is just not the same in this recipe
you'll need self-rising flour to make biscuits
do not over-knead your dough – this will lead to a biscuit that is the opposite of a light and fluffy biscuit
when working the dough, fold it, pat, fold it, pat, fold it, etc… This forms layers of dough that will rise into a flaky biscuit
only knead the dough a few times – the more you handle the dough the tougher it will become
when cutting the shortening into the flour, stop when the shortening is about pea size – this will allow it to melt into the layers
when you cut the biscuits out, push the cutter into the dough, and straight-up – try not to twist the cutter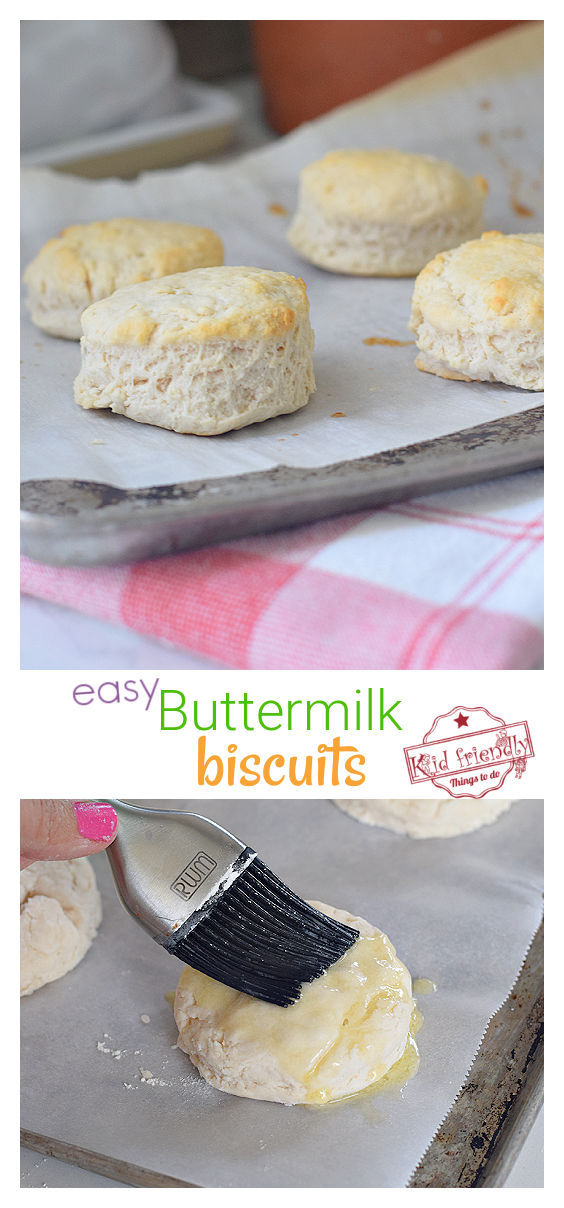 What Happens if you twist the biscuit cutter?
If you twist the biscuit cutter, it seals the edges and your biscuit won't rise as high into layers of flaky goodness
Why Can't I knead the biscuit dough more?
If you knead the dough too much, your shortening will start to melt before baking, and your dough will become tough. You want to keep the shortening pea-sized so the biscuits will absorb the melted shortening during the baking process. Every time you knead the dough, you develop the gluten in the biscuit which leads to shrinking and tough biscuits.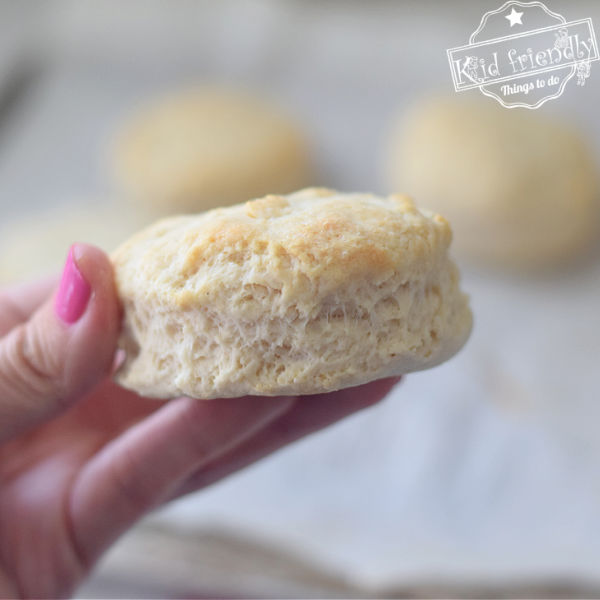 Are you ready to bake some easy biscuits? Let's make sure that you have all of the ingredients you need…
Ingredients needed:
2 cups of self-rising flour
1/3 cup of solid shortening
2/3 cup + 2 Tbsp. of buttermilk – shaken
melted butter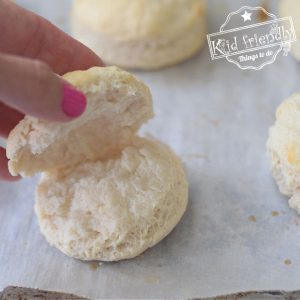 Easy Buttermilk Biscuits {Only 4 Ingredients!}
Easy and delicious buttermilk biscuits for breakfast or as a side
Ingredients
2

cups

of self-rising flour

⅓

cup

of solid vegetable shortening

2/3+ 2 Tbsp.

cups

buttermilk

– shaken

2

Tbsp.

butter

melted – unsalted
Instructions
place the oven rack in the middle of the oven and preheat it to 425 degrees

in a large mixing bowl, pour the flour and cut in the shortening until it is pea-sized

pour all of the buttermilk into your prepared flour and fold it in until everything is combined

prepare a work surface by lightly flouring it and turn out your biscuit dough

begin folding it in half or into thirds, patting, folding it, patting, etc… only do this 3 or 4 times to get your flaky layers

push the dough into a circle that is about 1 inch high

use a biscuit cutter or a glass opening to push into the dough and pull it straight up

place your shaped biscuit onto a baking sheet lined with parchment paper

you should get 6 or 7 biscuits from the dough

brush melted butter on biscuits

Bake for 12 minutes
Notes
nutrition facts are only an estimate 
Enjoy warm with butter and/or your favorite toppings
Storing leftover biscuits – store covered and at room temperature for up to 3 days
Here are some tips for making Easy Homemade Buttermilk Biscuits
use actual buttermilk – the homemade version is just not the same in this recipe
you'll need self-rising flour to make biscuits
do not over-knead your dough – this will lead to a biscuit that is the opposite of a light and fluffy biscuit
when working the dough, fold it, pat, fold it, pat, fold it, etc… This forms layers of dough that will rise into a flaky biscuit
only knead the dough a few times – the more you handle the dough the tougher it will become
when cutting the shortening into the flour, stop when the shortening is about pea size – this will allow it to melt into the layers
when you cut the biscuits out, push the cutter into the dough, and straight up – try not to twist the cutter
Nutrition
Calories:
101
cal
Carbohydrates:
5
g
Protein:
3
g
Fat:
8
g
Saturated Fat:
5
g
Polyunsaturated Fat:
0.4
g
Monounsaturated Fat:
2
g
Trans Fat:
0.2
g
Cholesterol:
22
mg
Sodium:
144
mg
Potassium:
145
mg
Sugar:
5
g
Vitamin A:
299
IU
Calcium:
124
mg
Iron:
0.03
mg