Apple Pork Tenderloin – Kid Friendly Things To Do .com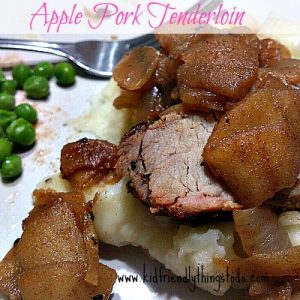 Posted by Melissa in Easy Family Recipes, Grilling Fun, Main Dish, Meats | 0 comments
Yum, Yum! This apple pork tenderloin is absolutely superb! Another recipe for the grill this summer! Here it is:
You'll Need:
Apple Topping
2 T Olive Oil
1 medium sweet onion
6-8 apples peeled, cored, and sliced
2 T minced garlic
1/3 cup of rice vinegar
2 T Worcestershire sauce
1 t cinnamon
2 T sugar
1 cup of apple cider
Marinade
2 T Worcestershire sauce
1 T apple cider vinegar
1 cup of water
2 T Montreal Steak Seasoning
Pork
Pork Tenderloin – About 3 lbs.
Now:
Start out by making the marinade
Get a large container to hold the pork, and add all of the marinade ingredients.
Cover, and pop in the fridge for 30 minutes
Take it out, flip the pork over, and place it back in for about 30 minutes, or longer if you have time
When that's ready, place that baby on the grill, and grill until pork is cooked turning occasionally
While that is grilling – get out a medium saucepan, and over med heat, add olive oil,  onions, and apples
Cook those down, until apples are softened, and onion is translucent – 5-10 minutes, stirring occasionally
Add garlic, and stir for another minute
Add the last 5 ingredients of the apple topping. Bring to a boil, reduce heat, and simmer for about 10 minutes ( I allowed my juices to dissipate, but if you place a lid on the saucepan, you can save some of the juices from evaporation, and enjoy them as a sort of gravy!)
When the pork is cooked, slice. Serve with apple topping, and mashed potatoes!
Enjoy!
Adapted from Gooseberry Patch Recipes For Comfort
~Melissa – KidFriendlyThingsToDo.com