Make these Easy Oreo Cookie Football Toppers for your Game Day Cupcakes. Easy and so delicious. They'll be a big hit at your football party.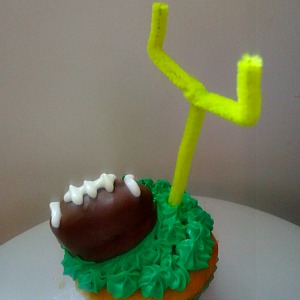 Oreo Cookie Truffle Football Cupcake Topper
Are you looking for game day ideas? Check out some of my other football party ideas…
Here's the step by step:
You'll Need:
1/2 box of Oreo Cookies
3 oz. of cream cheese
Brown chocolate melts – Wilton is my preferred
White Chocolate melts – again – Wilton
A chocolate squeeze bottle
Green Frosting
Pastry bag filled with green frosting with a small opening star tip  – I used a #16
Cupcakes
Yellow bendies/chenille strips/pipe cleaners…so many names!
Now, On to the cupcake:
Decorate the cupcake using your star tip and green frosting. Go all the way around the outer circumference holding your pastry bag down, pushing a little frosting, and pulling the tip up and away from the frosting you pushed out to give the little points. Fill in the rest of the cupcake the same way.
Using a heavy-duty mixer, mix the Oreo cookies and cream cheese until a thick paste is formed that looks like the above picture
Mold that Oreo paste into little football shapes and place them on waxed paper that is resting on a plate or cookie sheet – my footballs are about 1&1/2 inches
Pop those in the freezer
Meanwhile, melt your brown chocolate into a bowl using the instruction on the bag
Roll the frozen Oreo Footballs into the brown melted chocolate, place back on the wax paper
Pop back into the freezer
Meanwhile, melt the white chocolate melts, and pour the white chocolate into your squeeze bottle
Grab your footballs out of the freezer, and using your white chocolate, draw the stitches and the two little curved lines onto the footballs
Make goal posts using your yellow pipe cleaners
Place a goal post in every cupcake
Place a football on the opposite side of the goal post, ready to be kicked in!
~Melissa-KidFriendlyThingsToDo.Com – recipes, fun foods, party ideas, kid-friendly crafts, and fun things to do with the whole family!