We've all seen the crescent taco ring, and that is a great game day food. It got me to thinking that it might be fun to make the same recipe, but make it into the shape of a football for game day. I wasn't sure if it would work, but I crossed my fingers.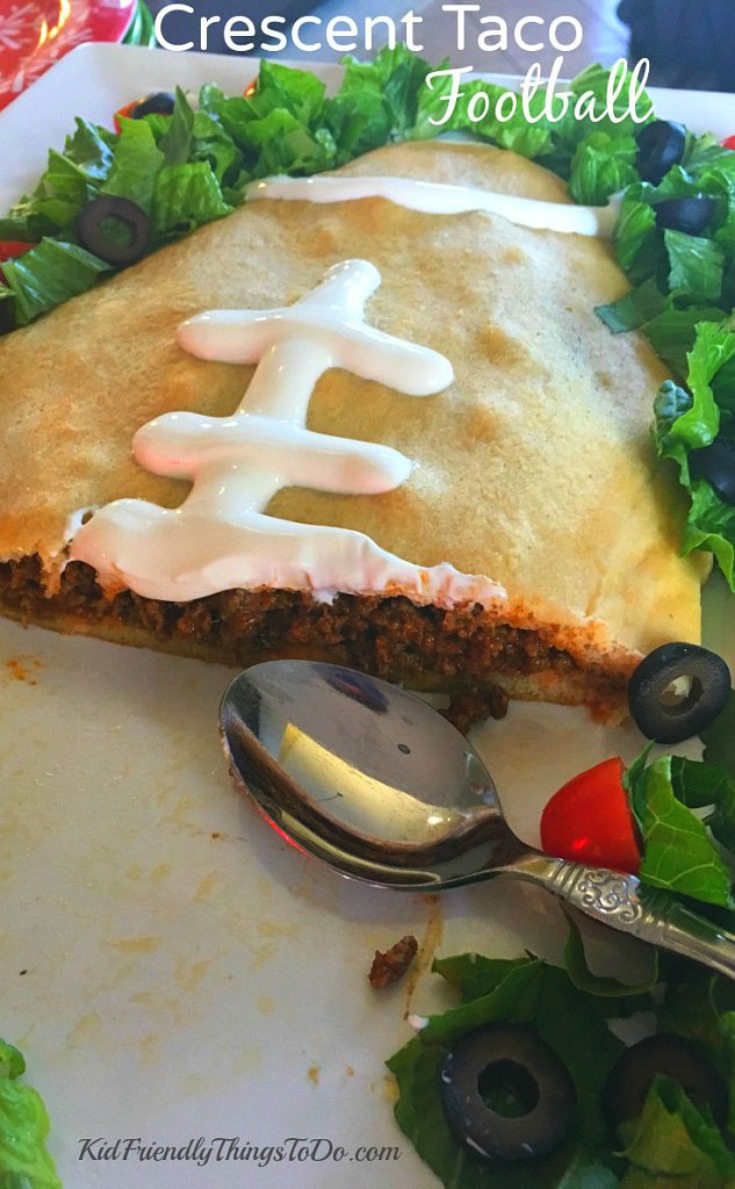 Phew! This taco crescent came out of the oven holding it's shape perfectly.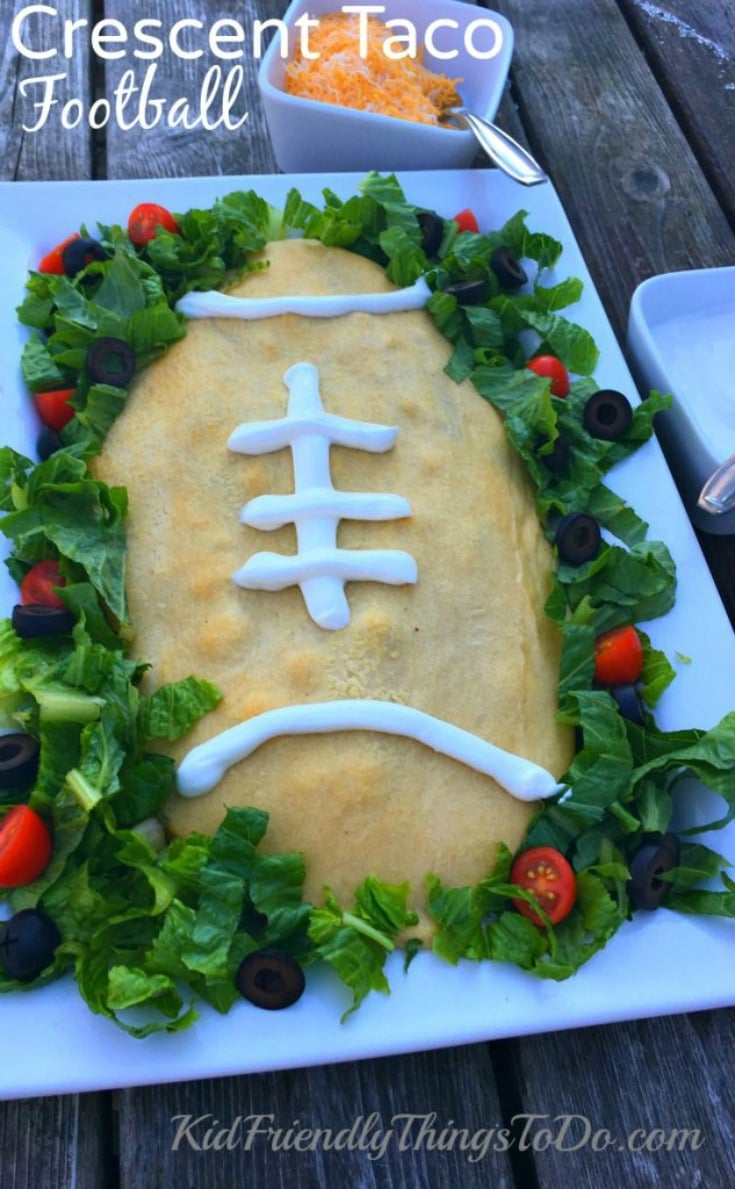 Now, I can breathe and show you how to make one!
Here's what you'll need to make one for game day:
1 lb. of ground meat – I used ground sirloin
taco seasoning – 1 packet
2 packages of crescent dough sheets (you can substitute packages of original crescent dough)
sour cream
lettuce
shredded cheese
cherry tomatoes – sliced
sliced olives
other taco toppings you would like to add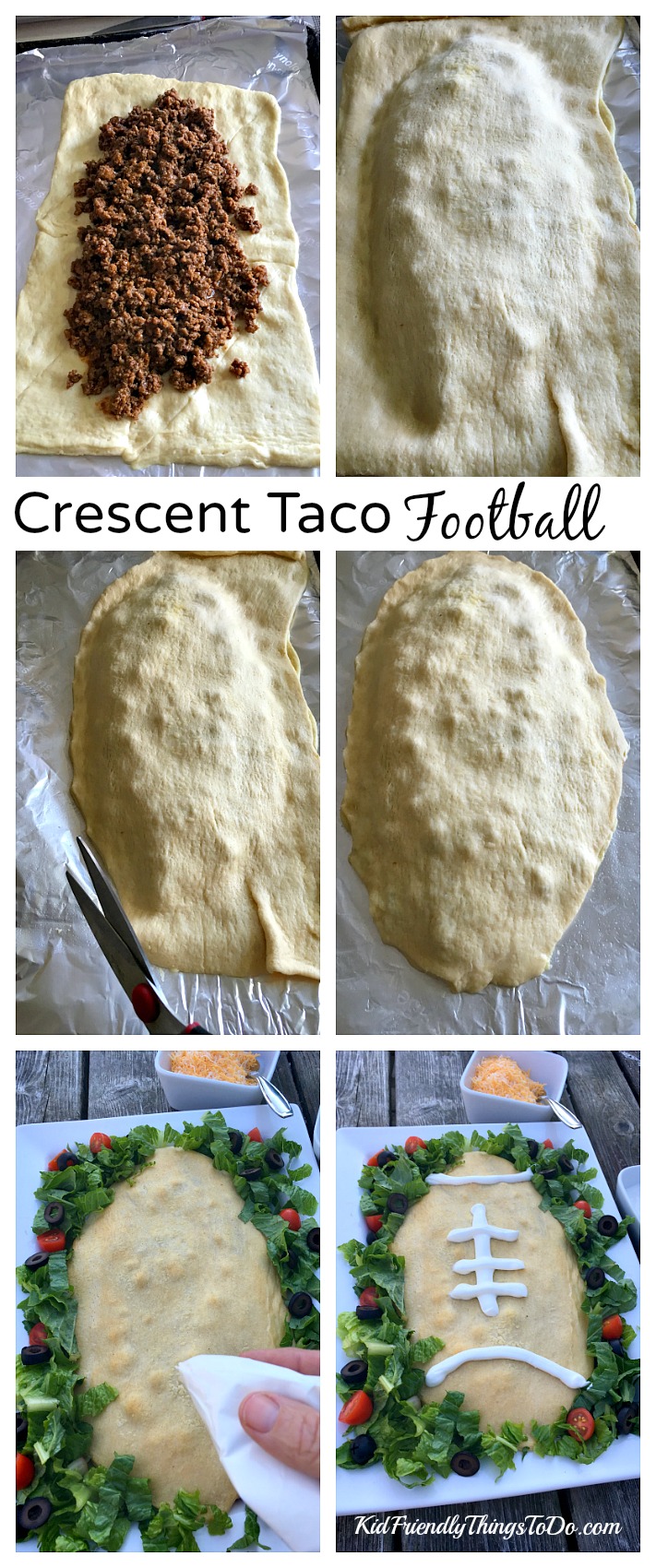 Use a non stick foil or parchment paper, set your roll of crescent dough down in the middle *If using original crescents then press seams together
Using a large skillet, brown your meat, and use the directions on the back of the taco seasoning packet to make your taco seasoned meat – making sure the juices have thickened up and are no longer runny
Once the meat is ready, scoop it out into a football (thin oval) onto your crescent sheet
Lay your other crescent sheet over the top and press to seal around your football shape meat
Use scissors to cut around the shape of the meat and press the dough again to form a firm seal – don't worry if it's not perfectly sealed. As the dough bakes it will seal itslef
Bake your football crescent in an oven that is set to 350 degrees for about 15 minutes, or until dough is golden and cooked through
Allow the football to cool for about 5 minutes
Grab a zip-tight bag and poor about 1/4 cup of sour cream into the bag
Snip one corner of the bag and decorate the football with laced down the middle and semi-circles on the end
Serve with taco toppings like, shredded lettuce, sour cream, shredded cheese, tomatoes, olives, etc…