The citrus flavor in this No Bake Orange Cheesecake is deliciously strong and so refreshing in this cheesecake pie. It's one of those desserts, that you'll hear yourself saying, "Mmm, Mmm" with each bite.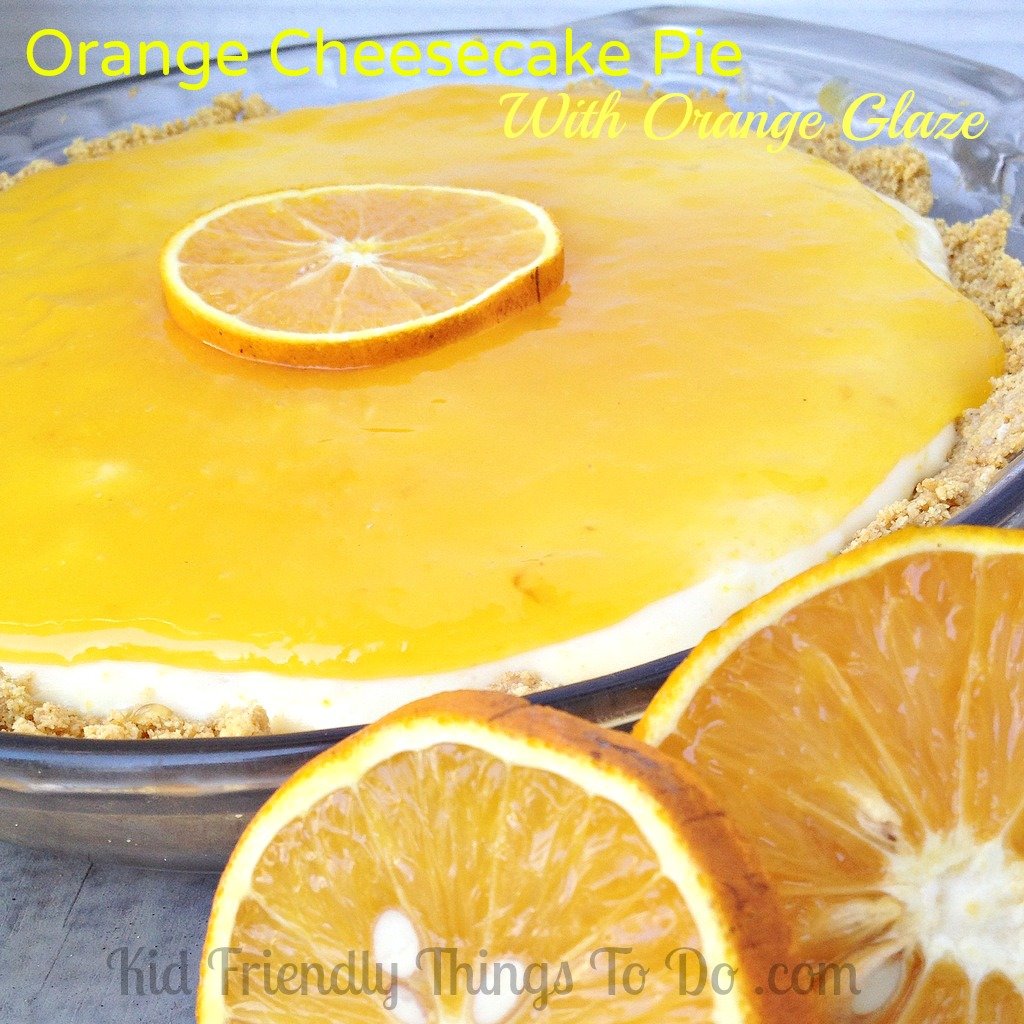 Orange No-Bake Cheesecake
Because I never have "just" the right ingredients, this No-Bake Orange Cheesecake Pie With Orange Glaze is a concoction of a lot of different recipes. I'm always winging it, in the kitchen. The orange flavor in this dessert is just incredible. I hope you'll give this refreshing treat a try.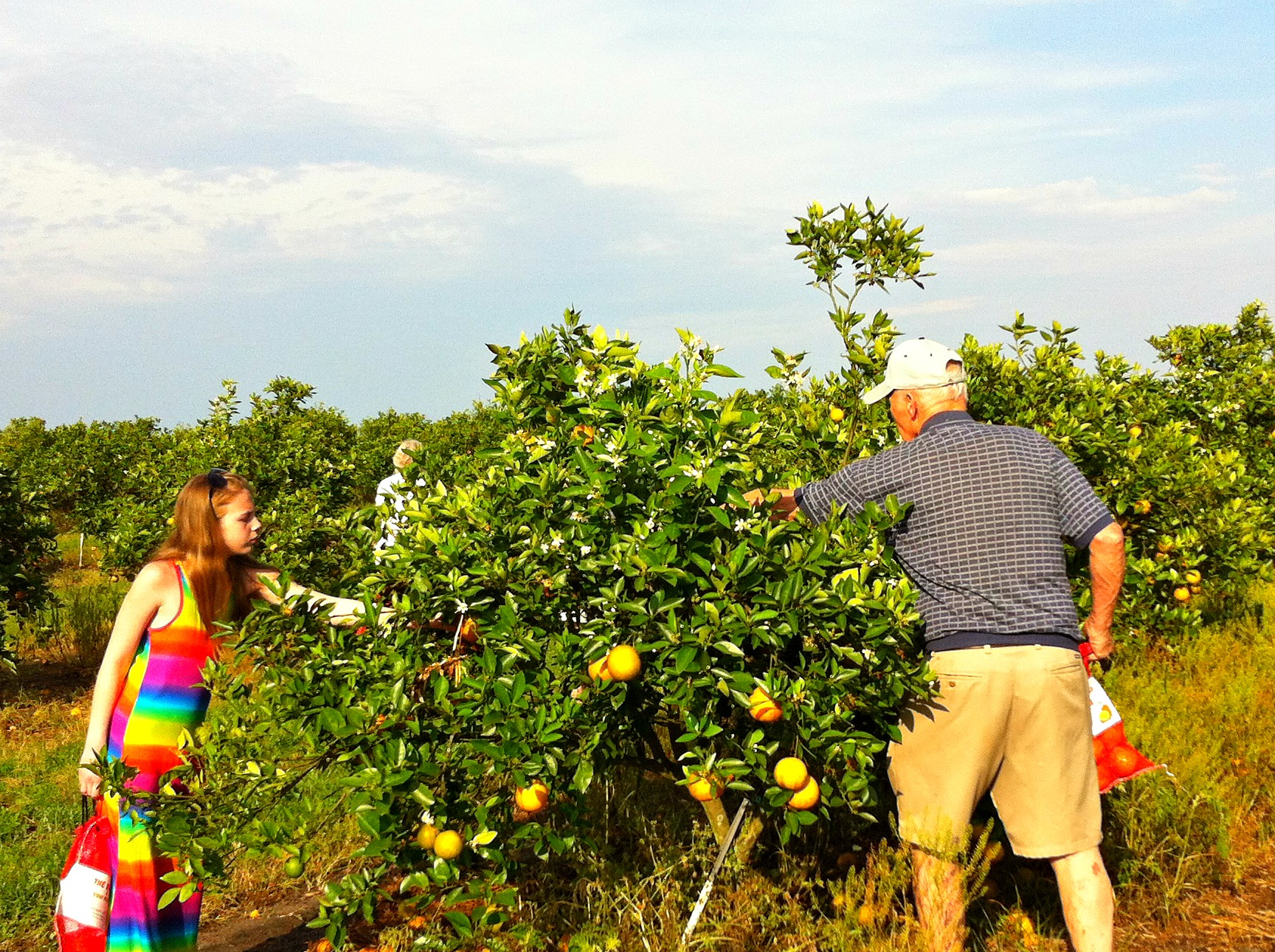 Last month, during Spring Break in Florida, I dragged the family to an orange grove. When we got there, I handed all four kids a bag, and we headed out, into the trees. If you haven't ever done this, let me tell you, the smell of citrus flowers is unbelievable. Not only are the flowers amazing, but a fresh-picked orange fragrance is also so much stronger than those from the store. Just the smell alone is worth going. Anyhoo…Where was I? Oh yes, The excitement of picking oranges was just too much! Everyone's bag was at least half full. All bags combined totaled a LOT of oranges! We spent $50 on oranges. Back at home, it was my job to come up with orange recipes. So, I jumped at the chance to make dessert on Easter Sunday, and out came a No-Bake Orange Cheesecake Pie.
Make-Ahead and Storage:
Feel free to make this cheesecake up to 3 days in advance. Cover and refrigerate until ready to serve
Do you love Cheesecake? You might like these Cheesecake Recipes – like, Strawberry Cheesecake Bites, Marbled Brownies with Cheesecake, No-Bake Layered Pumpkin Cheesecake 
Ingredients
Crust:
You can use a pre-made graham cracker crust
Or make your own graham cracker crust with these ingredients:
1&1/2 cups of graham cracker crumbs
6 Tblsp. of unsalted butter melted
2 Tbsp. of granulated sugar
Filling:
2 packages of cream cheese – 1/3 less fat – Neufchatel
3/4 cup of granulated sugar
2 Tblsp. of grated orange zest
1/4 cup of orange juice (divided) or about 1 fresh-squeezed orange
2&1/2 Tblsp. of Orange Gelatin – such as Jello
Glaze:
1/3 cup of  granulated sugar
2 Tblsp. corn starch
1 cup of orange juice – or about 3-4 fresh squeezed oranges
Instructions:
Grab the printable recipe below with full instructions…
Crust:
If you do not have a pre-made graham cracker crust…
Use a food processor to crumble the graham crackers
In a medium-sized bowl, mix the graham cracker crumbs, sure, and melted butter
Press the graham cracker /butter mixture into a 9-inch pie plate
Bake the crust for 10 minutes and allow to cool
*If you do not have graham crackers – substitute vanilla wafers 
Filling: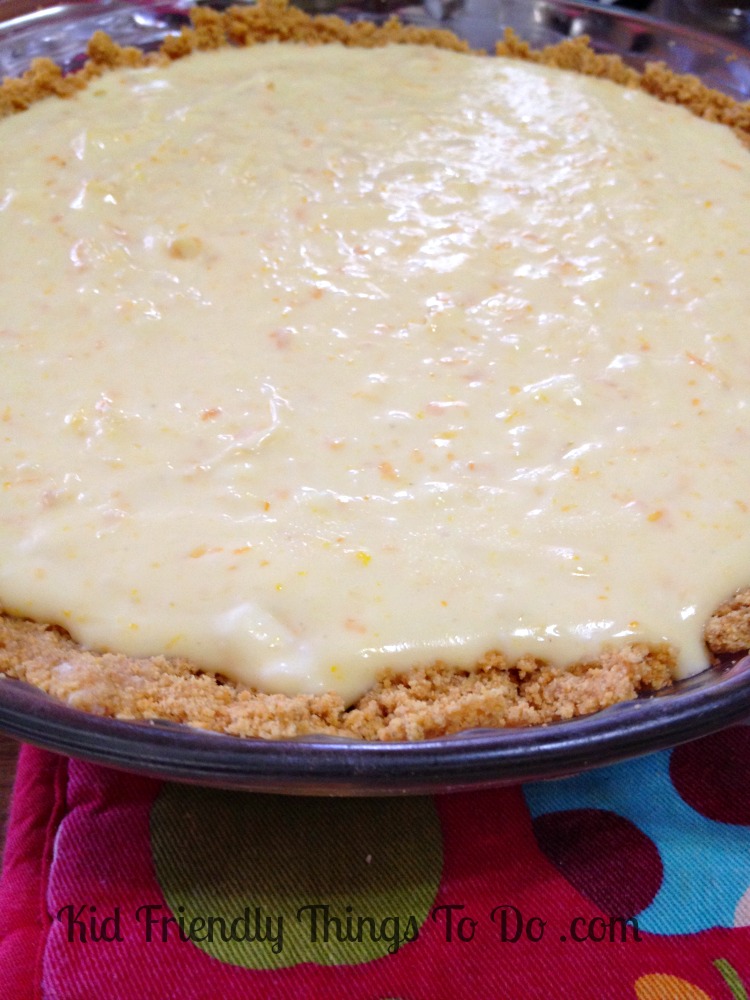 In a medium bowl or using an electric mixer, the cream cheese, sugar, zest, – set aside
In a medium saucepan, over med/high heat, pour 1/4 cup of orange juice (or 1 squeezed orange), let boil, and remove from heat
While the juice is still hot, whisk in the orange gelatin
Stir until gelatin completely dissolves – let cool for a few minutes until slightly thickened
Fold the Jell-O mixture into the cream cheese mixture, and blend well
Pour that over the crust
Cover and refrigerate for about 4 hours or overnight
Glaze Topping:
In a small saucepan combine the sugar and cornstarch
Add  1 cup of orange juice or juice from 3-4 fresh squeezed oranges
Bring to a boil, reduce heat, and simmer for a minute, or until the mixture thickens up – cool completely
Pour over chilled cheesecake pie, spread it out, and serve
*The filling will not be like a firm cheesecake, more like a creamy cheesecake or a thickened pudding
Suggested Toppings:
Garnish with orange slices on top
Serve with whipped cream
Suggested Equipment:
[box] [/box]
Print
Orange Cheesecake Pie with Orange Glaze
Author:
Prep Time:

20 minutes

Cook Time:

refrigerate 4+ hours

Total Time:

22 minute

Yield:

1

cheesecake pie

1

x
Crust
1

Graham Cracker Crust – premade

2

Tblsp. of butter melted
Filling
2

packages of cream cheese – 1/3 less fat – Neufchatel

3/4 cup

of sugar

2

Tblsp. of grated orange zest

1/4 cup

of orange juice or

1

fresh-squeezed orange

2

&1/2 Tblsp. of Orange Gelatin – such as Jello
Glaze
1/3 cup

of granulated sugar

2

Tblsp. corn starch

1 cup

of orange juice – or approximately 3-4 fresh squeezed oranges
Instructions
If you do not have a pre-made graham cracker crust…
Use a food processor to crumble the graham crackers
In a medium-sized bowl, mix the graham cracker crumbs, sure, and melted butter
Press the graham cracker /butter mixture into a 9-inch pie plate
Bake the crust for 10 minutes and allow to cool
Filling
In a large mixing bowl or using an electric mixer, blend the cream cheese, sugar, and zest
In a medium saucepan, over med/high heat, pour 1/4 cup of orange juice (or 1 squeezed orange), let boil, and remove from heat
Stir in the orange gelatin – let cool for a few minutes until slightly thickened
Add the gelatine mixture to the cream cheese mixture, and blend well
Pour that over the crust
Cover and refrigerate for about 4 hours or overnight
Glaze Topping
In a small saucepan combine the sugar and cornstarch
Add the 1 cup of orange juice or juice from 3-4 fresh squeezed oranges
Bring to a boil, reduce heat, and simmer for a minute, or until the mixture thickens up – let cool completely
Pour over chilled cheesecake pie, and serve immediately or you cover and refrigerate until the glaze has cooled completely before serving
Notes
The filling will be more like a thickened pudding than a firm cheesecake filling