A fun twist on pizza with a rolled-up version, this Stromboli recipe is perfect for pizza night. Easy to make and so delicious.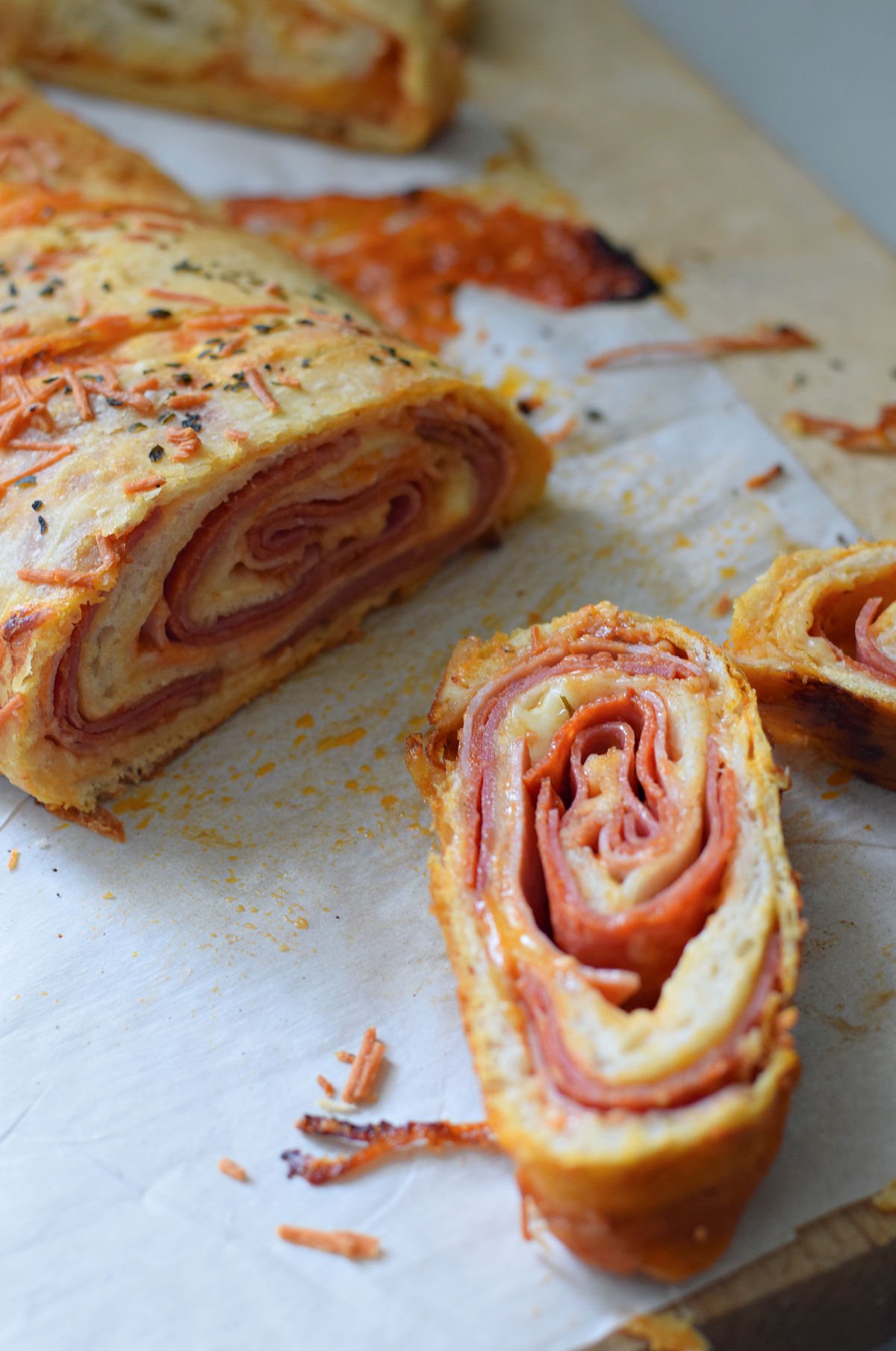 Stromboli Recipe
Pizza is a staple at our house. It doesn't matter if it's the classic version of pizza or a fun twist like this Easy Muffin Tin Pizza, Pizza Stuffed Shells, or Pizza on the grill like this Greek Naan Pizza as long as every Friday night is pizza night.
What I love about this recipe:
This recipe for stromboli is delicious and easy to make
It's a classic stromboli with cold cuts and cheese
Stromboli recipes are easy to customize with your own toppings and variations
This is a fun twist to traditional pizza for family pizza night
Ingredients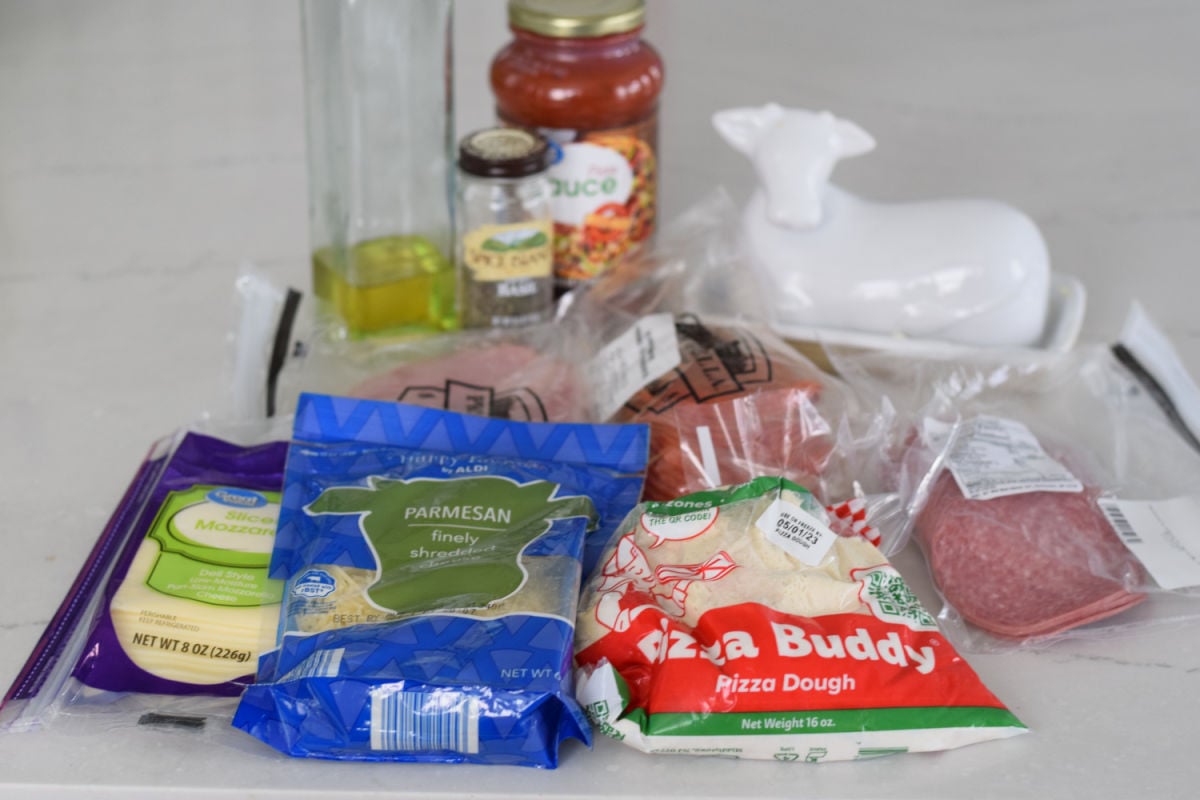 Pizza Dough – this can be a homemade pizza dough , or a store-bought pizza dough
Olive Oil – I like to use classic olive oil
Pizza Sauce – I have a few recipes for homemade pizza sauce. One of them is really easy and a no-cook recipe for pizza sauce. Or, you can buy store-bought pizza sauce
Hard Salami – I found sliced salami at my local grocery store
Pepperoni – This can also be found at the deli counter
Ham – you can use any lunch ham, or buy your favorite kind of ham at your local grocery store delicatessen
Mozzarella Cheese – I used sliced mozzarella cheese, but your can use shredded mozzarella cheese
Butter – I used unsalted butter
Parmesan Cheese – I used fresh grated Parmesan cheese
Dried Basil – I happen to like basil, so that is why I used it.

You can substitute Italian Seasoning or Oregano for Basil
Expert Tips
In some recipes, the sauce is added directly to the dough, but the dough tends to soak up some of the sauce. If you like extra sauce, as I do, then first add a layer of cheese, then sauce, then meats
If you leave an edge of dough without toppings, the end pieces of your stromboli probably won't have many fillings to bite into. I just consider these pieces a bonus of delicious bread to dip into my pizza sauce, but if you don't want stromboli pieces without fillings then spread everything as close to the edges of the dough as you possibly can
Stretching Out Pizza Dough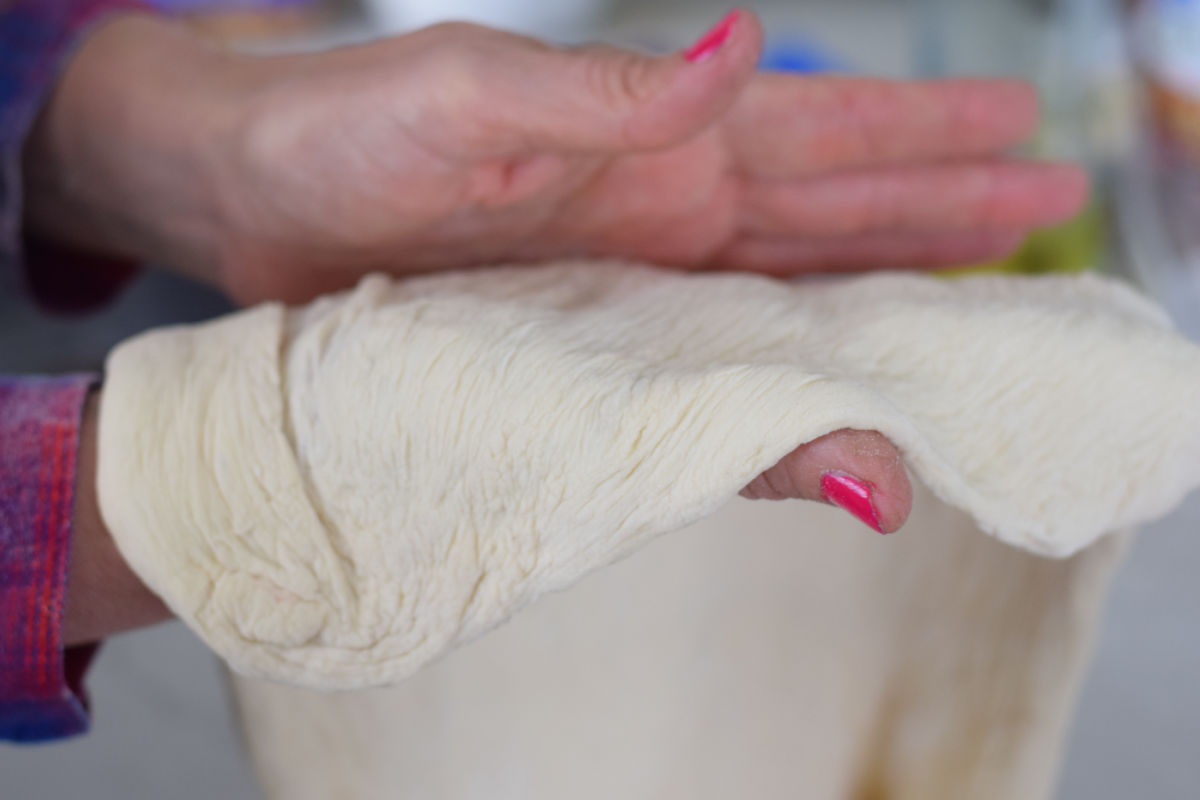 There are a couple of ways to stretch pizza dough out. One way is to pass the dough from hand to hand allowing it to kind of hang for a small period letting gravity take its' course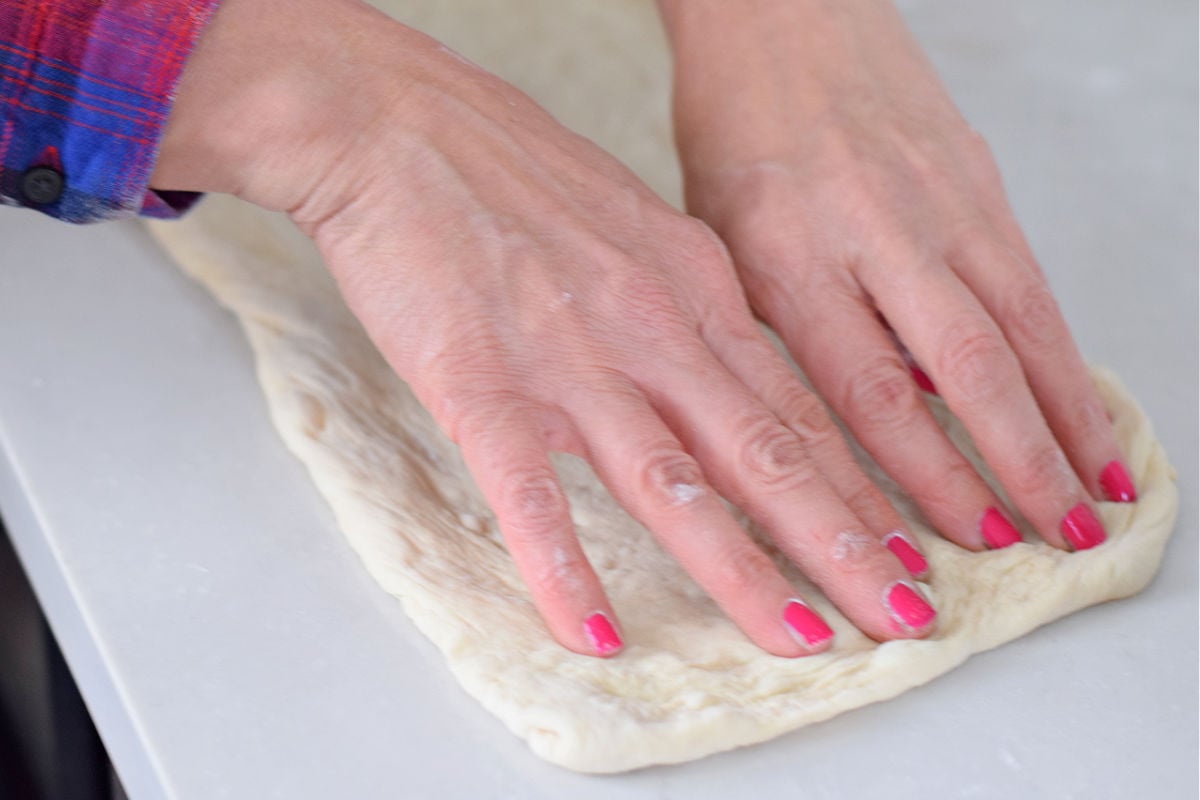 Another way to stretch pizza dough is to push the dough with the tips of your fingertips
How to Make This Recipe for Stromboli
Preheat the oven to 375 degrees
Roll the pizza dough out into an oblong shape – like an oval or rectangle – about 10 inches wide and 15 inches long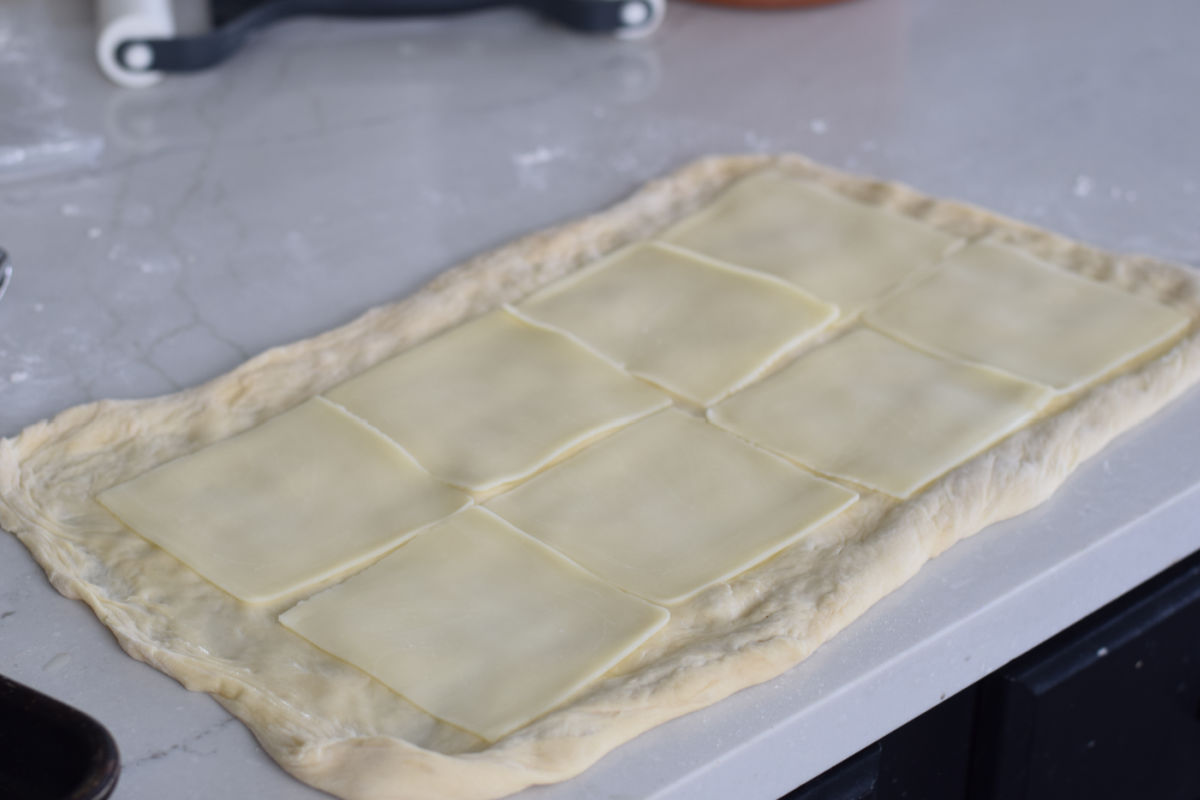 Top the pizza dough with cheese slices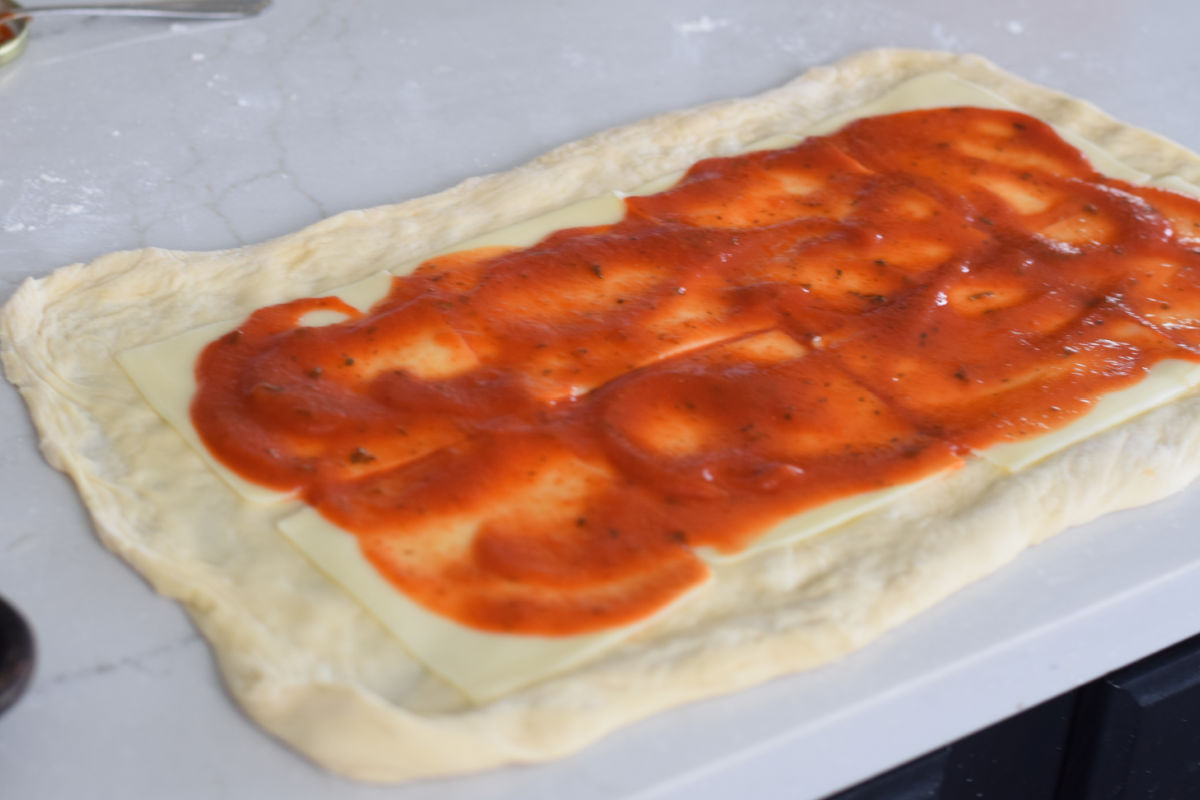 Spread sauce onto the cheese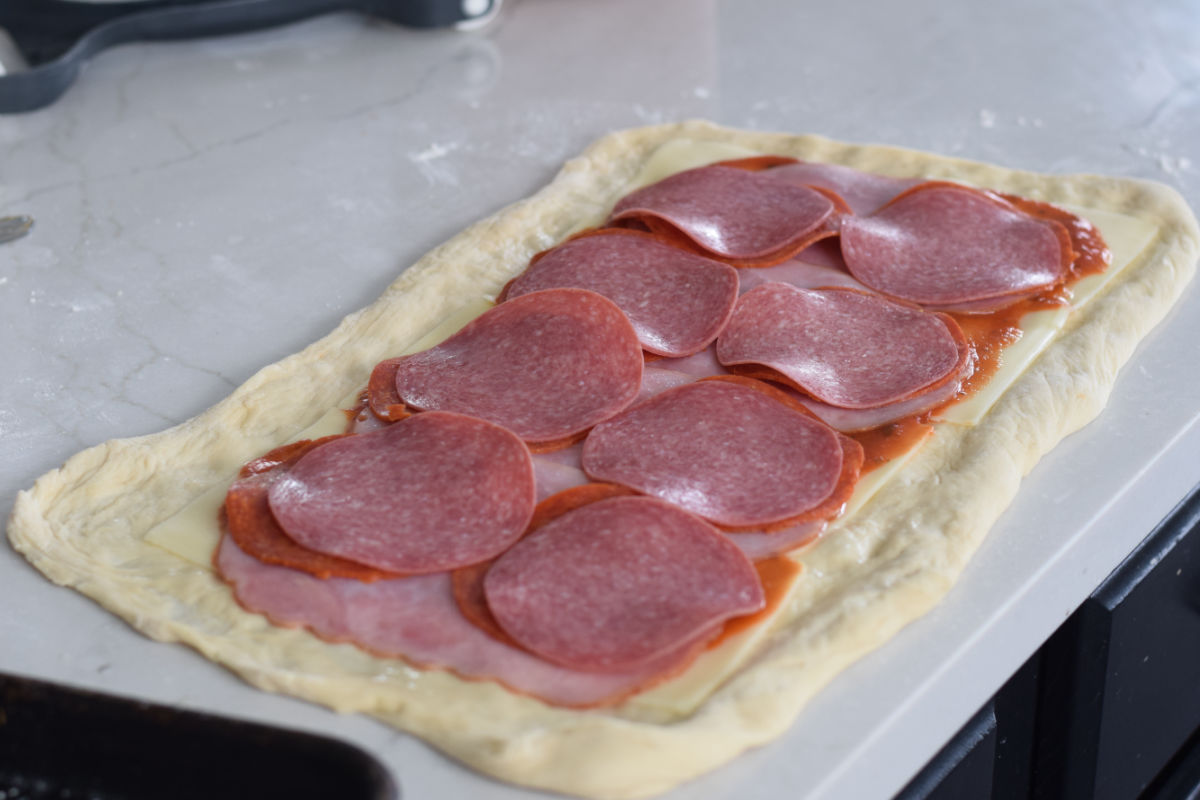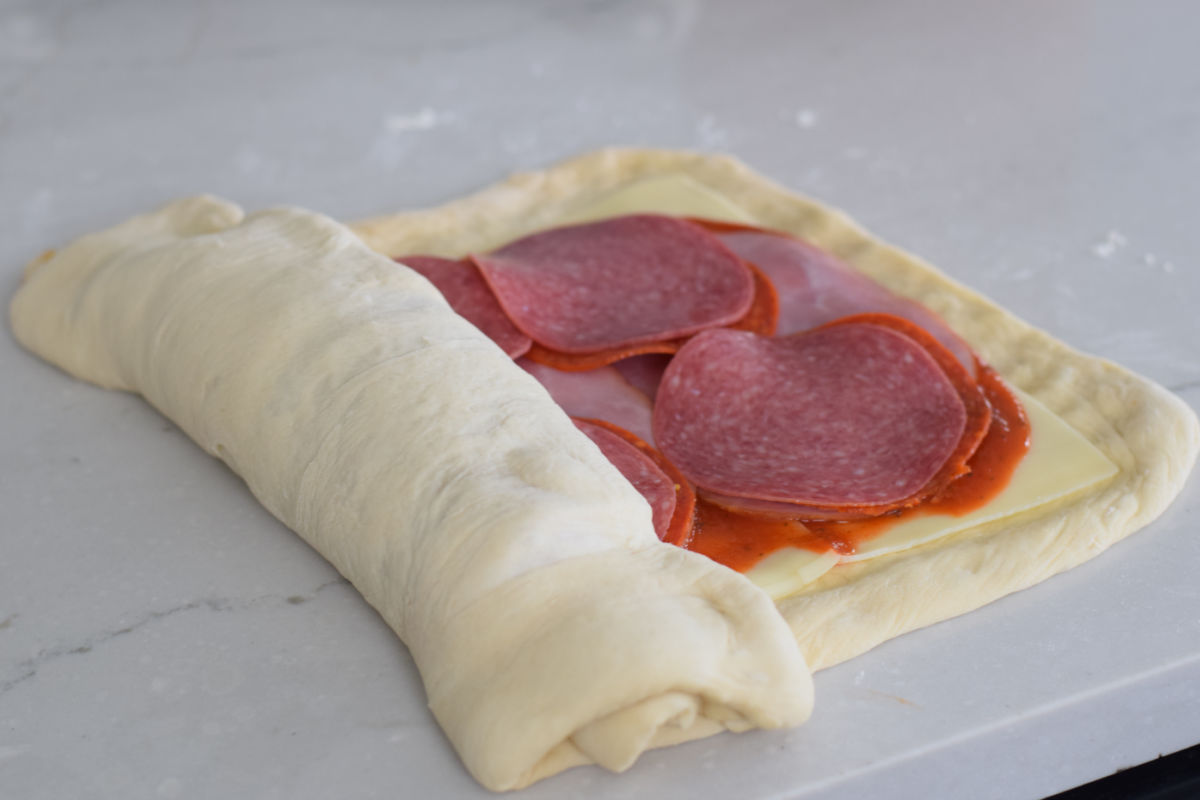 Roll the stromboli up – starting at the short side in a tight roll
Fold the ends under and pinch them to seal
Place the rolled-up stromboli onto a parchment-lined baking sheet
Place 3-4 slits into the top of the stromboli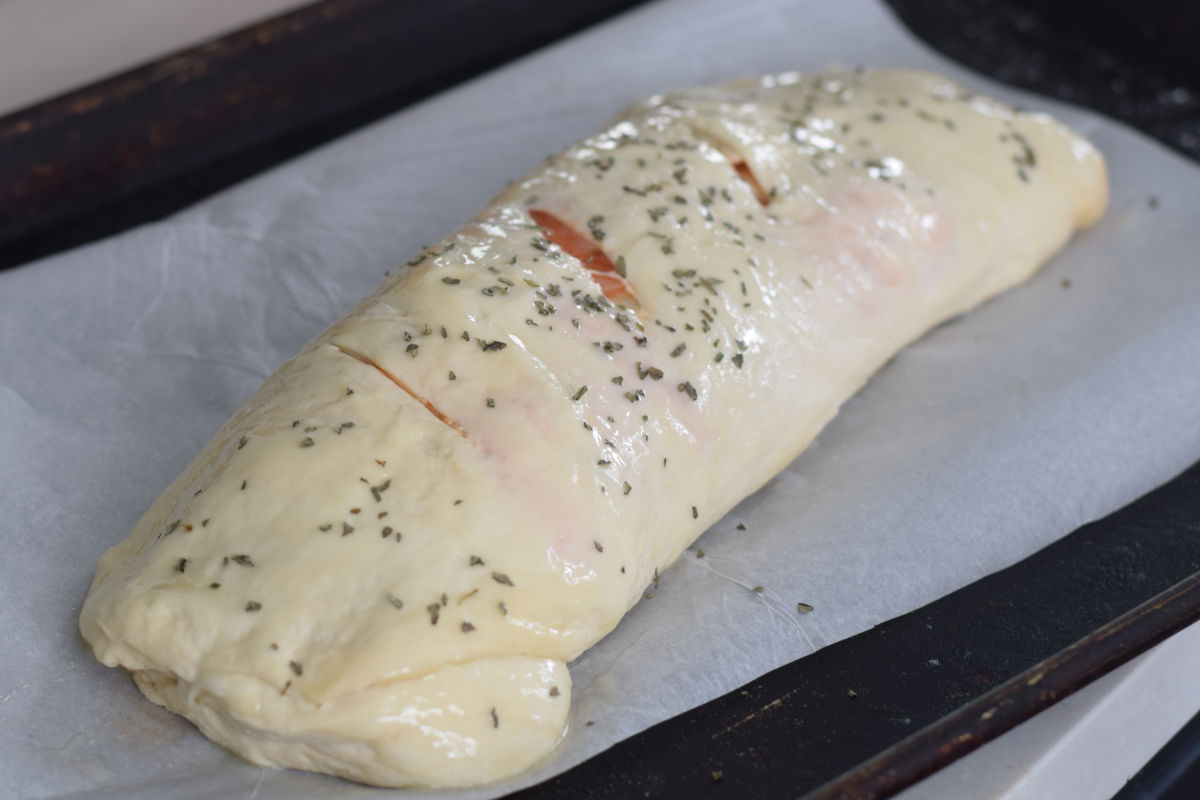 Brush olive oil over the top and sprinkle basil and Parmesan cheese
Stromboli Variations for more Stromboli Recipes
Ham and Cheese Stromboli – Mix mayonnaise and mustard together. Mix in cubes of ham, swiss cheese, broccoli florets, and chopped spinach (frozen that has been thawed and drained)
Meat and Veggie Stromboli – Layer cheese, and meats. Spread mustard and sprinkle vegetables
Chocolate and Cherry Stromboli – Brush dough with egg wash that has 1 tsp. of lemon juice. Sprinkle on 4 oz. of chocolate chips and dried cherries (chopped). Roll dough but do not seal. Brush more egg wash and sprinkle on granulated sugar
Beef and Broccoli Stromboli – Cook ground beef with onion and broccoli florets in a skillet. Stir in shredded mozzarella cheese, sour cream plus salt and pepper to taste.
Ground Beef and Pepperoni – Mix olive oil, salt, pepper, garlic powder, onion powder, and mustard powder. Brush on the dough. Add ground beef, pepperoni, and cheese
Sausage and Cheese Stromboli – Cook sausage. Stir in mozzarella, eggs, and Basil. Roll dough, brush egg wash, and sprinkle with Parmesan cheese
What to Serve with Stromboli
What is the Difference between a Stromboli and a Calzone?
The difference is mainly in the shape. A calzone looks like a half-moon as the dough is basically folded over. A stromboli is rolled up and the ends are pinched to seal making the slices layers of bread and filling
What is in a Classic Stromboli?
A stromboli typically consists of tomato sauce, meats, and cheese
Is a Stromboli or Calzone healthier?
A Stromboli has thinner dough, which reduces the amount of carbs making it the healthier of the two. You can add or reduce meats, and vegetables with both to customize them and add nutrition
Does a Stromboli Have Sauce Inside?
Stromboli can either have a light layer of sauce or can be dipped into heated tomato sauce
Is Stromboli Served Hot?
You can either serve stromboli hot like a typical pizza, but you can also serve it at room temperature which makes it a great party food
Make Ahead and Storing
Store Stromboli in the refrigerator for up to 3 days
Wrap in plastic wrap or aluminum foil. You could also store it in an airtight container
You can make stromboli ahead of time and tightly wrap it to store in the fridge. Let warm up to room temperature before baking
Reheating Pre-Baked Stromboli by lightly covering it with aluminum foil and baking it for 10-12 minutes or until warmed through
More Pizza Recipes You'll Enjoy
Serving Size
This recipe will comfortably serve 4 people
You can double or triple the recipe to feed more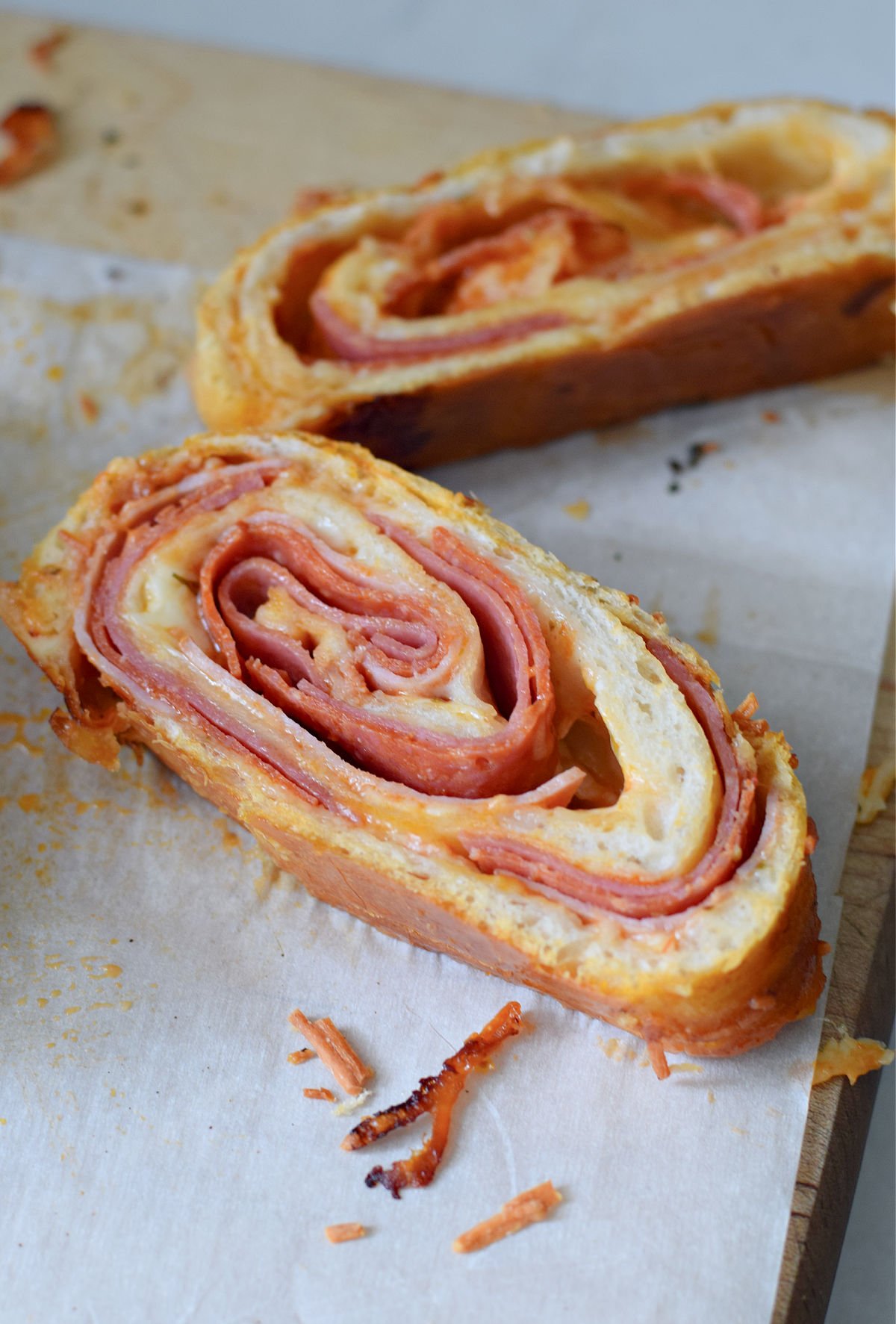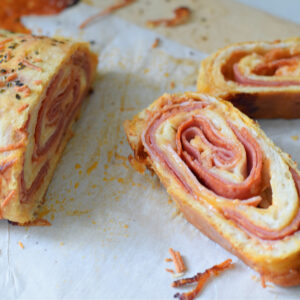 Stromboli Recipe
A delicious and fun twist on pizza. This easy to make Stromboli is perfect for pizza night.
Equipment
1 Baking Sheet

1 Basting Brush
Ingredients
1

pizza dough

refrigerated – store bought

1

Tbsp.

olive oil

8

slices

mozzarella cheese

¾

cup

pizza sauce

4

slices

ham

deli thin

8

slices

pepperoni

large slices (or 16 small)

8

slices

salami

large slices (or 16 small)

1

Tbsp.

butter

unsalted – melted

½

cup

Parmesan Cheese

½

tsp.

Basil
Instructions
Preheat the oven to 375 degrees

Roll dough out to a rectangle that is about 10"x15"

Brush olive oil over dough

Roll from short side (pictures in post)

Fold ends under and pinch to seal

Transfer to a parchment lined baking sheet

Cut 3-4 slits in the top of dough to allow air to escape

Brush melted butter and sprinkle with basil and Parmesan
Notes
Nutrition Facts are only an estimate 
Nutrition
Calories:
659
cal
Carbohydrates:
51
g
Protein:
36
g
Fat:
35
g
Saturated Fat:
17
g
Polyunsaturated Fat:
3
g
Monounsaturated Fat:
11
g
Trans Fat:
0.2
g
Cholesterol:
97
mg
Sodium:
2306
mg
Potassium:
353
mg
Fiber:
2
g
Sugar:
8
g
Vitamin A:
804
IU
Vitamin C:
3
mg
Calcium:
448
mg
Iron:
4
mg