This shop has been compensated by Collective Bias, Inc. and The Coca-Cola Company. All opinions are mine alone. #NotSoFastMom #CollectiveBias
I love this time of year. It's finally official…it's fall! That means crisp fall days and football with friends and family. It's really one of my favorite times of year. Of course with the changing of the seasons comes new sports, like football. Football is one of those sports that seems to bring the community together. I love that! After an entire week of late night sports practices, we are ready to celebrate with some football watching fun, while supporting our local high school football team! Come on in and I'll share a fun craft idea that I have to help you cheer at your high school football games. Then, stick around because the week isn't over before the weekend Football Watch Party with friends and family!
I love the memories that are made at parties like this one. It's really all about coming together with a common bond and sharing laughs, love, and of course…food!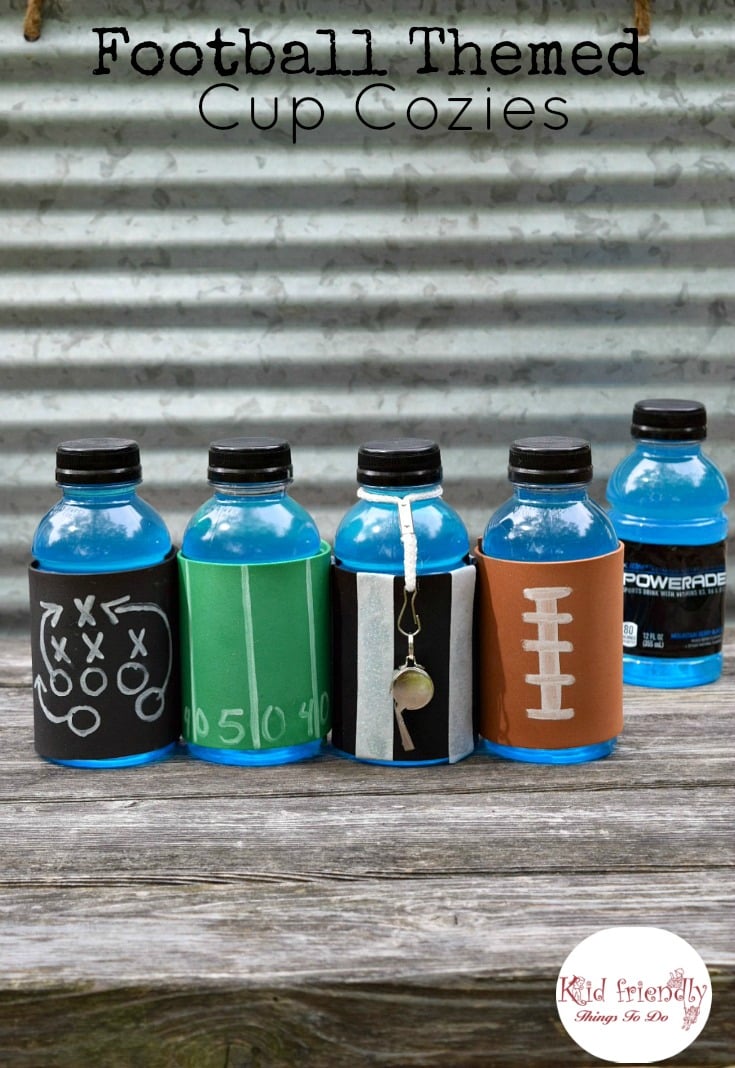 Do you have any athletes at home that are practicing hours and hours during the week? We are covering almost every night of the week at one field or another. My van is like the bag in Mary Poppins. The stuff that I need to keep on hand is never ending. From folding chairs, to blankets for cold days, sunscreen for sunny days, sports gear, and of course there is always a cooler full of POWERADE for the kids and their teammates to stay hydrated. They work so hard out on that field. Thank goodness Walmart is always just around the corner. I like to buy the 12 packs, and really stock up, to power us through the week. Then, when it's Friday Night Lights at our local High School, we take our POWERADE drinks along as part of the fun. They are all dressed up in these drink cozies to get us and everyone around us in the spirit. The whistle on the referee mug is my favorite. Cheering in the stands is work, y'all! I never thought I'd be so loud, but I am. I'm that mom! I don't know what's wrong with me. The excitement really gets to me. I think it's because I didn't play sports as a kid, so this suppressed competitive spirit is exploding out of me! I go through plenty of POWERADE myself, just keeping my vocal chords in check. 🙂
Let me show you how to make these fun Drink Cozies:
For the Game Plan Cozy:
You'll Need:
A Black Foam Sheet – at least 10 inches long
Ruler
Scissors
Pencil
Self Adhesive Velcro
A White Chalk Marker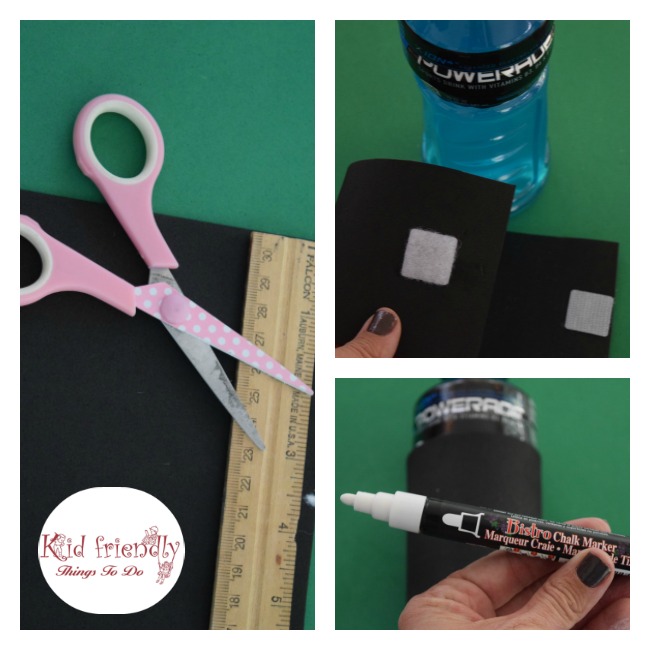 Cut a 3&1/2 inch by 10 inch strip of black foam
Place a piece of velcro on the center of one end and then flip the foam around and do the same thing on the reverse end, so when you wrap the foam around the cup, the velcro will meet together and fasten
Wrap the foam piece around the drink, and fasten
Grab your chalk marker and draw some X's and O's with arrows like the finished picture above
For the Football Field Drink Cozy:
You'll Need:
A green foam sheet – at least 10 inches long
Scissors
Pencil
Ruler
Velcro
White Chalk Marker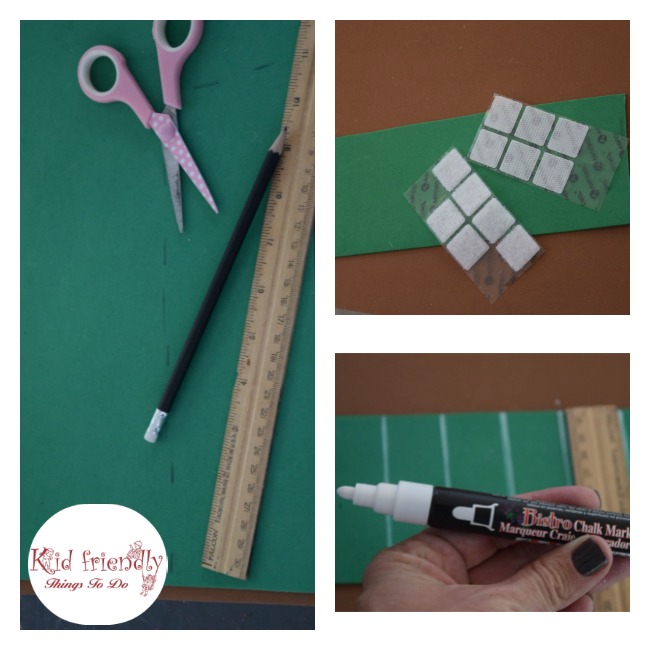 Cut the foam into a piece 3&1/2 inches by 10 inches
Using the same method as before, attach the velcro
Use a white chalk marker to make lines for the field adding numbers starting with 50 in the middle for the 50 yard line and going down by 10 in each direction – Again, referring to the finished picture.
For the Referee Drink Cozy: (my favorite)
You'll Need:
A black sheet of foam at least 10 inches long
Scissors, pencil, and ruler
White tape – I found some cute glitter duct tape in the craft section of Walmart
A whistle – I found one in the sporting section of Walmart
Now: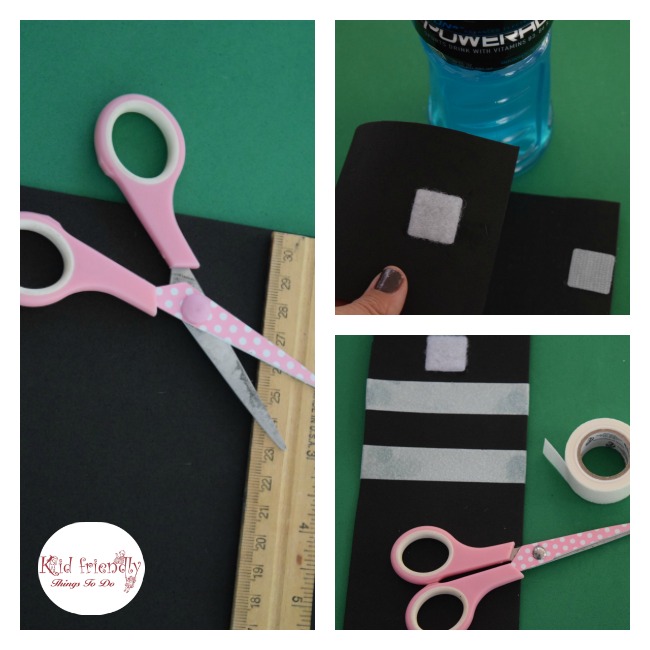 Cut a foam piece at 3&1/2 by 10 inches
Adhere velcro just like the above instructions
Tape straight lines all the way down the foam piece
Fasten to the drink
For added fun and a fun noise maker – Add a whistle to the neck of the drink
For the Football Cozy:
You'll Need:
A brown sheet of foam – at least 10 inches long
Scissors, ruler, and pencil
Self adhesive velcro
White paint pen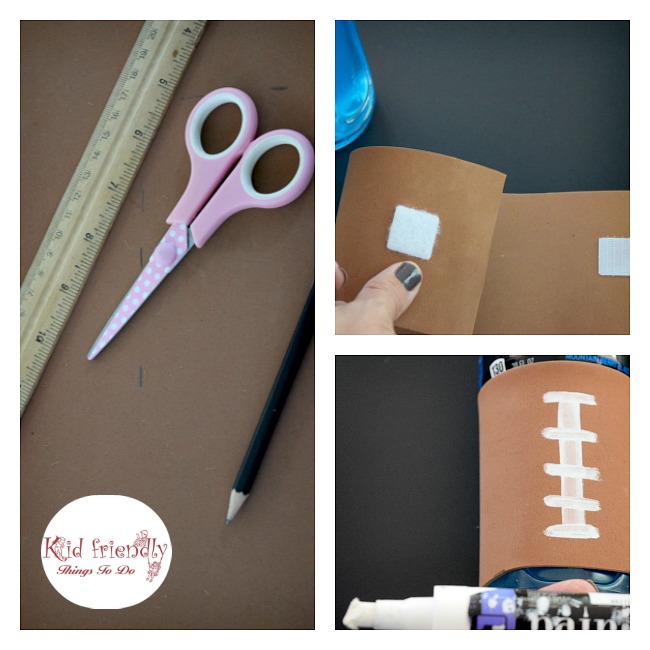 Cut a strip of foam 3&1/2 inches by 10 inches long
Adhere the velcro just like I showed you in the above instructions
Wrap it around the drink and secure
Use a paint pen to make laces
Have fun at this week's game!
Now, just because the game is over, doesn't mean the fun is! Why stop there?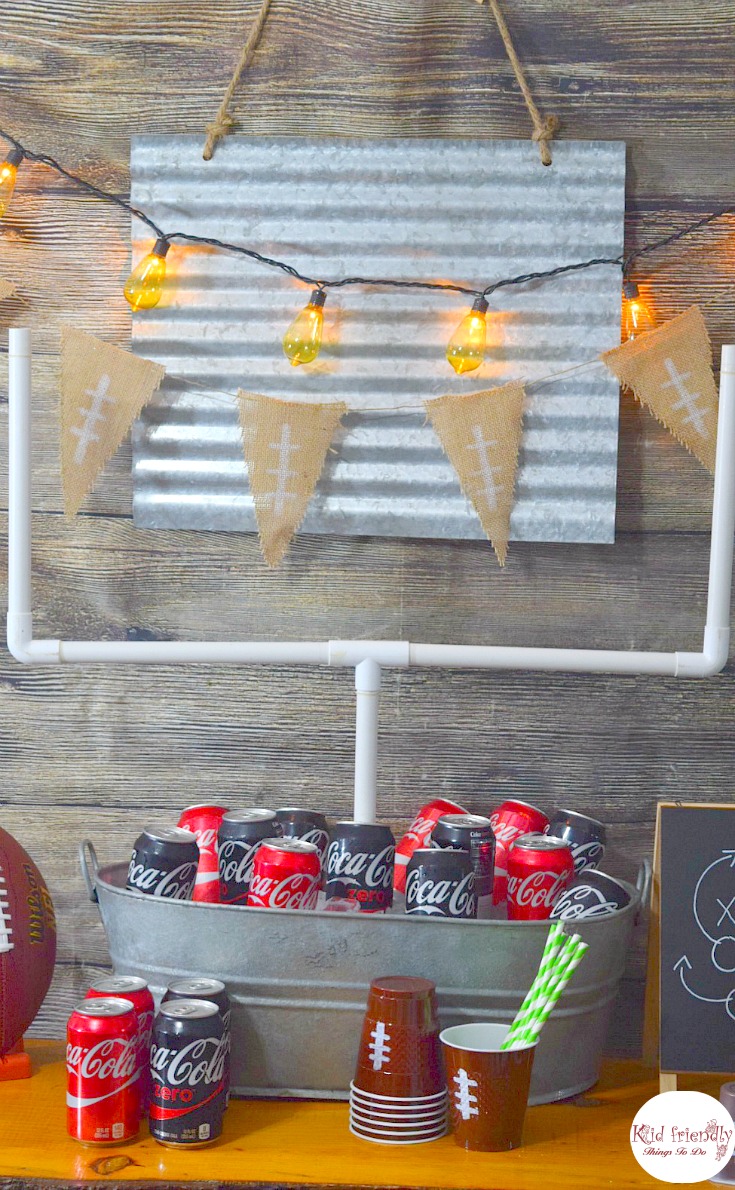 Bring the party home on the weekends, like I did for this College Football Watch Party! For my party, I stocked up on some essentials, like Coke Zero, and Coca-Cola Classic. I love using this fun galvanized tub for a cooler. With the party being Football themed, I grabbed 4 (1 ft.) pieces of PVC pipe, 1 more – a bit longer (about 18 in.) 2 elbows, and a T joint to make a field goal for the cooler. I had some green straws on hand, and used my Paint Marker to turn brown cups into footballs! I also found a chalkboard easel at Walmart, and I used my chalk marker to draw a fun game plan on it for a fun touch!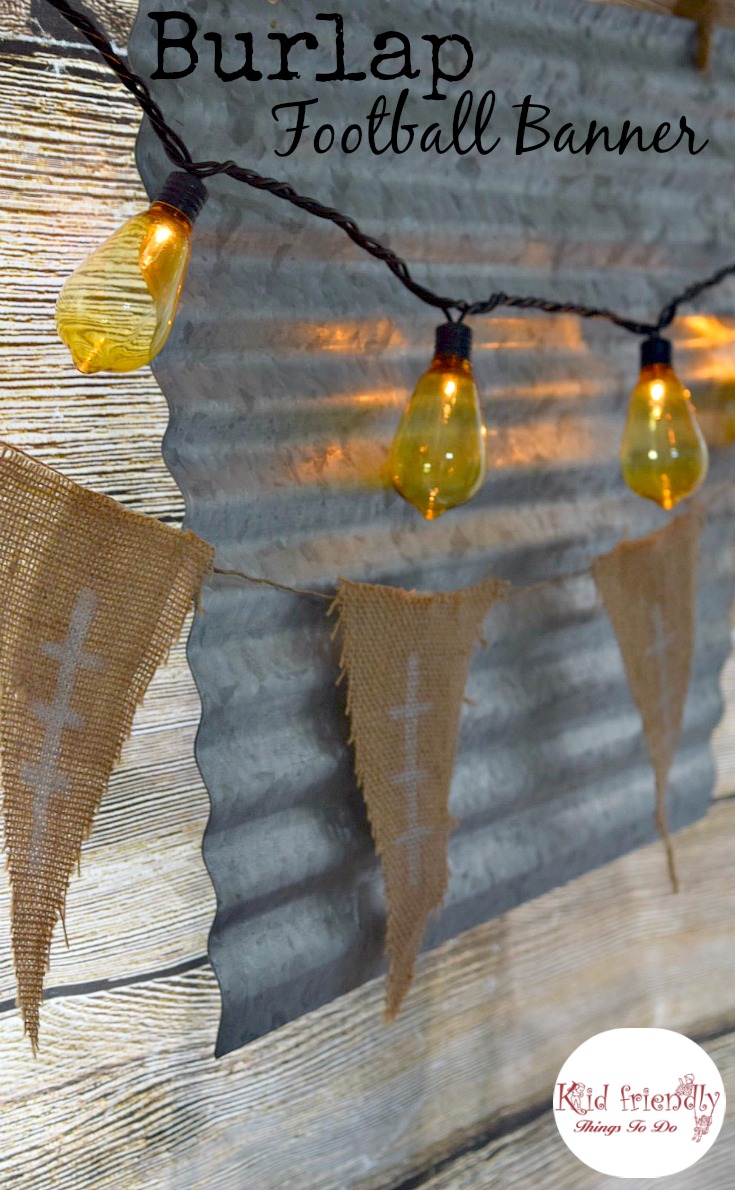 In keeping with my rustic decor, I made a simple Burlap Football Banner to go with my theme.
Here's what you'll need for your own Football Banner:
Burlap – I found a roll of Burlap in the wedding aisle of Walmart
Scissors
The template for the banner – Found at the bottom of the post
Spray Starch
An iron
White paint pen
Rope to hang the banner with
A warm glue gun and glue sticks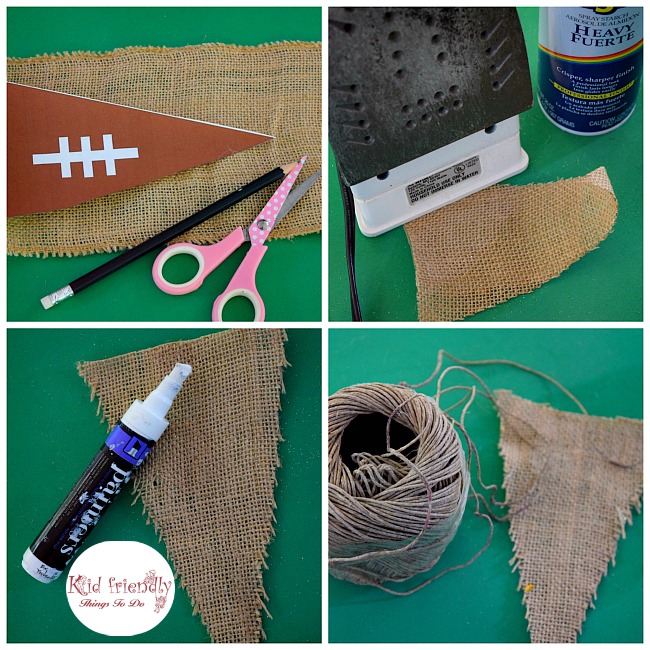 Cut out several (6 or more) triangles using the template at the bottom of the post
Use spray starch to spray the burlap triangles
Iron the burlap on a medium/high setting to stiffen it
I kept the frayed edges "as is" – It goes with my rustic theme
Use a paint pen to draw stitches
Flip the triangles around and glue the rope to the back sides, leaving about a 3 inch space between each one
Here's a little video to help you even more. 🙂
After my banner was complete, I turned to some fun football themed foods.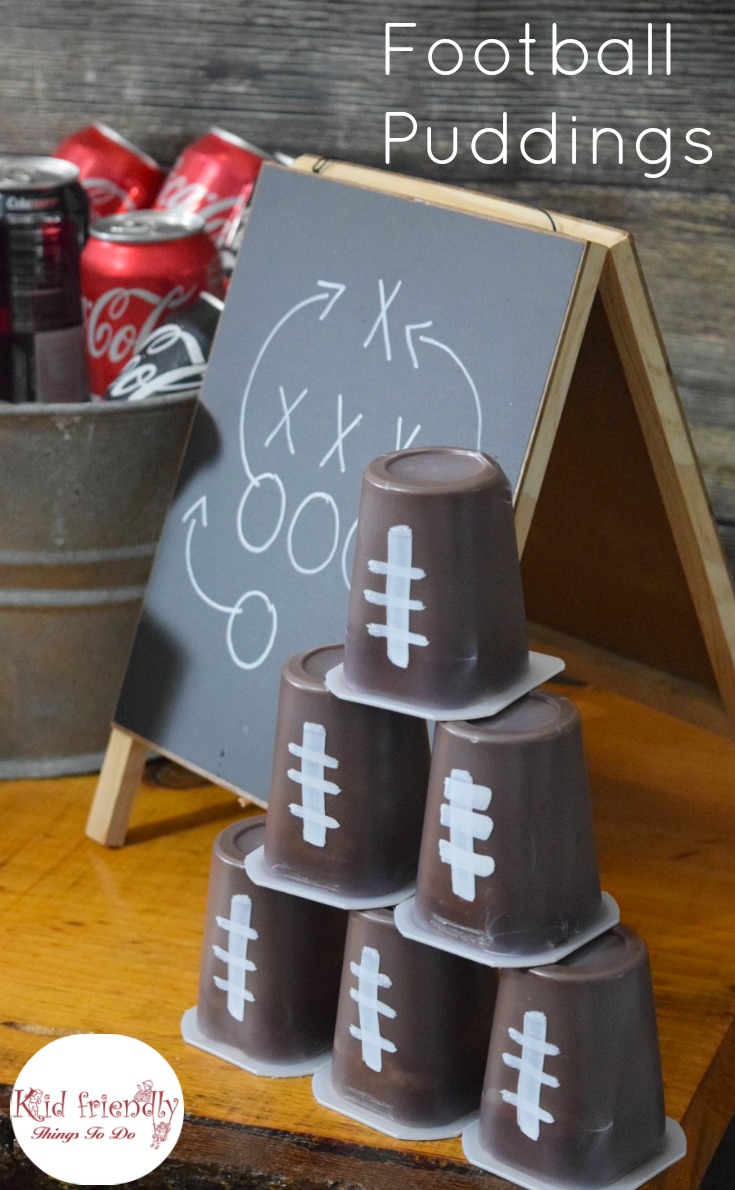 This is so simple. I just used my paint pen to turn pudding into footballs.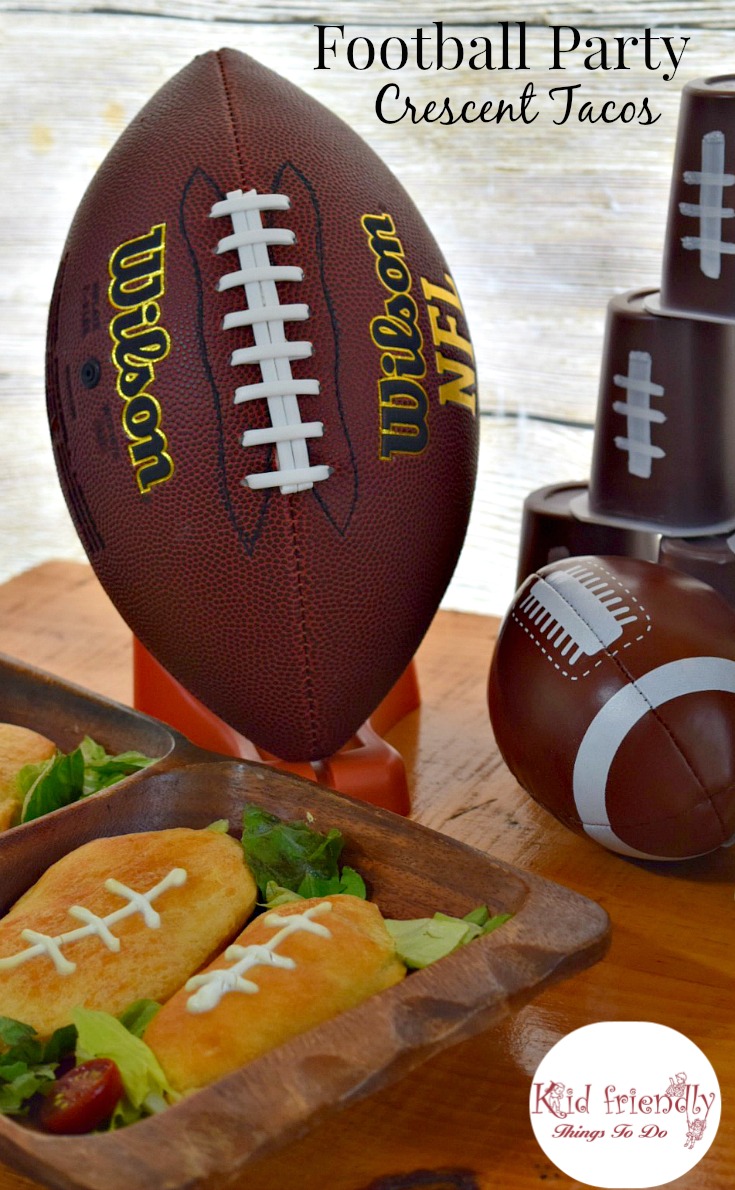 These are just made from scooping taco meat into little football shaped I cut from a crescent sheet. You can get 4 mini football tacos out of 1 sheet of crescent dough. I made the laces from sour cream. I placed sour cream in a baggie, and snipped a corner of the bag. I used it to pipe the laces out of the bag. 🙂
The best part though, is the memories we all created playing these fun Football Themed Games!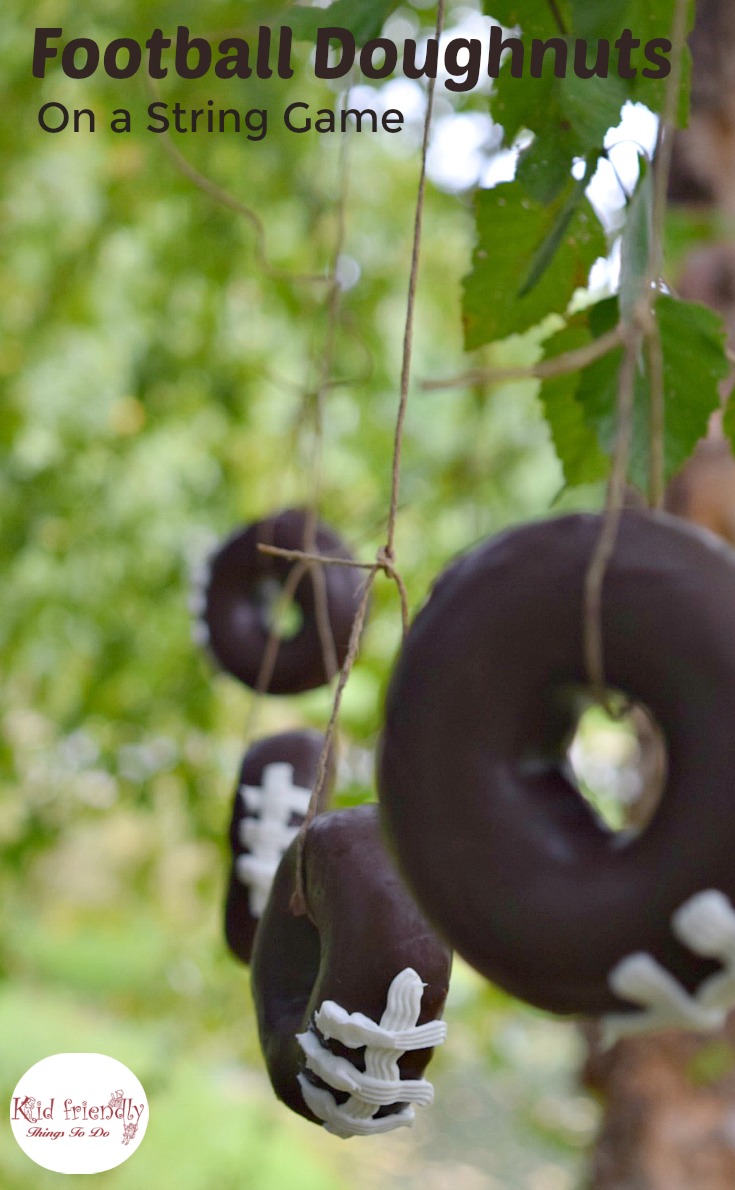 This one is hysterical!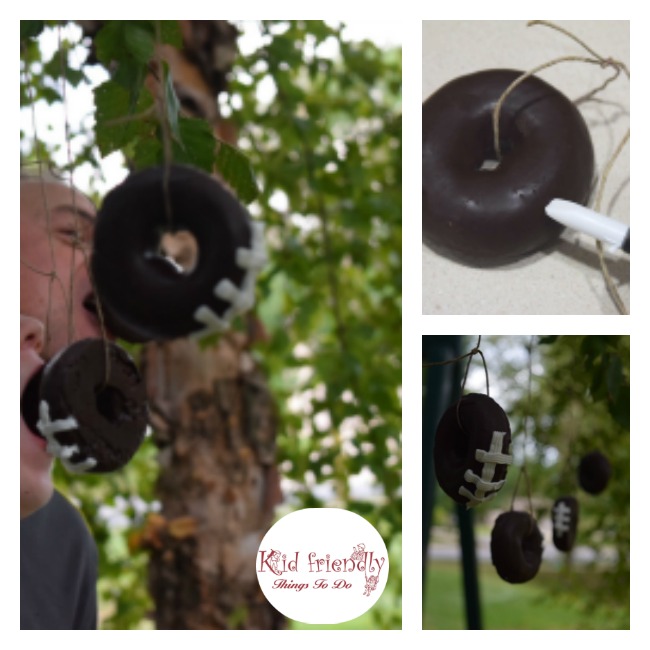 To make this yourself:
You'll need: – Chocolate Doughnuts, string or rope, and white frosting *You can put frosting in a baggie and snip the corner out of the bag, or use a piping bag with a straight tip, like I did.
Tie a long string to each doughnut
Squeeze out some laces onto the side of each doughnut with your white frosting
Hang the doughnuts from a tree

Line everyone up in front of a doughnut. Have them put their hands behind their backs, and let the fun begin! The object is to be the first one (without cheating) to get a bite out of a doughnut. It's harder than it looks!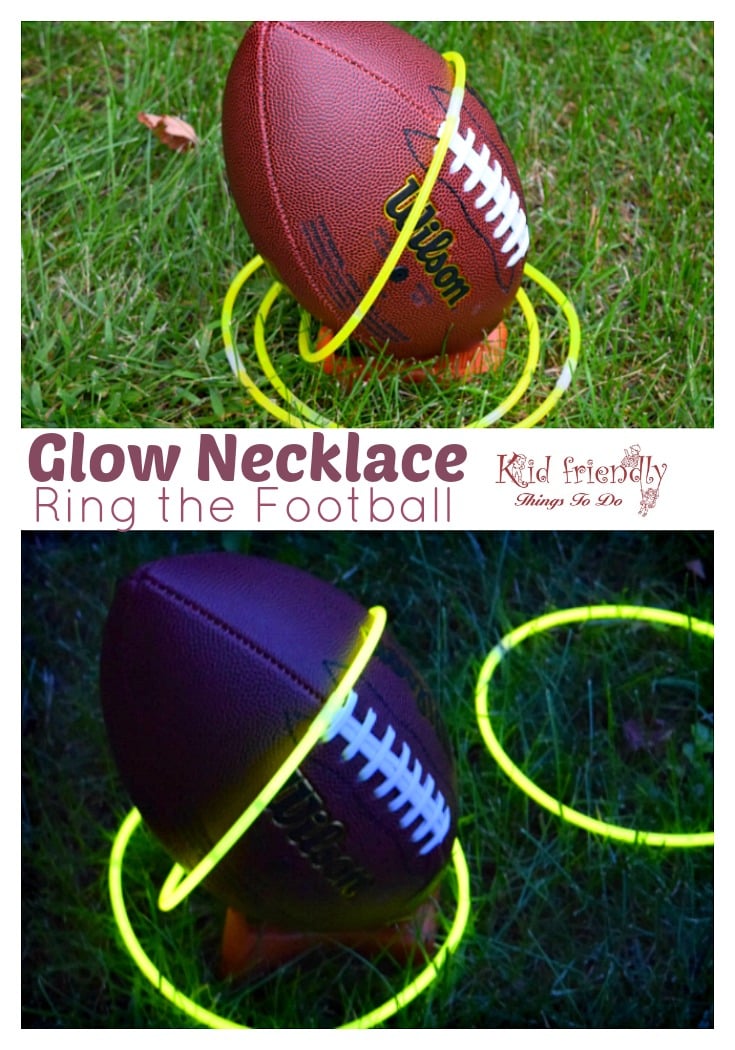 Then there's glow necklace Football Ring Toss! We had a blast with this, too!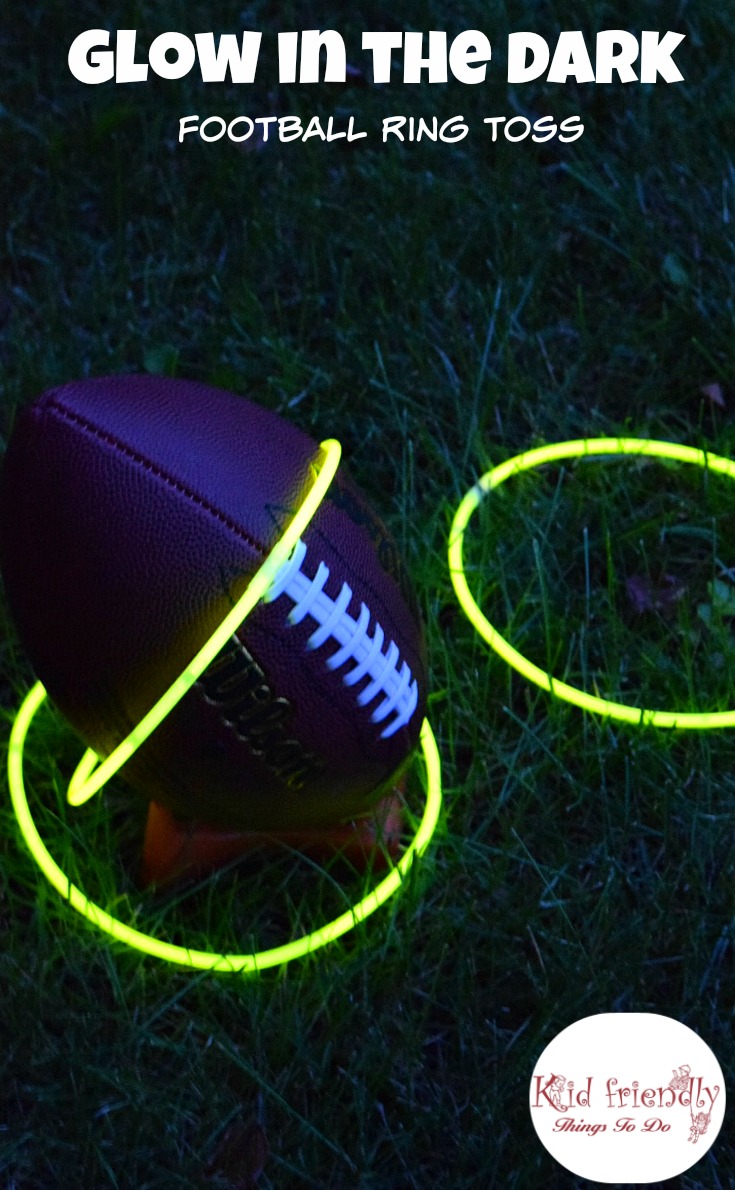 Just grab some glow necklaces, a football, and a stand for the football. Toss away with your necklaces trying to ring the football! Go back later when it gets dark for night time fun!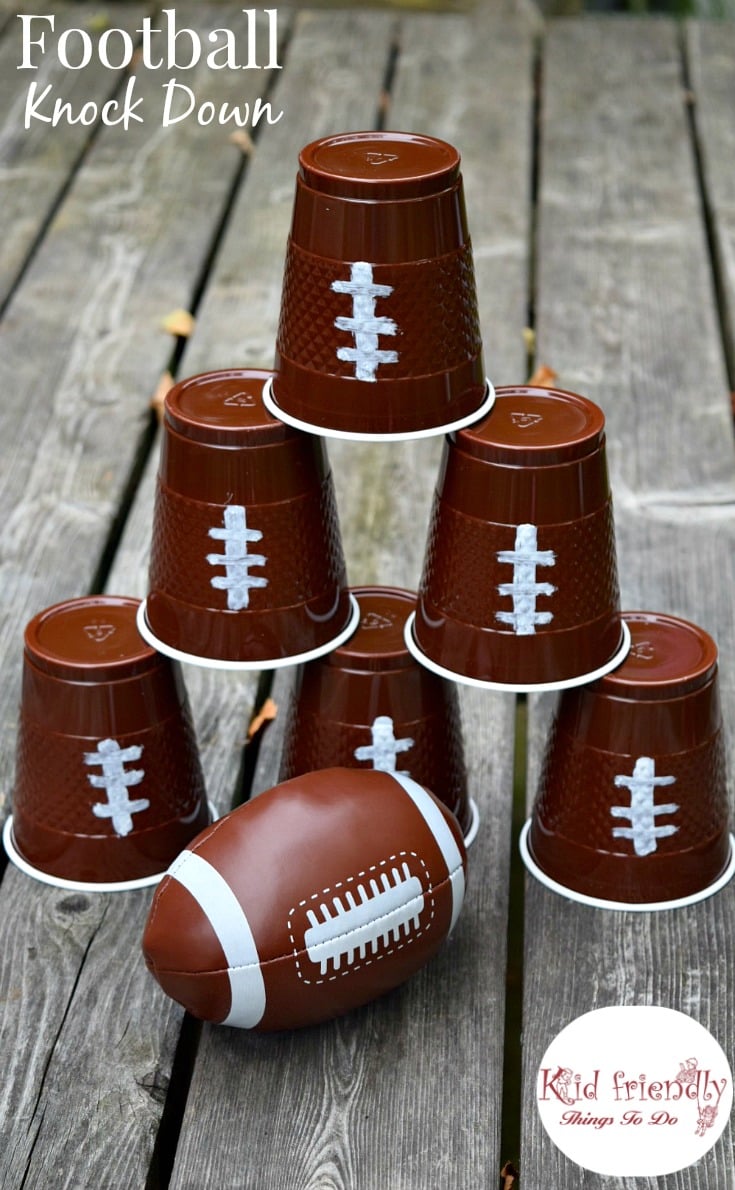 This is always a big hit with my family!
Grab yourself a soft football, and some brown cups. Use a white paint pen to make laces on the cups. Stack the cups upside down and knock them down with the football!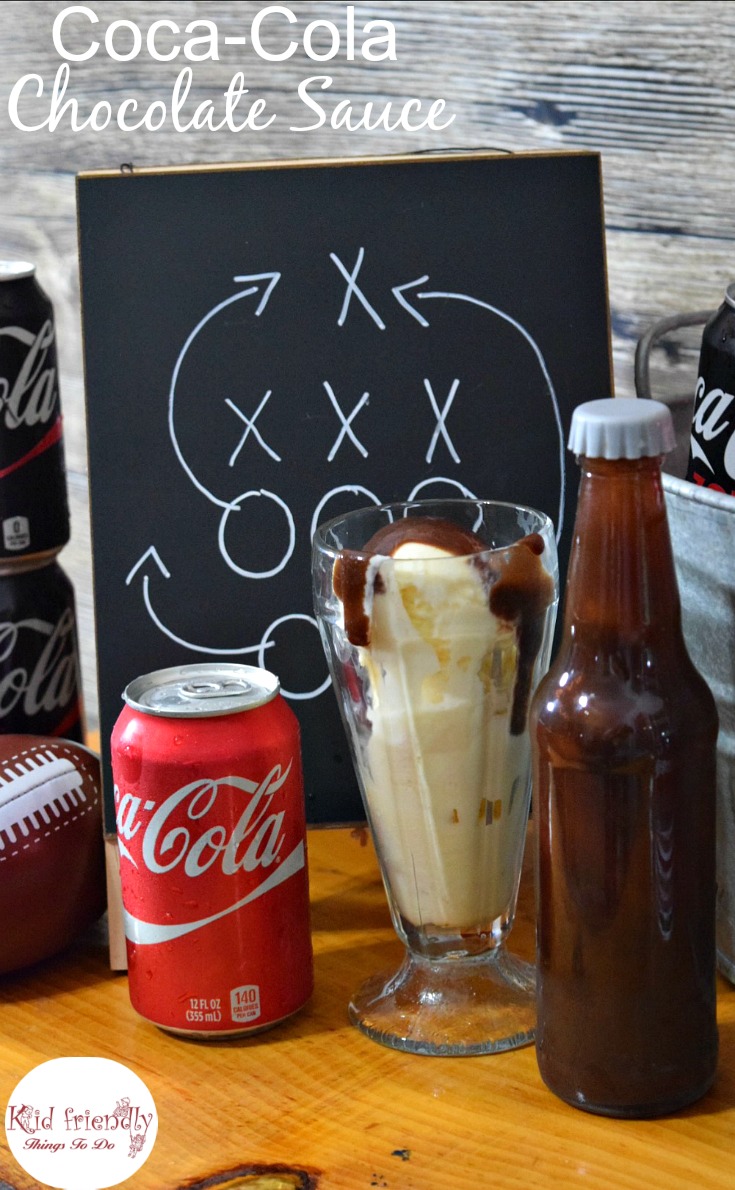 After the games, we headed inside to enjoy the football game on television, some more food, Coke Zero, and Coca-Cola Classic.
* Here's a little tip for you. So you don't have to miss any of the football action…Keep a cooler of the drinks like the Coke Zero and Coca-Cola that I used for my party, in the living room.
Later, when everyone is done with the munchies, and drinks, enjoy some Coca-Cola Chocolate Sauce over ice-cream. Yummy!
Here's the recipe printable: Click and Print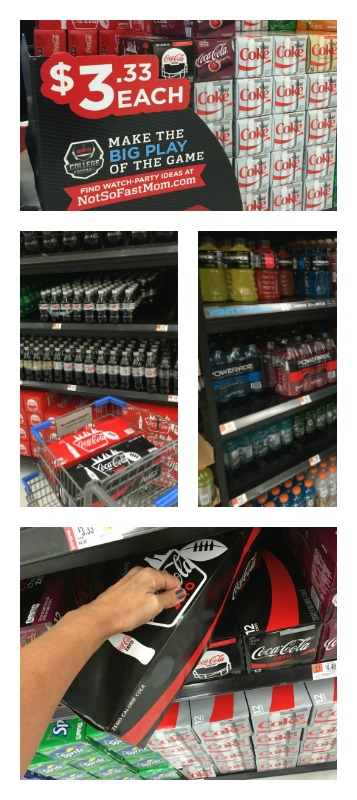 Before your big game day party, don't forget to head over to Walmart to find everything you need for your Football supplies. From POWERADE to hydrate through the week, and Coke Zero to celebrate at the end of the week.
And then head over to NotSoFastMom.com for tips from ESPN Game Day host, Lee Corso on how to win at every game, more game day ideas, and tips!
And, finally…Here's the template I promised you for the Burlap Banner: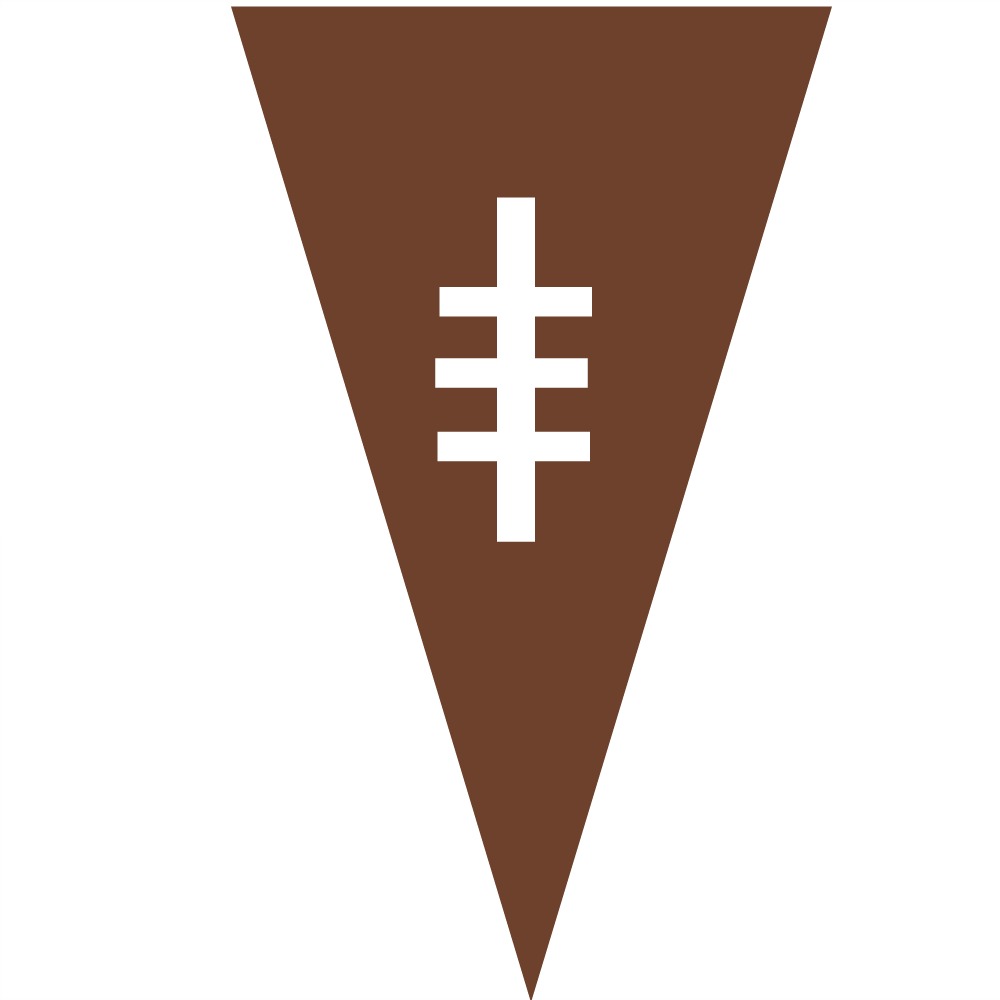 Just click, and click to enlarge, then print off.
~Melissa – KidFriendlyThingsToDo.com