Make an easy and fun ring toss games out of simple paper plates. This is a fun outdoor summer game to play with the kids. Come on in and I'll share how to make and play this DIY Paper Plate Ring Toss Game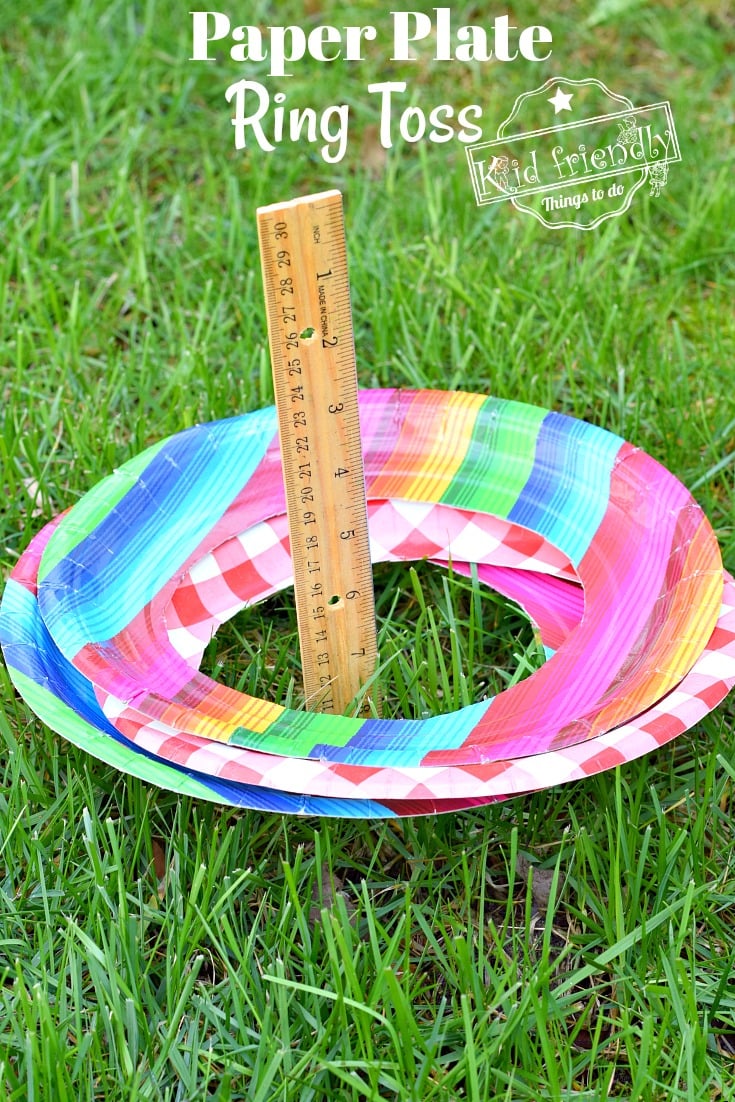 Paper Plate DIY Ring Toss Game…
Kids love carnival games. This Paper Plate Ring Toss is a DIY version of the classic carnival game "Ring Toss" with soda bottles and plastic rings.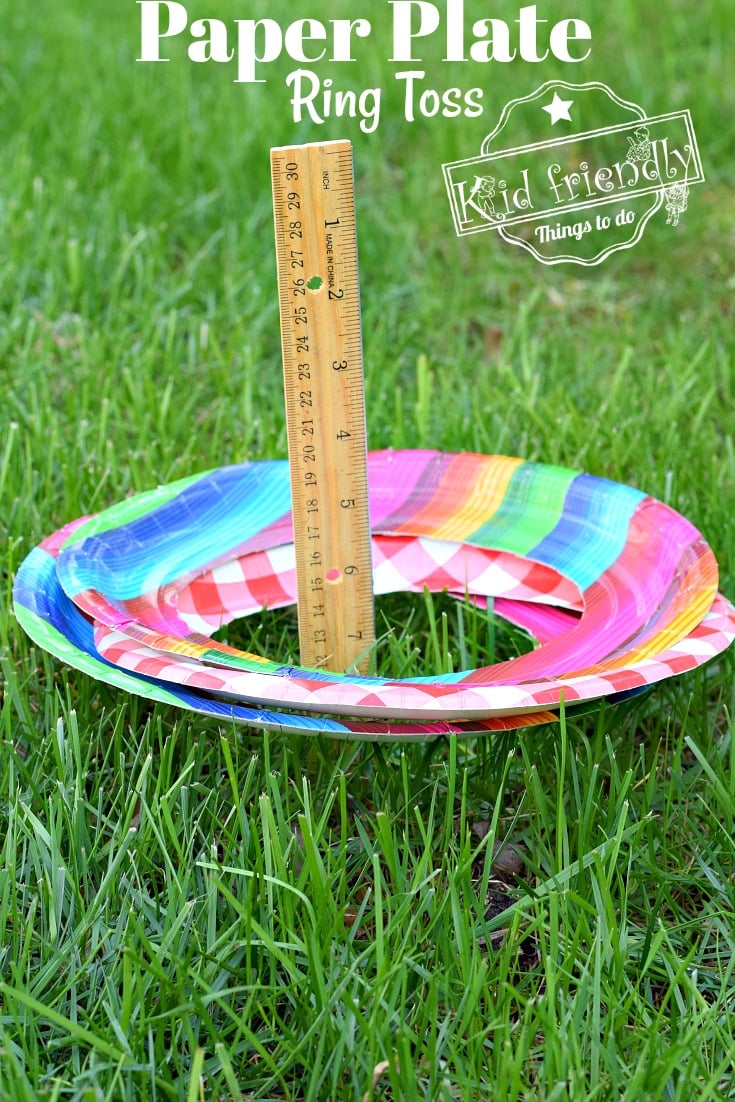 This is such an easy game to set up. You probably don't even need instructions. You can pretty much figure it out just by looking at my photo.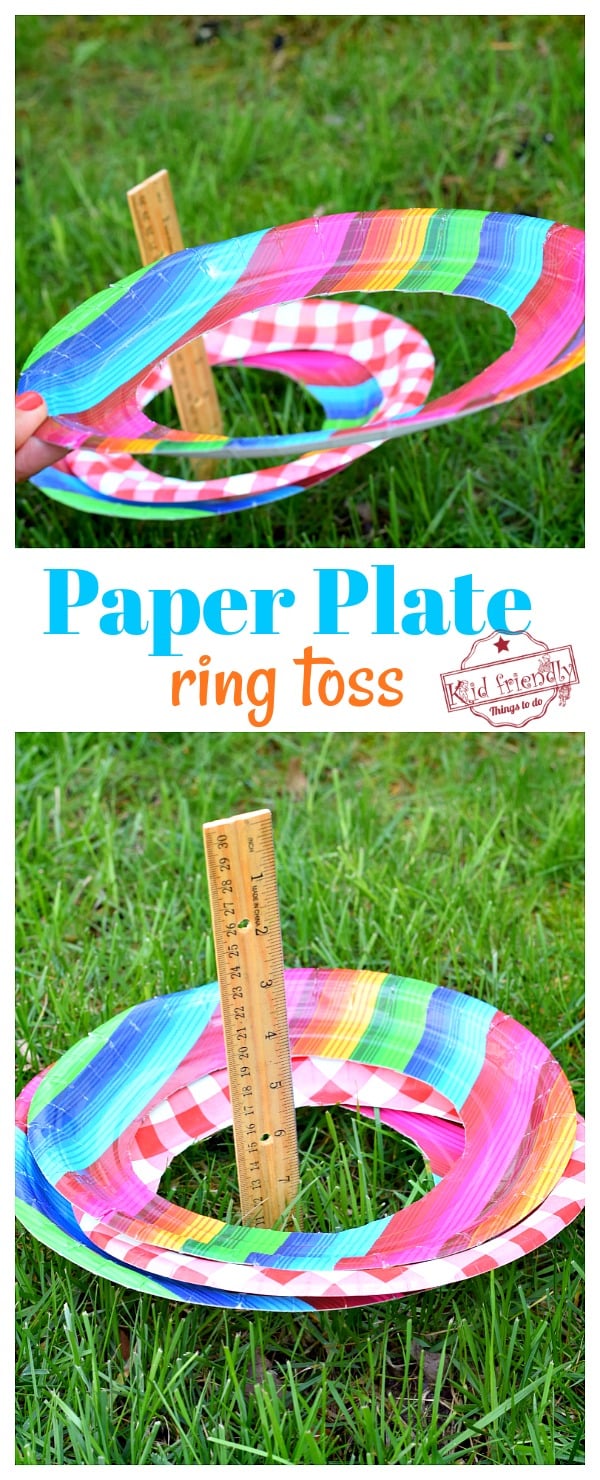 The original plan was to take white paper plates and paint the edges to make rings. Once again, I bit off more than I could chew that day, I looked down at the counter and saw 2 different party plate sets. Thank goodness for those plates staring me in the face. Five minutes later, we were playing ring toss!
Here are my top Amazon Picks for DIY Paper Plate Ring Toss…
(affiliate links)
[box] [/box]
Here's What You'll Need for this Easy Ring Toss Game for Kids to Play…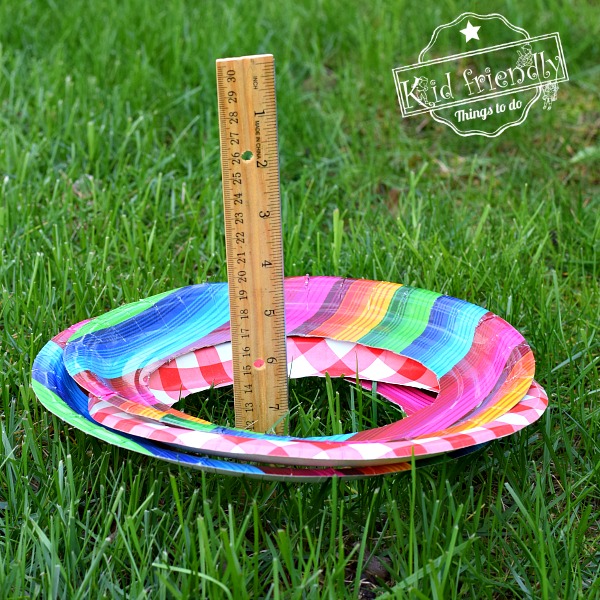 2 Different Sets of (8) Paper Party Plates (both having different designs, so each team has its own color or design)
1 wooden ruler
scissors
low temp glue gun
Instructions on making the rings for ring toss…
Youll need to cut the centers of the plates out to form rings but don't stop there
I found that the plates alone were too light. Any wind would make it impossible to get to the target (the ruler in this case)
*You'll need to make your paper plate rings a little more sturdy by gluing 2 plates together to form 1 ring
Glue pairs of 2 "same design" plates together
You will end up with is 4 (double plate thick) rings per plate design
Here's a quick video to show you how easy this Paper Plate Ring Toss for Kids is to set up…
Rules for a Classic Game of Ring Toss…
How Do You Set up Ring Toss…
Find a good place in the yard that allows for players to have enough room to stand a few feet away from the stake in the ground
Place the stake, pole, or in this case – a ruler into the ground so that a good portion sticks out for the rings to ring around it
How Many Players can play Ring Toss?
2+ players
If there are more than 2 players, then you'll want to divide them up into 2 teams
How Do You Play Ring Toss?
Stand a few feet away from the pole, and toss the rings toward the pole (ruler in this case)
The intention is to ring the pole
How Do You Score Ring Toss?
The first team to get to 21 points wins
A ringer counts as 3 points
If both teams ring the pole or stake, then they cancel each other out
If nobody gets a ring, then the ring closest to the pole counts as 1 point
(adjust the scoring as needed for your age group)