Want to temp the leprechauns to visit you this year? How about a pot of gold in the center of your table. It will look so festive, beautiful, and irresistible to those little impish leprechauns! Here's What You'll Need for this St. Patrick's Day Pot of Gold Centerpiece Craft
A large green Styrofoam ball – I used a 6 inch in diameter ball, but you can get any size you would like for your centerpiece. If you only see white balls, you can paint it green.
Knife to cut the ball
Green glitter – You'll want a whole container for this.
Spray Adhesive
Gold Glitter Paper
Green Ribbon – 1 inch wide
Green Glitter Metallic Chenille Stem – Also called pipe cleaner
Hot Glue & Hot Glue Gun
Gold Coins
A Festive Shamrock Wire Accessory – to stick in the center of your pot.
Foil Shamrocks for added decoration
Green Satin Ribbon for added decoration
Now, Here's What You'll Need To Do:
Cut off a small portion of the bottom of your ball. This is only to make it sit without rolling.
Cut about 1/2 inch off of the top, so it will start to resemble a bowl.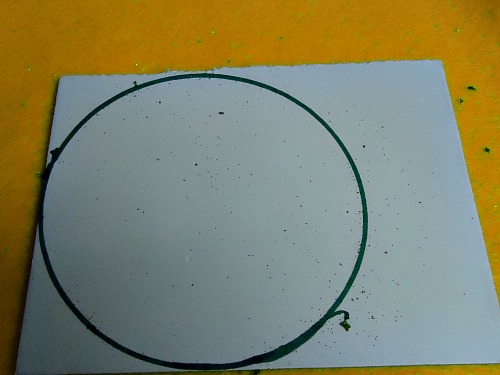 Turn your bowl over onto the back of your gold glitter paper, and trace a circle with the bowl as your template.
Cut the circle out of your gold glitter paper

Spray your bowl, (pot) with spray adhesive
Sprinkle a generous amount of glitter all around

Glue your gold glitter paper circle to the top of your bowl

Wrap your 1 inch ribbon around the bowl, where the gold paper, and bowl meet. Secure with glue.
Cut your green glitter chenille stem in half. Insert one piece on each side of your Styrofoam bowl for handles.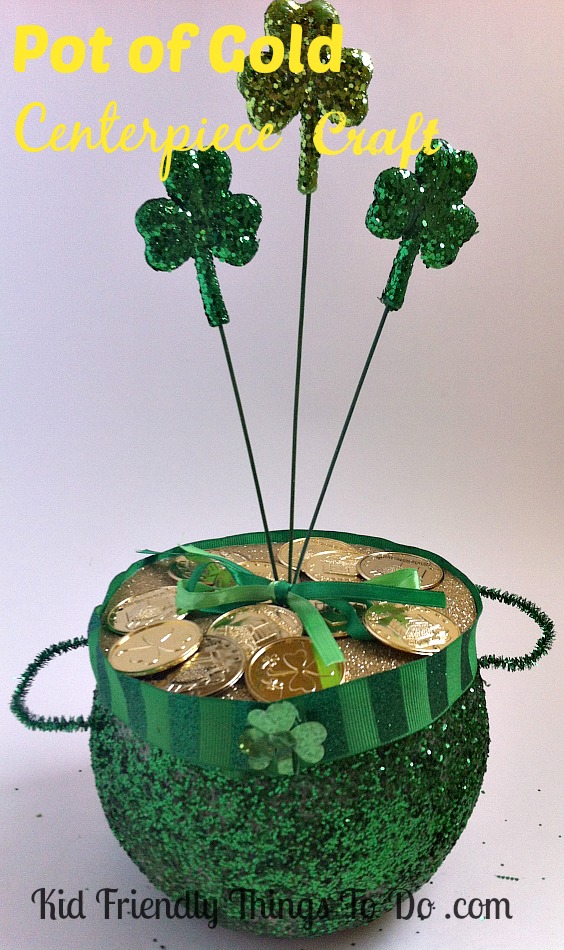 Add gold coins to the top of your bowl.
Insert your wire decoration
Tie a satin ribbon around the bottom of your wires
Embellish the ribbon with foil shamrocks
And, there you have it! A pot of gold!
Don't miss a thing! Follow me for more crafts, recipes, DIY, party ideas and more. 🙂
~Melissa
KidFriendlyThingsToDo.Com