This Bath Fizzy Recipe is rich in moisture, and milk. This Shaped Bath Bomb Recipe Milk helps your body absorb the moisture. There are many healing properties in these fuzzies. Kids love to make these, and they love to see the fizz. The recipient of these fizzies will definitely enjoy their bath soaks.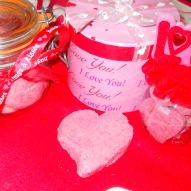 Shaped Bath Bomb Recipe
I know, it looks long. It's simple, after you have all of the ingredients.
Ingredients:
1 cup of baking soda – link to learn about baking soda in baths.
1/2 cup of citric acid – the fizz
1/2 cup of corn starch
1/3 cup Epsom salts – Epsom Salts link to learn about Epsom salts.
1/4 cup of powdered milk – Helps your body absorb the oils, removes dead skin cells, and rejuvenates your skin. Here is a link to find out more.
2 T olive oil
2 T cocoa butter – if you can find it, it will be in the skincare section of the pharmacy. I could not find it. I substituted Coconut Oil – I found it in the baking aisle of Target. Here is a link showing health benefits of coconut oil – 
1 tsp. of essential oil – found in the soap making aisle of craft stores
3-7 tsp. of water and witch hazel blend (equal amounts of both) put the liquid in a spray bottle. Witch Hazel looks just like rubbing alcohol, and is found in the same place.
Soap Colorant – found in the soap making aisle of craft stores.
Several Cookie Molds – We used hearts for Valentine's Day. Silicone molds are best
Wax Paper on a cookie sheet.
Now, here's what to do: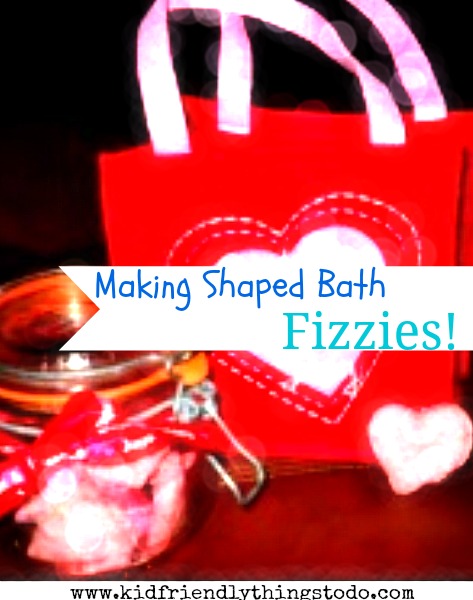 In large bowl, mix all dry ingredients.
Add olive oil, essential oil, and melted (coconut oil, or cocoa butter).
Kids can use their hands to mix the wet and dry ingredients.
Now, you can add a few squirts of the witch hazel/water blend to get the mixture to form a dough consistency.
This will make the mixture fizz, a little. That's OK. (I think it took about 7-10 squirts for me).
**Don't let the mixture get watery, here. You don't want the fizz to get too active, or it won't have any left for the bath.
Now, fill your molds, on your wax paper.
The mixture will expand, a little
. Let dry for one day.
If you have more dough, than molds, save your dough in an air-tight container until your molds are ready to use again.
**If you're at all nervous about letting your young girls soak in a fizzy bath, consult with your pediatrician first. I know I did.
~Melissa
KidFriendlyThingsToDo.Com