Last weekend the kids and I finally had some fun experimenting with slime recipes. We've been wanting to make slime ever since the last Ghost Busters Movie came out. I know…That was forever ago! My kids are amazingly patient with me. Since, we were already getting messy with glue, we did a couple of slime variations. We made some clear slime with gel water beads mixed in, and Glow in the Dark Slime. We love them both, and I can't wait to share them with you. Today, I'll share the Glow in the Dark Slime Recipe, and give you some slime making tips from our experiences. Come on in!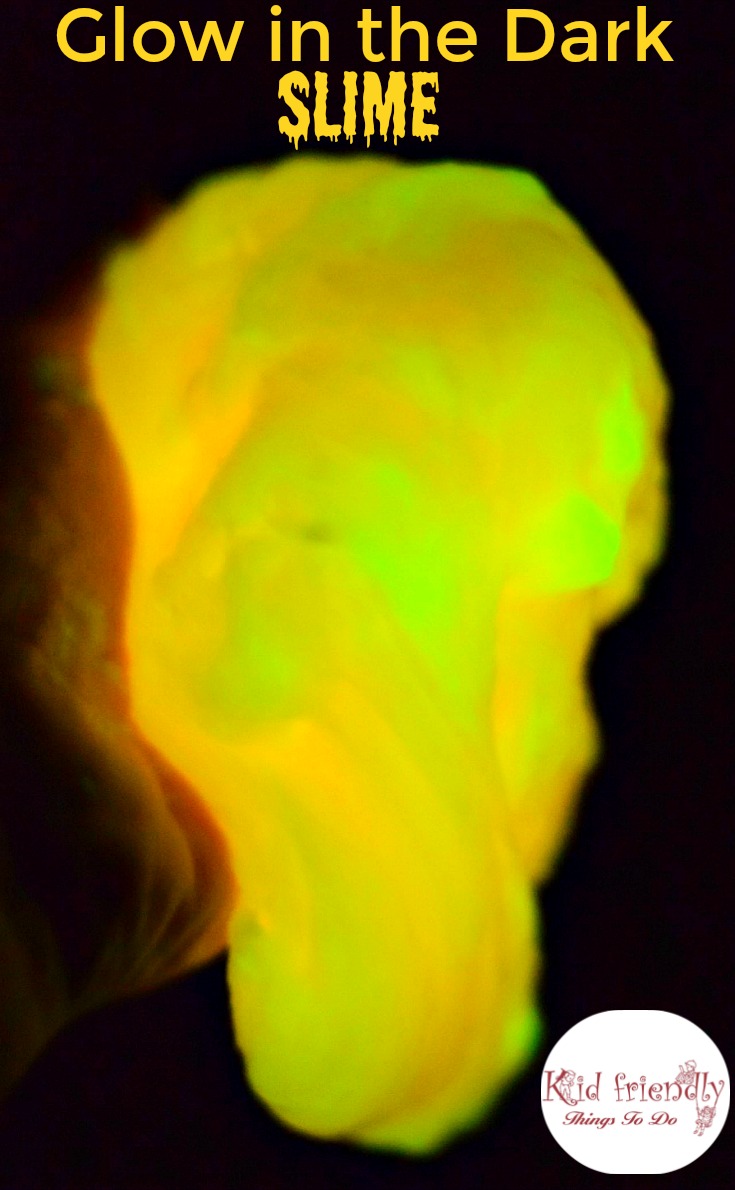 My daughter's fourth grade class has a slight obsession with putty this year. That group always seems to have a new theme to obsess over. Their teacher doesn't even mind putty on their desks. She says it's a good stress reliever for them. I never thought of it in that way. After playing with slime which I think is a lot like putty, I'd have to agree with the stress reliever bit. This slime is a little bit like a stress ball.
Here's what you'll need for this Extremely Fun Glow in the dark Slime:
A plastic bowl. I grabbed some old plastic containers to use that I didn't mind throwing out if they got ruined
1 cup of hot water – like, say…hot enough to dissolve salt or similar substance – this is key. We used colder water and we failed on that try
4 oz. of clear glue – you can use white if that's what you have. The clear glue did allow the color of the glow paint to shine through, so our vote is for clear
3 Tbsp. of glow in the dark paint
a whisk
In another bowl, mix 1/3 cup of hot water with 2 tsp. of borax (or liquid starch)
Now:

Pour the glue into the container, and mix in the hot water
Add the glow paint and mix in
Mix the borax (or starch) with the remaining hot water
Slowly, while mixing, pour the borax mixture into the glue mixture and stir well

It should be thickening up and forming a slime consistency like the picture above

When you are ready to see it glow, head somewhere dark and have fun stretching and molding it!
Store slime in an air-tight container
So, here's a funny story. Out of curiosity, I went on Pinterest to look at some other slime recipes. It's funny, because the last time I looked up "slime with kids", I saw – with borax under the search tab. This time, however, it was NO BORAX, BORAX FREE, WITHOUT BORAX!. Well, ladies and gentlemen, my recipe uses Borax. I had a slight panic attack thinking, what have I done?! I used Borax! I must have missed the whole Borax hype. Surely, I was lost watching 8 million episodes of Dora the Explorer, or living under a rock. Probably both. I myself have witnessed the uproar over a post containing glowsticks. I know the wrath that can come upon a person that had no intention of causing such an uproar. (Please don't leave me or leave hate mail. I have nothin' but love coming from this end.) I knew I had to calm myself down, and see what the big deal about using borax was all about. I wasn't worried about my kids. We already played with our slime and we are all still happy and healthy. I highly doubt that my kids even wash their hands after they play with it. What I worried about was you guys and your experience. I immediately went "on the line" and researched Borax as a safety concern. I found some really good articles on the topic, and I feel so much better about having used Borax as an ingredient. Really…unless your kids plan on eating all of the slime, you have no reason to worry. But, if you're nervous about using the cleaning detergent, then maybe you can read the link, here Getting To The Bottom of Borax, Is it Safe or Not?. It's my favorite article on the topic. It goes through every little bit of the concern, and it put my worries to bed. Still nervous that your little one might eat the stuff and get sick? Completely understandable. Believe me, in my career as a mother, I have had the wonderful opportunity to call poison control, twice! Once, my MIL left Comet Bleach powder on the side of her bath and Ella came out covered in it. I mean from head to toe! The other time, Michael was sitting criss cross applesauce on the floor with an opened bottle of chewable vitamins cradled between his legs. They were totally fine, but not before mommy went into full on panic mode. Wait, did I stray off? Yep, I totally did! Anywho…It is my understanding that you can substitute Liquid Starch for Borax. Just a straight up substitution. See? We have options and it's a fun activity to do with the kids!
But, even with options, the slime is not intended to be ingested. It is a wonderful sensory craft, a terrific opportunity to bring the world of math and science into a child's life, and as I mentioned before, a great stress reliever. You know what? It's also plain and simple…a ton of fun to play with! This would be a wonderful recipe for older kids that you don't have to worry about, or just plan on supervising the little ones with slime fun at the kitchen table. Grab some wipes as an extra precaution for hands when you're all done.
Here's my top Amazon picks for this recipe: The clear glue is a little pricey. You'd be better off grabbing some at the store.
(affiliate links)
[box] [/box]
~ Melissa – Kid Friendly Things To Do