Making Pipe Cleaner Flowers is easy and so much fun to do with the kids. It's a great pipe cleaner craft for spring, summer, and Mother's Day.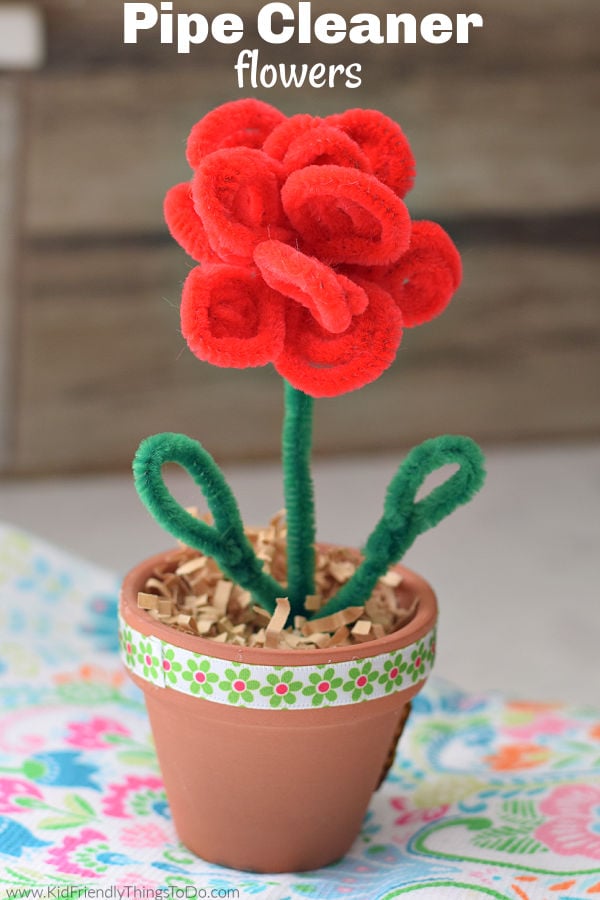 Pipe Cleaner Flowers
I never thought I would have so much fun making pipe cleaner flowers. Without any glue, just pipe cleaners and scissors, this craft was surprisingly simple and enjoyable. The finished product is such a lovely spring display and the perfect gift for mom on Mother's Day.
If you are looking for Flower Crafts, then you might like my post on how to make a Tissue Paper Flower, or Making Flowers out of Plastic Water Bottles, or how to Make Flowers out of Egg Cartons
Here's another pipe cleaner flower that you can make that is so simple. This post on easy-to-make pipe cleaner flowers
What I love about this Pipe Cleaner Craft
No glue! I absolutely love that you don't have to wait on glue to dry and the mess that glue brings along with it
It's simple to make. Even younger kids can make this. Preschool kids can make most of this craft on their own
FAQs
Why are Pipe Cleaners called Pipe Cleaners
Originally, pipe cleaners were meant to clean a tobacco pipe – hence the name Pipe Cleaner
Are Pipe Cleaner Flowers Easy to Make
Pipe cleaner flowers range in difficulty levels. Some flowers are easy to make, like a rose, lavender, hyacinth, and daffodil. Other pipe cleaner flowers like sunflowers add more complex features. You can make the flowers as simple or complex as you need for the age you are working with
Tips and tricks for making pipe cleaner flowers with kids
For younger kids, it is important to prep as much as possible. You might even want to do some steps of the craft in advance, so they can get right into crafting and feel successful in their accomplishments
The biggest tip that I can give you is not to expect a perfect flower from younger kids. They will be imperfectly perfect – which is the best way to be
If you are ready to make these cute pipe cleaner roses, let's make sure you have everything you'll need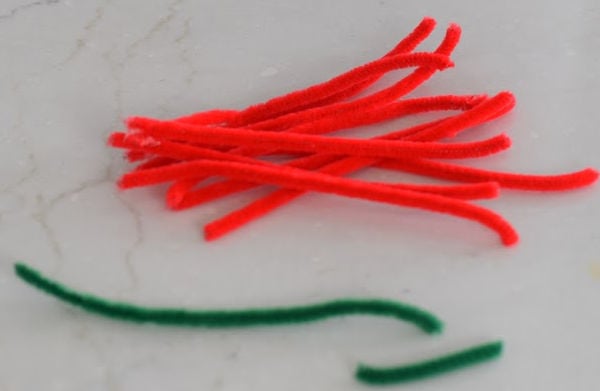 Supplies Needed:
Red Pipe Cleaners
Green Pipe Cleaners
Display – Optional
a mini terra cotta pot
small styrofoam ball
brown shredded paper
How do you make These Pipe Cleaner Flowers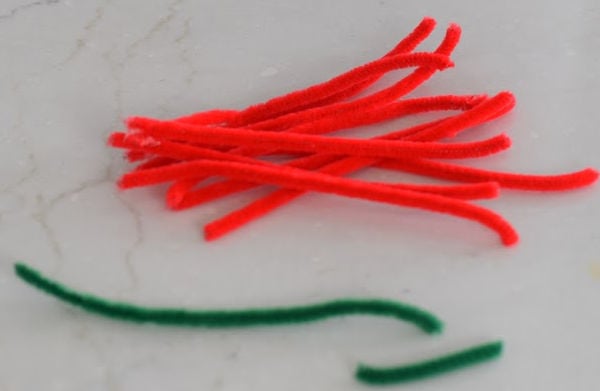 Cut several red pipe cleaners in half
Cut about 1 inch of the green pipe cleaner off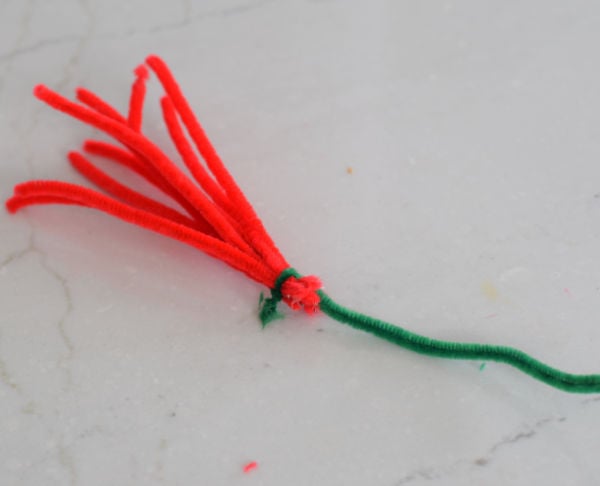 Hold the red pipe cleaners together in a bunch
Insert the tip of the long portion of the green pipe cleaner into the middle of the red pieces
Pinch that end together to hold them
Use the 1-inch portion of the green pipe cleaner to wrap around the part you have pinched in your hand and twist it together tightly to secure it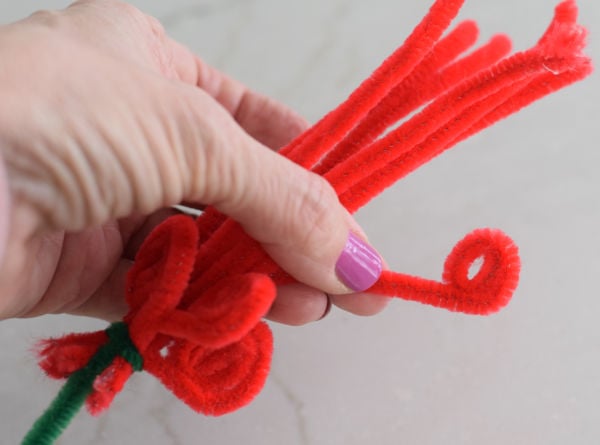 Now, start rolling up the red pieces into layered circles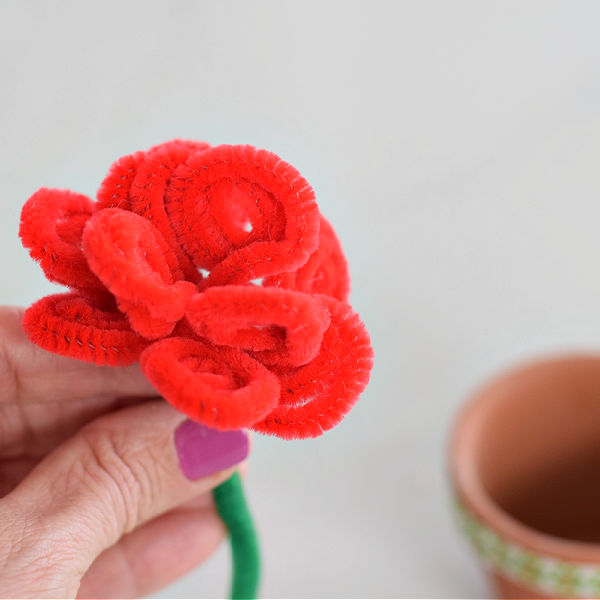 Spread those circles out to form a beautiful rose
Stems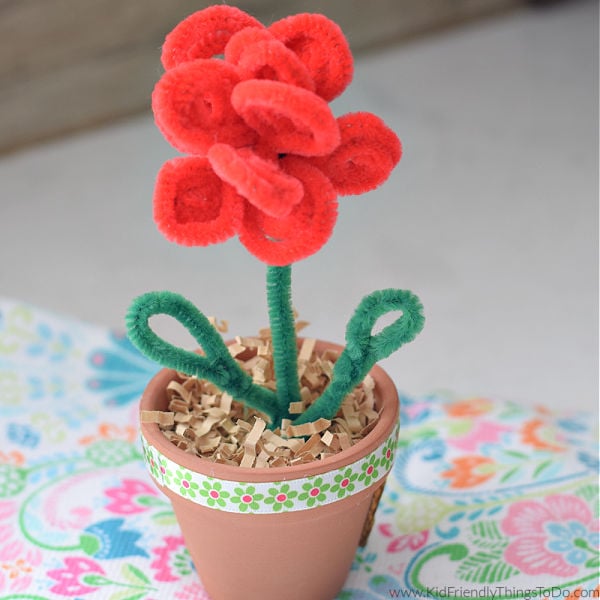 Cut one green pipe cleaner into 4 equal pieces
Fold 2 pieces into loops and twist the ends
Make a hook around the loops and pinch it to make the long stem and leaf form together
Making the Optional Display
Cut a small styrofoam ball in half and glue the flat side to the bottom of a mini terra cotta pot
Insert the rose and stems
Stuff the rest of the pot with shredded paper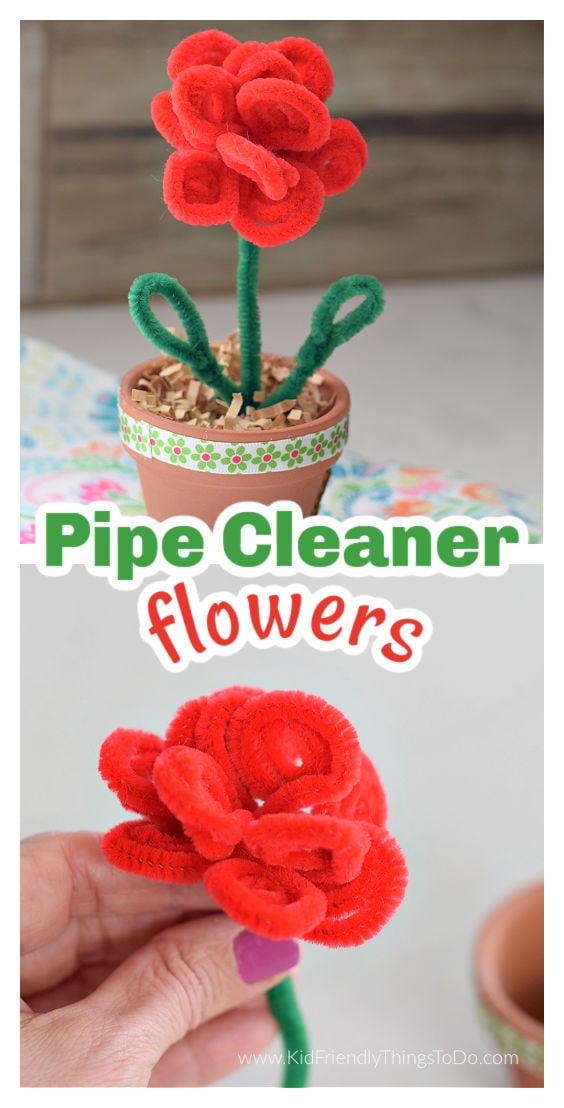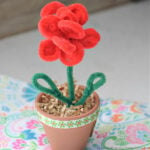 Print
How to Make Pipe Cleaner Flowers
Easy to make pipe cleaner roses. No glue required
Materials
6

pieces

red pipe cleaner

2

pieces

green pipe clenaer
Terra Cotta Pot Display
1

mini

terra cotta pot

1

small

Stryofoam ball – cut in half

1

small hand full

shredded brown paper
Instructions
Cut several red pipe cleaners in half

Cut about 1 inch of the green pipe cleaner off of one of the green pieces

Hold the red pipe cleaners together in a bunch

Insert the tip of the long portion of the green pipe cleaner into the middle of the red pieces

Pinch that end together to hold them

Use the 1-inch portion of the green pipe cleaner to wrap around the part you have pinched in your hand and twist it together tightly to secure it

Now, start rolling up the red pieces into layered circles Spread those circles out to form a beautiful rose
For the Terra Cotta Pot Display
Cut a small styrofoam ball in half and glue the flat side to the bottom of a mini terra cotta pot

Insert the rose and stems

Stuff the rest of the pot with shredded paper

For an extra touch, glue some pretty ribbon to the top of the clay pot