These Easy Pipe Cleaner Flowers are the perfect no-glue craft for kids to make. They will brighten your house with their colorful display. The perfect pipe cleaner craft for spring, summer, and Mother's Day.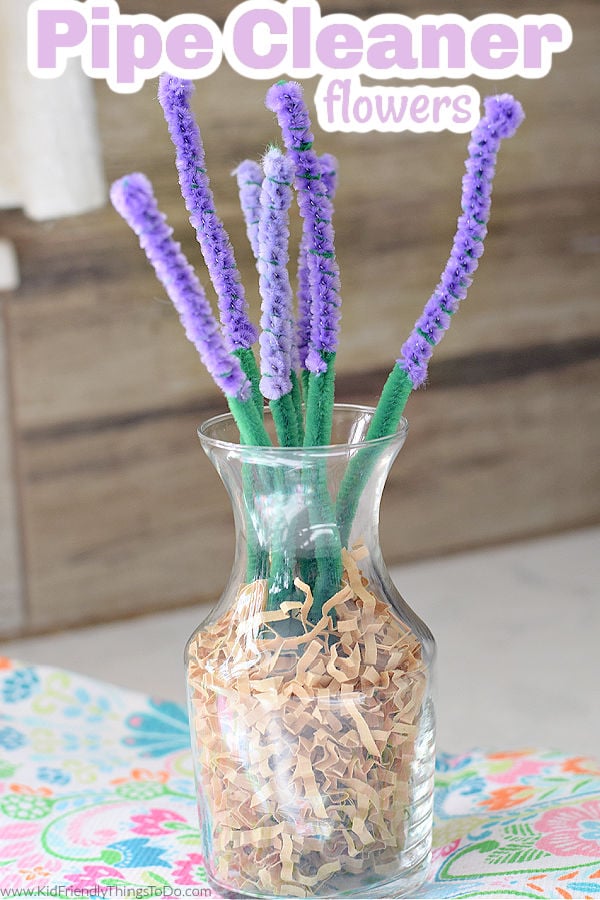 Pipe Cleaner Flowers
I don't know about you, but these flowers remind me of lavender. At least, that's what I've been calling them. But, now that flowers are popping up all over the neighborhood, they kind of remind me of hyacinth too. Whichever you call them, they are the perfect colorful display to brighten your day or a great Mother's Day gift.
If you are looking for bright and cheery flower crafts to give as a gift, you might want to try my other Pipe Cleaner Flowers that look like a rose, my post for making flowers out of water bottles, or plastic spoon flowers
What I love about this pipe cleaner craft
It's so easy to make that even younger kids can confidently do this craft
I love that no glue is required. There is no waiting for this craft to dry. When it's finished, it's ready to display immediately
This craft is a great way for small kids to use fine motor skills
Older kids and adults can have fun by making several flowers to make a bouquet and adding details like leaves
Table of contents
FAQs
What are Fine Motor Skills?
Fine motor skills are ways to use your fingers and hands like cutting with scissors or holding a pen
Do I have to make more than one flower?
No. You can make just one, but this type of flower looks beautiful with several making a bouquet. The more you make, the prettier the display will be
If you are ready to make this easy pipe cleaner flower, then let's make sure you have everything you need: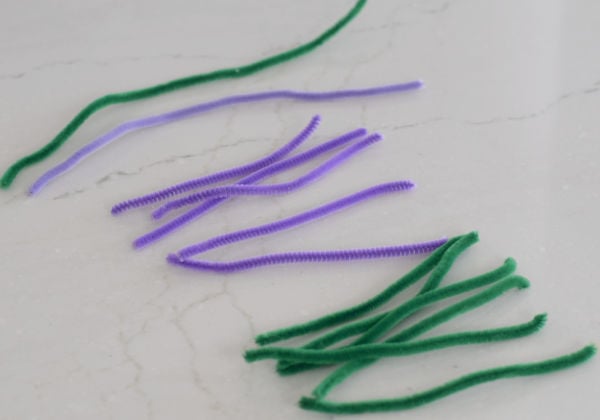 Supplies You'll Need
green pipe cleaners
light purple, or purple pipe cleaners
Equipment
Optional Supplies
Cup or vase for holding the flowers
brown shredded paper to resemble dirt
ribbon to tie a bouquet of these flowers together
Instructions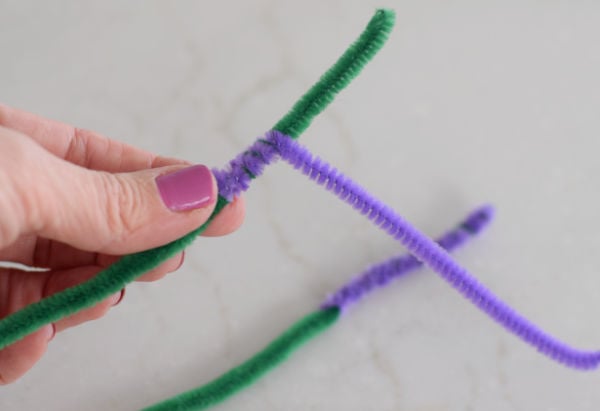 Cut purple and green pipe cleaners in half – they will be about 6 inches long
at around 3 inches down, start wrapping the purple pipe cleaner around the green pipe cleaner going all the way to the top
if there is any extra purple, keep twisting it or bend it down to hide the end
Adding leaves – optional
Lavender leaves are really simple to make. You'll just need to cut the green pipe cleaner into 3-inch pieces and insert them into the vase or cup next to the flowers so they are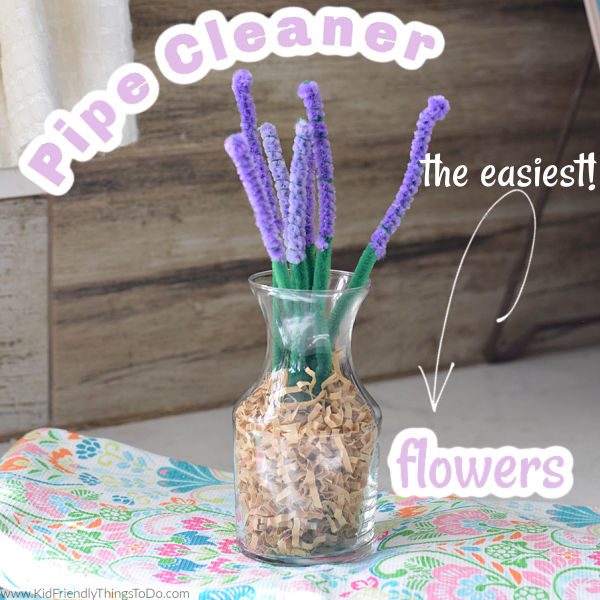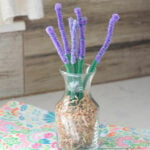 Print
Easy Pipe Cleaner Flowers
The easiest pipe cleaner flowers that require no glue
Materials
3

green

pipe cleaners

3

light purple

pipe cleaners
Instructions
Cut purple and green pipe cleaners in half – they will be about 6 inches long

at around 3 inches down, start wrapping the purple pipe cleaner around the green pipe cleaner going all the way to the top

if there is any extra purple, keep twisting it or bend it down to hide the end
Cup to hold flowers
A clear plastic cup or mini terra cotta pot is the perfect vase for these flowers

Use brown shredded paper to represent soil
Adding optional leaves
You'll just need to cut the green pipe cleaner into 3-inch pieces and insert them into the vase or cup next to the flowers so they are
Notes
As always, crafts with children should be closely supervised from an adult