Just in time for Mother's Day. This water bottle flower craft is so darn cute. I love simple crafts, and I especially love ones that don't involve going to the store for supplies. I bet you have most or all of the supplies for this one, right at home.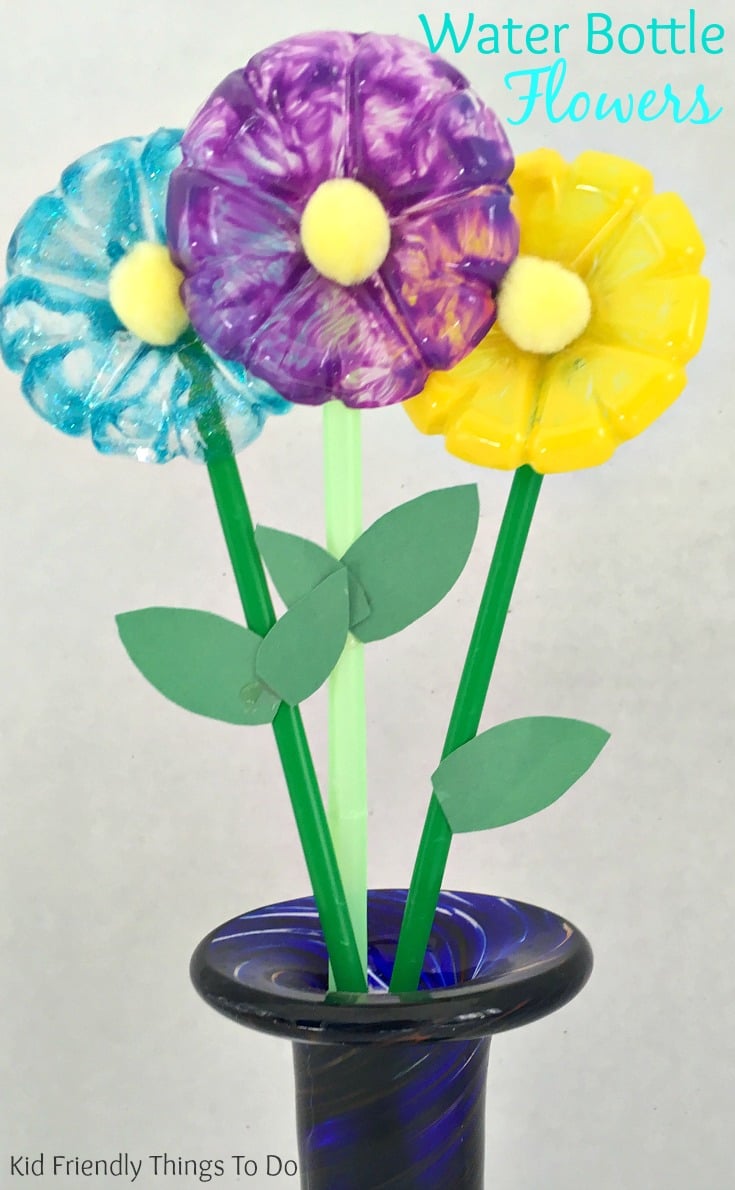 Water Bottle Flower Craft
I love Water Bottle Crafts. We drink a lot of water out of them and have loads in the recycling bin. It's always fun to repurpose water bottles into crafts. There are so many great water bottle crafts out there for inspiration.
These water bottle flowers are so precious and perfect for spring, summer, and Mother's Day gifts. Of course, if you are looking for flower crafts, you might also love my post on How to make flowers out of Tissue Paper , or Making Easy Pipe Cleaner Flowers 
If you are looking for flower crafts, check out some of my other posts:
Here's what you'll need to get started:
Printable Below
Supplies Needed
Water bottles
Scissors
Fabric Paint or Washable Kid's Paint (Like Crayola)
paintbrushes – I like to use the sponge brushes
Yellow pom-poms – about 1/2 inch wide
low-temperature glue gun with glue sticks or fabri-tac glue
green straws – try to find the ones with flexible tips
green construction paper
Here's a quick video to show you how to make this Water Bottle Craft…
Directions: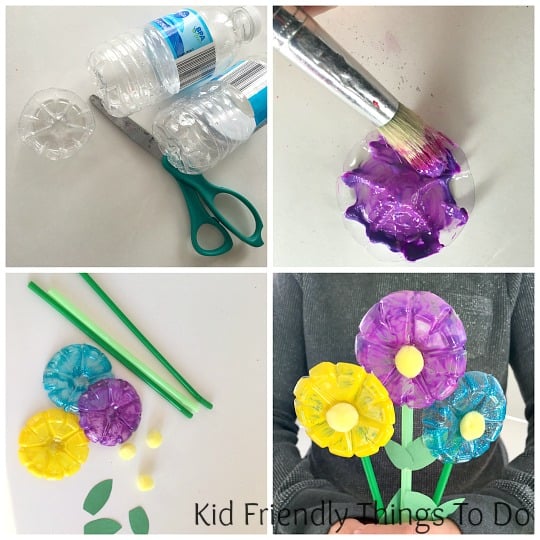 Cut the ends off of the water bottles and dry them completely
Paint the inside of the bottle ends and let dry
Cut some little leaf shapes out of the green paper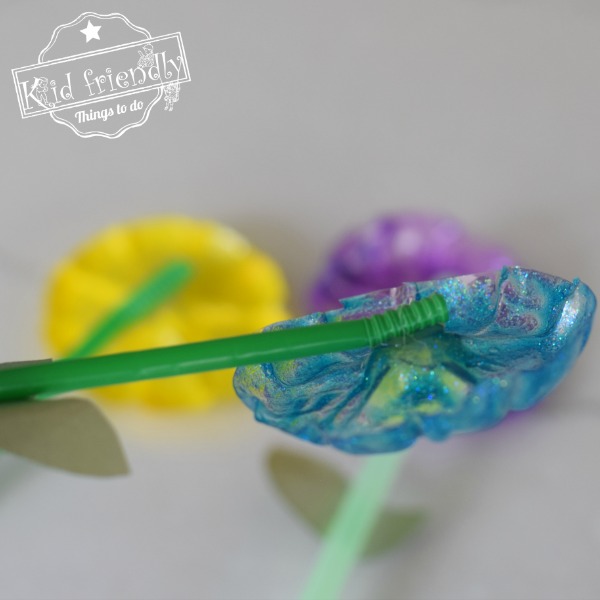 Trim your straws to the desired length and glue to the back of the bottle end – I put a dot of glue at the bump (technical term) 🙂
Turn the bottle end around and use glue to add the yellow pom-pom to the indention (middle) of the bottle bottom and leaves to the straws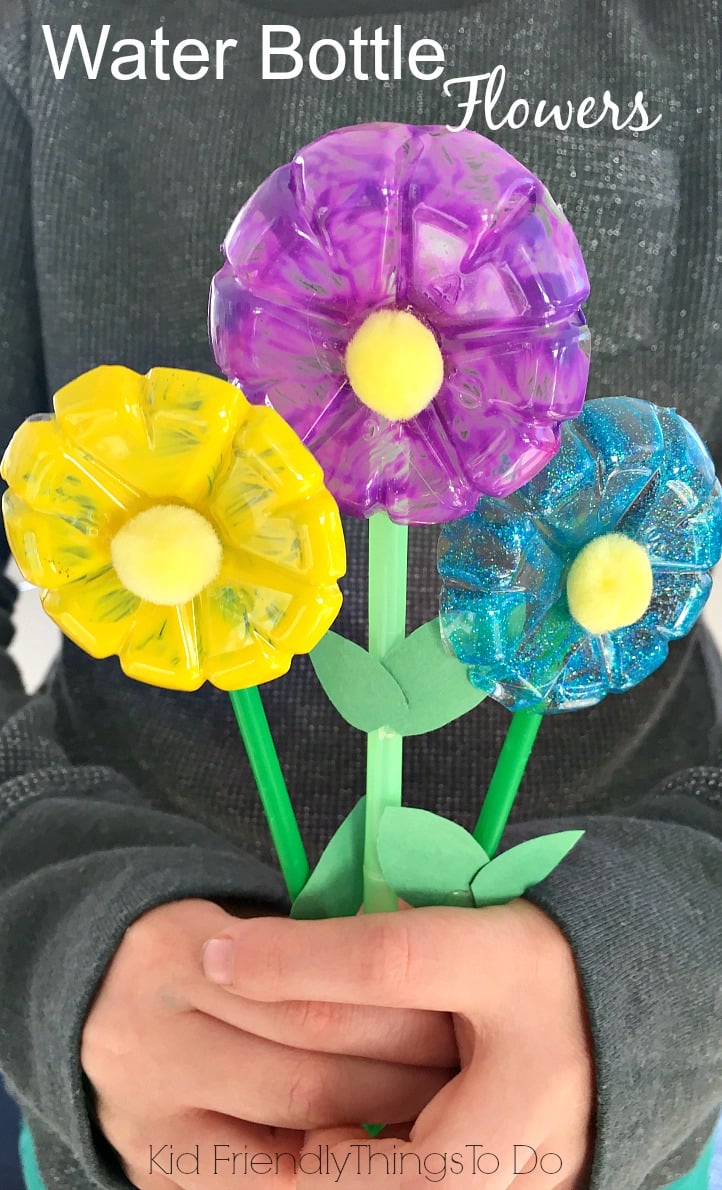 Here are my top Amazon picks for this Flower Craft for Kids to Make…
(affiliate links)
[box] [/box]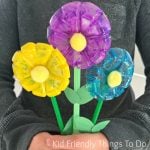 Print
Flower Craft
A recycled flower craft for kids
Materials
Plastic Water bottles

Scissors

Fabric Paint or Washable Kid's Paint (Like Crayola)

paintbrushes – I like to use the sponge brushes

Yellow pom-poms – about 1/2 inch wide

low-temperature glue gun with glue sticks or fabri-tac glue

green straws – try to find the ones with flexible tips

green construction paper
Instructions
Cut the ends off of the water bottles and dry them completely

Paint the inside of the bottle ends and let dry

Cut some little leaf shapes out of the green paper

Trim your straws to the desired length and glue to the back of the bottle end – I put a dot of glue at the bump (technical term) 🙂

Turn the bottle end around and use glue to add the yellow pom-pom to the indention (middle) of the bottle bottom

and glue cut out leaves to the straws
Notes
Adult supervision is required for any craft on this site 
~Melissa – KidFriendlyThingsToDo.com