This Candy Bar Snowman Craft with gloves for a hat is adorable and practical. Perfect for a holiday gift to give away or a classroom craft to make at holiday parties. It's easy to make with the kids and so cute!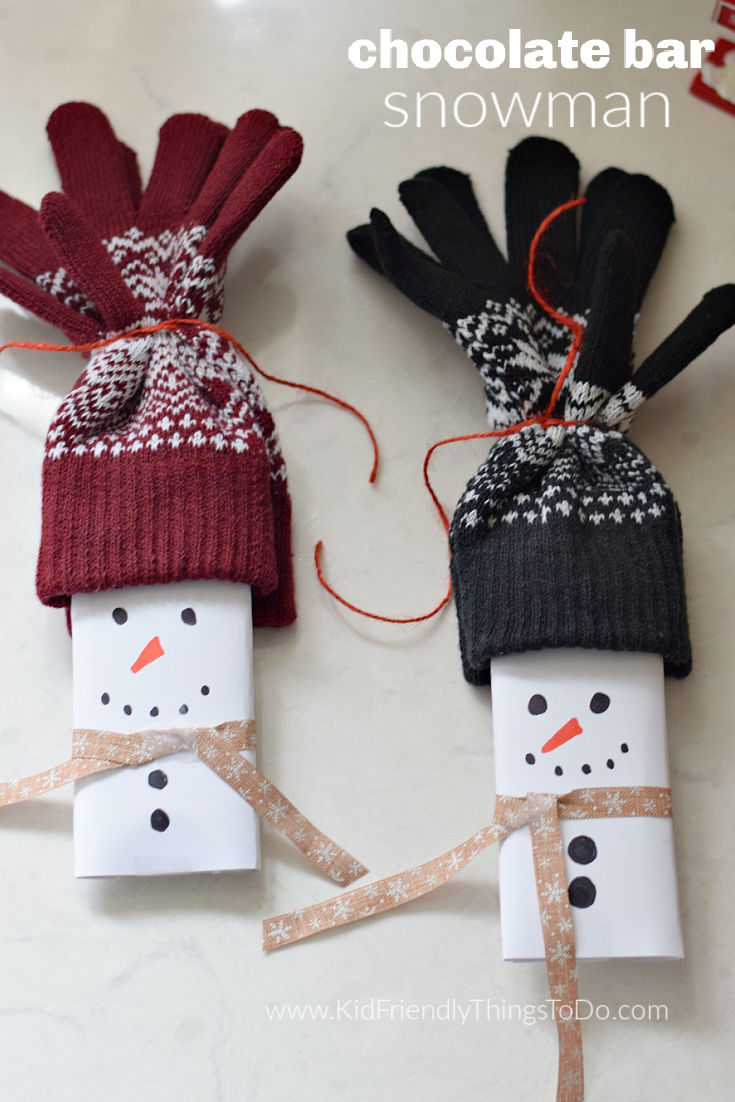 Candy Bar Snowman with Gloves Hat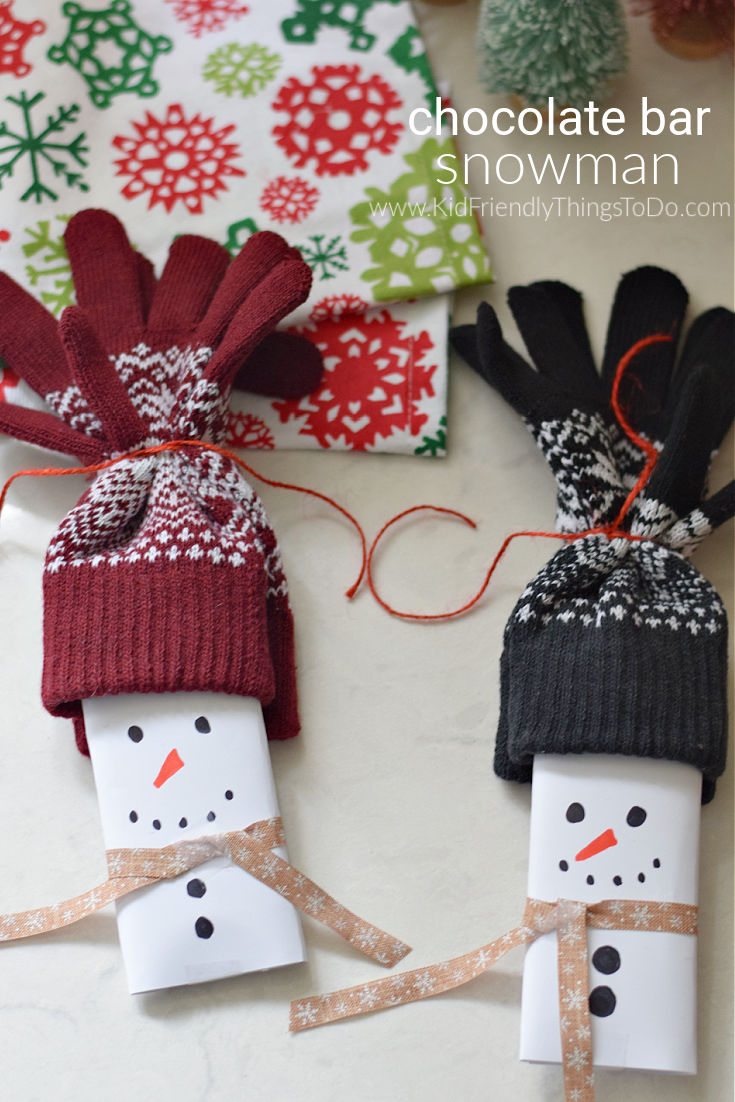 How cute are these little guys? With a set of mittens on top for a hat, they make a great Christmas gift. Of course, the candy bar inside helps sweeten the gift even more.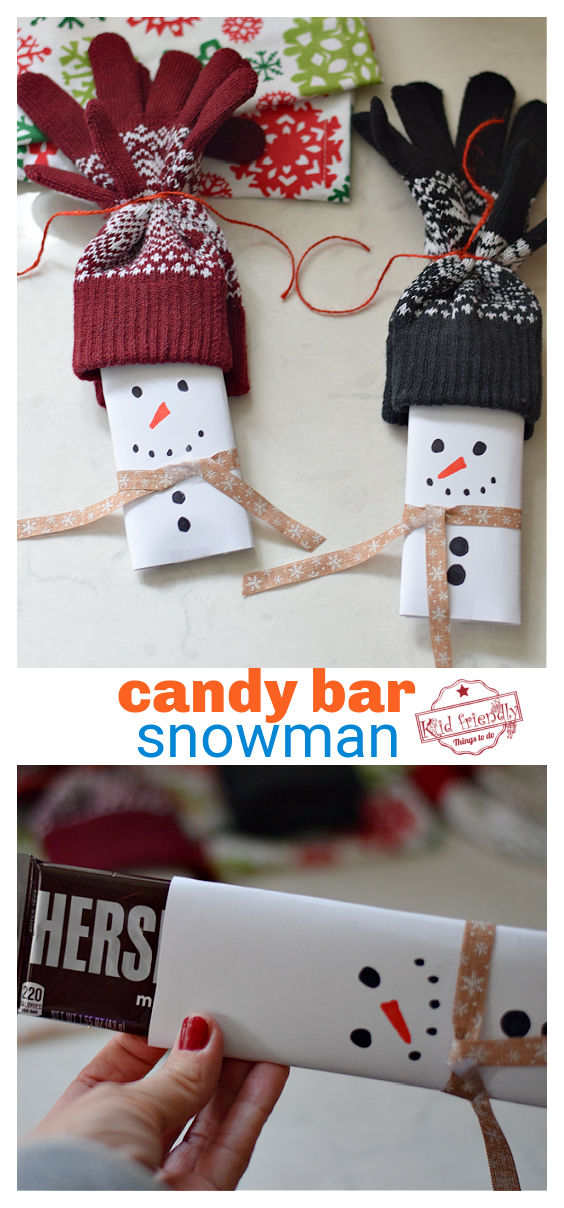 If you are looking for fun and simple gifts to give out this Christmas, check out my post on How to Make a Candy Sleigh, How to Make a Candy Train, or Making a Rudolph Lollipop 
Tips, Tricks, and Ideas for Making a Candy Bar Snowman…
feel free to use any type of candy bar – I used a Hershey's bar, but this craft is completely customizable
the white cardstock is a great idea for the paper – It folds just like a thick wrapping paper
you can use scotch tape to secure the paper and decorations, at a low temp. glue gun, or tacky glue – like Fabri-tac
use a sharpie for the snowman's buttons, or black buttons
you don't have to add the scarf ribbon and the buttons below it – It's just an added touch
 get your mittens at Dollar Tree – they are only $1 for a set and they have several cute pairs to choose from
Are you ready to make this cute Candy Bar Snowman? Let's make sure you have everything you'll need…
You'll Need:
6-inch by 6-inch white card stock – for a full-size Hershy Bar, I cut about a 6-inch by 6-inch square
Sharpies – black and orange
3/8 inch ribbon for a scarf
twine
a candy bar like a full-size Hershey's bar
How Do You Make a Candy Bar Snowman?
Instructions:
wrap the candy bar in the card stock, just like you would a present
tape to secure – you can leave one end untaped so the candy bar slides out easily, but be sure to tape the bottom so it doesn't slide out and break
set the mittens out so they are evenly lined up  – one on top of the other
tie a string around them – just below the fingers and tie them into a knot
slide one of the mittens over your wrapped candy bar
decorate with a black Sharpie for eyes, and mouth
use an orange Sharpie for the carrot nose
optional: add a ribbon just under the mouth to represent the scarf
just under the ribbon, add more black circles for the buttons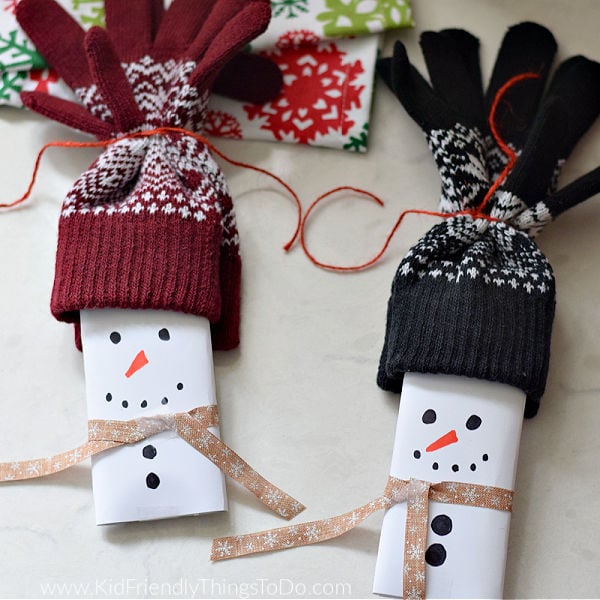 That's it! Happy Holidays!