Don't fill the party goody bags in advance. For this fun Holiday Game you'll need to fill the snowman. Let the kids put their winnings in a goody bag to take home. This is such a simple and fun game to put together as a Group Christmas Party Game. It's perfect for all ages, small and large groups. Come on in and I'll share how to make a Snowman Toilet Paper Candy Ball for a A Christmas Party Game for Groups…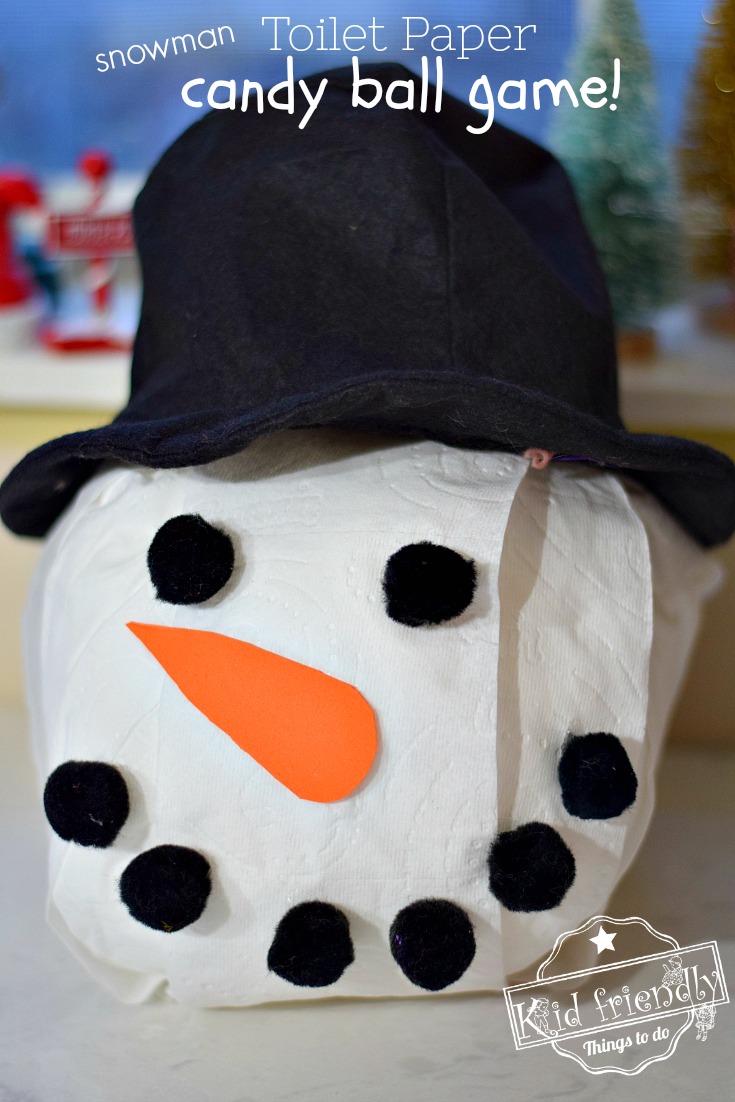 If you are looking for an easy party activity for the coming holiday, this might be the one.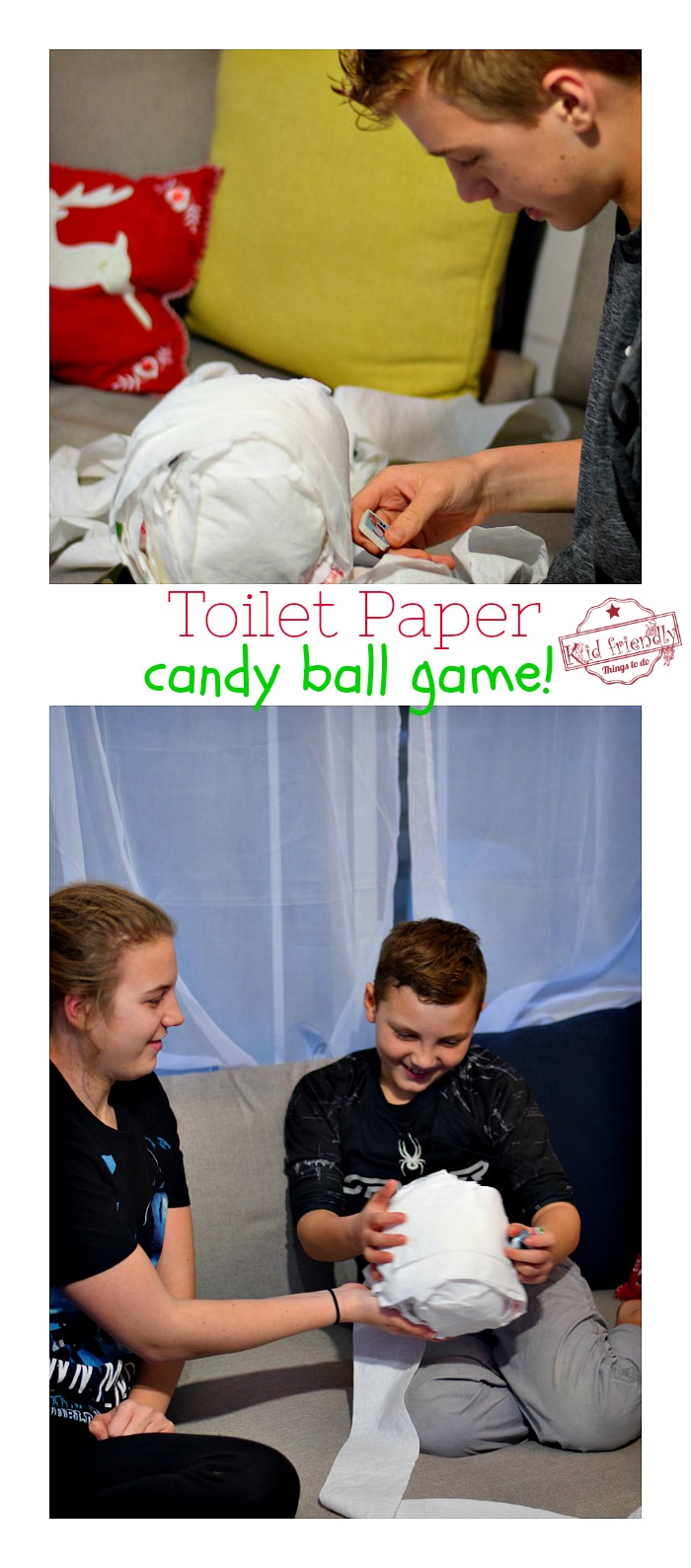 Kids can pass the snowman around, and unwrap him one by one. Every time they find a prize, inside they pass it on to the next child. They will be so excited with anticipation. Who knows what will be revealed next? A piece of candy, a pencil, or a silly novelty toy.

This would also be a fun game for the classroom holiday party. A great room parent idea! Or, do this at your family gathering.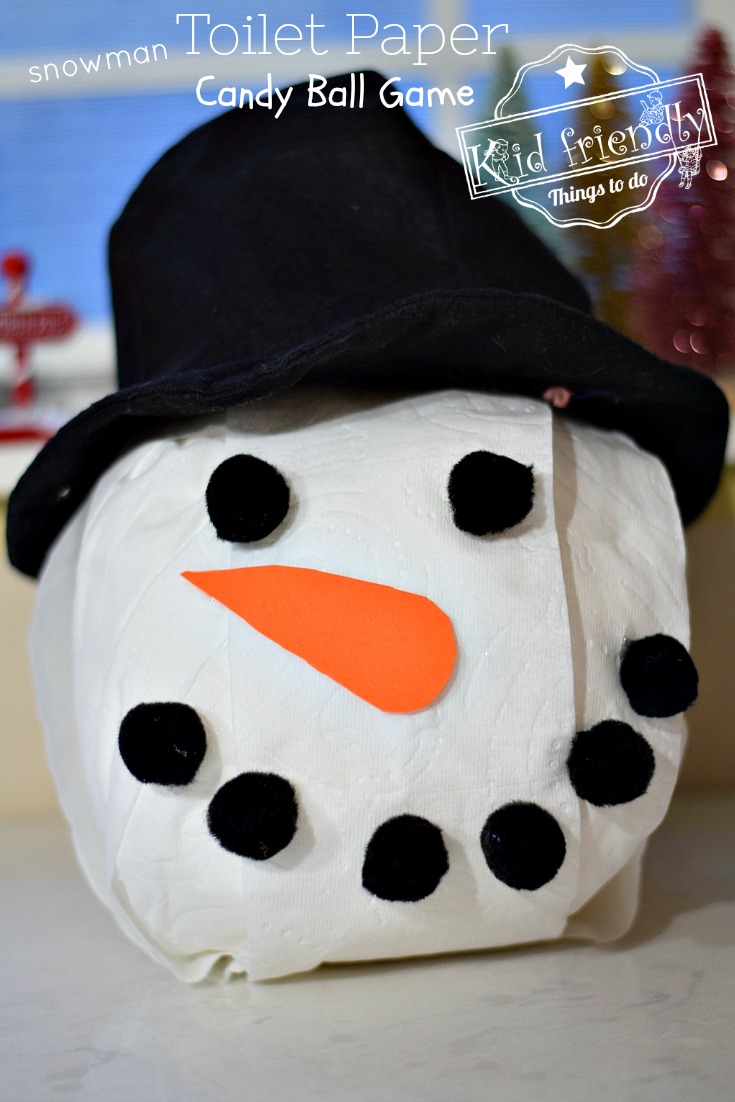 Here are my top Amazon Picks for this Snowman Toilet Paper Candy Ball Christmas Party Game for Groups…
(affiliate links)
[box] [/box]
Finally, here's what you'll need and the instructions for this fun and Easy Christmas Party Game for Groups…
Here's What You'll Need: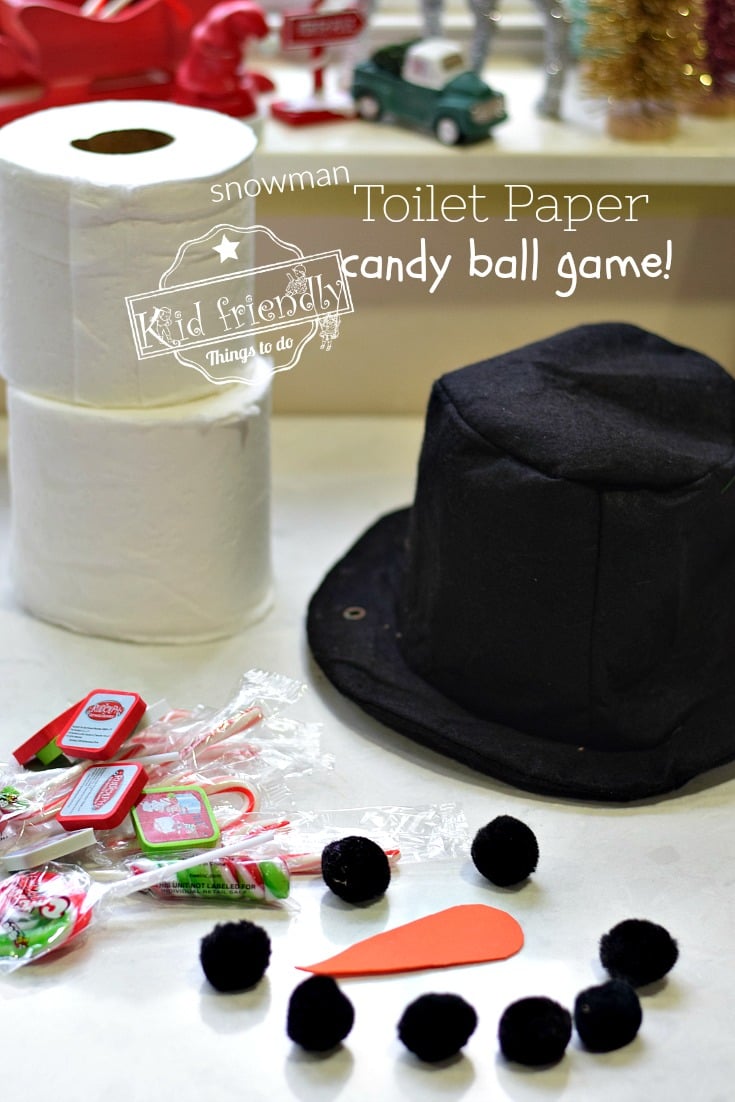 3 or more rolls of strong toilet paper
Black Pom-Poms – medium in size
Some orange craft foam – for carrot nose
Fabri-tac glue or warm glue gun with glue sticks
Novelty Toys and/or candy
Top hat – or – winter cap
Instructions: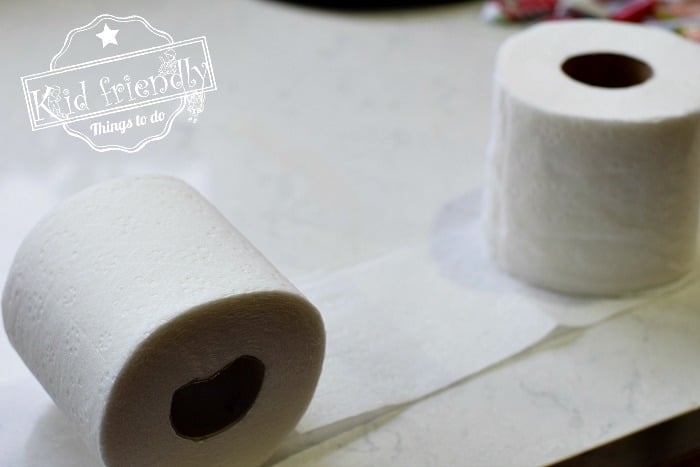 Keeping one roll of toilet paper intact as your base – start to wrap it with another roll of toilet paper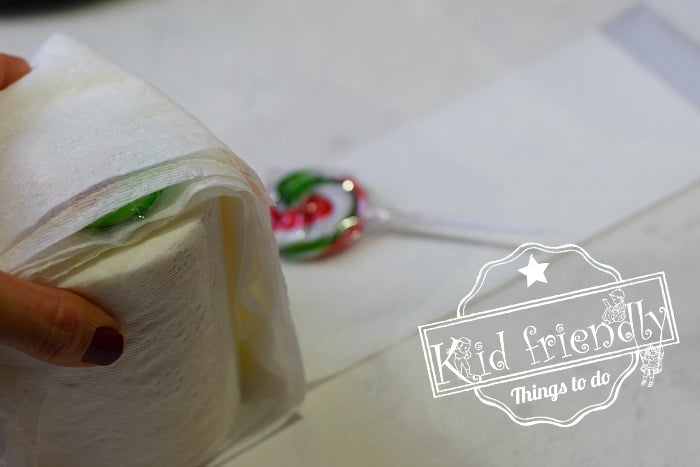 Add toys or candy and roll the toilet paper across them to securing them inside the roll
Depending on how many kids you have…Place toys or candy a few inches or several inches apart
*The closer they are together, the more you can fit in, but the kids won't have to work too hard at unwrapping to find a prize
*You can always add a third roll of toilet paper to fit in more prizes and fun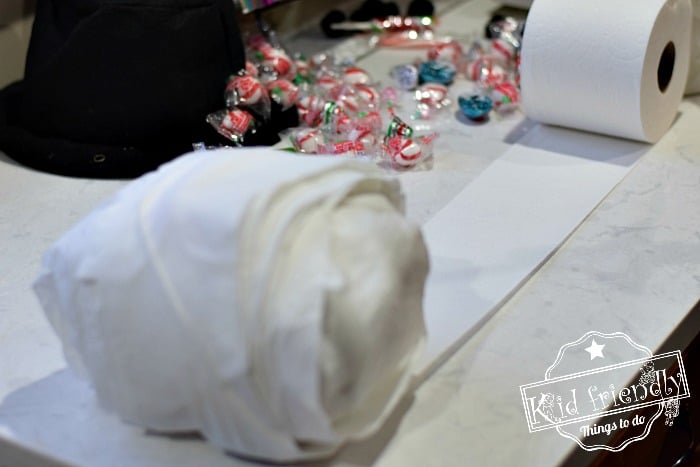 Once you've finished wrapping one roll of toilet paper, turn the ball the other way and start wrapping it with a new roll of toilet paper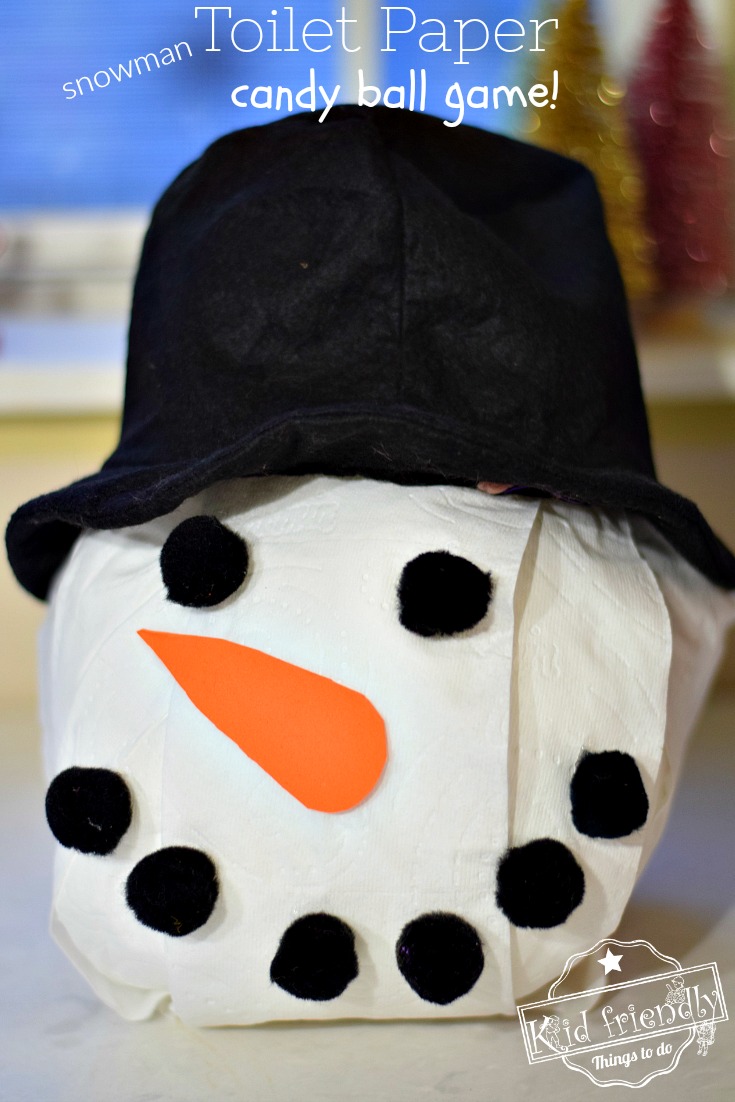 Once you've gotten to the close to end of your second roll, leave out the prizes and candy and just wrap it a few times around with plain toilet paper
*You can also use a separate third roll for this
At this point you are just rounding out the toilet paper ball so you can decorate it
Now, use your pom-poms and carrot nose to decorate one side of the ball. Add the hat and you are ready to play!
Playing the Game:
Explain to kids that as they unwrap the snowman toilet paper ball , they will find prizes. Remind them to go slow, and only take one prize per turn, until he is unwrapped.
~Merry Christmas
Do you need more ideas for Christmas Party Games? Check out these posts below…

Unscramble the letters to spell the reindeer names – free printable and instructions, here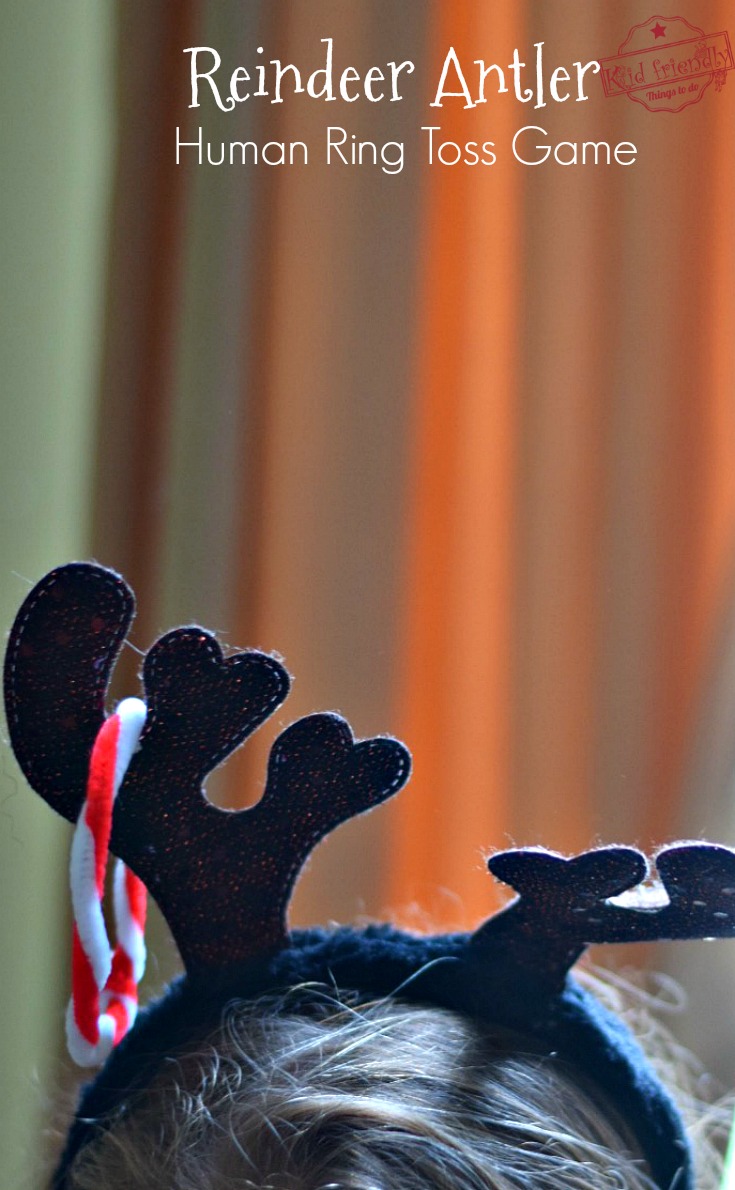 Guess the Christmas Smell – A sensory game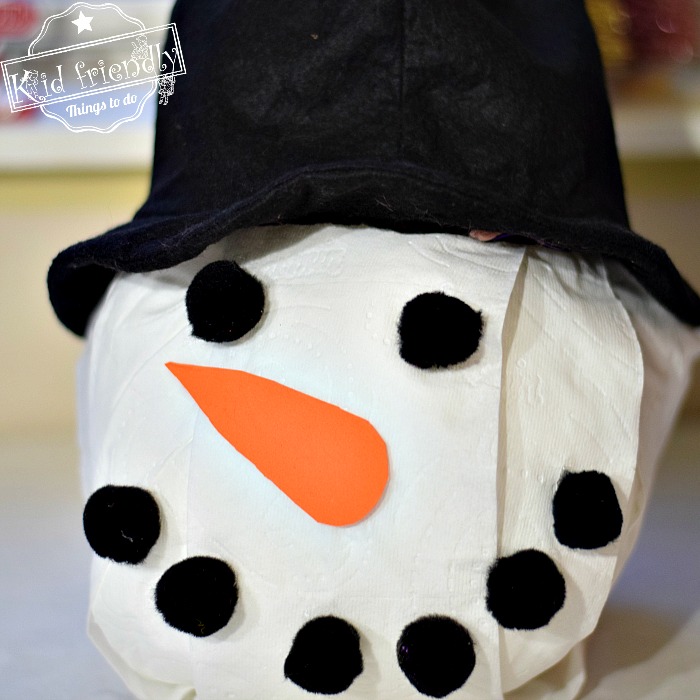 ~Melissa
Kid Friendly Things To Do