Forgive me for interrupting the Halloween and Fall posts with a little Christmas fun to share with you all. Last week, I bought supplies for a fun Christmas Game and the kids couldn't wait to play it. Everyone-  kids, teens and adults had a blast trying to Guess the Christmas Smells. Come on in and I'll share how we Played Guess that Smell Christmas Game for the Whole Family to Play!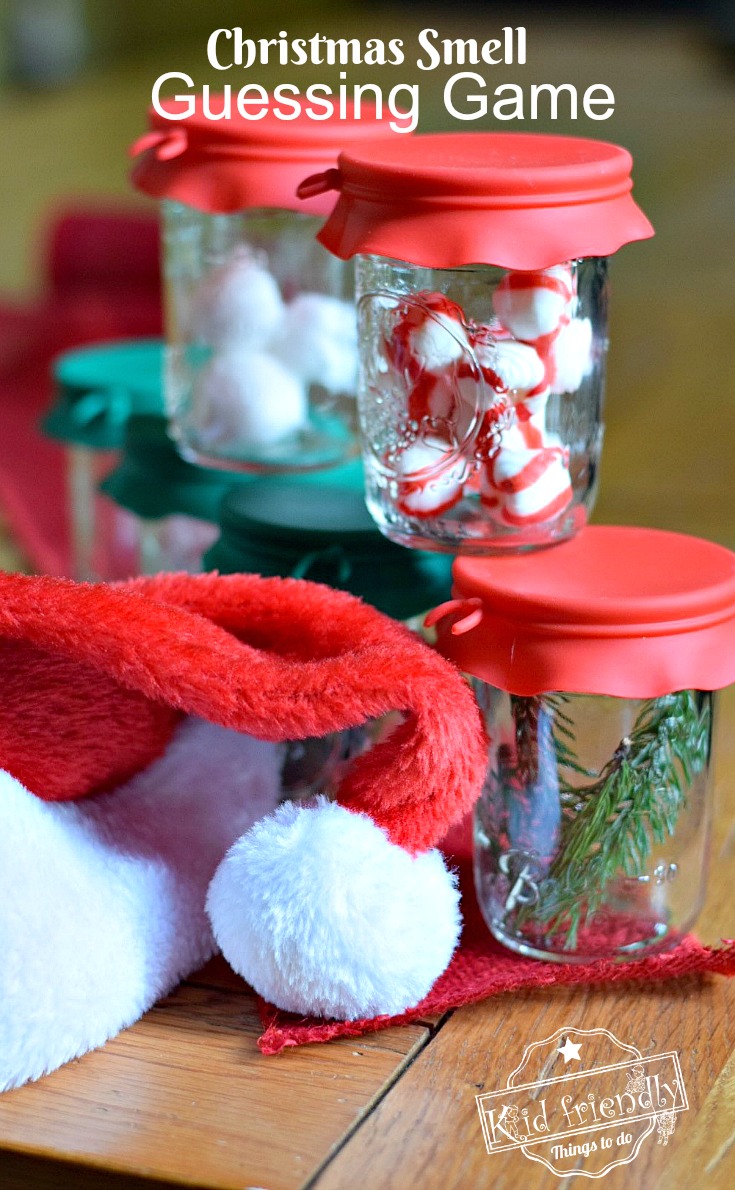 Guess That Smell – Christmas Game for the Whole Family
My kids have asked to play this over and over. This is a really simple game to pull together. It's so much fun to watch everyone try and guess what the item inside the jar reminds them of.

I even threw in a bonus one that made everyone gag! Who knew Nutmeg was such a strong scent? Oopsies! Not one person guessed nutmeg. Since eggnog is A) liquid and B) not in stores – I opted for nutmeg as a substitute. If you want a good laugh, you should use nutmeg too!

Are you looking for Fun Christmas Games? We have tons!
Check out some of our other game ideas like:
Here are My Top Amazon Picks for this Guess that Smell Christmas Game for the Whole Family to Play!
[box] [/box]
So much fun!
Here's What You'll Need for Guess that Smell Christmas Game for the Whole Family to Play!
Jars with lids or any other container that will keep the smell well contained until the player is ready to smell it – *I found my silicone jar lids at Menards that pull right off. They are perfect for this game. I'll include an Amazon link below 
*Alternative Idea for Jars – Here's a Great Idea from a reader as jar alternative! Use disposable coffee cups with lids! They are perfect for concealing the item and they have a tiny opening for smelling
Santa hat for a blindfold – optional
Christmas items that give off the scent of Christmas (Ideas to follow)
Plenty of Paper and Pens to keep track of guesses
Side Notes to ingredients…
*My jars are see-through for the photograph. To prevent cheating (it happens)…You'll probably want to conceal your items in a non-see through jar or container
*If you plan on dividing into teams, then get double of everything
Ideas for Christmas Smelling Items:
Pinecone
Pine Needles
Peppermint Candy
Cotton balls soaked with vanilla extract
Cotton balls soaked with almond extract – that might be specific to our Christmas Cookies. Almond always reminds us of Christmas. I'll link the recipe to the yummiest Sugar Cookies Ever, below
Cinnamon Sticks
Chocolate
Fudge
Gingerbread
Hot Chocolate Powder
Extracts and oils – soak cotton balls with the scent and place in jar. Seal with lid
Nutmeg – hee! hee!
What reminds you of Christmas?
It would be fun to throw in something stinky – like the a smell version of the jelly bean game – bean boozled. What stinks at Christmas? Hmm…
Smelly sock – everyone has that relative
Any other ideas? Leave us a comment below and I'll update the game ASAP 
Tips and Tricks for this Christmas game…
Updated Smelling ideas and Jar Ideas from readers…
Smells:
charred wood for a crackling fire
tobacco and beer – if you have a cousin Eddy in the family
Sage for turkey
Cotton ball soaked in egg nog
spiced gum drops
Container Ideas:
one reader used 35 mm – film cases to hide objects
disposable coffee cups – they already have a hole on top that closes to keep the smell fresh
Variation for younger players
you can turn this game into a language activity like one reader did with her young children – talk about the smells, what it reminds them of and if they like the smell
Here is a quick video on my kids playing the game. Last weekend, I asked some of my kids to play the game with me for a quick video. They happily obliged. Sorry in advance for my obnoxiously loud laughter. Here you go…
Instructions:
Here's a quick video on how I set up our Guess That Smell Game Containers…
Place each item you want for your containers into your container and seal it shut
Our Family Version:
I set up the jars at the table and only let one person at a time come into the room to guess *The reason for that was that I didn't want the person guessing to persuade the next person in any way. I wanted original guesses.
I handed the first contestant each jar and recorded what they guessed
The kids that already guessed loved watching on…as a new person was trying to guess. They got to hand the jar to the new victim contestant
Point System:
You can decide on how you want to award points and how strict you'll be about the guesses. I'm a complete push over and say "Yes" to just about any variation of the smell. Here's what I did…
I gave them a point  if they told me what the scent reminded them of from Christmas (as long as they weren't way off)
I gave them a bonus point if they could guess the exact contents in the jar
Of course, I let them all eat the peppermints after we were done!
*It is also fun to have everyone in one room at the same time. If the objects are hidden in the jars or container, then let the contestants write their answer down and pass the jars around until everyone has a turn sniffing and guessing – Then let the contestants tell you their guesses out loud. See who came the closest or even nailed it. 
Team Play Idea:
One idea is to have enough chairs at the table for the whole team or 2 teams to sit at once
Tape paper around the jars to conceal the contents. Just to be sure, you can give the players eye masks or bandannas to cover their eyes
For added pressure, you can time this game. Give the players a  certain amount of time to smell and guess all of the scents
Tell the players that they should smell the contents of the jar and write down what Christmas Scent it represents – example: pine needles=Christmas Tree Extract=Cookies
If they guess the exact contents of the jar, they get a bonus point
Point System:
If they didn't know exactly what was in the jar, I gave them a point for telling me the Christmas scent it represents
If they knew exactly what was in the jar, I gave them a bonus point
Now…
Have the players grab a jar, guess and then pass each jar down the line
Have them write their guesses down on a piece of paper you provided them
After the end of the game, have the players share their guesses and see which team scored the most points
Classroom Variation:
You could have a scent station where kids guesses the items inside several jars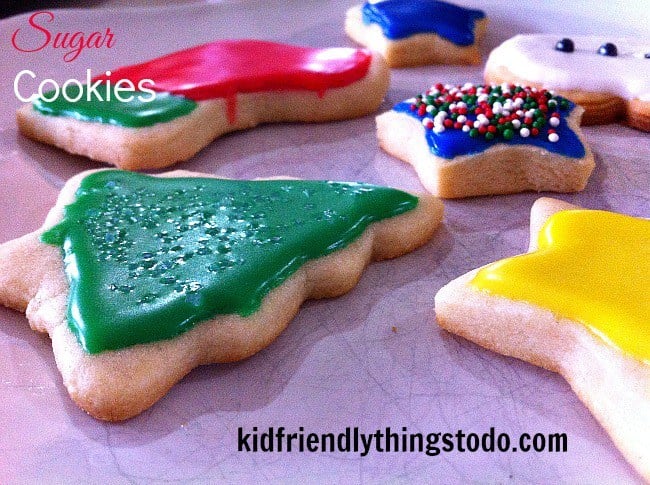 Here's the Best Ever Sugar Cookie Recipe I promised – click here