I think it's time to post some more of our fun Minute To Win It Game ideas. Just in time for the holiday parties. These are Minute to Win It Games for Christmas. Over the past month, the kids and I have tested out a slew of Minute To Win It Games, and we've picked our favorites to share with you all. These are the ones that were simple enough for kids to do them yet challenging enough for adults to enjoy them. Come on in and I'll share our favorite Super Fun Kid Friendly Minute To Win It Games with a Winter and Christmas Theme!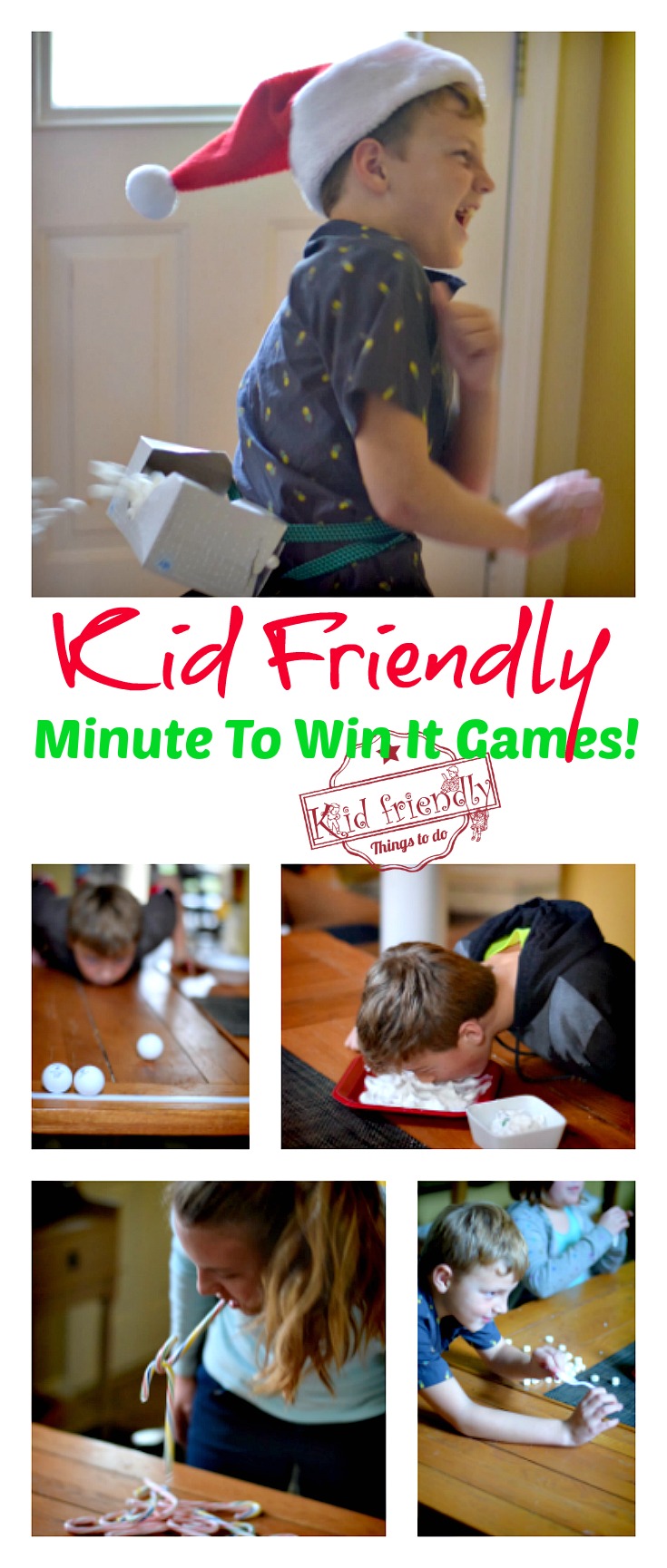 Here's a short video of just SOME of our favorite Minute To Win It Games. You'll find these games and more in the links below.
Let's get started…
Snowball Fight!

For this game…you'll need – a bag of mini marshmallows – divided, a plastic spoon and 2 players per team
Pair off into teams of 2 – each on opposites sides of the table. Give 1 player a heaping pile of mini marshmallows and a plastic spoon. When you yell go, that players must try flinging mini marshmallows from a plastic spoon into their teammates mouth. Teams with the most successful catches – win!
Avalanche!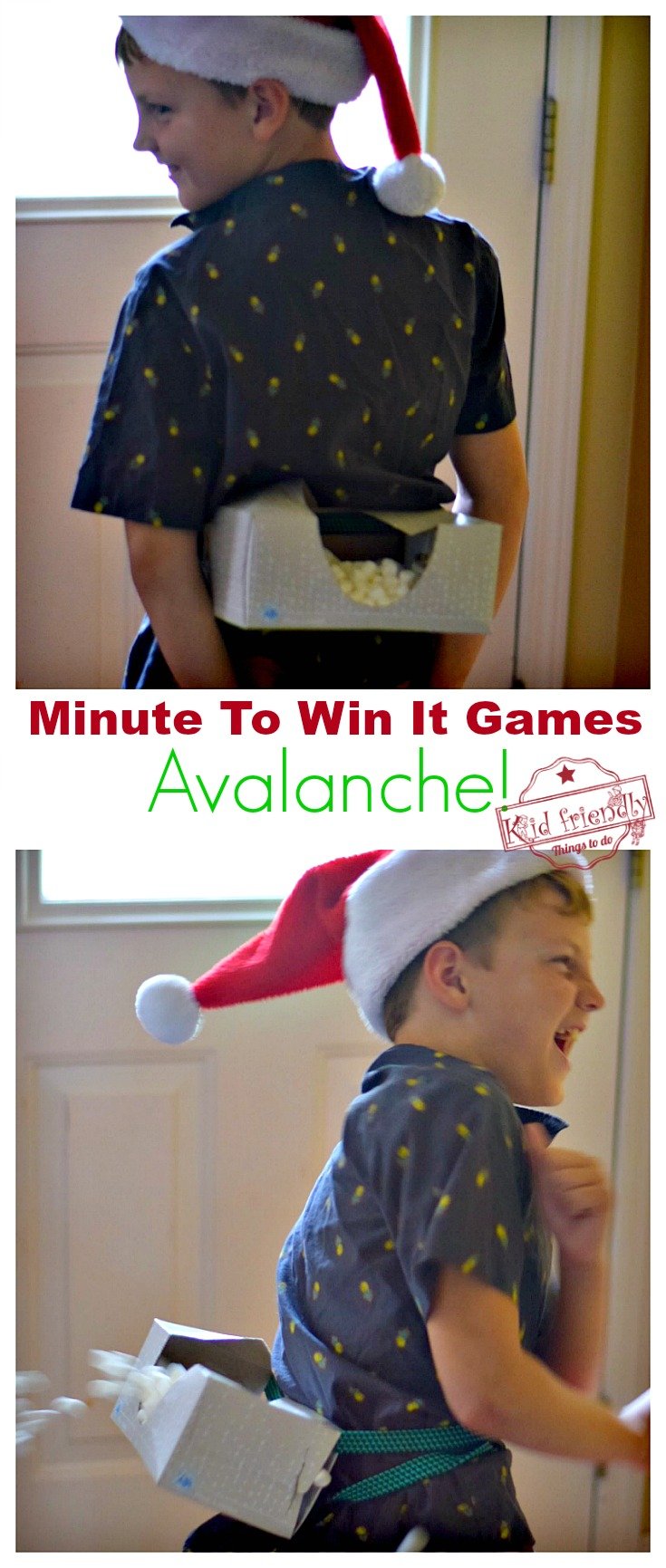 You'll Need – tissue boxes, bungee straps, 1 bag of mini marshmallows per player
Attach a long bungee strap to a tissue box.

*My tip to you would be to find tissue boxes with the dispenser hole centered. I did not and the kids had to basically do back bends to get all of the marshmallows out.

Strap the tissue boxes to the player's waist – with the box on the back side
When you're ready to go, fill the boxes with an entire bag of mini marshmallows
Players in under 1 minute must shake the marshmallows out of the box
*The team with the least amount of marshmallows in their box is the winner of this round!
Build A Snowman!

For this game, you'll need – ping pong balls (1 package per team) and double sided tape
*I found the tape in the Craft Adhesive section of Wal-Mart. The tape is not the scotch tape clear version. It removed from my table without damaging it. I'll leave a link below for some removable double sided tape.
Place a long strip of double sided tape on end of a table
Place the ping pong balls in a bowl at the opposite end
When you're ready, set the timer for 1 minute – players should try to line up 3 ping pong balls next to each other by blowing them across the table and controlling where they go so they line up and stick to the tape
*This is a lot of fun and really takes strategy. They have to control the amount of air they blow out and the direction in which they blow the ball. You'd be surprised at how many times the ball will blow right off of the table without sticking at all. It will take a couple of tries for the kids and adults to get just the right angle and pressure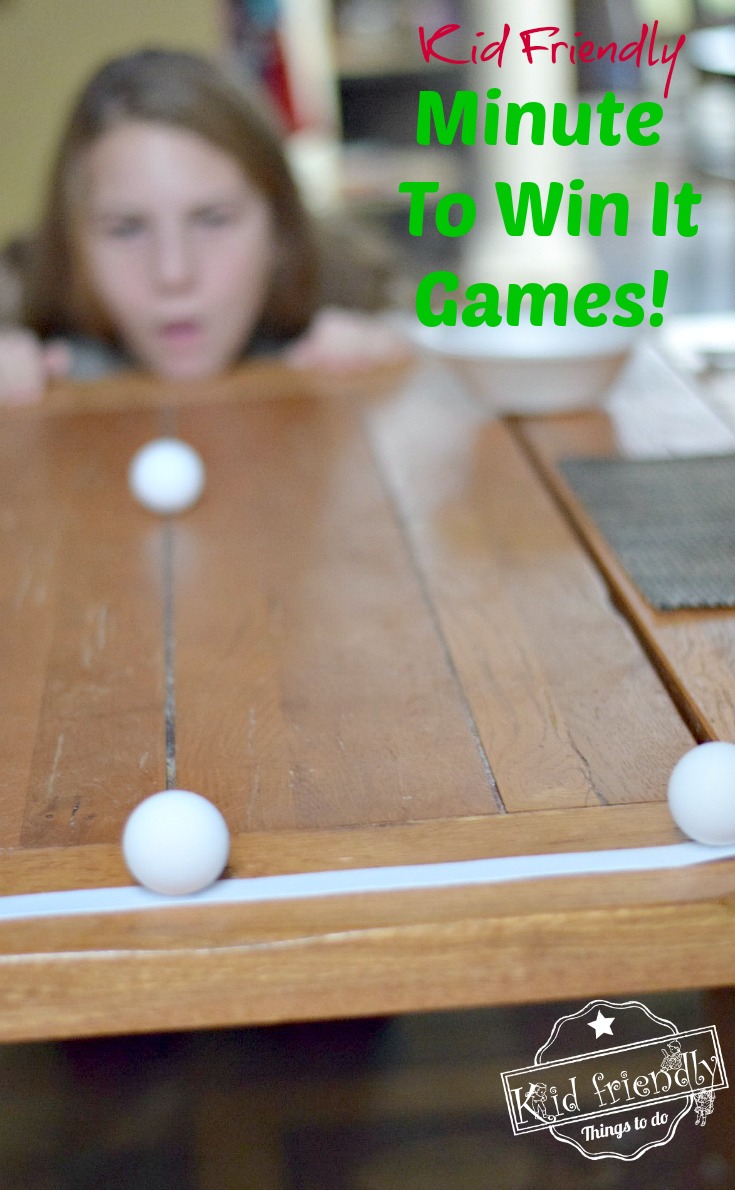 *For younger kids, you could accept 3 anywhere on the tape, for older kids and adults, you can be firm on making sure the balls are right next to each other
Here's the link I promised…
(affiliate link)
Snowman Stack

For this game, you'll need marshmallows and chopsticks
*For younger kids, use the giant campfire sized marshmallows, for a more challenging game – use mini marshmallows (they are super hard to stack without toppling over), for a just right in-between challenge – use the normal large sized marshmallows
In under a minute, players will have to stack 3 marshmallows on top of each other without toppling over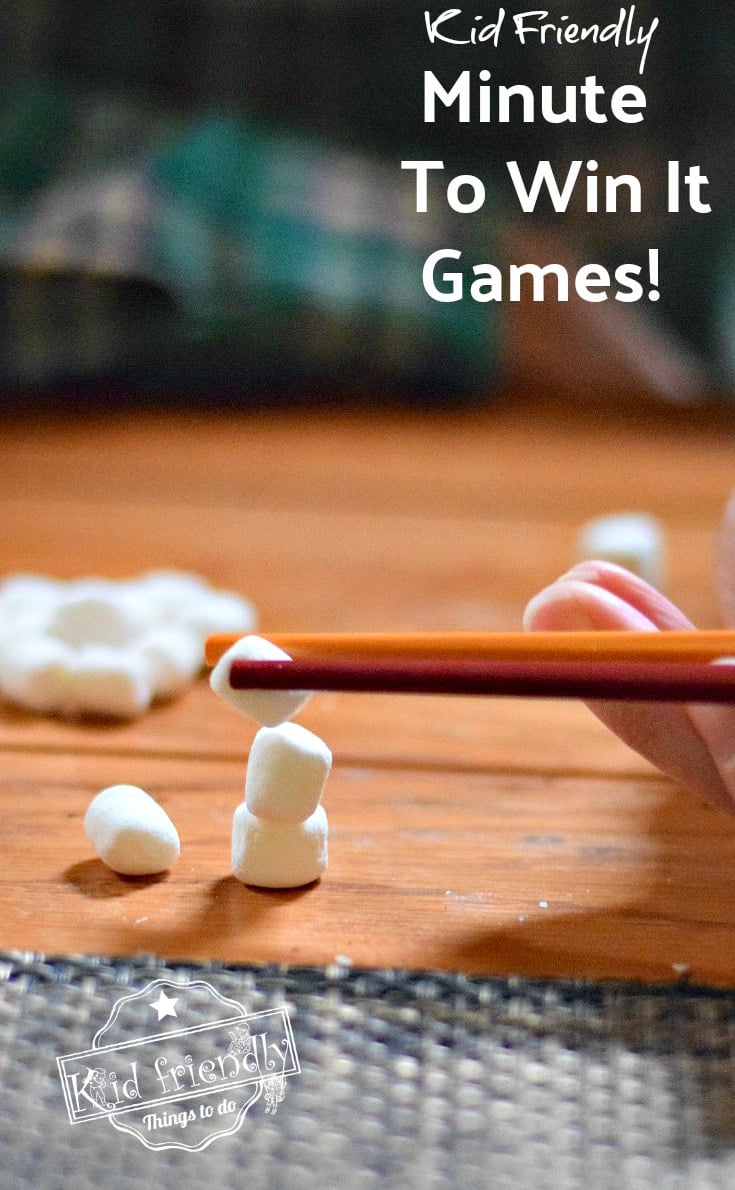 This is my husband trying to stack 3 mini marshmallows. It's harder than it looks!
Santa's Beard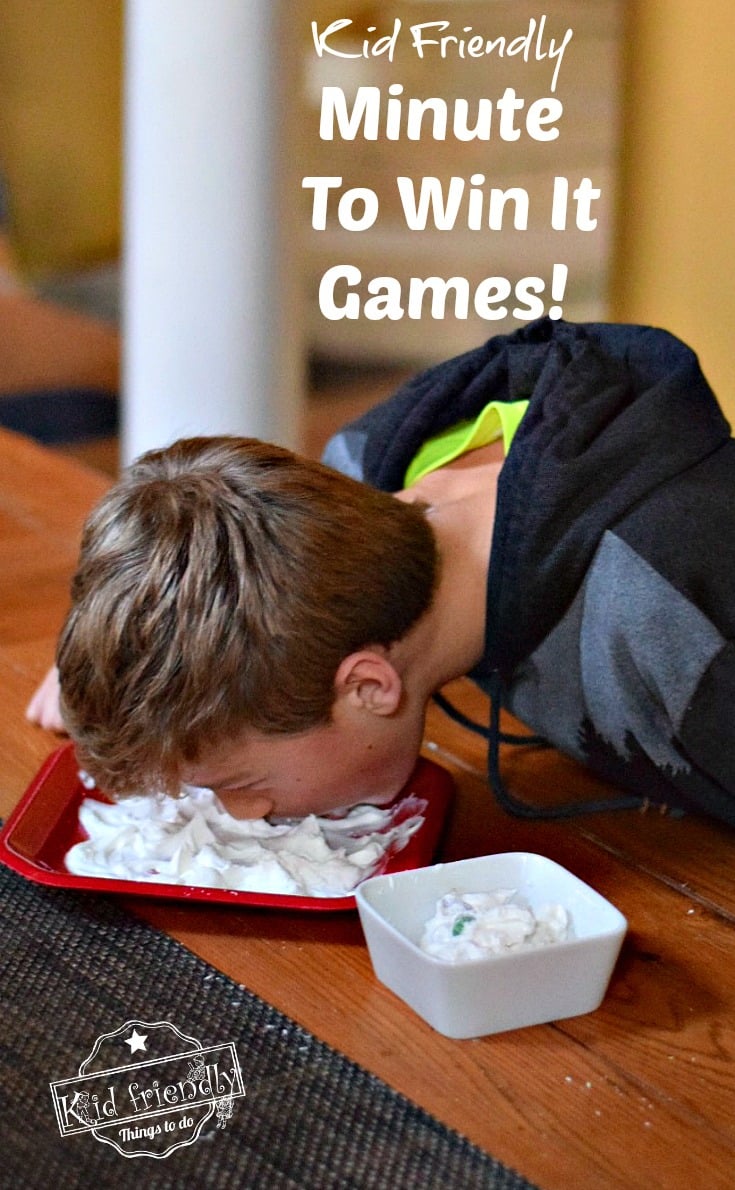 For this game, you'll need – Whipped Cream (it's easier if you get the squeeze bottles), about 30 gum drops per plate, a plate, and a bowl

place the gumdrops on the plate and cover up with whipped cream
Only using their mouths, players will need to locate the gumdrops under the whipped cream and transfer them into the bowl that is waiting in under 1 minute
*We started off with 14 gumdrops per player – it was too easy for my kids. It might be a good amount for younger kids, but to make it more challenging – the more the better
Candy Cane Fishing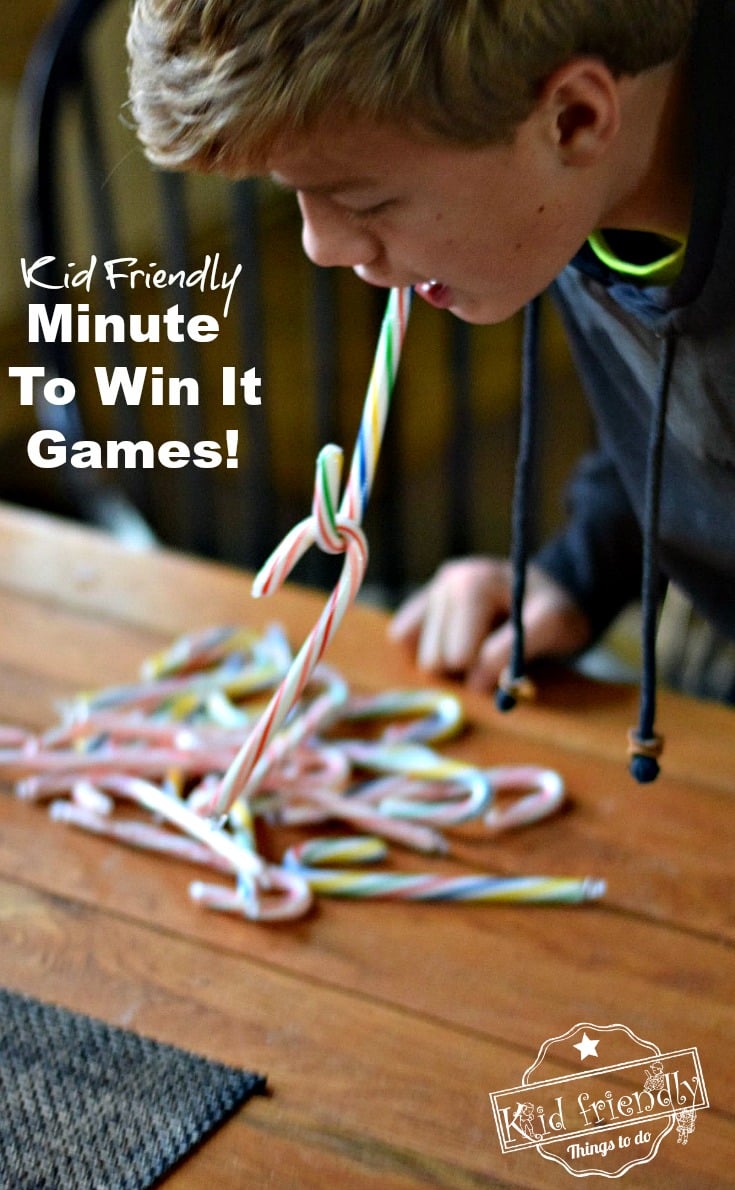 For this game, you'll need 2 packages of Candy Canes plus a candy can for each player to hold in their mouth

This game is harder than it looks. Everyone wanted a turn at this!
Pile the candy canes up
Players will need to use 1 candy cane as a hook. With the candy cane in their mouth – curved section at the bottom…
With hands behind their backs – They will have to pick up as many candy canes as they can and transfer them to a given area in 1 minute!
The team with the most transferred candy canes wins. Honestly, it might just be one!
Go Shovel the Snow!

For this game, you'll need – 1 heavy bowl and another bowl (doesn't have to be heavy) plus 1 dozen cotton balls that have been pulled apart – or – an easier alternative would be to use mini marshmallows and a spoon!
Players must transfer all of the cotton balls or marshmallows from the heavy bowl to the other bowl in under 1 minute. The player with the most transferred wins this round!
*to make things easier, you could use marshmallows as cotton balls tend to stick together. To make picking up cotton balls easier – pull them apart prior to the game.
*I say to use a heavy bowl as your base for a reason. We started out with 2 styrofoam bowls and nobody could scoop from it. It kept tipping over! Live and learn.
That's it for now! I hope you have enjoyed our Minute To Win It Games for Christmas.
I have more cooking in the oven and I'll post those just as soon as I can get all of the supplies, find a good day to play and edit a million photos. Until then, check out all of my other Minute To Win It Posts right here on the blog! Check out the links below…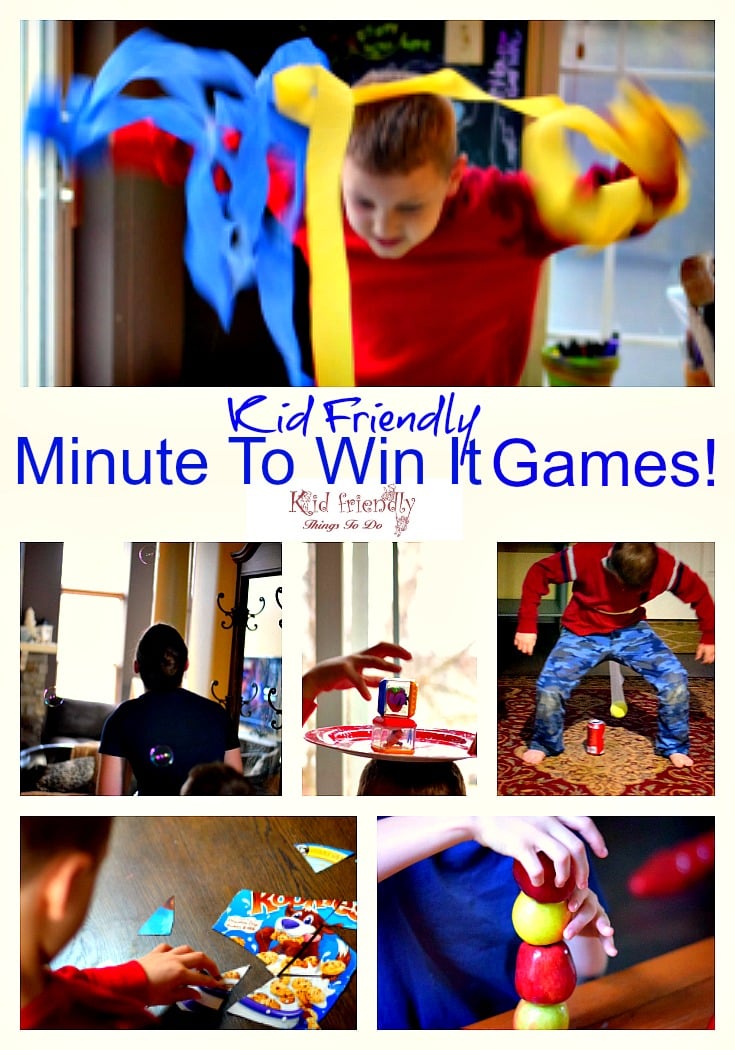 Here's a link to the Minute To Win It Games above – Our 2 favorite games from this lot are the bubble blowing one and the streamer paper one! So funny!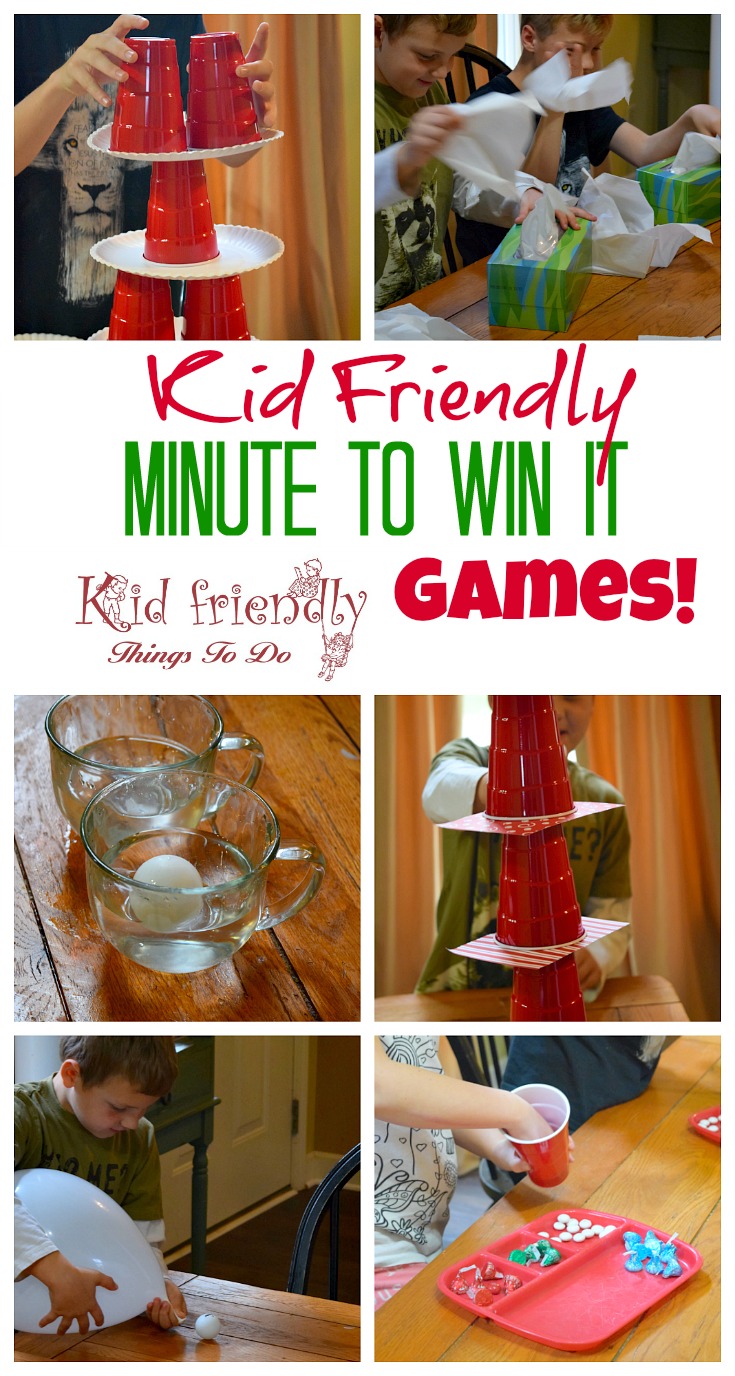 These are all a ton of fun! You can't go wrong with any of them. Here's a link to these Minute to Win It games!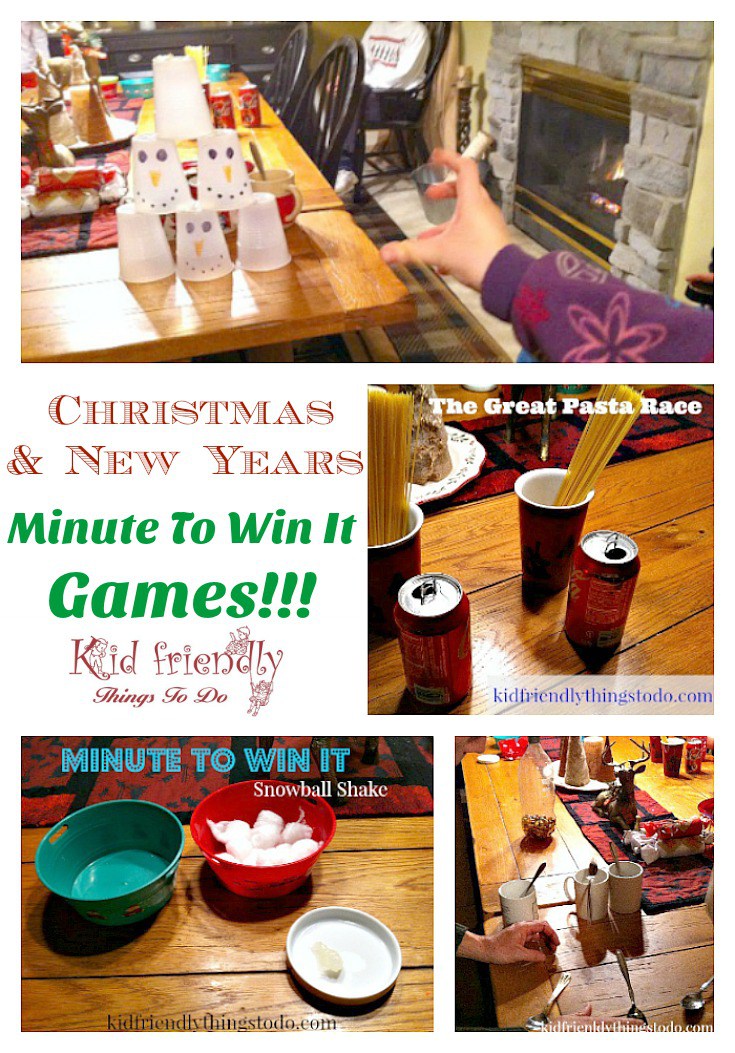 This was our first and favorite Minute to Win It game night. Click here for these Minute to Win It Games
~Melissa – Kid Friendly Things To Do