Classic and Easy Spinach Dip in a Bread Bowl Recipe

Posted by Melissa in Appetizers, Easy Family Recipes | 12 comments
Last week, I was in charge of church group snacks. When it's my turn, I like to bring homemade snacks, but I also like to keep it simple. Usually, I go through my old cookbooks and find the little church lady classics, but for this one, I remembered the old classic – The Spinach Dip in a Bread Bowl! That is a sure fire crowd pleaser and it doesn't get much easier as far as prep goes. Come on in and I'll share this classic spinach dip recipe for your holiday, game day, and small group socials!
Do you remember this one? That old classic Knorr Spinach Dip. It must have been at every single potluck, and food centered function that I can remember. It's a classic, and like a classic, it holds strong and simply delicious. It's still perfect for every single party, today.
Here's the recipe for this yummy Spinach Dip: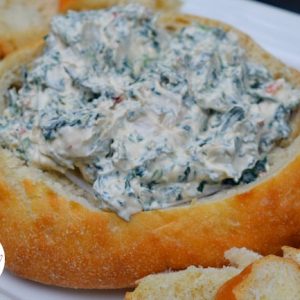 Classic Spinach Dip Recipe
2016-09-20 07:30:34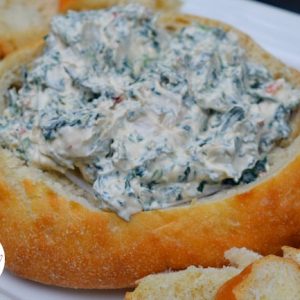 Ingredients
1 (10 oz.) package of chopped spinach, thawed and squeezed the life out of (drained)
1 (16 oz.) container of sour cream
1 cup of mayonnaise
1 package of dry vegetable recipe (soup) mix *You can usually find this by the dry broth mixes, and dry onion soup mixes
1 can of sliced water chestnuts - drained
1/2 cup of chopped green onion - optional
1 Sour Dough bread bowl
Dipping Items - Extra bread - like French Bread - cubed
Optional - carrots, sliced broccoli, sliced celery, etc...
Instructions
Grab a big bowl and mix the first 6 ingredients
Cover and refrigerate for at least 1/2 hour or up to 2 days ahead
When you are ready to serve...Cut a big circle out of the top of the sourdough bread bowl
Scoop the soft bread out and cube it (some people toast the bread, but we never did)
If you want, you can save the top to place on the dip bowl - *that's what my mom used to do
When you're ready, spoon the cold dip into the bread bowl
Place the cubed bread, optional vegetables and/or crackers around the bread bowl
Kid Friendly Things to Do.com - Family Recipes, Crafts, Fun Food Crafts, and Game Ideas https://kidfriendlythingstodo.com/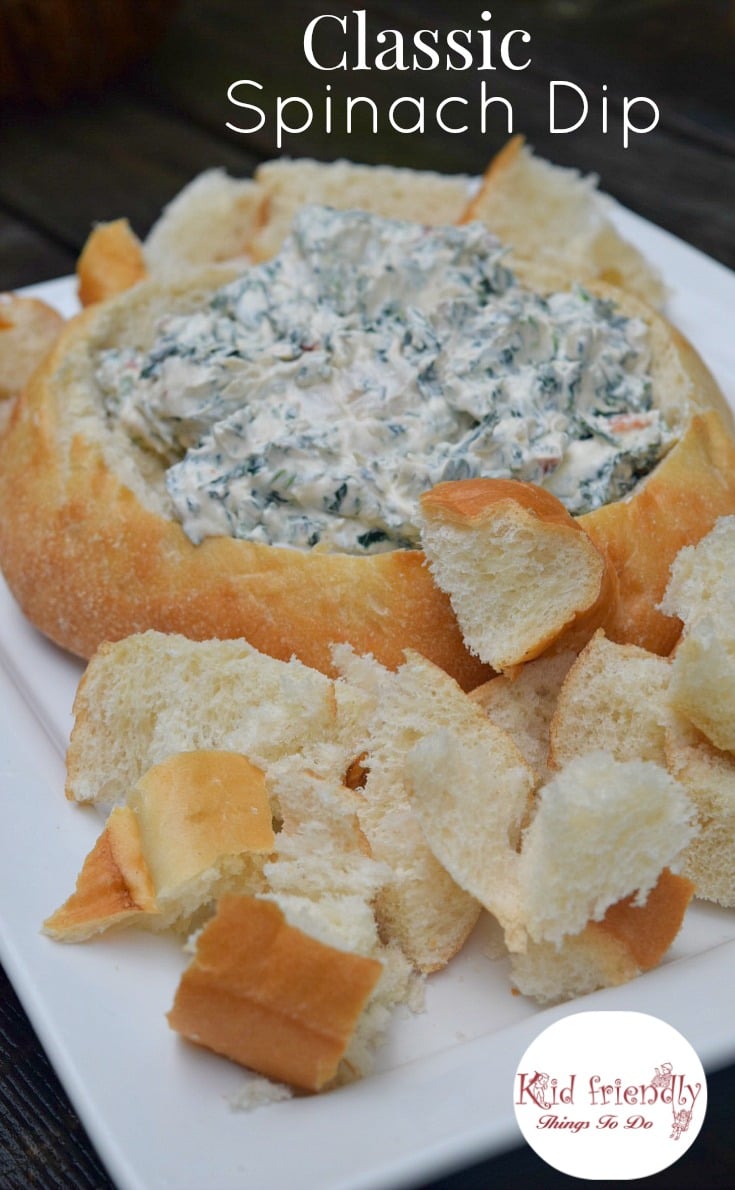 Don't forget to sign up for instant access to more family recipes, crafts, game ideas, and more!