Paper Plate Pictionary is such a fun family game or game for groups to play. It's a great game for kids, teens, and adults. Perfect for holiday parties, game night, youth group and classroom parties. You can adapt it for any occasion. This time we played a Christmas version. Come on in and I'll show you how to play this fun game…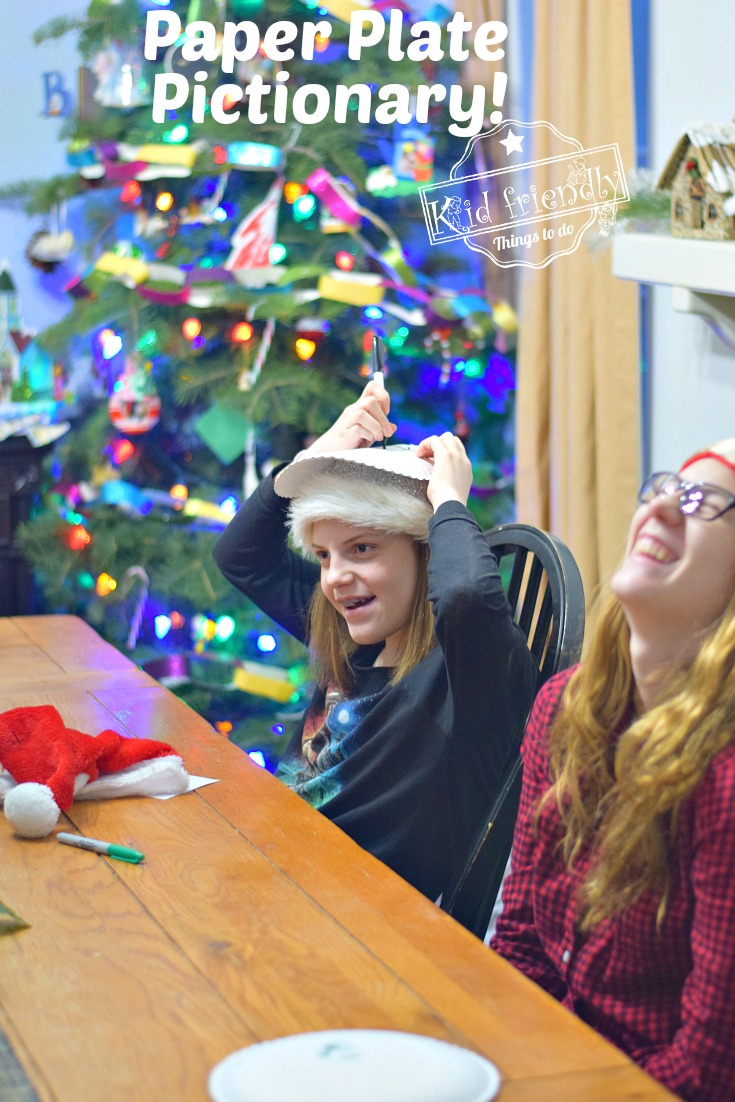 Paper Plate Pictionary – Group Game Idea…
When you can't see what you are drawing, you can imagine how silly the picture is going to look.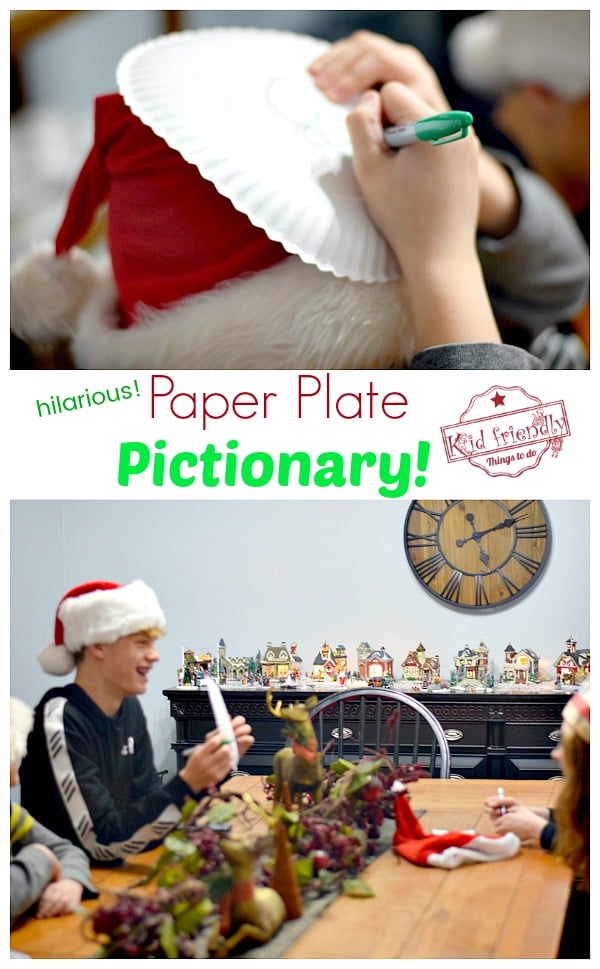 Then, imagine your teammates trying to guess what you've drawn.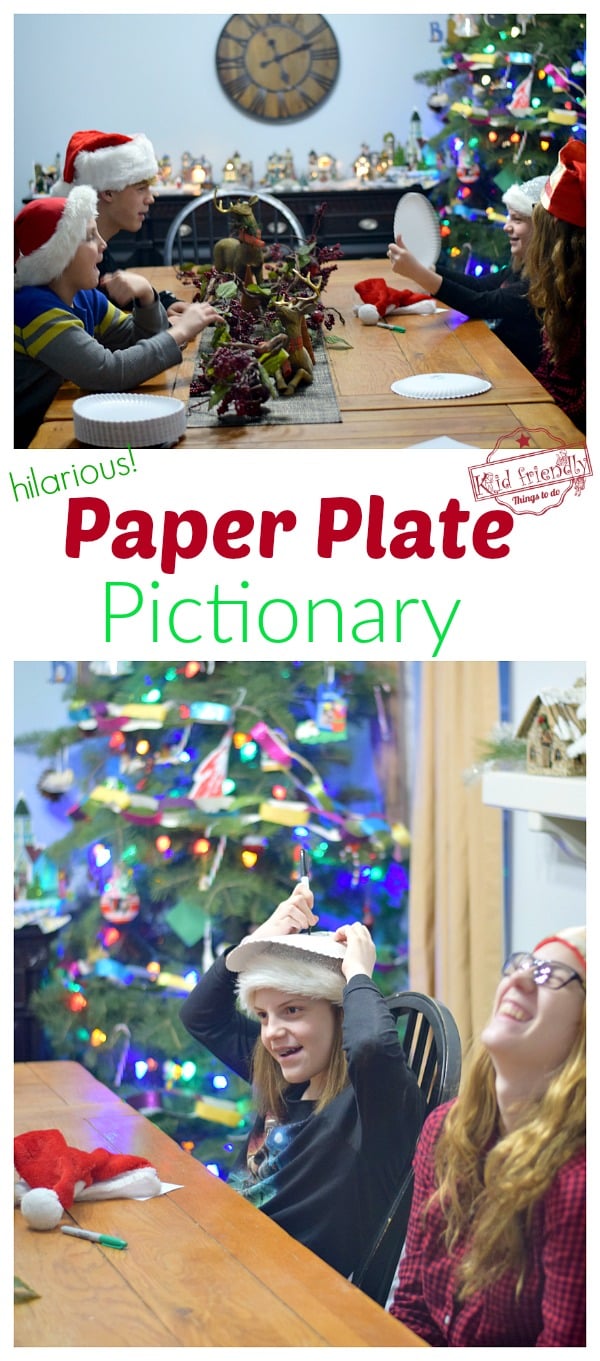 It gets hilarious at times!
Here are the Basic Rules of Pictionary:
The timer starts – the team has 1 minute – total
The player draws a card with a clue on it
The player has five seconds to start drawing the clue
The team has up to the minute timer is up to guess the clue
During this 1 minute time – the player can draw more – if needed to expand on their drawing
Other rules to be considered…
Allowances need to be decided on before play begins – Like: Will you allow singular and plural versions, will you allow general answers or does it need to be specific, etc…
The only letter allowed is an X – and that is only to be used as "X" marks the spot or to cross something out
No numbers either
No pre-arranged clues, like drawing an ear for "sounds like" or lines as number symbols for "how many words"
If you found a card that says "chute", and you think your team would guess the word "shoot" easier – that's ok! It doesn't matter if they guess the wrong defined word as long as it sounds exactly like the original one
 Here's What You'll Need for Paper Plate Pictionary –
9-inch paper plates
markers, pencils, or pens to draw with
Index Card with prewritten clues
Christmas Ideas for your clue cards…
*This time we used Christmas related words, so our clue cards read clues like…Rudolph, Santa, Snowman, Bell, Candy Cane, Cookie, Christmas Tree, Angel, Sleigh, Snowflake, Star, Wreath, Holly, Candle, Gingerbread Man, Gingerbread House, Stocking, Poinsetta, Santa Bag, Present, Ornament, Mittens, Bow
How to Play Paper Plate Pictionary –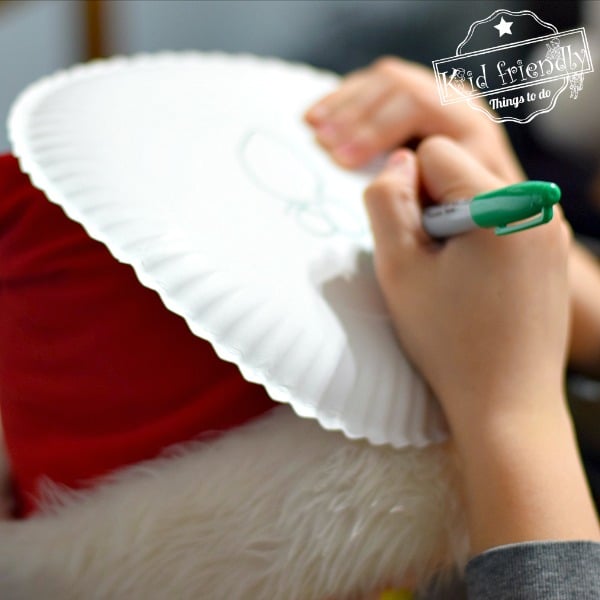 *Drawers will take turns on teams
*Teams will take turns going
The timer is set to one minute
The drawer will pick a clue card and decide how to draw it
Place a paper plate on the head and draw on the paper plate to represent the clue
Show the paper plate to teammates
*If needed the drawer can add more to the drawing, but the paper plate must go back on the head to eliminate looking
When the team guesses correctly or the minute is up, then the team's turn is over and it is the other team's turn
Play continues until all clue cards have been used up, or a team has won a certain number of decided on rounds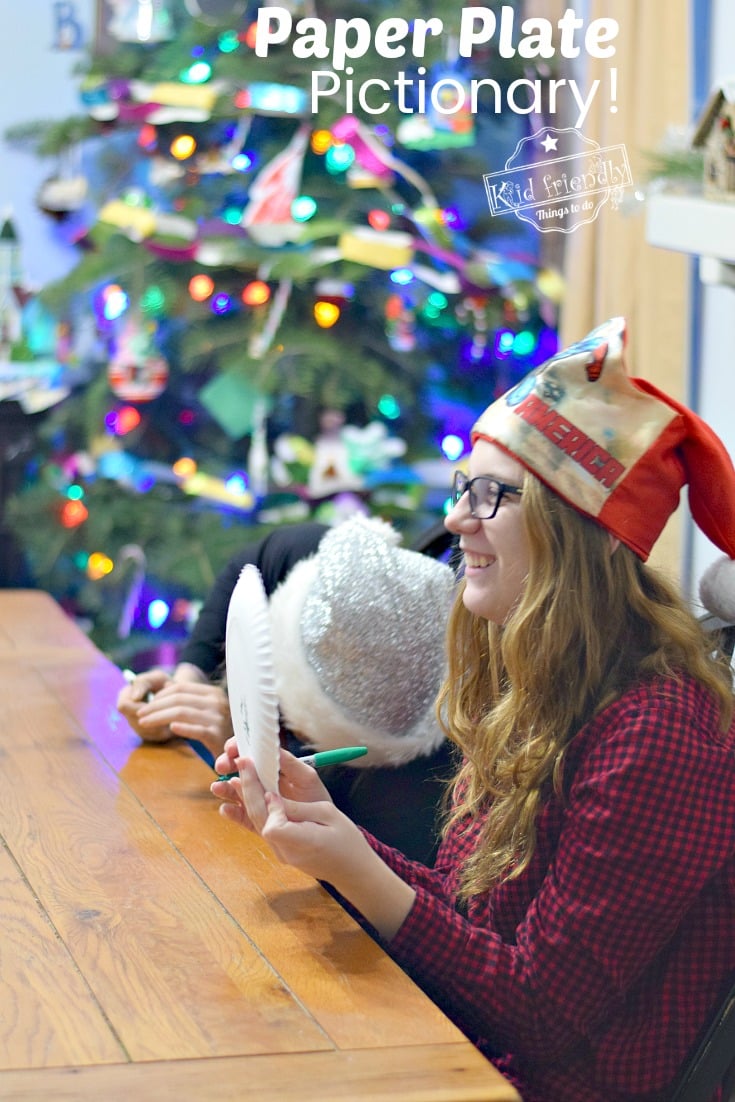 Enjoy!
~ Merry Christmas
Do you need more game ideas for your game night?
Check out…
Kid-Friendly Minute To Win It Games
Guess Who? – A Fun Guessing Game
Melissa – Kid Friendly Things To Do