Olaf Bowling – A Frozen Party Game for kids. This is such a fun game to play with the kids. Perfect for your Frozen Birthday Party. Easy to make and such a great activity.
Olaf Bowling Frozen Party Game
For the last month, I've been trying to find the time to bring this idea of an Olaf the Snowman Bowling Game to life. I saw a ghost bowling game in a magazine that used paper towels as the bowling pins. I thought that would be perfect for Olaf's body, and of course, his head would be the bowling ball. Let me tell you…we had so much fun knocking the paper towel over, over again. Who needs to pay for a bowling lane, when you have an Olaf bowling game at home?!
Are you looking for Frozen Party Ideas? Check out some of my other posts, like: 
You'll Need:
An 8 inch Styrofoam white ball
Large google eyes – about 2 inches wide
Orange feather for the carrot nose
Brown hemp or another cording for eyebrows, and hair
Black felt for his mouth
Black cording – optional
White foam for his tooth
Paper towel – about 6 rolls
Old fashioned clothespins without the hinges
Suggested Materials you can get through these Amazon Links:
Now: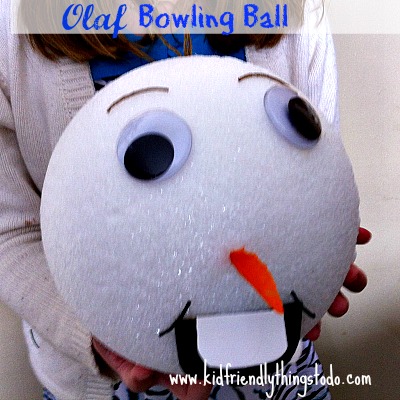 I started with my glue gun, attaching the eyes, and mouth
I added the big foam tooth
I added 1 inch long curved pieces of black cording to the mouth and secured them with glue
I stuck the feather into the ball – the stem of the feather goes right in!
Using the glue gun again, I added some details like Olaf's eyebrows
I used scissors to carve out a little hole at the top, and inserted 3 pieces of brown cording. I secured them with glue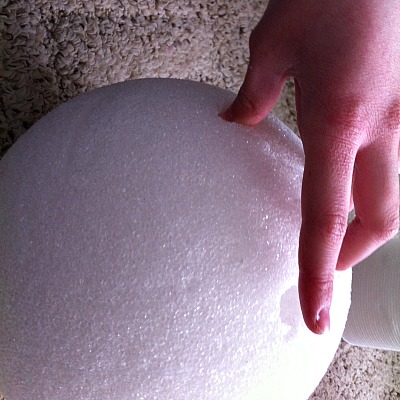 I flipped Olaf over and used scissors to kind of make holes into the bottom of the ball for the kids to place their fingers
I lined them up so his head would roll with the decorations on the side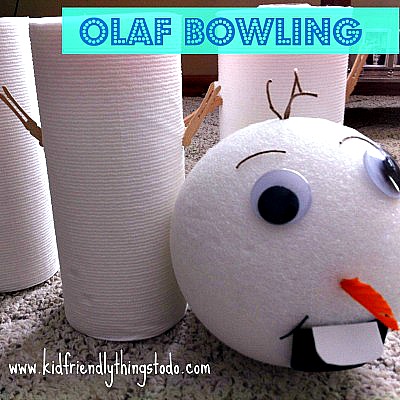 I used hot glue to add the clothespins to my paper towel for Olaf's arms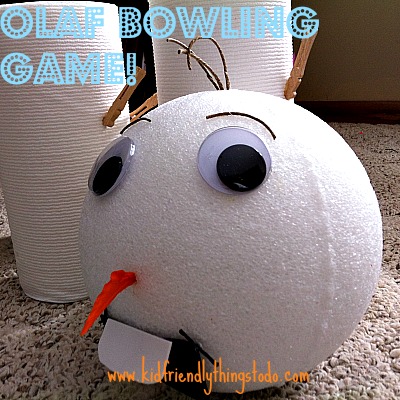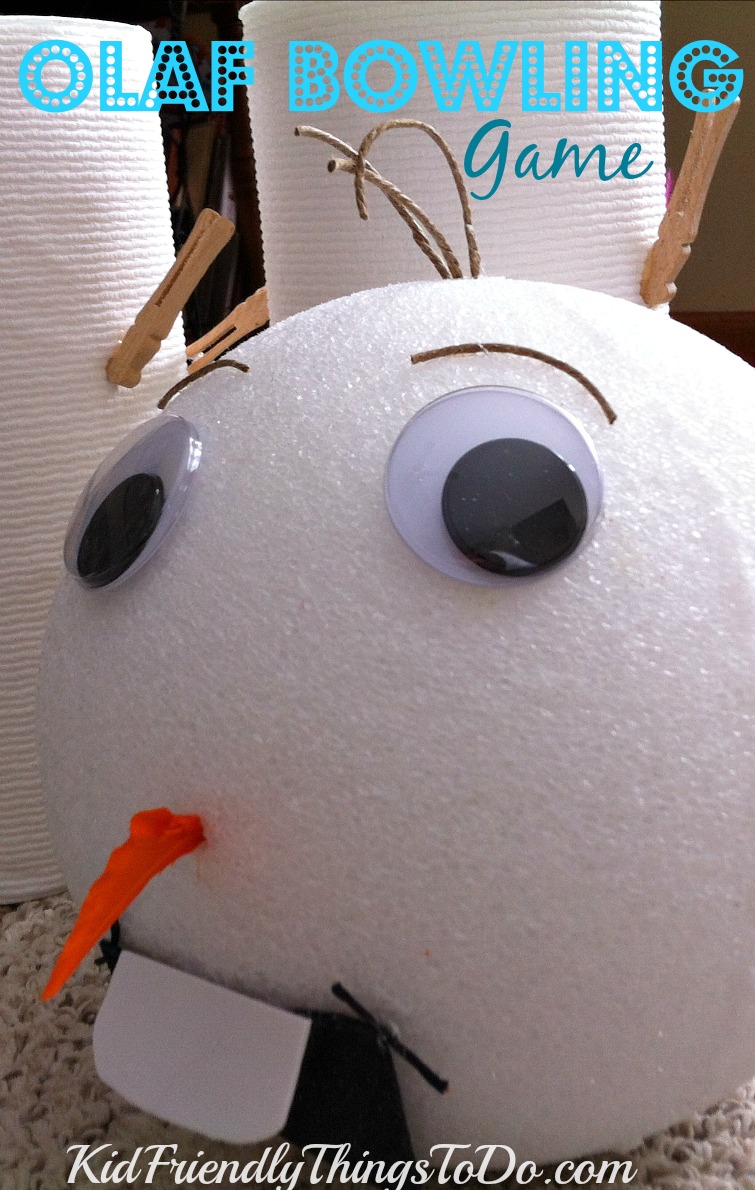 If you enjoyed this post on Olaf From Frozen Bowling Party Game – then don't forget to follow me and sign up for my Free Newsletter! New posts right to your inbox!
[box] [/box]
~ Melissa – KidFriendlyThingsToDo.com