Fishing in the driveway is a fun boredom buster to do with the kids and keeps them entertained on a long summer day. Easy to do and so much fun.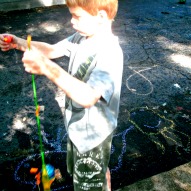 Fishing in the Driveway Boredom Buster with Kids
Here's an idea to bust boredom. My kids love fishing with their Papa. But, when Papa isn't around, and it's a nice day, I'll draw an ocean in the driveway with chalk. I attach rubber toys in place of hooks, and the kids fish for hours. Sometimes I put numbers on the fish, crabs, lobsters, jellyfish, and whales, and make a game of it.