Family Paper Weights Craft – A Kid Friendly Thing To Do
Posted by Melissa in Anytime, Arts & Crafts, Father's Day | 0 comments
Give dad or mom some paper weights for the office that will remind them of their loving family! Find some rocks in the yard, and paint them to resemble the kids! Dad or mom will smile every time they catches a glimpse of these on their desk! We made these for a Father's Day gift. Here's what we did to make these paper weights:
The kids chose rocks that they thought were most like their faces.
We painted our skin tone on the rocks – sort of – I ran out of white, so we're a little orange – a little 'oompa loompa" family!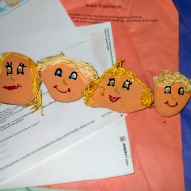 I added features with puffy paint
We used cross-stitch floss for the hair & hot glue to secure it!
**Tip – you can curl the floss for curly hair, the same way you curl birthday gift ribbon – Use the side of scissors and quickly pull the floss between the scissors and your thumb.