This is a great idea for dad this Father's Day (or Mother's Day)! Follow the prompt, I Love You Because…and, use a dry-erase marker to leave loving notes for dad (or whomever)! I found a frame that has a nice Family script, and believe it or not, enough picture frames to assign one for each of my four kids! Perfect! Here's what you'll need to do to make this sentimental gift!: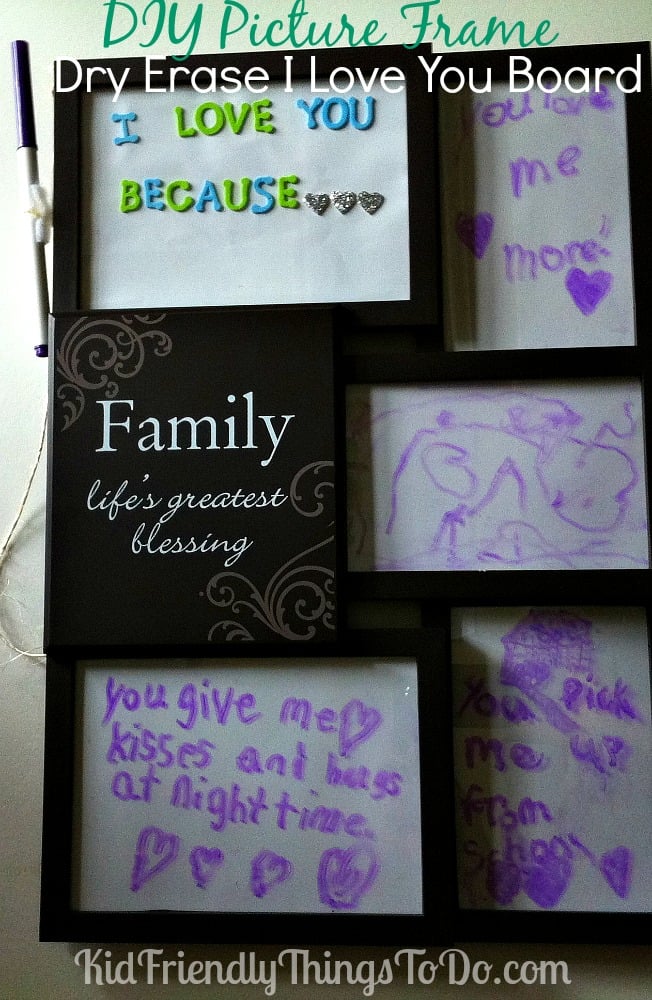 [box] [/box]
You'll Need:
A Picture Frame – You can use one large frame, or one with compartments, like I did
Foam letters
Dry Erase Marker
A Rope about 2 feet in length to hold the marker
Self Adhesive Velcro
A little eye hook to screw into the back of the frame
The fun part – Shopping for frames! Here's some suggested equipment, too:
[box] [/box]
Now:
Open the frame that you want to hold the foam letters
Flip the paper insert around to the back side and write I Love You Because… with your foam letters
If you have other frame compartments – open those and flip the paper inserts around as well. Just so you have a blank canvas to write on – no print from the frame company
Attach an eye hook to the back of the picture frame – somewhere along the edge to tie one end of your rope or ribbon
Attach one end of the rope to the eye hook
Tie the other end around the marker
Using self adhesive Velcro – cut the Velcro pieces to fit the side of the frame and the marker and adhere those
You are done!
Now, enjoy the fun of leaving notes!
If you enjoyed this post: DIY Dry Erase "I Love You Because" Board
…then, get social with me! Can't wait to see you, later!
~Melissa – KidFriendlyThingsToDo.com