Here is a fun and easy holiday party game. Pair this game that involves "whole class" participation at once, with a simple craft, and you've got yourself a fun-filled, yet simple Holiday Party. Fun and done. Love that!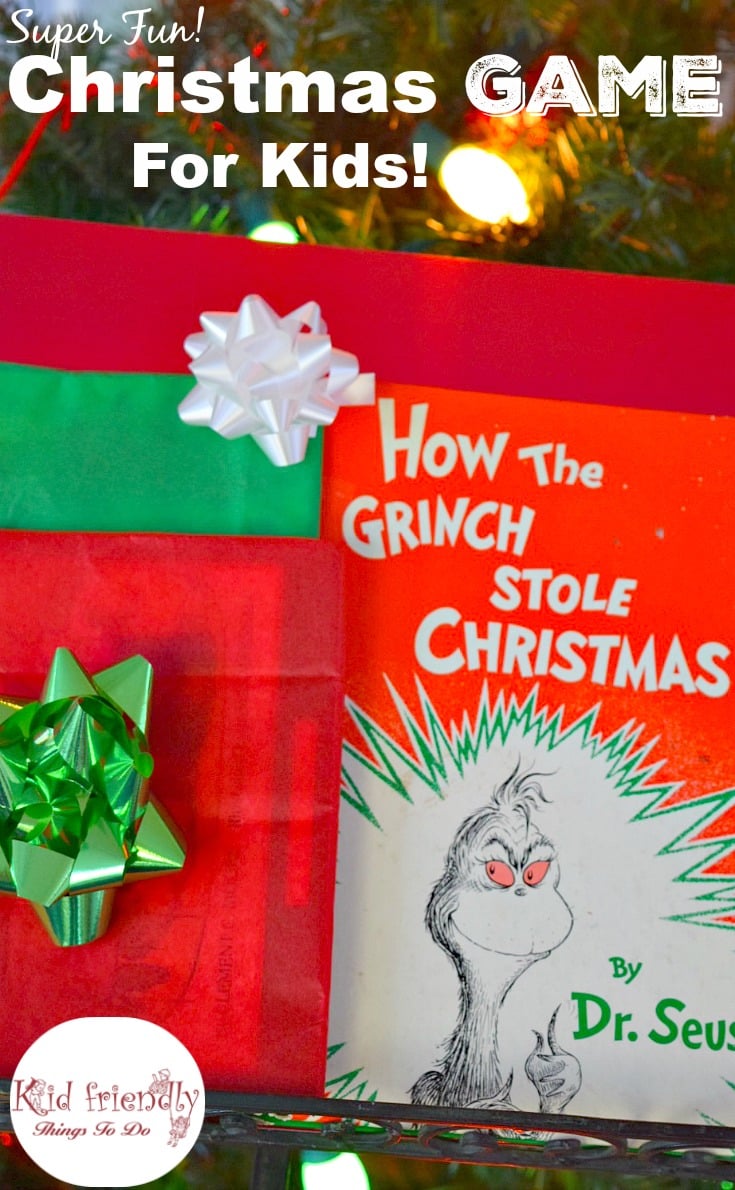 Christmas Party Game for Kids
Are you looking for Christmas Party Games? We have loads of them! Try…
This game is similar to hot potato. But, the kids pass wrapped books in a circle while you read "How the Grinch Stole Christmas". I'm telling you, kids of all ages Looooove this game! I've done this with kids in preschool and even for the kids in upper elementary school.
Tips and Tricks…
The book replaces the usual goody bag that they usually get
*You can replace wrapped books with any kind of goody bag or wrapped gift
Here's What You'll Need:
Assorted books – A book for each child – wrapped without names. This is important!  (There is a link to Scholastic, below) 
*alternative to books – goody bags filled with fun items, or other wrapped gifts
"

How The Grinch Stole Christmas

" by Dr. Seuss
$$ Money Saving Tip! *I usually try to buy my books for the kids on Scholastic. I do this way ahead of time, to allow time for delivery. Each month, Scholastic promotes a book or two for $1.00 or even a little less. On the computer, you can search each month's flyer by age. You can just flip through the flyer to find the books on sale that month! You can even go back to the previous months to find more books for $1.00 each. $1.00 per kid is not bad when you think about this being 1 game (and possibly the goody bag, as well) for the whole class, versus several party games you would have to spend money on. You can even find your teacher's classroom by teacher name and school. Order the books, and have them shipped to the classroom. Let your teacher in on it, and they'll let you know when they get them. The classroom receives bonus points towards free books, and you receive free shipping! Don't you love that?!
Here's how the game will go:
Have them gather around you, in a big circle, on the floor
Tell the kids you are going to hand everyone a wrapped present
Instruct them NOT to open their present, just yet. Be quick here! You know they want to tear them open! 🙂
Hand the books out – 1 per kid
Have your  

How The Grinch Stole Christmas

book ready.
Tell the kids, you are going to read

How The Grinch Stole Christmas

, and every time they hear the word WHO, they should pass their wrapped book to the next person (going clockwise).
*You'll need to read fast! It's a looooong book! It will take you about 20 minutes to get through the book. It's a great time filler. Go as slow or as fast as you need.
This gets fun on certain pages when WHO is mentioned several times. They should pass it again, and again every single time they hear the word WHO.
Now, when you have finished reading the book, they should have ONE wrapped book in each lap.
The wait is over because now they get to OPEN THEM, AND DISCOVER A NEW BOOK TO TAKE HOME! Yippee!
Side note – *I did this game for my son's fifth-grade class, last year. They were hysterical. They were practically throwing the books to get them out of their hands! I did a little investigating about a month before the party. I found out from my son that the kids were really into a series that the teacher was reading to the class. I was lucky enough to find the next book in the series for $1.00 each on Scholastic. They were so excited to take those books home over winter break. I've also done this with pre-school classes. It's always a big hit.
*Years ago, my co-room parent did this at a class holiday party. I loved the idea, and think it's great for any party!
Don't leave without signing up for instant access to fresh, and best of all, free ideas from Kid Friendly Things To Do!
[box]
~Melissa KidFriendlyThingsToDo.Com – Providing fun kid-friendly activities, recipes, ideas, and crafts to do with kids