These Skeleton Yard Decorations for Halloween crack me up. Really…you could pose a skeleton into just about any normal daily event, or task, and it becomes spooky! Well…spooky with a side of hysterical. Come on in and I'll Share These Creative Skeleton Yard Ideas…

Halloween Skeleton Decorations
I am so excited about these Skeleton Yard Scenes. Halloween is one of my F-A-V-O-R-I-T-E times of the year.
 Here are some of My top picks from Amazon – skeleton decorations you might need or even want for these fun ideas –
(affiliate links)
[box]         [/box]
Tips on Posing Skeletons…
How do you get a possible skeleton to stand up?
Pound a metal rod or long wooden dowel, that is as tall as the skeleton into the ground. Stand the skeleton in front of the rod and secure it to the rod using rope or zip ties
What are some ideas for posing my skeletons for Halloween displays?
Try to think of everyday scenarios that you would see people doing – like, working at their desks, taking a bubble bath, decorating for Halloween, decorating for Christmas, shopping, walking the dog, riding a bike, etc…
Let's Get Started…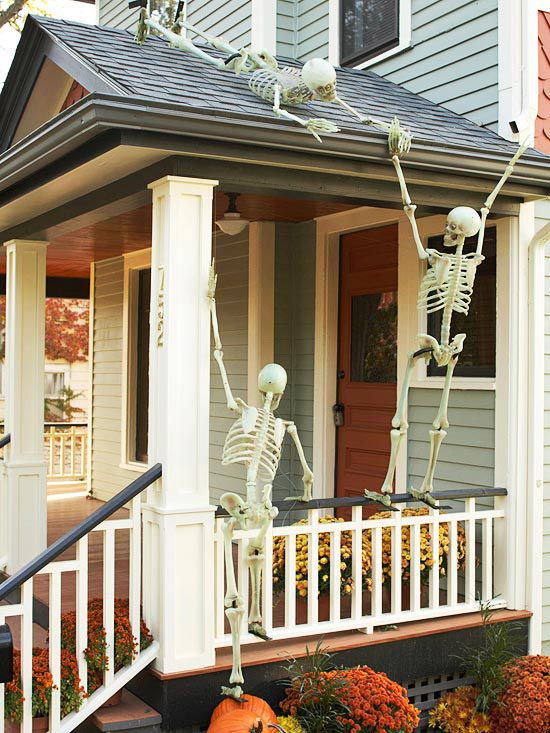 This Skeleton Display is from Better Homes & Gardens. I have a few from their magazine. Clever stuff.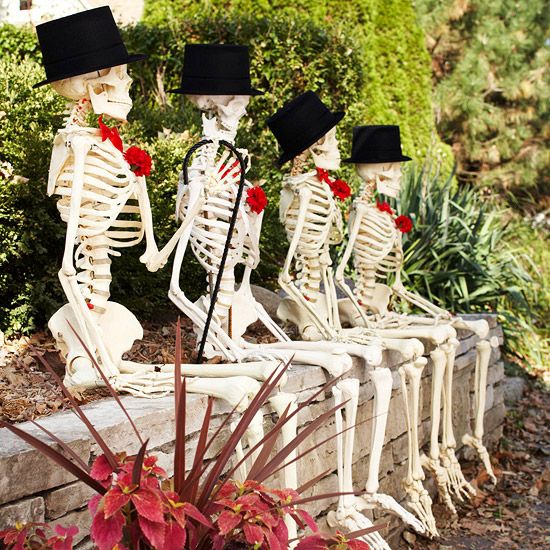 Another Skeleton Yard Scene from Better Homes & Gardens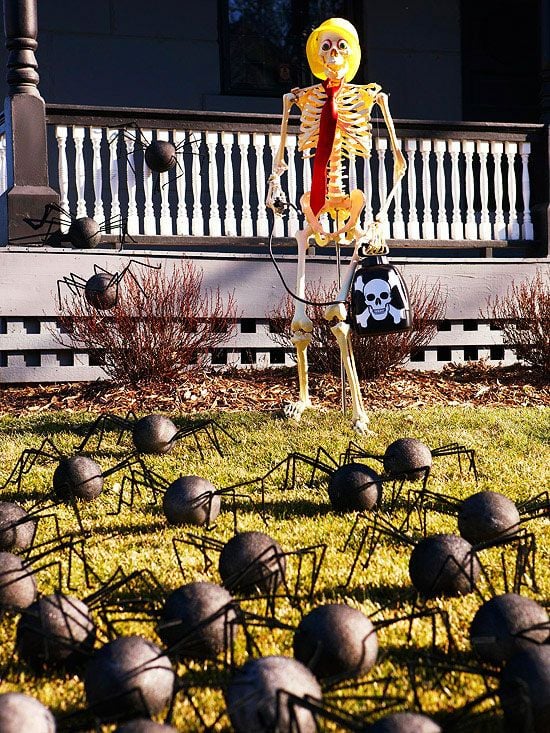 A skeleton that's afraid of Spiders.  Here's the link to this one from Better Homes & Gardens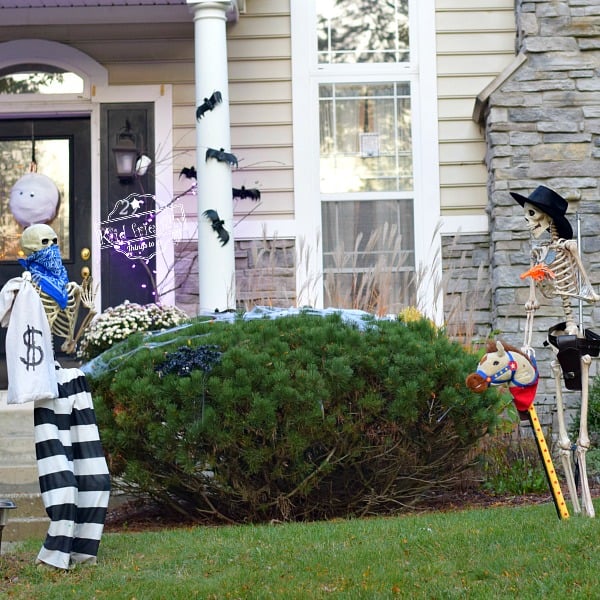 The sheriff caught the robber – red-handed!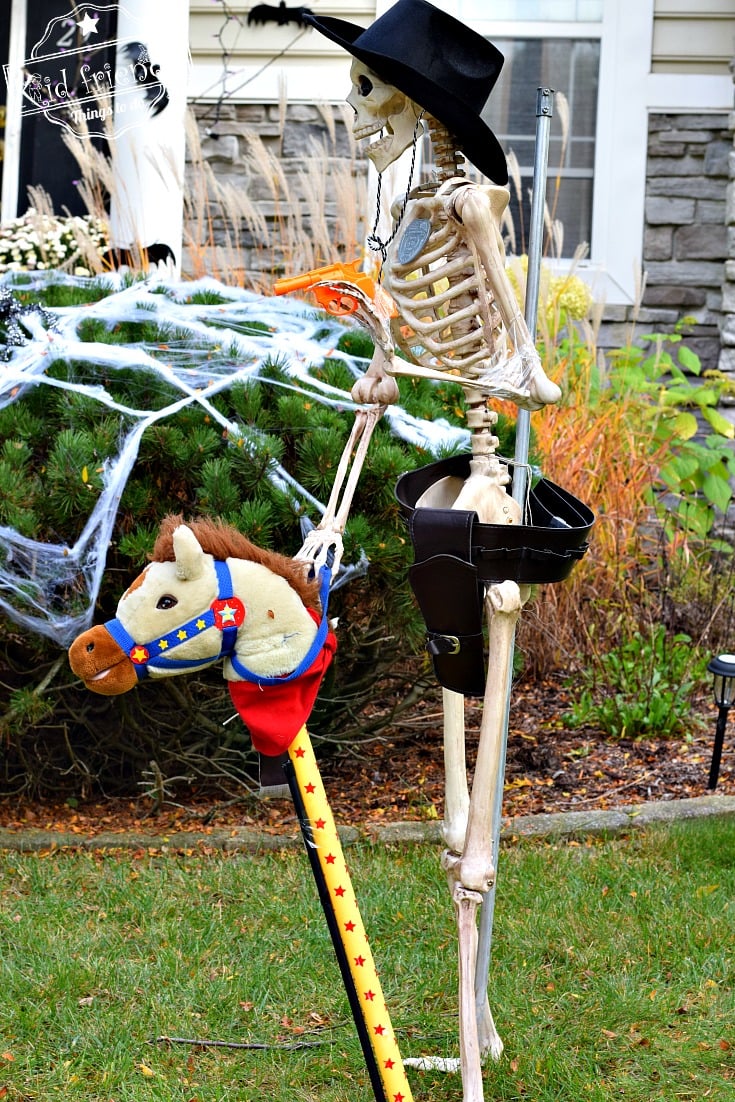 I especially love the horse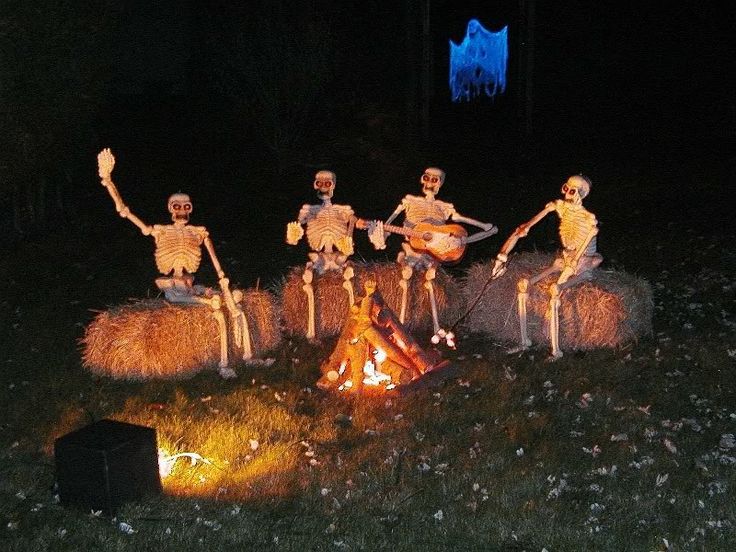 I found the tutorial on creating this Awesome Campfire Scene. I might just be doing this one! Click Here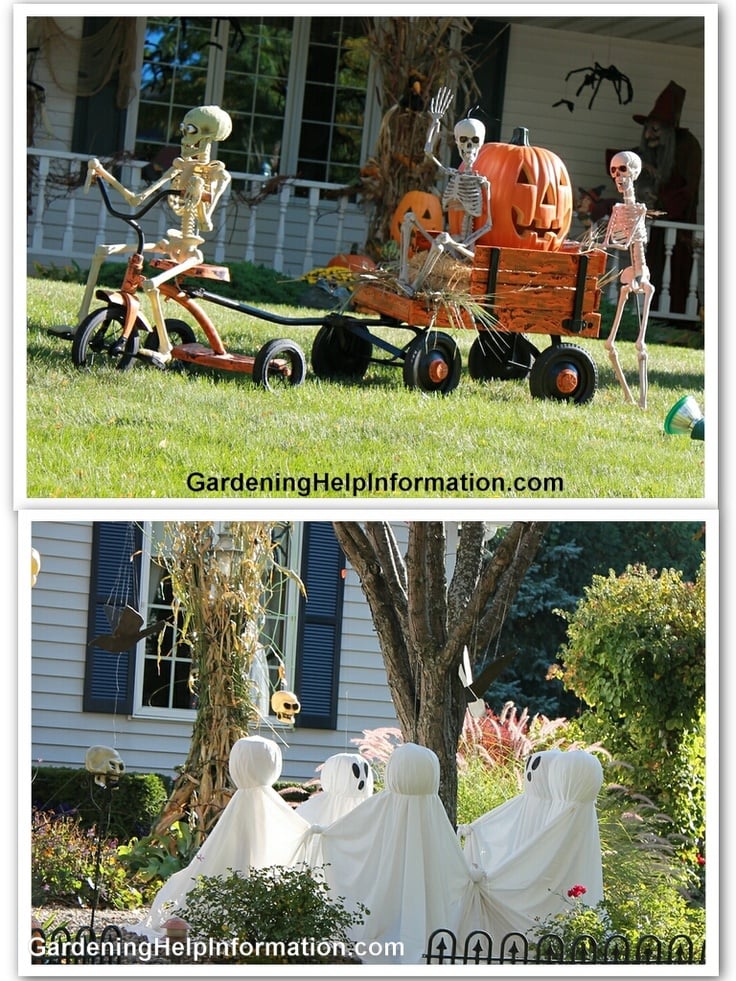 So cute! I love the skeletons with the bike and wagon. Like the pictures say…from GardeningHelpInformation.com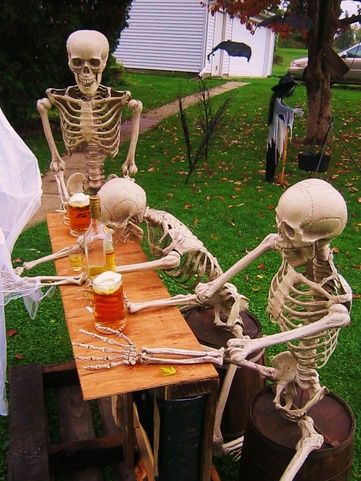 I could see my brother-in-law setting up this Skeleton Display. This one is from Halloween Forum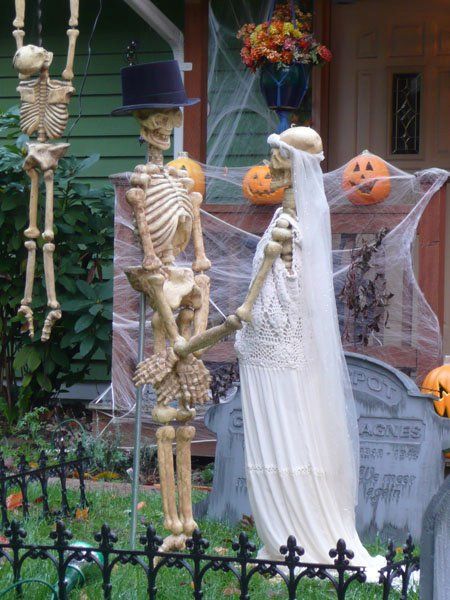 No source for this Clever Skeleton Display of a Wedding Ceremony in a Graveyard.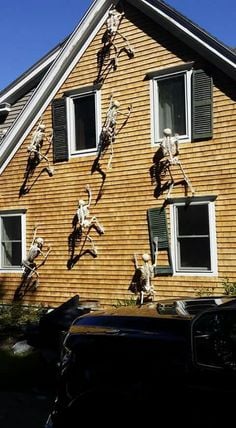 This one does not have a link – Source – Pinterest. Pinner says to spray paint with glow-in-the-dark paint for a fun nighttime effect.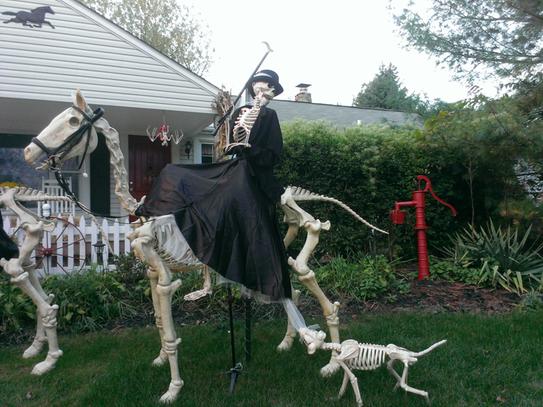 Here are Skeletons in a Fox Hunt – found on Home Depot
Also, for a much closer look…check out the owner's YouTube Video – Titled: Halloween Skeleton Horse Yard Display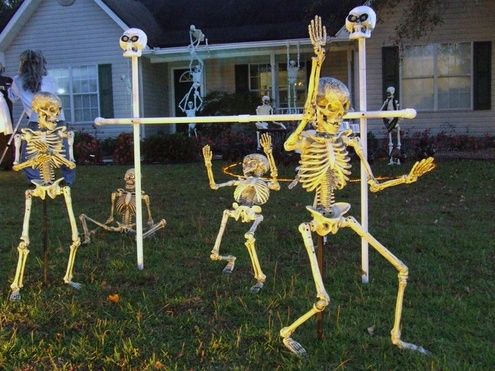 Skeletons doing the Limbo! This funny Skeleton Decoration is found on Halloween Forum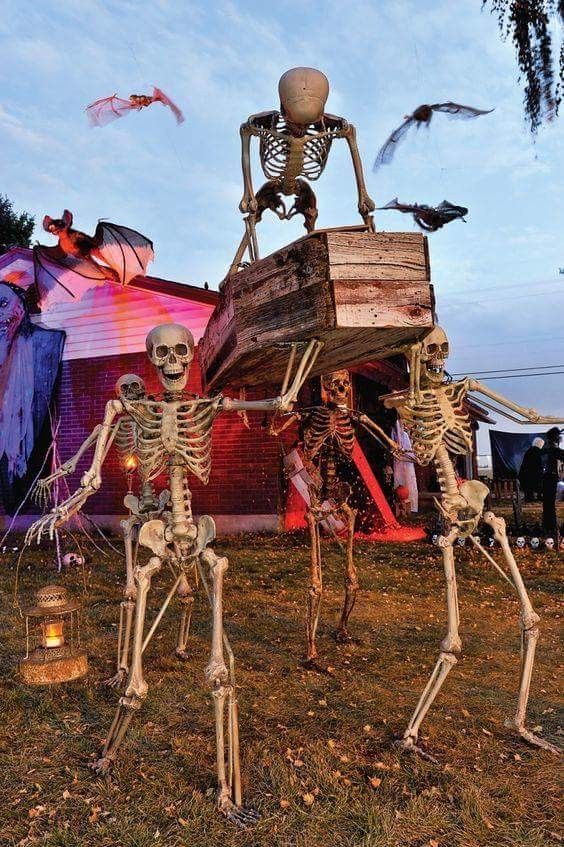 A party at the grave Skeleton Display – No source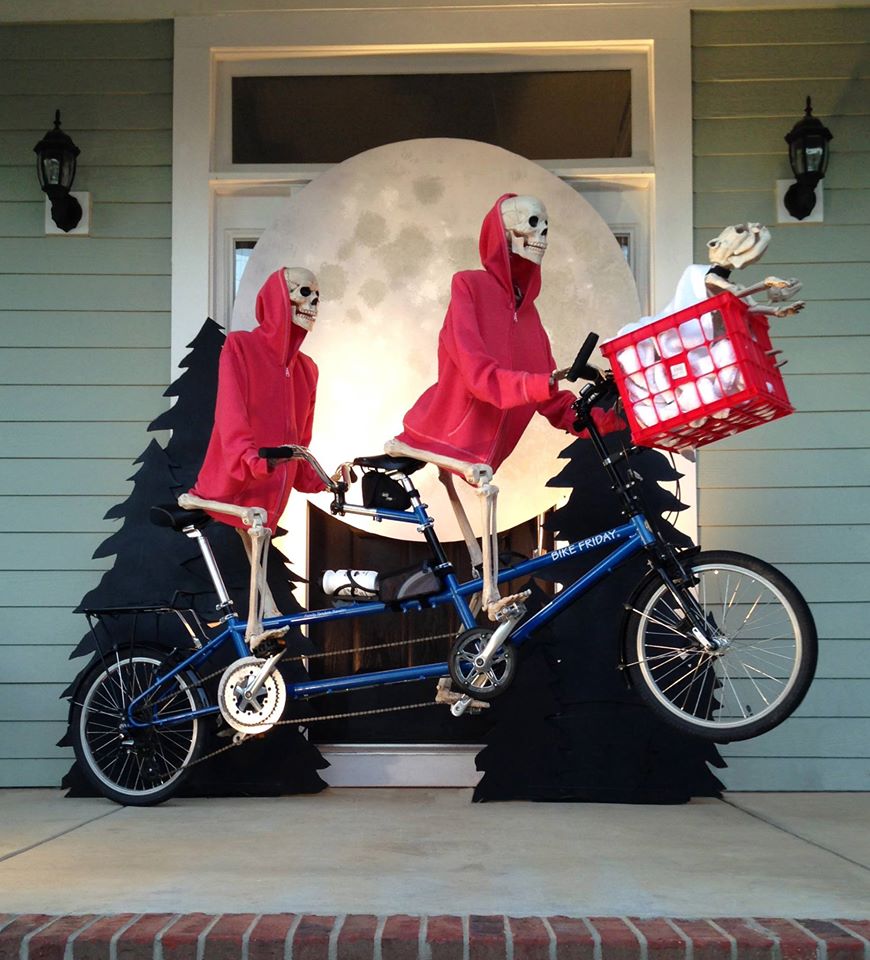 I have to share a couple of images from Baxter's Skeleton. They are so clever and so much fun. Here is a  Skeleton version of ET. The Baxters have loads of ideas on their Go Fund Me page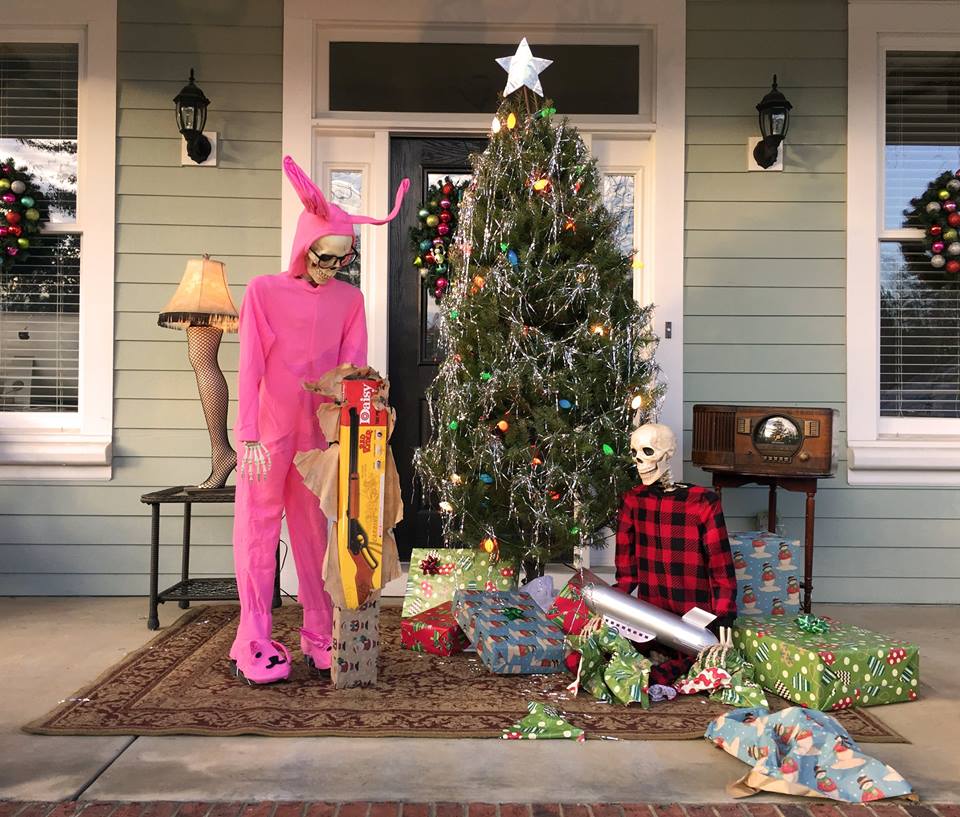 They also have a Facebook Pageshowing their skeleton ideas. Here's another Baxter Display – A Christmas Story Scene with Skeletons!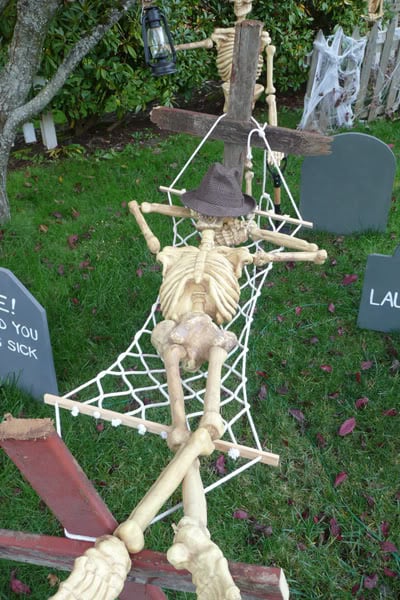 Make a funny graveyard with skeletons hanging out. After all, a graveyard would be their yard! Link Here – Halloween Forum
Oh my goodness! What kid wouldn't go crazy over this one? From Censational Girl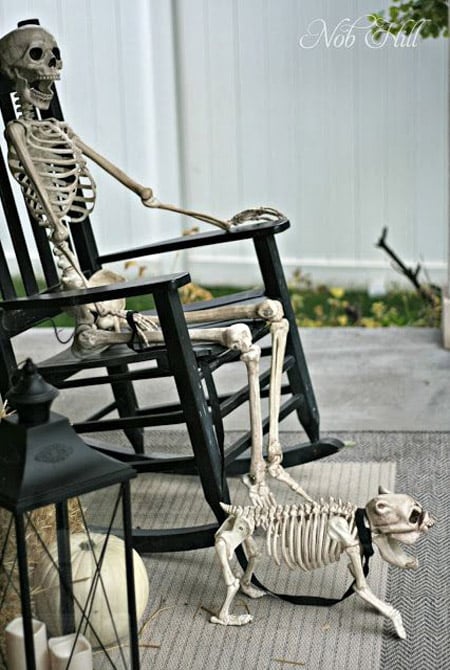 Rocking Chair and Man's Best Friend – from Easy Day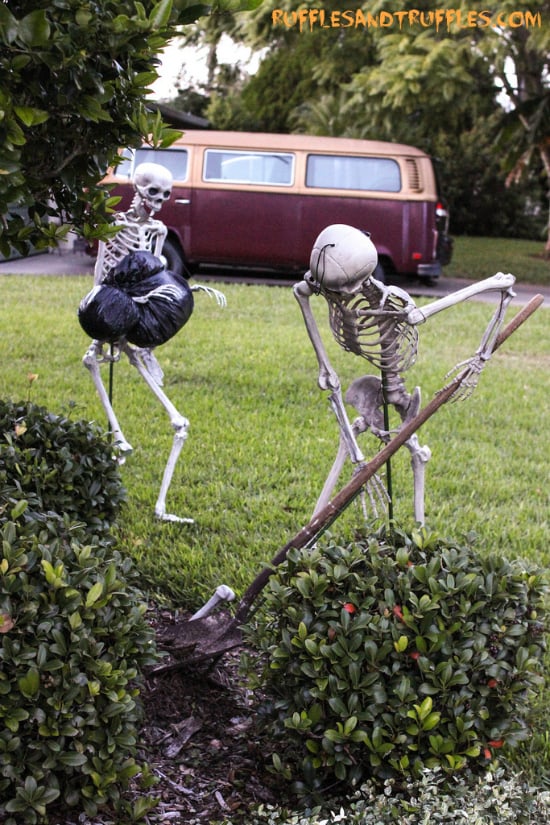 This one is a little spooky, especially with the van in the background. From Helpful Homemade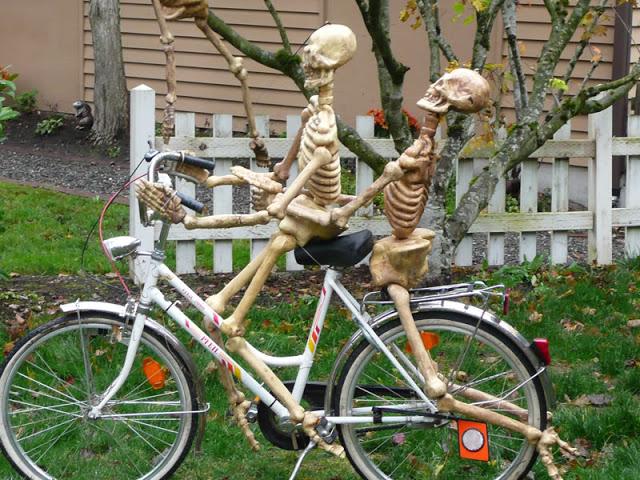 Skeletons having fun on a bike found on Cot Cozy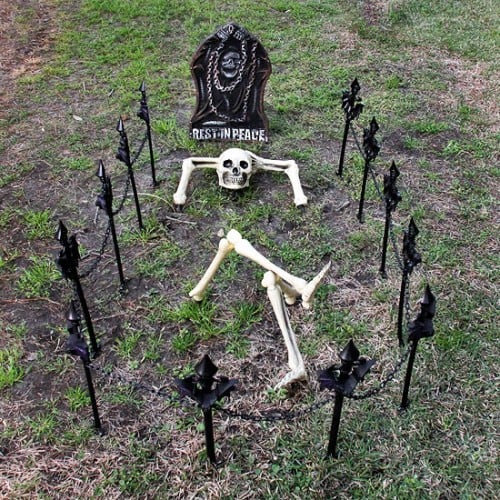 Just chillin' found on Pin Lavie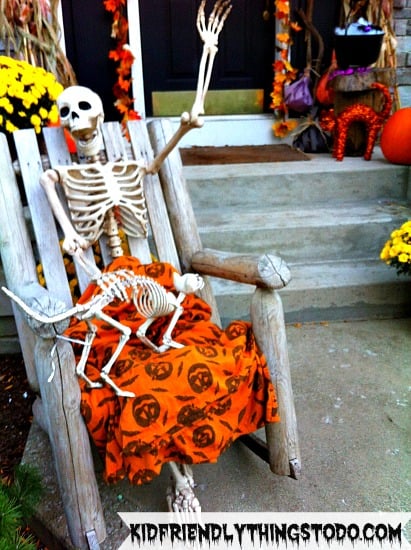 Did you find some fun and spooky inspiration?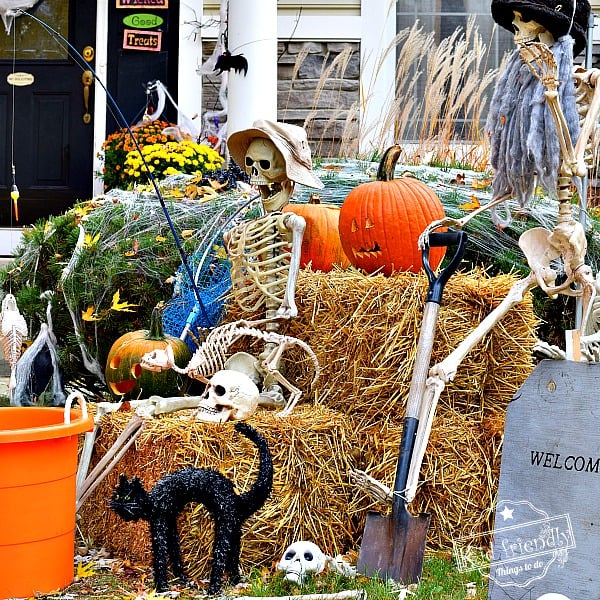 I know that I did. Happy Halloween, everyone!
~Melissa – Kid Friendly Things To Do