A Melting Witch Dessert – A Fun Food – Kid Friendly Things To Do .com
Posted by Melissa in Birthday/Holiday & Celebration Dish, Birthdays, Dessert, Easy Family Recipes, Game Ideas, Halloween, Halloween, Hotel Transylvania Ideas | 0 comments
"I'm melting, I'm melting!" Last month, I made a witch dessert by just decorating the top of a very large cookie! The great thing about this decoration is that it's not a million custom cupcakes. You could decorate the top of a cake, or a batch of brownies! I had a lot of fun using gummy worms, and a large pretzel for a witch broom! I used colorful string licorice for crazy witch hair! Here's what I did to make this fun dessert:
If you want to make the giant cookie to decorate then, Here's the recipe to the most amazing pistachio bars, eva!
To Decorate Your Dessert, You'll Need:
Green Frosting
Witch hat:
You'll Need:
A sugar cone
A round cookie
Chocolate frosting
black food coloring
licorice for hair
Broom:
Pretzel Rod
Gummy Worms
Licorice
Legs:
Plastic Straws
Black construction paper – shape black boots
Spread green frosting over the middle of your cookie
Hat & Hair:
On one end – Lay the licorice out like I did – You can trim the bangs later
Color the chocolate frosting black by adding the black food coloring
Saw a little bit of the sugar cone off – about an inch
Frost the cookie, and the cone – set the cone on top of the cookie
If you want, add a little piece of licorice for a ribbon around the hat
Place it over your witch hair – trim the bangs if necessary
Broom:
Add gummy worms to the end of a pretzel rod, and use a piece of licorice to tie them on
Legs:
Use plastic straws as legs
Cut boots out of black construction paper, and tape them to the ends
Insert the straws into the end of the cookie – opposite the hat, and hair!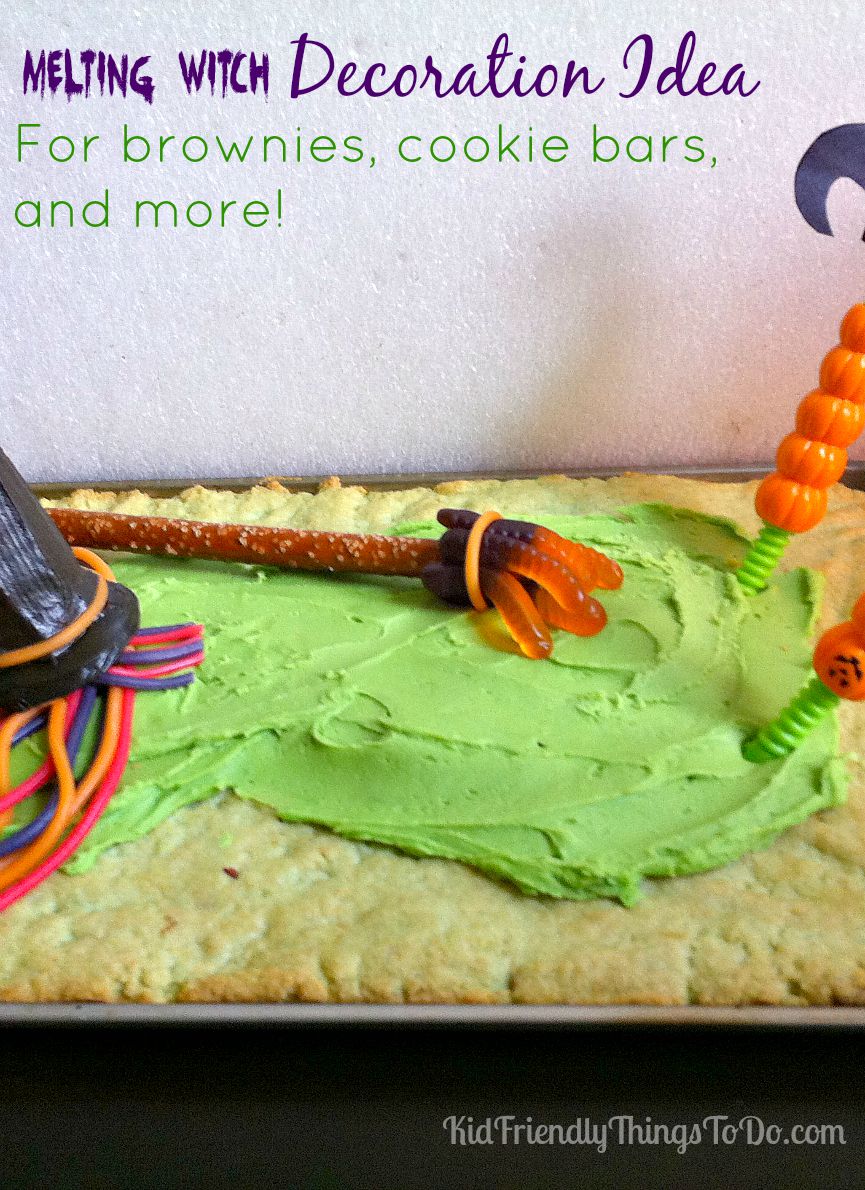 ~ Melissa – Kid Friendly Things To Do .com