I have a few new Halloween fun food and craft ideas that I'm dying (see what I did there?!) to get out to you this week. I'll start back up next week with more recipes in the mix. It will be time – in blog land, that is, to switch holidays, and I'll be concentrating on Thanksgiving recipes, crafts and ideas! I am so excited about what I have in store for you! Today, for my Halloween Fun Food Idea, I have a Melting Witch Fun Ice Cream Treat Idea for Kids on Halloween that is so easy to make and adorable! Wickedly Adorable! Woo Baby! I'm on a roll, today! 😉 Come on in, and I'll share this fun food idea with y'all!: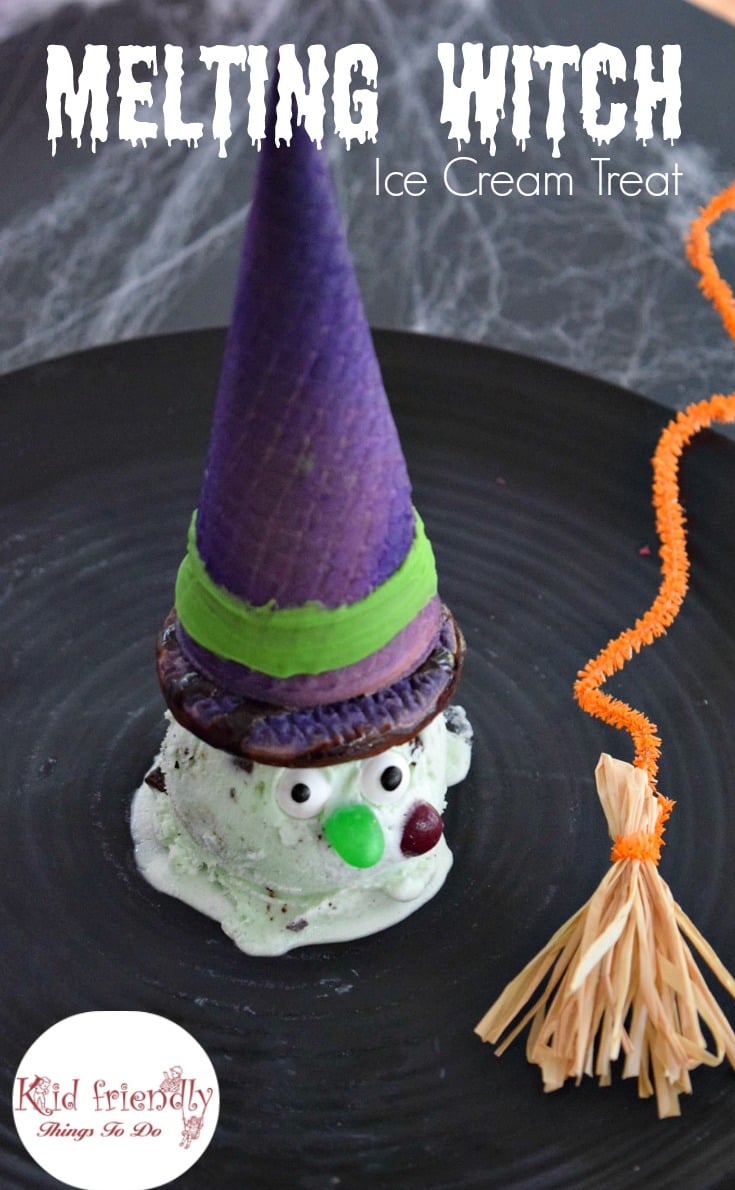 Here's what you'll need for this Halloween Fun Idea!
A sugar cone
Spray Color Mist – Find this in the aisle with cake decorating supplies
A large round cookie that is larger than the top of the sugar cone
lime green chocolate melts – I found a fun, and simple new product for this. It's also in the cake decorating aisle. They now have individual melting baggies!
Green ice cream or sherbert
Candy eyeballs
A purple round candy for the wart – Gross, but so necessary!
Green jelly bean for the nose
Now:

Scoop out the green ice cream onto individual plates, or on a baking sheet lined with wax paper
Freeze until good and firm
Meanwhile, coat your surface with wax paper, and spray mist the sugar cones, and if necessary – the cookie
Melt your chocolate melts, and if you have the handy dandy baggie, snip the corner and make a line around the brim of the hat – You can spread it out with a knife, if needed. I needed to. I was in a rush to get this done, and my chocolate was already setting up before I had a chance to squeeze it out. I used a knife for damage repair
If you don't have a handy dandy pouch, then just place some in a baggie, seal and snip a corner – Use that as a piping bag for your chocolate
Use some of the melted chocolate to secure the upside down sugar cone to the cookie
You can pull the frozen green scoops out and decorate them with the eyes, wart and nose
When you are ready to serve, place the witch hats on the Melting Witch and enjoy!
You Don't Wanna Leave Without Signing Up For Instant Access To All New Ideas. Let's Have Some Fun:
[box]