There's so much to share with you today!  First, I'd like to share this fun and easy Witch Halloween Hot Chocolate Kit Idea for your kid's Halloween party or even for a fun treat at home. The kids helped me make these adorable witch hot chocolate kits last weekend. I love how they all turned out and I can't wait to show you how you can easily make them at home. Then, I'm excited to introduce you to a great site called Basic Invite for all of your online party invitation needs! Come on in and I'll share it all with you…
This post has been compensated by Basic Invite. All opinions are mine alone.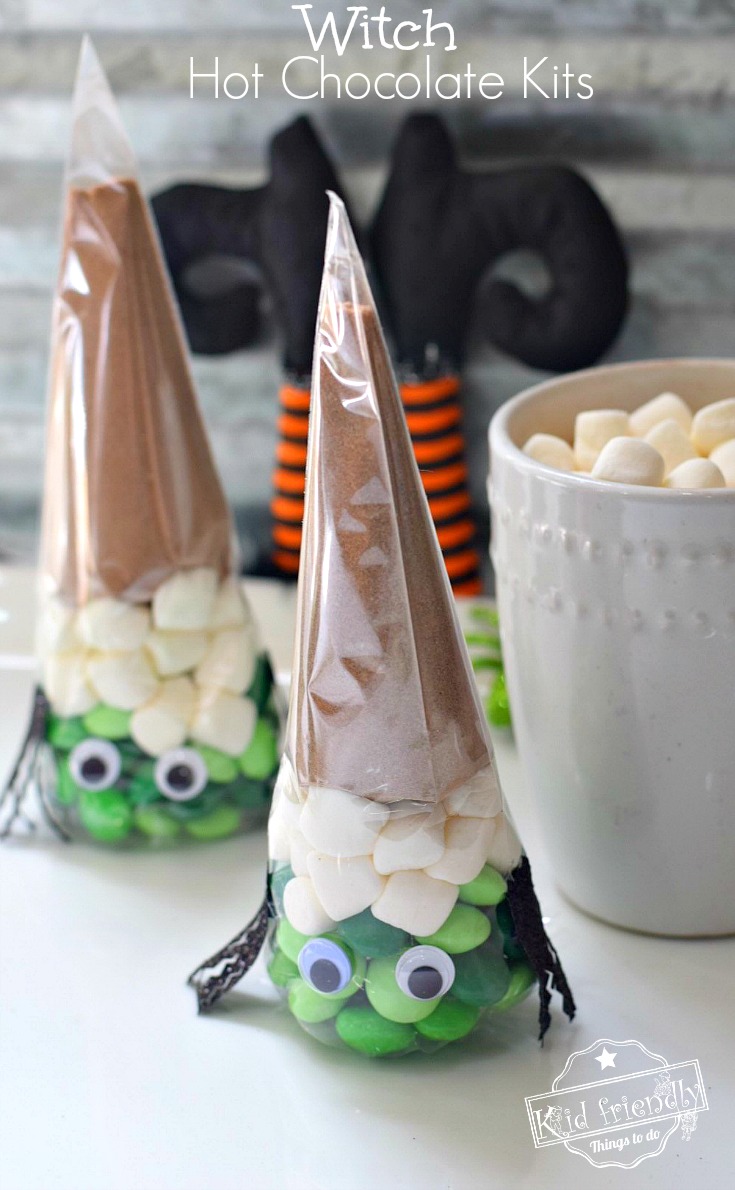 Normally witches aren't too cute, but aren't these adorable?! They will make the perfect Halloween party favor.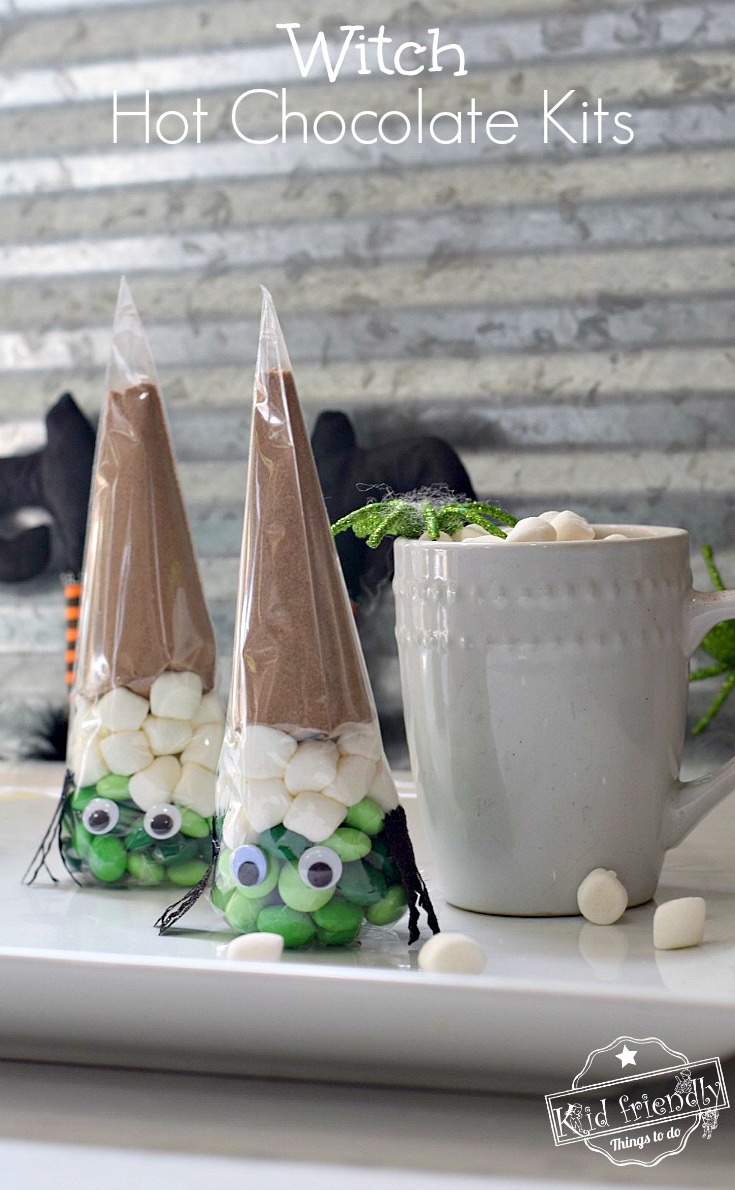 It took me a few tries to transform my witch on paper to the ones you see here. I had planned on a hat buckle to complete the kit, but it was a struggle to make it look good. Then I remembered this site is all about "Keeping it Simple and Fun", so I ditched the buckle. Sometimes less is more – you know? Once I finally decided on the right measurements and the right look, the kids and I doled out a dozen Witch Hot Chocolate Kits in no time at all.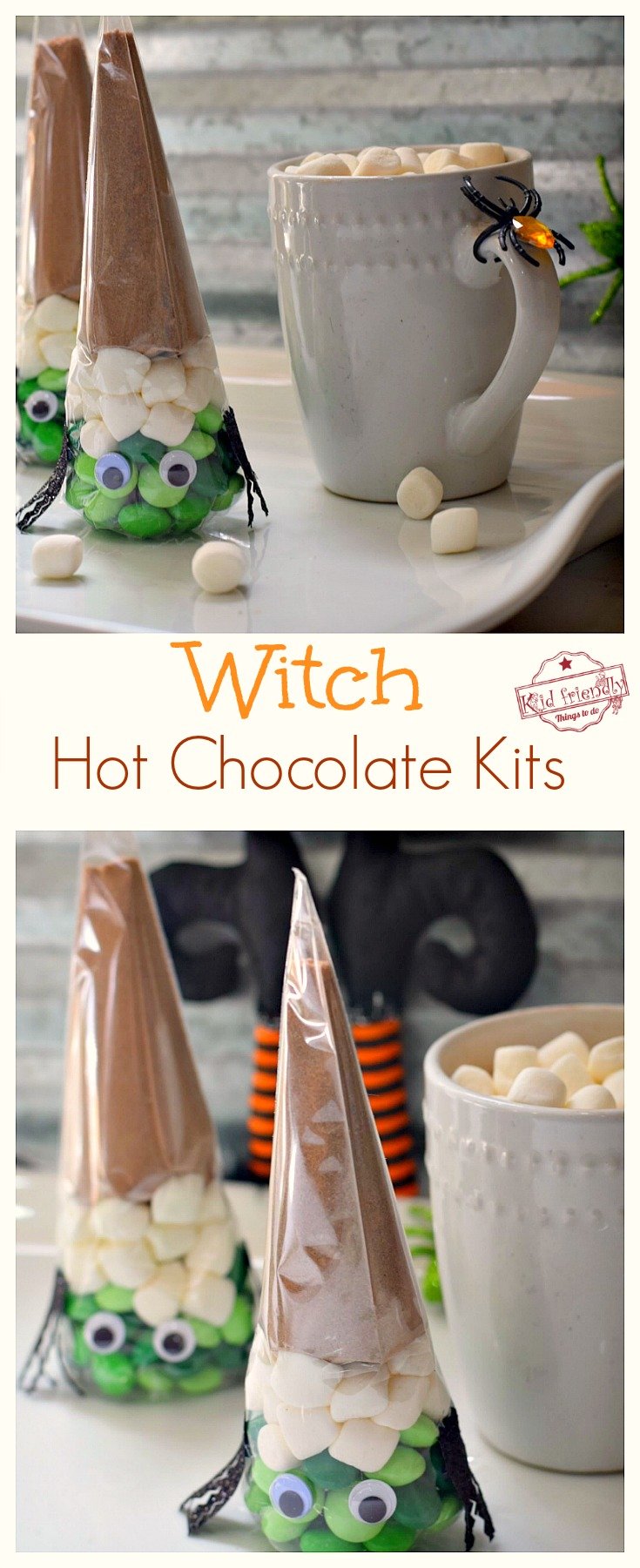 And, these are the finished result. No buckle needed! They are just perfect for your party Hot Chocolate Bar or a fun Party Favor to take home.
If  you're looking for Halloween party foods, check out some of my other fun ideas, like:
Are you ready to make these fun Halloween Hot Chocolate Kits? Let's make sure you have everything you'll need…
Here's What You'll Need To Make Your Own Fun and Easy Witch Hot Chocolate Kit :
(for each witch hot chocolate kit…)
1/4 cup of hot chocolate
2 cone-shaped treat bags
twist ties
1/4 cup of mini marshmallows
1/4 cup of green chocolate candy – I used Mint Flavored M&Ms so our hot chocolate is Mint Flavored. You could always use green chocolate chips or just green chocolate candies
Extra Craft Supplies:
Google eyes – any size you have is fine, but I like the ones on the medium to large size for the extra cuteness factor
Black ribbon – I used some sparkly black ribbon that is 5/8 in. wide
Craft Zig-Zag Cut scissors
Warm (low-temp) glue gun with sticks or Fabri-tac glue

First off… add 1/4 cup of hot cocoa to your cone treat bags
pack it down so there is very little air, twist and use a twist tie to secure the cone bag closed
trim the excess from the cone bag that is above the twist tie
place that hot cocoa filled bag into another cone bag
*the above step is needed so the hot chocolate doesn't leak out into the marshmallow and candy sections

Now, place 1/4 cup mini marshmallows over the sealed hot chocolate
place 1/4 cup green candy over the marshmallows
twist and seal the cone bag
leaving, maybe an inch – trim the excess from this bag too

stand your bags up by pushing down on the chocolate candies so they kind of level off and the bag stands upright so the pointed tip is at the top
finish your bags with witch hair and eyes
witch hair:
using your zig-zag cutters, cut about 2 inch long strips from your black ribbon
now, cut 4 small strips going up your ribbon – stopping at about 1/4 inch from the top so you don't have to glue on separate strips of witch hair
*take a look at my image above to get a better idea of what I'm talking about
Glue the witch hair on either side of your witch face and eyes in-between
That's it – I gave you super detailed and long instructions, but it's super easy. Once you get one done, it's a snap to finish the rest
Thanks for sticking around to let me show you all of the sweet and super fun online invitations and following me all the way to the end for the Witch Hot Cocoa Kit Idea!
Happy Halloween!
~Melissa – Kid Friendly Things To Do
Here are my top Amazon Picks for this Fun and Easy Witch Hot Chocolate Kit Idea for a Kid's Halloween Party:
(affiliate links)
[box]  [/box]
Speaking of parties, I'm dying to get to the second half of my sharing fun. I can't wait to show you a sample of the Online Party Invitations I mentioned before, from Basic Invite:
Here are just a few of  the Online Birthday Invitation Options: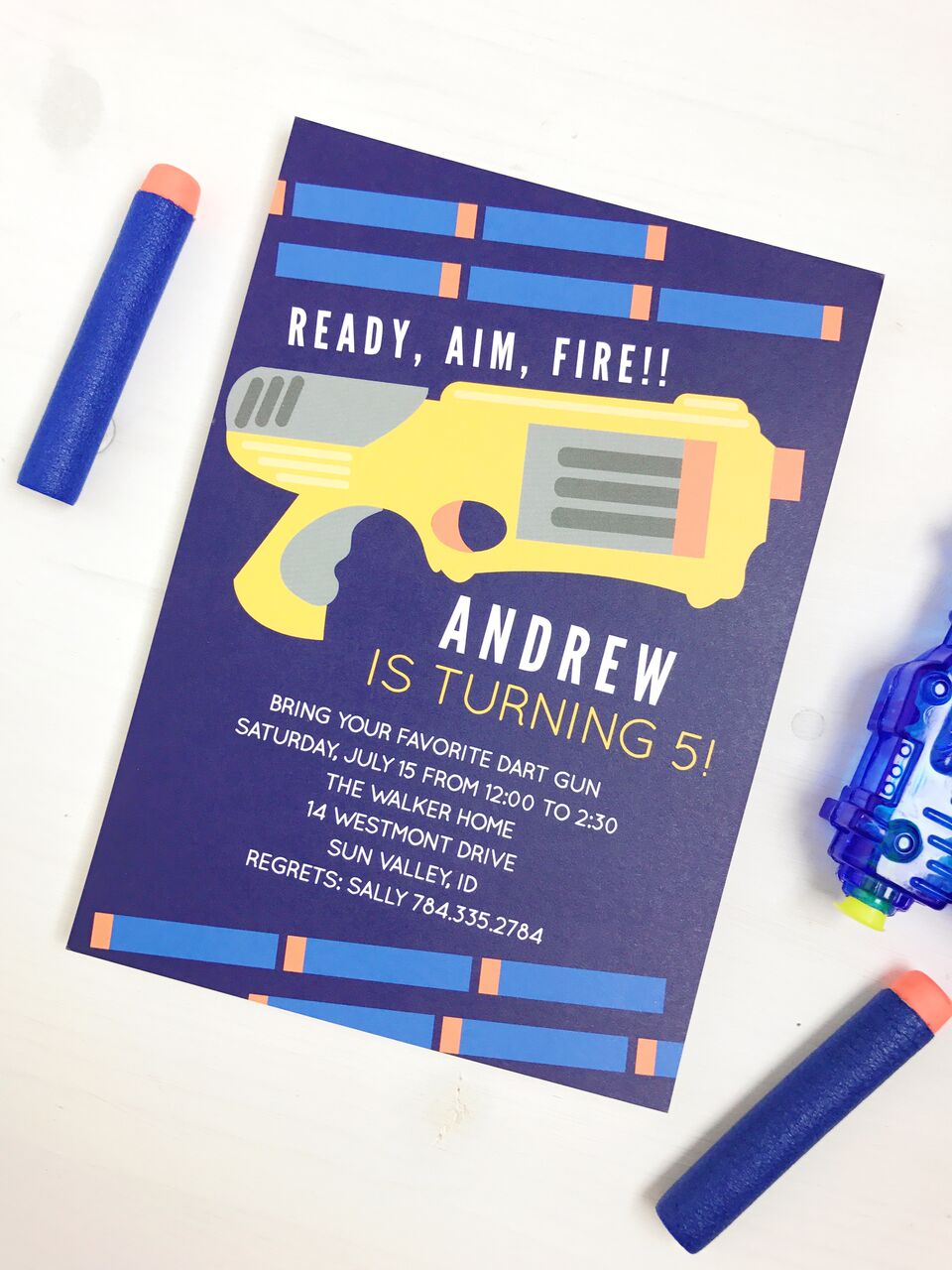 If you didn't know already, Basic Invite is a convenient place to shop for your Party Invitations Online
I personally adore these Kids Invitations. I don't know about you, but this Nerf Gun Party Invitation would be perfect for both my girls, my girls, and my husband! The nerf wars in the yard have definitely kicked up a couple of notches this summer! I love this invitation!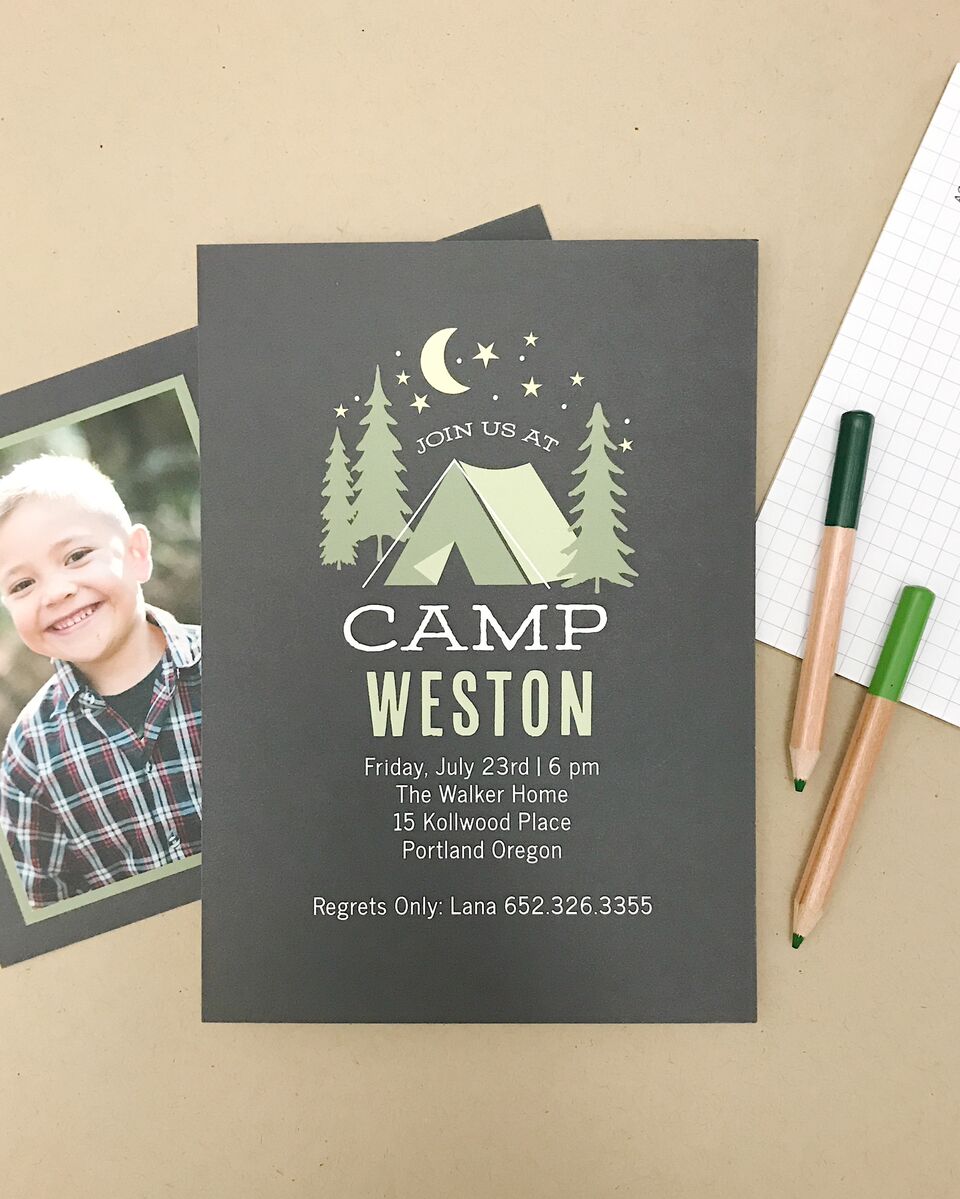 This would be another family favorite. How about a backyard campout birthday? Fun times! Basic Invite has so many Personalized Birthday Invitations to choose from. There is a custom design opportunity for every style.
Speaking of custom design, Basic Invite has over 180 color options to choose from with instant previews! You can actually change the color of each little element on the invitation. They also have over 40 envelope colors. What a great way to ensure your complete invitation matches your theme, and catches your recipient's eye!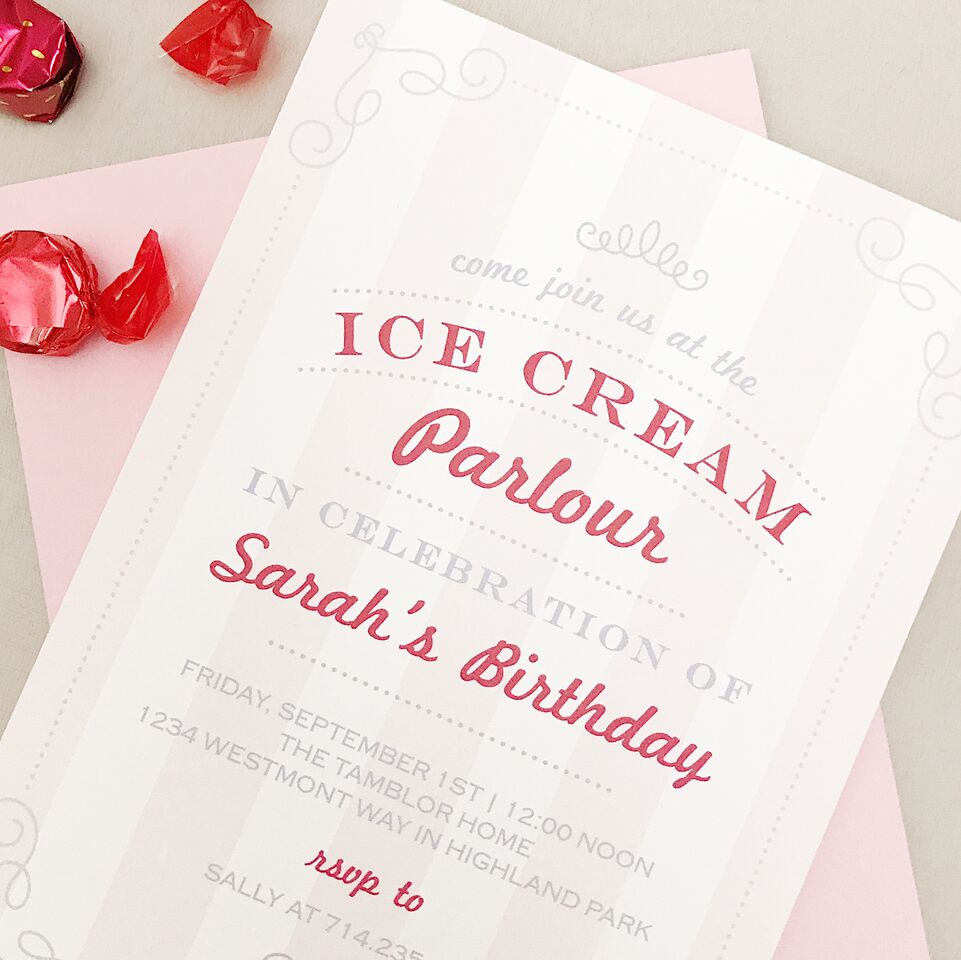 I might actually have to steal this birthday party idea. I'll have to remember Basic Invite has Ice Cream Parlor invitations as one option. What kid wouldn't want this style birthday party?
Another thing that I love about Basic invite (besides this party idea) – they give you the  option of ordering a printed sample of your design. How cool is that? You can actually see your invitation up close and personal before you place your final order.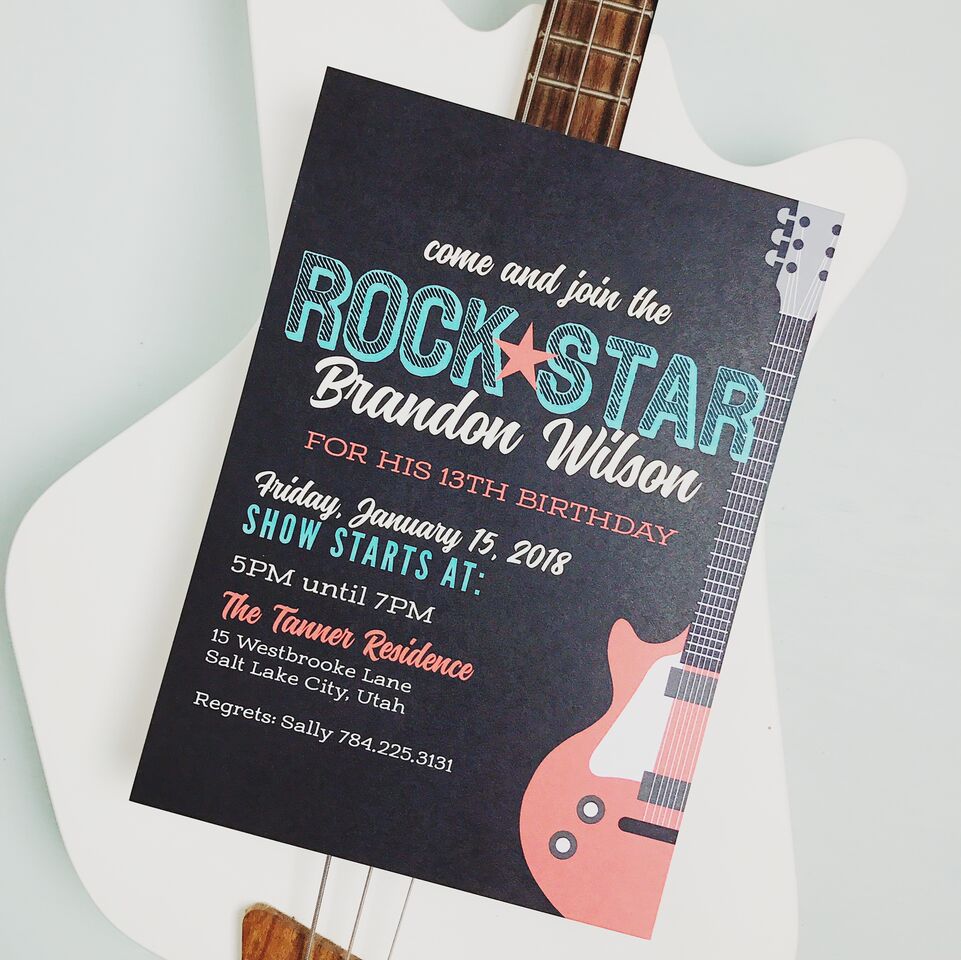 This one is perfect for your rockstar. There are really so many to choose from.
If you're short on time. Who am I kidding? We all are!  Basic Invite has a way to make life a little bit easier. They offer a FREE address collection service. Share a link to your addresses and they will print the addresses on your envelopes for you. Plus, no need to lick the envelope. Just Peel and Seal!
While you're over at Basic Invite checking out kid's birthday invitations…don't forget to check out the awesome Graduation, Bar Mitzvah and Bat Mitzvah, Baby Shower, Birth Announcement, and of course, Baby's First Birthday invitations.
Here are a few more Basic Invites Helpful Links:
Now that you've got your Online Party Invitation Destination squared away, let's get these Witch Hot Chocolate Kits Started.