A Toilet Paper Tube Smurf Craft and a Toilet Paper Tube Smurfette Craft. Perfect for your Smurf-loving kids or birthday party…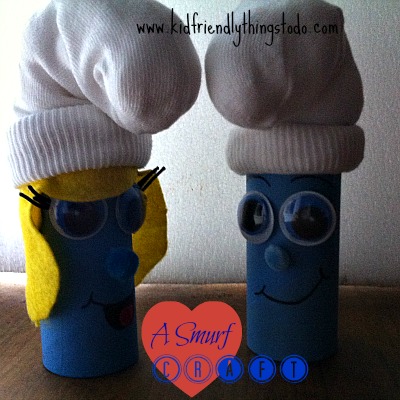 Smurf and Smurfette Craft
Thank goodness the Smurfs 2 movie came around during our very, rainy, summer week. We followed up our fun movie experience with a trip to Michael's craft store. And, this is what we came up with for a Smurf, and Smurfette craft. If you plan on having a Smurf birthday party or would like to make a smurf craft with the kids, read on… I'll tell you what I did to make these cute dolls that my 6-year-old daughter has completely taken over!
Supplies needed:
Assemble like the picture shown! Enjoy!
~Melissa – www.KidFriendlyThingsToDo.com – crafts, fun foods, recipes, party ideas, and fun ideas for your whole family!