These Rainbow Balloons give a nice touch to a St. Patrick's Day table. You could place one, hanging from the ceiling above each child. To use them as place cards, write their names, with a sharpie right on the cloud.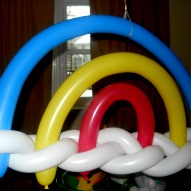 How to Make a Rainbow Balloon:
As they look up, they'll see their name, know where to sit, and immediately know one of these is going home with them!
These are also great place cards for birthday parties or a summertime party. Teachers would also make a great hands-on in a science lesson for the classroom
If you are looking for rainbow crafts, try some of my other fun projects, like:
So, here's what you'll need:
White Twisting Balloons – For this table, I bought mine at the local party supply store. I purchased a large multicolored bag, which had plenty of white balloons. I've also ordered them online. You can choose a bag of specific colors.
Variety of Colorful Twisting Balloons – For the rainbow
Balloon Pump – This is in any party section of stores. Right next to the balloons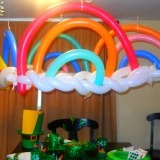 Instructions:
I learned how to do this on YouTube. Watching someone demonstrate balloon twisting is probably the best way to learn.  The link that I learned this from is below.
***After I did a couple of rainbows, I taught myself a little short cut. 
I took out my 3 rainbow colors. I blew one up to 4 ft, one to 3, and one to 2 ft. With the excess balloon tip – I tied a knot nearest the balloon and cut the excess off. Then I just stuck them in the cloud, 1,2,3! This saves some steps.
Here are some pictures to help, as well.
Happy St. Patrick's Day! 🙂
YouTube Instructional Video Link! go to http://www.youtube.com/watch?v=YHMwNkT4gHM
~Melissa
KidFriendlyThingsToDo.Com –