Paper Mache Easter Eggs are a fun craft at Easter Time. They look so cute on the Easter Tree.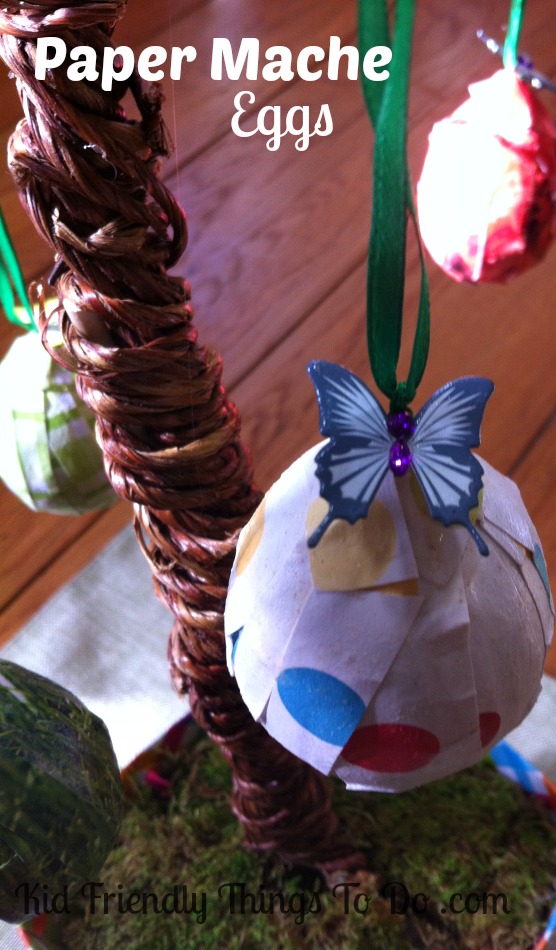 Easter Paper Mache Egg Craft
To Make No-Cook Paper Mache Paste, You Will Need:
1 Cup of bleached all-purpose flour
1-1/2 cups of water, cold or warm
1/2 Cup of white school glue
Mixing bowl
Whisk
Measuring cup
Pinch of salt.
Mix everything together to form a syrup-like texture – adding more flour, if needed.
Now, a few more things to add to your supply list:
Scrapbook paper – Spring colors and patterns – cut into about-1/2 inch strips – Depending on the length of your egg – measure it to go from the tip to tip.
A small egg-shaped balloon – OR – A plastic or the paper egg that will not pop open in the middle. If you are using a 2 piece of plastic egg as your base – glue the middle together so the kids don't get frustrated with an egg that won't stay shut! 🙂 – I used eggs that were already Paper Mache Eggs as my base/mold.
Little cups to hold the egg as it dries. – I found plastic shot glasses (cups) to be a perfect size. Find them in the beverage aisle
A clear glossy glaze spray can
If this is going to be an ornament:
A Brad from the scrapbooking section – I found cute butterfly brads
Ribbon to tie your egg
Instructions:
Holding your egg at the top and bottom, dip your first strip of paper into the paste.
Place the paper on the egg – going from top to bottom.
Keep doing that until you have a couple of layers, filling in gaps, and overlaying paper with more paper
**A little tip here – The kids love to over-do the paste! If it's getting too pasty – just take a paper towel piece, cradle the egg inside the paper towel – in the palms of your hands and squeeze out the excess paste into the towel. Good as new!
Place your egg in the shot glass to dry for a day!
Spray the dried egg with the clear glaze to take the powdered look away, and add shine.
Now if yours is an ornament:
Cut a couple of paper strips into 1-inch size length and dip them into the paste
Open your brad and hold it on the top of the egg.
Holding the brad in place, place your small pasted strips over the brad arms (the bent pieces)
Don't Miss a thing. Please follow along with me and subscribe to my Free Newsletter for all of the latest!